When someone else has negligently, recklessly, or carelessly injured you, you have rights under Florida personal injury law. But do you know all of your legal rights or understand how to enforce those rights? The compassionate Florida personal injury lawyers at Dolman Law Group Accident Injury Lawyers, PA, understand what you are going through and can help protect you and seek compensation for the injuries you suffered as a result of someone else's negligence.
Personal injuries can vary widely from traumatic brain injuries (TBI), spinal cord injuries, bone fractures, soft tissue injuries, or even more simple bumps and bruises. If you are suffering from a serious injury caused by a vehicle accident, fall, or other negligent act, you need a dedicated personal injury attorney in Florida on your side. Work with an advocate who is dedicated to helping victims like you recover the money you need to pay medical expenses, cover lost wages, and compensate you for your accident-related losses.
Contact Dolman Law Group Accident Injury Lawyers, PA, today at 866-467-0943 to schedule a free consultation.
Why Choose a Florida Personal Injury Lawyer at Dolman Law Group After an Injury?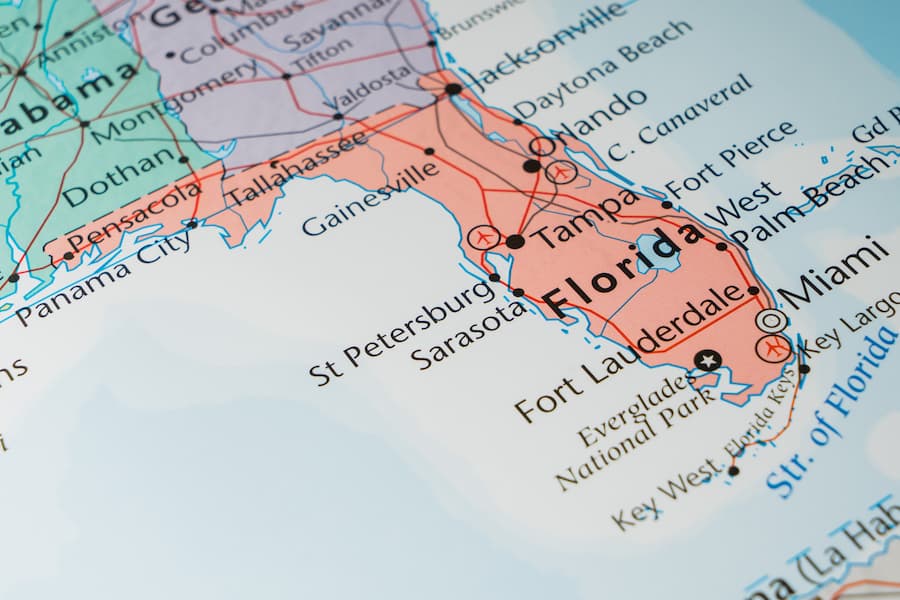 The best Florida personal injury lawyer for you will help you level the playing field with insurance companies while advising you of your rights. When you have Dolman Law Group in your corner, we have your best interests in mind, so you can rest easier and focus your energies on your recovery. We'll help you regain peace of mind and the ability to move forward after a life-changing injury.
At Dolman Law Group, our experienced Florida personal injury attorneys offer free consultations for all victims of negligence injuries in the Sunshine State. We want to understand what happened and explain how we can help protect your rights. We may be able to develop and file an insurance claim or take your case to trial if needed to recover money damages for you.
<iframe width="200" height="113" src="https://www.youtube.com/embed/6cUmORlDM_Y?feature=oembed" frameborder="0" allow="accelerometer; autoplay; clipboard-write; encrypted-media; gyroscope; picture-in-picture; web-share" allowfullscreen title="Florida Personal Injury Lawyer | Dolman Law Group Accident Injury Lawyers, P.A."></iframe>
The Dolman Law Group Team Fights for Maximum Compensation for Our Injured Clients
Dolman Law Group is proud to represent injured accident victims across the state of Florida. Our team has 120 years of combined experience securing fair settlements for our clients, resulting in more than 400 million dollars in damages recovered. Some of our most recent settlements include:
6.7 million dollars for a wrongful death claim
5 million dollars for a car accident victim suffering burn injuries
3.8 million dollars for a semi-truck accident victim with a traumatic brain injury
Our results-driven approach has yielded impressive results, but we don't just measure success in terms of dollars. Dolman Law Group takes pride in our client testimonials, which praise our legal experience as well as our straightforward, empathetic communication style.
Looking for a Top Florida Personal Injury Law Firm?
Suffering an unexpected injury often leads to financial and emotional burdens in addition to the stress of your physical recovery. You should not have to pay the price for someone else's negligence. With the assistance of our Florida personal injury attorneys, you may be able to recover the total value of your out-of-pocket and personal losses. Unfortunately, insurance companies will almost certainly try to reduce the value of your claim and pay as little as possible.
You need to protect your legal right to seek compensation for your damages. The best way to do this is by working with an accident injury attorney with experience anticipating the tactics used by powerful insurance companies to avoid paying maximum compensation.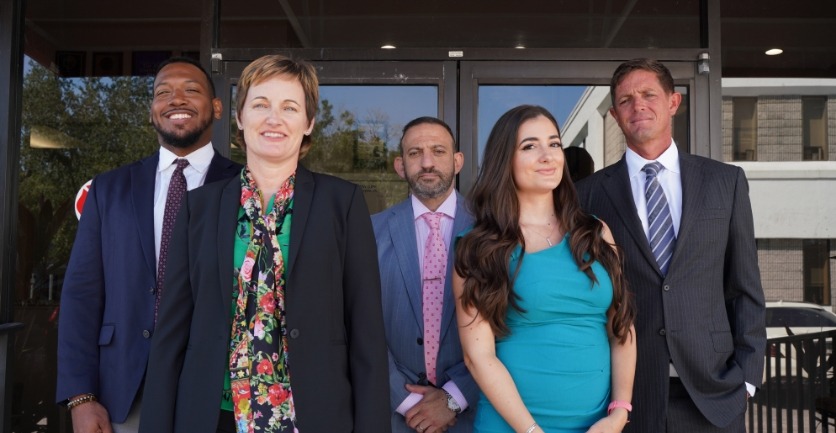 Our dedicated Florida personal injury lawyers will diligently gather and review evidence, including medical records, police reports, witness statements, and expert testimony, to establish a case for liability. They will act as your representative in all communication between you and the insurance companies, bill collectors, opposing counsel, and law enforcement. If you attempt to handle your personal injury claim on your own, there's a much greater chance that you will end up with an unsatisfactory settlement. Protect your family's future by working with a reputable personal injury law firm with a track record of success.
What Types of Accidents and Incidents Lead to Florida Personal Injury Claims?
Many different accidents and situations can cause severe injuries. The possibilities are really limitless, but some of the most common accidents and incidents that lead to personal injury claims are:
What Should I Do After Suffering a Personal Injury in Florida?
Many people are concerned about how their actions after personal injury accidents will affect their ability to seek compensation for the damages they have suffered. This concern is legitimate. The actions you take - or don't take - in the aftermath of your accident can end up harming your personal injury claims down the line.
To protect the viability of your personal injury claims, follow these simple suggestions.
Get Medical Help Immediately to Protect Your Health and Your Rights
Regardless of the type of personal injury you suffered or the type of accident that caused your injury, your health should be your first priority. While keeping potential litigation in mind after an accident can be helpful in certain circumstances, your medical needs are always much more important. You should not do anything that could interfere with receiving the medical help you need for an injury.
Go to an emergency room or urgent care clinic, or call an ambulance if necessary. Delaying medical care is not only bad for your health, but it can also reflect poorly on your need for compensation in the future because delaying medical care can affect the credibility of your claim.
Never Admit Fault or Apologize After an Accident
Those that have suffered a personal injury should keep in mind that anything they say can potentially be used against them in the future when requesting compensation. In the aftermath of an accident injury, whether it is a car accident or a slip and fall, do not apologize, and do not say anything more than is necessary. You should provide your name and personal contact information, but not much more.
Apologies can be construed as an admission of fault. Many people will say they are sorry and not realize that it can harm their case. You should also avoid speaking about your accident and injuries in general for the same reason. This includes avoiding social media because insurance companies monitor these platforms for information they can use to deny or devalue your claim.
Document the Accident Scene As Much As You Can
If possible, gathering evidence at the scene of an accident can help your case but only do so as long as you don't risk your health or safety. If you are with someone who is not injured, delegating the task to them is often your best option. Try to memorialize your accident with this evidence:
Take photographs of where you were injured, the surroundings, and your injuries. This information can be critically important. Photos preserve useful details to help your Florida personal injury attorneys build a strong case.
Obtain the contact information of any witnesses. These people can be key to establishing responsibility for your losses.
Speak with a team of resourceful personal injury lawyers who can gather this information and more for you. This is one of the most important steps to take after suffering an injury because a skilled injury lawyer can find certain evidence you may not even think to request.
As your dedicated personal injury legal team, we will walk you through the complicated claims process and explain how the legal system works. Let us help relieve your stress by doing most of the follow-up work for you. Reach out today for a free and confidential consultation to regain peace of mind knowing you are protected by an experienced injury attorney at Dolman Law Group.
The Three Elements Needed to Prove a Florida Personal Injury Case
As an injured accident victim, you must prove that someone else is responsible. The at-fault party or parties must have acted unreasonably in causing your injuries and damages. This issue of fault hinges on the concept of negligence, which is made up of three parts:
Breach of duty

Causation
Let's review each element to see how a strong negligence case is built.
1. The Other Party Was Obligated to Exercise a Duty of Care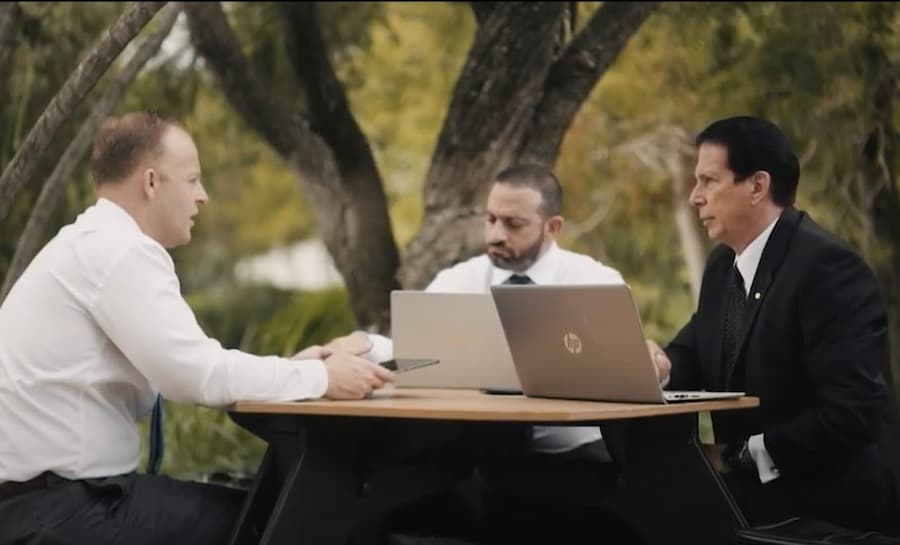 Legal duty of care is defined as another person's obligation to not injure another person or place them in harm's way. Almost everyone has a duty not to hurt other people, but in a personal injury case, the question often revolves around the extent of the duty.
For example, a grocery store owner or manager has a duty to keep their customers safe from harm by cleaning up spills, fixing broken steps, etc. In order to meet this duty, the store must take reasonable steps to ensure the safety of its customers. This can become a little complicated as the term "reasonable" is open to interpretation.
2. They Breached Their Duty of Care
Once it is established that a person has a duty of care toward others, the next element of negligence deals with whether or not the person breached that duty or failed to live up to it. For example, if a building owner fails to fix a loose handrail after knowing about it for months, the owner's inaction may be considered a breach of duty, and they are considered a negligent party if someone suffers injuries because of the broken railing.
The basic question is whether the defendant created a dangerous situation or allowed the dangerous situation to persist. This can be easy to prove in some cases, for example, where someone disobeys a red light. However, it can also become complicated. What is deemed "reasonable" can vary from situation to situation and from minute to minute.
3. Your Personal Injury Lawyers Must Establish Legal Causation Between the Accident and Your Injuries
Once your Florida personal injury attorney has shown that someone had a duty of care and that they breached that duty, they must then prove that the breach led to the accident and your injuries. Did the store have a duty to clean up the spill? Yes. Did they fail to clean up the spill? Yes. Did your slip and fall in the puddle cause you to hurt your back? Yes.
This is a simple case of proving causation, but again, it can become complicated quickly.
Even if someone admits that they were negligent, that doesn't necessarily prove that their negligence caused your injuries. Take the example above. The store owner may claim that your fall was not caused by the puddle but because you were looking at your phone. They might also claim that you fell because of the puddle, but your back injury was pre-existing.
Finally, Your Injuries Must Have Created Economic and Non-Economic Losses
To recover compensation, your personal injury lawyer also must prove your losses were a result of the liable person's negligence. Your compensation might be related to physical, emotional, or financial losses.
In most cases, when the victim suffered moderate to serious injuries, we seek compensation for all three types of harm, including both economic and non-economic damages. Economic losses are documented costs evidenced by a receipt or bill. Non-economic losses are more difficult to value and include pain and suffering, loss of a normal life, and loss of companionship.
Based on the simple explanation presented above, it's clear that having an experienced Florida injury trial attorney on your side can make the legal process much easier on you and give you a much higher chance of a successful outcome.
What Damages Can a Florida Personal Injury Attorney Pursue?
Recovering damages in a personal injury case is not about making someone rich because they were in an accident. In reality, it's about preventing someone from becoming poor because they were in an accident. We want to protect you and your family's financial security and ensure your medical bills and other accident-related costs will not harm your future financial health.
Legal damages are intended to compensate an injured victim for the losses related to an accident or injury. Another way to view a personal injury claim is an attempt to make someone "whole" again–as much as possible–through the use of the civil court system. We believe no one should have to pay for the expenses they incurred because of another party's bad behavior, including thoughtless or careless mistakes.
Some damages are easy to put a value on, like the cost of a car or surgical expenses. Receipts and medical bills can prove these types of damages. Other damages, known as general damages, are harder to place a monetary value on because they are abstract concepts, like pain and suffering. For example, how much is being able to hold your grandchild worth to you? How do you value the loss of your intimate relationship with your partner? We can help place a legal value on these losses and fight for the amount you deserve.
What are the Common Forms of Compensation in a Florida Personal Injury Claim?
Here are some common damages found in different types of personal injury cases:
Medical costs: This category includes the cost of injury-related expenses like medical care, surgery costs, medications, physical therapy, etc.
Future medical treatment: This is an estimate of the cost of medical care you will need in the future because of your injuries, such as future doctor visits, surgeries, or ongoing therapy. An injured party with serious injuries like traumatic brain injuries can have medical consequences that last a lifetime and can request compensation for those expenses.
Lost income: This category deals with the income you will lose by missing time at work because of the accident. Whether the time off is for recovery, to go to a doctor's appointment, or because you can't do your job anymore, you can request payment for the money you have lost and will lose in the future. If you can no longer perform your job at a level that will earn promotions or advancements in your field, you may receive that lost future income as well. This could also include money lost because you must change careers as a result of your injuries.
Damage to Property: This covers the property damage that occurs to the "things" involved in your accident. For example, if you must repair or replace your vehicle or any valuable items lost or damaged in a car accident, you can request compensation for those expenses.
Examples of Non-Economic Damages Under Florida Personal Injury Law
Pain and suffering: After an accident, you and your personal injury attorney may decide to seek compensation for the pain and discomfort you suffered during and after the accident.
Emotional distress: Some serious accidents cause psychological issues like fear, anxiety, and conditions like PTSD. In some cases, this is considered part of pain and suffering.
Loss of relationships: If your personal injury situation caused your relationships to suffer with your parent, child, or spouse, you could recover damages for this hardship. This type of damage is known as loss of consortium when it deals directly with a spouse.
Loss of enjoyment: If your injury took away your ability to do something in life that brought you joy, like painting, building furniture, or going on walks, your attorney might be able to request compensation for these damages.
At Dolman Law Group, we also handle wrongful death cases. They are personal injury cases in which the victim has passed away from their injuries or a related complication. In a wrongful death action, we are able to help the surviving family members pursue financial recovery based on medical bills, funeral and burial costs, loss of services, conscious pain and suffering, lost income, and the emotional losses the family endured.
How Do I File a Claim for Personal Injuries in Florida?
<iframe width="200" height="113" src="https://www.youtube.com/embed/hKS3uyYpg5c?feature=oembed" frameborder="0" allow="accelerometer; autoplay; clipboard-write; encrypted-media; gyroscope; picture-in-picture; web-share" allowfullscreen title="Statute of limitations for Clearwater negligence claims | Florida Personal Injury Lawyers"></iframe>
Before a personal injury lawsuit is ever filed in Florida, the injured accident victim will usually need to file a claim with the at-fault party's insurance company. For example, if you are involved in a serious car accident that was not your fault, you will most likely negotiate with the at-fault driver's insurance company to try to reach a settlement before resorting to a trial in the civil court system.
Filing a claim for personal injuries places the at-fault driver's insurance company on notice of a potential personal injury lawsuit. Once a claim is filed and you finish all medical treatment as well as follow-up therapy, your attorney will then request all medical records and bills from your various treatment providers.
In car accident cases, if the at-fault driver was uninsured or underinsured at the time of the accident, the personal injury plaintiff may file an uninsured - or underinsured - motorist claim against their own insurance company if they have this type of coverage in place. In relatively minor accidents, the victim's personal injury protection (PIP) policy may cover their medical expenses, and they would not pursue a fault-based claim.
Our Florida Personal Injury Lawyers Prepare Settlement Demand Packages for You
After you have finished treatment for the injuries you sustained in your accident, and once all medical records and bills have been received, our Florida personal injury legal team can assemble a settlement demand package. They will then send it to the claims adjuster who handles the case for the insurance company that provides coverage for the responsible party.
In the demand package, your personal injury attorney will send a letter of introduction that includes an initial monetary settlement demand. For serious personal injury cases, we may demand the insurance policy's coverage limits. An initial settlement demand package will also include copies of all pertinent medical bills, medical records, and lost wage documentation.
How is a Florida Personal Injury Settlement Negotiated?
If the at-fault insurance company concedes liability on behalf of its policyholder in your personal injury case, soon after the adjuster reviews your settlement demand package, you can expect an initial settlement offer. The purpose of an initial settlement offer is to get the ball rolling, so to speak. You should probably never accept an insurance adjuster's initial settlement offer (unless the offer is for the policy limits) since these offers are routinely low.
After the adjuster makes an initial settlement offer, your attorney will make a counter-demand that may be different than the initial demand. These negotiations between your attorney and the insurance adjuster typically go back and forth until you reach an agreement to settle - or you reach an impasse.
Settlement negotiations can last for a few weeks or many months. The length of time usually depends on the nature of the injuries sustained and the complexity of the personal injury case. You can trust Dolman Law Group to manage your settlement negotiations and keep you informed every step of the way.
The Timeline of the Florida Personal Injury Claim Process
The Florida personal injury process primarily involves the following:
Filing a claim with all parties involved and putting them on notice that you will be seeking compensation

Attempting to reach a favorable settlement with the negligent parties through back-and-forth negotiations

Filing a personal injury lawsuit with the court if negotiations are unsuccessful

Litigating the case in court to prove that your damages should be paid by the defendant

Going to trial or pursuing alternative dispute resolution such as mediation or arbitration. For example, if the insurance company refuses to place an acceptable settlement offer on the table, the judge may send the parties to mediation to resolve the case.
When a personal injury attorney from Dolman Law Group manages your case, we approach the claim strategically. We know how to weigh your options, choose the most effective legal arguments for your needs, and navigate the necessary processes. We may be able to determine your options for pursuing compensation during our initial consultation.
Our team represents your best interests throughout the claims process by negotiating for appropriate payment based on the facts of your case. When we represent personal injury victims, we seek justice through fair compensation.
Our Tenacious Florida Personal Injury Lawyers Will Take Your Personal Injury Case to Trial if Needed
In some cases, the insurance company and the injured plaintiff cannot agree to settle a personal injury claim. The injured plaintiff can file and litigate a personal injury lawsuit in the Florida civil court system if settlement negotiations fail.
Just because a plaintiff's attorney files a personal injury lawsuit in the court system does not necessarily mean that the case will ultimately go to a full trial. On average, about 90 to 95 percent of Florida personal injury cases are never tried. Instead, they are typically settled out of court because it is much more convenient and economical in the long run.
Florida Personal Injury Jury Trials: What to Expect
If the parties decide to proceed to a jury trial, keep in mind that Florida jury trials can be long and tedious. A Florida law firm with an exceptional trial reputation can be your greatest ally at this time. The primary components of a Florida civil jury trial include:
pretrial motions

witness and party depositions (statements taken under oath)

jury selection

opening statements

examination and cross-examination of witnesses

presentation of relevant evidence

preparing and giving appropriate

jury instructions

closing arguments

jury deliberations

jury verdict
The decision about whether to settle a case or take it to trial is intensely personal. A Florida personal injury attorney on our team will help you weigh the pros and cons of going to trial. Based on their experience and your circumstances, they can help you make the best decision in your unique circumstances.
Why Should I Trust Dolman Law Group With My Florida Personal Injury Claim?
If you or someone you love has sustained personal injuries in Florida that resulted from someone else's negligence, the law may entitle you to monetary compensation. Personal injury cases can be long and complex, but we can help. You deserve a skilled, experienced litigation attorney by your side every step of the way, and our personal injury attorneys can help you in many ways.
A Florida personal injury lawyer at Dolman Law Group can help to streamline the personal injury process and may bring your case to a favorable resolution through settlement, alternative dispute resolution, or trial. Our lawyers have decades of experience successfully recovering maximum compensation for our injured clients.
As a Dolman Law Group client, you can feel confident that your needs are our priority. We can manage the entire claims process for you, answering questions and providing updates throughout. We want to ensure you can focus on treatment, rehabilitation, healing, and returning to your life as quickly as possible during this time.
Frequently Asked Questions About Florida Personal Injury Lawsuits
How much does a personal injury lawyer cost?
Our Florida personal injury lawyers operate on a contingency fee basis. This means we offer a free consultation, and if we take on your case, there is no upfront cost to you. If we successfully resolve your case with the negligent party or their insurance company, we take our fee out of the compensation we recover for you. Typically, this is about a third of the total value of the settlement or court awards. To put it simply, we don't get paid until you do.
How do I find a good accident lawyer? Should I call a lawyer referral service like 411 PAIN?
The personal injury lawyer you choose can have a tremendous impact on the success of your claim. Your accident injury lawyer should be respected by their peers and former clients. They should also have specific experience handling claims similar to yours. Ask for proof of these qualifications before deciding who to trust.
The best personal injury attorney near you may not be the same one your friends and family recommend. While recommendations are helpful, it is even more important to evaluate your personal injury attorney closely. During a free consultation, ask the following questions:
How many cases like yours have they litigated?

Are they familiar with your type of injury and accident?

Are they practiced and experienced litigators, as well as negotiators?

What type of fees do they charge?

Do they have time for you and your case?
Unfortunately, lawyer referral services like 411 PAIN do not thoroughly vet the lawyers in their network, nor do they take the time to match you up with the best personal injury lawyer for your claim. We recommend conducting your own research to find the best Florida personal injury attorney for your claim.
What are my rights if my last attorney screwed up my personal injury claim?
If you believe that your last personal injury lawyer messed up your claim and you received an inadequate settlement, you may have legal recourse. You may be able to sue for what is known as legal malpractice. There are many situations that could qualify as legal malpractice, but they can be difficult to prove. Reach out to one of our personal injury attorneys as soon as possible for assistance.
Contact the Florida Personal Injury Lawyers at Dolman Law Group For Help With Your Accident Injury Lawsuit
The actions of a negligent property owner, incompetent medical provider, or reckless driver can have a lasting impact on your ability to work, enjoy your life, and perform daily activities. Dolman Law Group can help you get your life back on track with a personal injury settlement or verdict. Our team will dedicate our time, expertise, and resources to the pursuit of maximum compensation for your personal injury.
The knowledgeable Florida personal injury attorneys at Dolman Law Group have decades of experience representing injured accident victims from Pensacola to Miami. Our team can meet with you to discuss your case during a free, no-obligation consultation. We may pursue monetary compensation on your behalf through settlement, litigation, trial, or alternative dispute resolution.
At Dolman Law Group, we know you have questions. That is why we offer injured accident victims a free consultation with a nearby Florida personal injury attorney. These case assessments are completely confidential, and there is no obligation to hire our team just because we meet with you.
To schedule a free consultation or case evaluation with a Florida personal injury attorney from our team, please call us at (727) 451-6900 or contact us online today to start exploring your legal options. You deserve justice, and Dolman Law Group is here to help.
All Areas We Serve in Florida