If you follow the news, you probably heard about the diabetes medication called Ozempic. It's also hard to watch local television without seeing an advertisement for this popular prescription drug. The catchy jingle and happy people in the commercials depict healthy users enjoying everyday life.
Unfortunately, the truth is far from happy for some Ozempic users. By the end of 2021, more than 10,000 people complained about serious side effects after taking Ozempic. Most of those reports involved gallbladder issues, but now, a serious new concern has been linked to Ozempic — stomach paralysis.
Plaintiffs filed the first Ozempic stomach paralysis lawsuit in August 2023 seeking compensation from the maker of Ozempic, Novo Nordisk, for the extreme medical issues one Ozempic user has suffered. We expect to see many more Ozempic stomach paralysis personal injury lawsuits in the coming months.
Trust Dolman Law Group to Answer Your Ozempic Stomach Paralysis Lawsuit Questions
The team of dangerous drug injury lawyers at Dolman Law Group are on the cutting edge of Ozempic litigation and we are monitoring this situation closely. Our attorneys are reviewing cases and performing the research needed to build solid lawsuits on behalf of consumers who injected this potentially harmful drug into their bodies without knowing the life-changing trauma they might face.
If doctors prescribed you Ozempic (or other similar medications, including Wegovy, Mounjaro, or Rybelsus) and you experienced problems including severe vomiting, stomach or abdominal pain, or bloating, acid reflux, or other gastrointestinal issues, reach out today.
Our dedicated product liability lawyers can help you bring a lawsuit against the drug manufacturer to help recover your financial losses. Contact Dolman Law Group today for a free consultation to learn more. Ozempic and Mounjaro are the most common medications utilized off label for weight loss. Both Ozempic and Mounjaro have been linked to severe gastroparesis. These medications have warnings that use of this drug "delays gastric emptying." This delay can grow worse and result in permanent problems. Unfortunately, the manufacturers of these medications such as Novo Nordisk and Eli Lilly and Company have neglected patient safety despite evidence of potential adverse events.
We now have several clients who underwent stomach bypass surgery to relieve symptoms associated with gastroparesis. While gastroparesis is a known risk for individuals suffering from diabetes; it is alarming to find otherwise healthy individuals being diagnosed with such following the off label use of diabetes medications. We are noting consistent complaints of stomach pain combined with delayed gastric emptying in our clients who used Wegovy, Ozempic and Mounjaro. This is often followed by severe gastrointestinal events such as excessive vomiting. Inevitably, the individual is diagnosed with severe gastroparesis.
<iframe width="200" height="113" src="https://www.youtube.com/embed/wogqkBjeifY?feature=oembed" frameborder="0" allow="accelerometer; autoplay; clipboard-write; encrypted-media; gyroscope; picture-in-picture; web-share" allowfullscreen title="How We Get Superior Results At Sibley Dolman Gipe Accident Injury Lawyers, P.A."></iframe>
What Is Ozempic?
Originally developed to treat type 2 diabetes, Ozempic (generic name Semaglutide) is a GLP-1 Receptor Agonist Analog-Type drug. It increases the production and secretion of insulin to help control blood sugar within the body by mimicking a human hormone called incretin glucagon-like peptide-1, or GLP-1.
With a weekly injection, Ozempic helps control type 2 diabetes by:
Stimulating the secretion of insulin so the cells in the body can receive glucose during digestion, maintaining steady levels of blood sugar throughout the process.
Increasing the time it takes for food to leave the stomach, which makes the person feel full and satisfied longer.
Slowing the release of glucose as the food remains in the stomach, which also keeps blood sugar levels steady.
Suppresses glucagon, which is a hormone that tells you when you're hungry. Lower glucagon levels delays the feeling of hunger.
Delays gastric emptying
Various studies have shown GLP-1 drugs like Ozempic work by affecting nerves within the stomach to slow the muscle contractions that normally occur during digestion. With fewer contractions, the food stays in the stomach longer. However, in some cases, the food remains so long it becomes a hardened mass or the person must vomit the food after days of holding it in their stomach.
When the stomach muscles slow too much, or come to a stop, the person experiences stomach paralysis, a condition known medically as gastroparesis. The drug maker does not mention this extremely painful and dangerous potential side effect anywhere in the product information.
Isn't Ozempic FDA Approved?
The Food and Drug Administration (FDA) first approved Ozempic in 2017 as a way to treat diabetes. The drug was to be administered by injection with either a 0.5 mg or 1 mg dose each week. Since then, the FDA has given Ozempic approval for different conditions using different doses.
For example, in 2019, the FDA approved Ozempic's claim that it can reduce the risk of a major cardiovascular event in patients who already have a history of cardiovascular issues along with diabetes.
Then in 2022, the FDA approved a higher dose of Ozempic (2 mg per dose) because clinical trials revealed as many as 73 percent of type 2 diabetic Ozempic users could achieve the American Diabetes Association's recommended level of less than 7 percent blood sugar levels by taking the drug.
Throughout this time, Ozempic ads continued to claim how some users could lose weight while taking the drug. The medication's warnings listed some possible side effects, but never mentioned severe gastrointestinal conditions, including gastroparesis.
Possible Side Effects of Taking Ozempic
The initial side effects recognized and disclosed by the maker of Ozempic included:
Inflammation of the pancreas (pancreatitis)
Vision changes
Kidney failure and other kidney problems
Allergic reactions
We now understand the possible Ozempic dangers include:
Acute gallbladder disease (cholecystitis)
Thyroid tumors or thyroid cancer
Diabetic retinopathy
Hypoglycemia (low blood sugar)
Gastroparesis (stomach paralysis)
Severe vomiting
Excessive vomiting
Gastrointestinal burning
Other stomach problems
Gallbladder Concerns Linked to Ozempic Use
In 2022, after several medical studies linked Ozempic use to gallbladder problems, Novo Nordisk added a product warning about possible gallbladder issues. Meanwhile, many Ozempic users suffered serious gallbladder problems which led to substantial financial losses. As a result, plaintiffs filed numerous Ozempic gallbladder lawsuits throughout the country. The most common Ozempic lawsuit relates to stomach paralysis known as gastroparesis.
When Was Ozempic First Linked to Gastrointestinal Issues?
Medical studies from 2020 revealed that GLP-1 agonists like Ozempic could worsen diabetic gastroparesis symptoms in patients who already had this condition before taking the drug. Although doctors can't specifically say what causes gastroparesis, the Cleveland Clinic attributes approximately one-third of reported cases to uncontrolled diabetes.
Further studies found evidence that the drug itself actually caused the problems by slowing or stopping the stomach muscles, leading to blockages within the small intestine and GI tract. Gastroparesis sufferers report feeling full after eating only a small amount of food, acid reflux, nausea, vomiting, pain and bloating in the stomach and lower GI area, and a loss of appetite. All of these symptoms lead to weight loss, although not in a healthy way. The weight loss is caused by what is essentially a paralyzed stomach.
Although these studies showed how GLP-1 agonists can worsen diabetic gastroparesis and specifically recommended against using GLP-1 agonist therapy for people who have had similar symptoms, Novo Nordisk never informed doctors about this potential problem and did not change its prescribing or dosage recommendations.
Most Recent News Reports and Studies
In July 2023, more stories emerged about Ozempic and Wegovy users' struggles with gastroparesis. CNN released a thorough report about several Ozempic and Wegovy users who were diagnosed with gastroparesis after starting GLP-1 agonist medications. At that point, the FDA claimed that it could not conclusively determine whether the drugs caused gastroparesis, and did not require any actions on the part of Novo Nordisk.
In response to CNN's request for comments, Novo Nordisk stated, "Gastrointestinal (GI) events are well-known side effects of the GLP-1 class. For semaglutide, the majority of GI side effects are mild to moderate in severity and of short duration. GLP-1's are known to cause a delay in gastric emptying, as noted in the label of each of our GLP-1 RA medications. Symptoms of delayed gastric and stomach emptying such, nausea and vomiting are listed as side effects."
While the product's prescribing information does warn about nausea, vomiting, and a delay in emptying the stomach, it mentions these concerns are only in reference to how the body may absorb other medications.Further clinical trials revealed 44 percent of patients who took Wegovy experienced nausea, and almost 25 percent reported vomiting. Both of these issues are common symptoms of gastroparesis.
Similar trials performed on Ozempic users showed approximately 20 percent of users reported nausea and 10 percent reported vomiting as regular side effects. (Ozempic contains the same semaglutide active active ingredient as Wegovy, but Ozempic is administered at a lower dose.) These symptoms are consistent in Ozempic, Wegovy and Mounjaro. Keep in mind these medications slow emptying of the stomach. The FDA (Food and Drug Administration) has yet to comment on these anecdotal findings.
Ozempic Manufacturer Continues to Profit With Weight Loss Claims
Although Ozempic is only FDA-approved for treating diabetes, Novo Nordisk continues to tout the drug's weight loss benefits in its advertising campaigns. As a result, more people are requesting the drug to help them lose weight, partly because of celebrities who spread their Ozempic weight loss success stories on social media.
Doctors may prescribe Ozempic "off-label" for weight loss instead of the original intended purpose of treating diabetes. In early 2023, Ozempic joined the FDA's Drug Shortage List because of the huge demand from overweight people. This translates into a financial windfall for Novo Nordisk while users suffer serious medical complications, life-altering conditions, and extensive financial losses. Even if you have been prescribed a similar obesity medicine by a Bariatric Surgeon, we still recommend avoiding off label use of diabetes drugs.
What Is the Legal Basis of the Ozempic Stomach Paralysis Lawsuit?
A 44-year-old woman in Louisiana filed the first Ozempic stomach paralysis lawsuit against Novo Nordisk (the maker of Ozempic) and Eli Lilly and Company (the maker of Mounjaro). The plaintiff took Ozempic for approximately one year but stopped in July 2023. Then she began taking Mounjaro for the same purpose.
In her lawsuit, the plaintiff claimed both drugs created severe gastrointestinal events that led to extreme vomiting and stomach pain. She also reports these issues hospitalized her on multiple occasions.
The complaint points out the prescribing information for both drugs does not disclose any risk of similar gastrointestinal events and does not warn about gastroparesis. The lawsuit is based on the manufacturers' inadequate warning, failure to warn, and breach of warranty.
This first case only names the drug manufacturers as defendants. We expect many more claims and lawsuits to follow against Ozempic and other GLP-1 drugs that could potentially include the drug distributors and retailers as defendants.
Dolman Law Group Has Extensive Dangerous Drug Experience
The mass tort legal team at Dolman Law Group is currently involved in bringing dangerous drug cases including representing clients in the Tylenol Autism Lawsuit, Tepezza Hearing Loss claims, Elmiron Vision Loss Lawsuits, and EzriCare Eye Drop claims. At Dolman Law Group, we have the skills, experience and resources needed to take on corporate drug makers and Big Pharma.Read our clients' stories to better understand how we advocate for injured consumers' rights and fight for the compensation they deserve. Also, take a look below for some of the most common questions we receive about Ozempic lawsuit issues.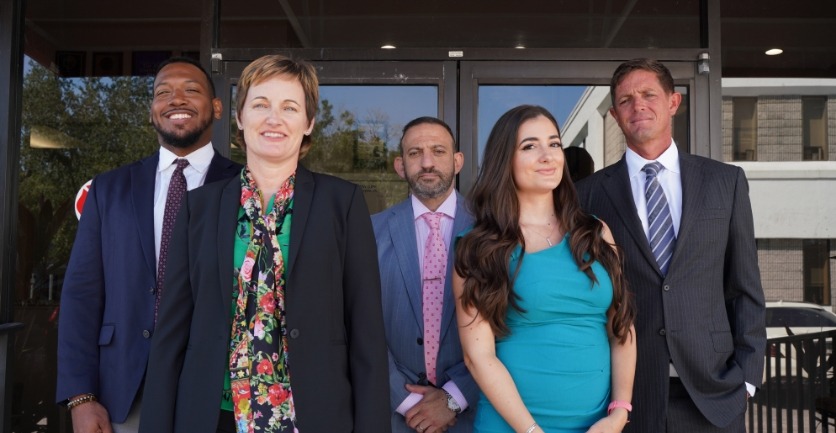 Ozempic Stomach Paralysis Lawsuit FAQs
Who qualifies for an Ozempic stomach paralysis claim?
People who were prescribed Ozempic by a healthcare professional and then experienced gastrointestinal problems that sent them to the hospital, or Ozempic users who were diagnosed with gastroparesis may bring an Ozempic stomach paralysis lawsuit. Speak with an experienced personal injury law firm near you, like Dolman Law Group to better understand your specific rights.
What damages and losses can I claim?
If you can bring an Ozempic gastroparesis claim, you may request economic (out-of-pocket) losses like medical bills and lost income, as well as non-economic losses such as pain and suffering. Each jurisdiction is different, so ask a qualified Ozempic lawsuit attorney which losses you can recover based on your unique circumstances.
Can Ozempic cause digestive issues?
Yes, studies have shown that taking Ozempic or other similar medications can lead to digestive problems including constipation, diarrhea, stomach cramping and pain, and nausea. These medications slow the stomach's normal process and retain food in the GI tract longer. Various studies link more serious problems, including gastroparesis, to Ozempic.
How long can I take Ozempic?
If you have questions about using Ozempic, or any prescription medications, always consult your doctor before making any decisions. Current medical studies cannot predict the long-term effects of taking Ozempic. If you are considering Ozempic to treat type 2 diabetes, your doctor can explain the benefits and risks involved.
If you are thinking about using Ozempic to lose weight, keep in mind that any weight loss benefits will end when you stop taking the drug. You may put the weight right back on when you stop taking the medication, and you may have to stop taking Ozempic due to the potentially serious side effects. Again, talk with a knowledgeable health care professional about the pros and cons of taking Ozempic.
Should I stop taking Ozempic?
If a physician prescribed Ozempic you experience any of the symptoms mentioned above, talk to your doctor before you quit taking it. Report all symptoms and problems you experience to help your doctor provide the best medical advice possible.
Is Ozempic dangerous for people who don't have diabetes?
Remember, Ozempic is only FDA-approved for treating type 2 diabetes. If you take Ozempic for weight loss, but you don't have diabetes, you could experience low blood sugar complications like rapid heartbeat, confusion, and sweating.
Because Ozempic specifically slows the muscles of the stomach and the processing of food in your digestive system, it can also lead to serious intestinal problems. If you have any digestive issues, talk to your doctor before you start taking Ozempic.
When should I hire an Ozempic stomach paralysis lawsuit lawyer?
If you took Ozempic and you have any of the serious symptoms, conditions, or digestive issues described on this page, contact a dedicated dangerous drug and mass tort attorney at Dolman Law Group right away.
Learning about your legal rights and options is always the best decision and at Dolman Law Group, your case consultation is always free. So you have nothing to lose. Reach out today for more information, free of charge.
Dolman Law Group is the Best Choice For Your Ozempic Stomach Paralysis Lawsuit
Now that the first Ozempic lawsuit regarding gastroparesis is on file, we expect the floodgates have opened. With so many people requesting and taking this drug, hundreds if not thousands of Ozempic gastrointestinal lawsuits may follow.
Our product liability attorneys have earned a solid reputation for fiercely protecting consumers who are injured by corporate giants that care more about their profit margin than keeping innocent people safe. If taking Ozempic, Wegovy, or other GLP-1 drugs injured you, reach out now for your free consultation.
Call us at 833-552-7274 or fill out this simple online form today. We can explain your legal rights and the possible compensation you can pursue from these negligent drug makers.