Many different situations can lead to an injury, but not all injuries require an insurance claim, personal injury lawyer, or lawsuit. Personal injury lawyers help those who have suffered harm as a result of another party's negligence. For example, a person can slip and fall in a movie theater, suffer injuries in a drunk driving accident, or develop a disease because of toxic chemical exposure.
Severe injuries or illnesses often alter someone's life, and even minor injuries can prove expensive. In the wake of an injury, victims must suffer physical pain as well as the emotional trauma of knowing that such pain was preventable. Also, many victims cannot work as they amass medical expenses, creating serious financial hardship for some households.
You should not have to absorb the losses from an injury when another person or entity victimized you with their negligence. Fortunately, Massachusetts law allows those who have suffered harm at the hands of others to seek compensation for damages related to their injuries in civil court.
The Massachusetts personal injury lawyers at Dolman Law Group Accident Injury Lawyers, PA understand the physical, mental, and economic consequences of a severe injury. We are here to guide you through the legal process of recovering damages. If you have sustained injuries because another party acted carelessly, contact us today online or by calling (833) 552-7274 to discuss the event that led to your injuries, how your injuries have affected your life, and the best path forward for your particular circumstances.
Dolman Law Group Accident Injury Lawyers, PA Advocate for the Injured in Massachusetts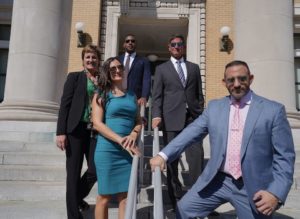 The legal team at Dolman Law Group Accident Injury Lawyers, PA has extensive experience negotiating, settling, and litigating a wide range of personal injuries. The firm's passion for seeking justice and commitment to professional excellence has led to the recovery of millions of dollars in damages in settlements and jury awards for clients who suffered injuries due to someone else's negligence.
Some recent examples of case results include:
A $3.2 million settlement for a client who suffered a brain injury in a truck accident
A $1.75 million settlement for a client who suffered a shoulder injury and brain injury in a truck accident
A $1.58 million jury verdict for a client who sustained two herniated discs during a car accident
A $1,000,000 settlement for a client who suffered a shoulder injury and bulged discs in the neck during a car accident
A $1,000,000 settlement for a family when the father died in a rideshare accident
These are only examples of case results and do not guarantee a specific outcome in your personal injury claim; however, our dedicated personal injury lawyers will aggressively pursue the best possible outcome for your case.
Injuries Commonly Associated With Massachusetts Personal Injury Claims
People can seek compensation for damages after suffering a wide range of injuries. At Dolman Law Group Accident Injury Lawyers, PA, we have the knowledge and resources necessary to handle most personal injury cases, but some types of injuries lead to claims more often than others.
These include:
Multiple fractures and crushed bones
Neck injuries
Back injuries
Brain injuries
Spinal cord injuries
Burns
Amputations
Emotional trauma
Events Commonly Associated With Massachusetts Personal Injury Claims
Various events can lead to the injuries discussed above. Dolman Law Group Accident Injury Lawyers, PA represent clients who have suffered injuries as a result of the following events and others:
According to the Massachusetts Department of Transportation, each year, more than 140,000 traffic accidents occur on Massachusetts' roads and highways. Careless drivers cause car crashes when distracted, driving under the influence, fatigue, or breaking traffic regulations. Accident victims can suffer minor, severe, or fatal injuries, leading to major losses. Personal injury lawyers help accident victims hold negligent drivers accountable.
Those who suffer injuries in a truck accident are lucky to survive or only suffer minor injuries. Semis and large trucks are heavy; a loaded semi weighs up to 80,000 pounds. This weight creates a massive impact that causes devastation, death, and destruction when a collision occurs. More than 100,000 truck accidents leading to injuries occur throughout the nation each year, including thousands in Massachusetts. Negligent truck drivers and trucking companies open themselves to liability when their actions harm others on the road.
Motorcycle enthusiasts who love a joyride can find gorgeous views throughout Massachusetts, whether on the coast or in the mountains. Also, a motorcycle is a great way to get around the traffic-filled Boston area. In either case, bikers do risk accidents and injury because of careless drivers and the open nature of riding. Somewhere between 1,500 and 2,000 motorcycle accidents occur in Massachusetts each year, resulting in dozens of fatalities. Those who suffer motorcycle accident injuries rely on legal counsel to help them seek compensation.
Bicycle & Pedestrian Accidents
Fortunately, the amount of bicycle and pedestrian accidents, injuries, and fatalities in Massachusetts has drastically declined over the last several years. Yet, many cyclists and pedestrians suffer injuries each year when negligent motorists run into them. This is especially true in Boston and other areas with heavy traffic. Pedestrians and bicyclists have no protection from injuries when accidents occur. This leads to more severe injuries that sometimes lead to life-changing, permanent injuries. A personal injury attorney helps injured cyclists and pedestrians recover compensation to ensure that they get the care they need.
Boat Accidents
Massachusetts has almost 200 miles of coastline, making it a favorite location for boating enthusiasts in the Northeast. Residents and visitors alike enjoy boating, fishing, skiing, and more. Boating accidents are dangerous and sometimes lead to severe accidents and fatalities. Boat operators have a legal duty to handle their vessels with care. When negligent boat operators engage in reckless behavior, use alcohol, excessively speed, or do not pay attention, the consequences are potentially deadly.
Workplace Accidents
More than 70,000 workplace injuries and illnesses occur each year in Massachusetts. If you've been injured at work or contracted an illness, your first step typically involves filing a workers' compensation claim. Claim denial and employer retaliation are two situations when you should retain an attorney after a workplace injury or illness. An experienced worker's compensation attorney can also help identify other parties who might bear liability for your injuries, such as the property owner of a worksite or a motorist who hit a company vehicle and caused injuries.
Premises Liability Cases
Massachusetts property owners have a legal duty to maintain a safe environment for visitors to their properties, whether homes, businesses, or land. Negligent property owners who do not uphold their duty to ensure visitors' safety put them at risk for accident and injury.
Premises liability cases include a wide range of accidents and scenarios, such as:
Slip and fall accidents
Elevator/escalator accidents
Swimming pool accidents
Theme park accidents
Nursing Home Abuse & Neglect Cases
Deciding to put the elders you love in a nursing home to live out their golden years is never easy. Once the choice is made, we expect nursing homes to provide exceptional care and treat our loved ones with the dignity and respect that they deserve. Unfortunately, nursing home abuse and neglect occurs far too often and is often underreported. When nursing homes are negligent, and caregivers are abusive and neglectful, Dolman Law Group Accident Injury Lawyers, PA are here to help you stop the behavior and hold nursing homes and caregivers responsible for their actions.
Defective Product Accidents
Product manufacturers have a legal obligation to ensure the safety of their products when they introduce them to the market. Product defects can occur during the design or manufacture of a new product. From a legal standpoint, manufacturers who do not warn consumers about potential dangers or hazards related to their product open themselves to liability. Other parties involved in bringing a product to market, such as wholesalers and retailers, may also face liability. A wide variety of defective products could lead to injuries. The Consumer Products Safety Commission (CPSC) collects data about defective products, such as chemicals, home decor, children's products, furniture, electronics, and toys.
Sexual Abuse
If you were a victim of childhood sexual abuse by a clergy member or anyone else, and your parents did not file a suit on your behalf, you may qualify to recover compensation for damages related to your abuse. Our empathetic legal team understands the gravity of your injuries and how they can stay with you into adulthood. For some, the first step to healing is facing their abuser and taking action. If you are unsure whether you want to file a lawsuit, schedule a confidential case evaluation with one of our childhood sexual abuse attorneys to learn more about your legal options.
Wrongful Death
Any of the above events or accidents and others can lead to fatal injuries. Wrongful death refers to death resulting from the wrongful act or negligence of another person, business, or entity. If you have tragically lost a loved one, you may qualify to file a wrongful death suit and receive compensation related to your losses. A Massachusetts personal injury lawyer can evaluate your case and advise the right course of action for you and your family.
Seeking Compensation in a Massachusetts Personal Injury Lawsuit
Not all accidents lead to injury, and not all injuries need medical treatment. Many who experience accidents or suffer injuries return to their day-to-day activities without going to the doctor or bringing a lawsuit. However, severe injuries come with economic consequences on top of the physical pain. Fortunately, victims of negligence can seek compensation for damages in civil court.
Whether from a settlement agreement or a jury verdict, the most common losses that victims recover include:
Medical Expenses
Massachusetts is a no-fault insurance state, so victims who suffer injuries in a traffic accident will seek compensation for medical expenses under their mandatory personal injury protection (PIP) coverage. The minimum PIP coverage is $8,000 in Massachusetts, which victims of negligence easily meet or exceed when they suffer severe accident injuries. Accident victims can recover damages beyond their PIP in a personal injury lawsuit.
Regardless of the cause of injury, victims of negligence can recover costs for ambulance service, emergency room visits, hospitalization, X-rays, lab tests, surgery, aftercare, and medication. Severe injuries that cause permanent disability or extensive recovery often entitle victims to future medical treatment costs to cover long-term nursing care, physical therapy, occupational therapy, and assistive devices, like wheelchairs and prosthetic limbs. Abuse victims also typically seek trauma counseling to cope with their abuse.
Lost Wages
Sustaining injuries, undergoing treatment and/or surgery, and recovering sometimes requires weeks or months away from work. Even after weeks of healing and recovery, those with labor-intensive jobs sometimes still have restrictions. Those who suffer injuries can claim lost wages in their personal injury lawsuit to recover income lost due to their injuries. Those who suffer catastrophic injuries might also receive compensation for future lost wages when they cannot return to work or seek future employment.
Non-Economic Losses
Medical expenses and lost wages make up a large part of a personal injury claim, but victims also suffer from non-economic losses, which are more difficult to quantify. Think of non-economic losses as the negative ways that your injuries have impacted your life, especially regarding things that you cannot measure by adding up receipts, bills, and payroll information. Some common non-economic losses include physical pain and suffering, emotional distress, diminished quality of life, loss of consortium with a spouse, and scarring and disfigurement.
Massachusetts Personal Injury FAQs
Suffering injury or illness resulting from the carelessness, negligence, or willful harm of another is a traumatic event. Fortunately, many injuries heal independently without intervention, and victims can return to their normal routine without ongoing medical treatment, missing work, or filing a lawsuit. However, more severe injuries come with more medical expenses, more emotional distress, and more economic loss.
If you have recently suffered injuries because of negligence or intentional harm, you are likely dealing with emotions ranging from anger to hopelessness to uncertainty. Your first step to moving on with your life is to contact an experienced Massachusetts personal injury attorney to review the facts of your case and advise you on the right path forward.
Until you have the chance to consult a lawyer, the following answers to frequently asked questions concerning personal injury claims, lawyers, and the legal process in Massachusetts will provide you with some preliminary information.
How do I know if my injuries are severe enough to contact a Massachusetts personal injury attorney?
You likely know that minor injuries do not require an attorney and that major injuries typically do. However, determining what falls under each category isn't always easy. If you're not sure, you should consult our Boston personal injury attorneys. An experienced lawyer can evaluate the details of your case and determine if you have a viable claim.
If you sustained injuries in a traffic accident, you need to comply with the state's no-fault insurance laws about seeking compensation for damages. You must file a claim under your mandatory Massachusetts personal injury protection (PIP) coverage after an accident. Once you accumulate $2,000 in medical expenses, you can step outside the no-fault system to seek compensation. If your injuries do not exceed or exhaust your PIP policy limits, you may not need to take legal action. An attorney can advise you on what is best for your situation.
The amount of time you need to spend away from work due to injuries also provides a clue to whether you should contact a personal injury lawyer. If your injuries have forced you to take weeks or months away from your job for treatment, surgery, hospitalization, or recovery, you should contact a personal injury attorney. Lost wages make up a large part of injury claims. Your PIP policy will cover some lost wages up to your policy limit, but likely will not make a dent if you missed major amounts of work, especially if you only have minimum coverage.
What is the statute of limitations for personal injury lawsuits in Massachusetts?
Each state has a time limit for those who want to bring a lawsuit against another party whose negligence harmed them. In Massachusetts, this time limit, referred to as the statute of limitations, is three years in most cases. Victims of negligence must seek compensation for damages within three years from the date of their injury. The same time limit applies to eligible surviving family members who wish to bring a wrongful death suit against an individual or a business. If you fail to comply with the state's statute of limitations for personal injury claims, you can expect a judge to dismiss your case. No matter how strong your claim, courts typically do not hear cases after the statute has run out.
However, some exceptions do exist. In certain situations, courts can pause the statute of limitations time clock.
Although other rare examples exist, the most common exceptions to the statute of limitations include instances of delayed discovery, child injuries, and child sexual abuse.
Delayed discovery. Sometimes, victims do not immediately discover their injuries, and the law allows limited exceptions for this situation. Where the law is unclear, the court has discretion when a victim of negligence has learned of an injury after the statute of limitations runs out. Specifically, Massachusetts's discovery rule allows an injured individual to bring a lawsuit against a negligent party within three years of the date that the injured individual discovered the injury or should have reasonably discovered it. Delayed discovery is most often associated with medical malpractice claims but can also play a role in cases involving defective product injuries or toxic chemical exposure.
Child malpractice injuries. Another exception to Massachusetts's statute of limitations on personal injury claims applies to infants and child victims of medical malpractice. Parents or guardians must bring a lawsuit on behalf of their injured child within three years unless the child is under six years old. If an infant or child has not yet turned six when suffering injuries due to medical malpractice, parents have until the child's ninth birthday to bring a lawsuit on the child's behalf.
Child sexual abuse. Enduring sexual abuse as a child is traumatic to the extent that some victims suppress their memories. In other cases, children are afraid to step forward and take action, or the abuser was a parent. Massachusetts law provides a long statute of limitations for child sexual abuse cases to ensure victims have the opportunity to take legal action against their abusers. Victims of childhood sexual abuse have 35 years from the date of the alleged sexual abuse or seven years from when the victim discovered the emotional or psychological injury related to their abuse, whichever is longer.
Can I afford a Massachusetts personal injury lawyer to represent me?
Yes, you can. Personal injury law firms offer free initial meetings for potential clients to discuss the details of their injuries and how they occurred with a member of the firm. The lawyer evaluates the victim's case to determine the viability of the claim and the victim's eligibility for compensation. These initial consultations also provide victims of negligence the opportunity to learn more about their potential lawyers.
At Dolman Law Group Accident Injury Lawyers, PA, we understand the economic consequences of a severe injury, including the high medical treatment costs and lost income from time away from work. We participate in the industry standard of taking new clients on a contingent fee basis.
If you choose to hire us to represent you in your personal injury claim, we will enter a contingent fee agreement. This agreement allows you to hire us without paying an upfront retainer and gives our firm permission to deduct attorney fees from any settlement or jury award that you receive. Do not let the fear of attorney costs prevent you from contacting an attorney and missing out on the compensation you need to cover the full cost of your injuries.
Who is responsible for my medical bills after I suffer injuries in Massachusetts?
Responsibility and liability are two different things in personal injury claims. You are always responsible for your medical bills regardless of who or what causes your injuries. Yet, an insurance company and/or court might decide that another person or business is financially liable for your medical treatment costs. If this occurs, you will receive reimbursement for the medical bills you've paid, and your settlement or award money will go to pay your unpaid medical bills.
Once you file an injury claim or bring a lawsuit, you will have to wait several months or longer before receiving any compensation for your injuries. If you choose not to pay your medical expenses while you wait, you risk your treatment providers escalating your account to a collection agency and ruining your credit. It's in your best interest to communicate with all your medical providers and let them know that you are waiting for a resolution to your case. Your providers can note your account, possibly place a hold, and refrain from sending it to a collection agency. You should not have to cope with credit issues after someone else harmed you.
Do I have to testify in court for my Massachusetts personal injury claim?
It depends on the specific circumstances of your claim. Each personal injury claim is different, and some cases settle before litigation more often than others. For example, if you sustained injuries in a traffic accident, you probably will not have to testify in court. Insurance companies and accident victims often settle before going to trial. If your injuries occurred during another event, you have a greater chance of testifying in court.
Regardless of the cause of your injuries, both sides have an incentive to avoid costly litigation; however, negotiations are difficult, if not impossible, in some situations. Even though you might not have to appear in court, you should prepare for the possibility. Your attorney will evaluate your case and give you a better idea of the likelihood of litigation in your case. You should also prepare for mediation, which is formal negotiations that may serve as a resolution before trial.
Should I accept a settlement offer from an insurance company for my Massachusetts personal injury?
You should always consult with an attorney before accepting a settlement offer. Many personal injury claims also involve an insurance carrier—auto insurance, commercial insurance, malpractice insurance, homeowner's insurance—that sometimes make a settlement offer to a victim soon after an injury-causing event.
Insurance companies don't stay in business by paying the full value of every claim that they receive. They make early settlement offers to avoid paying out a large settlement or court-awarded damages later on, especially when they know their policyholder is liable for your injuries.
Early settlement offers from insurance carriers are often high enough to tempt victims to accept, especially if they are struggling financially. Yet, they are often far below what constitutes full and fair compensation for injuries. Two problems emerge when victims of negligence accept an early settlement offer. First, if you are still undergoing treatment for your injuries or healing, you do not know the full extent of your injuries. Second, when you accept a settlement offer, you sign away your right to seek further compensation if your injuries worsen.
Your attorney needs to know the full scope of your injuries and whether you face a permanent disability or condition to accurately place a value on your claim, making an early settlement offer better suited as a starting point for negotiations. Additionally, accepting an early settlement sometimes leaves victims to absorb additional medical expenses because they cannot seek further compensation once they accept.
How long will it take to settle or litigate my Massachusetts personal injury case?
A wide range of factors impacts the timeline of your personal injury claim. Your case could settle in a few months or a few years. If you have to go to trial, it will likely take longer than a year. Liability disputes, multiple parties, and severe injuries that need some time to heal could lengthen the time it takes to resolve your claim. Additionally, preparing a case for litigation and coordinating witness schedules drastically increases the timeline of your personal injury claim.
Your Massachusetts personal injury attorney can review your case and identify any challenges, obstacles, or issues that could impact how long it takes to settle or litigate your personal injury case.
How can a Massachusetts personal injury lawyer help me?
If you have never filed a personal injury claim, you likely are not familiar with all the ways a personal injury lawyer helps his or her clients. Personal injury attorneys do far more than file paperwork.
Some benefits of hiring a Massachusetts personal injury lawyer to represent you in your case include:
Investigation. Personal injury attorneys investigate the events that led to clients' injuries and gather relevant documents and evidence to support the case. This also includes gathering witness statements and consulting with experts and specialists to support a case.
Communication. Lawyers handle communication with insurance companies and defense legal teams. Not only does this protect clients from saying something to damage their case, but it allows time to focus on healing and rehabilitation.
Negotiation. Personal injury attorneys are trained negotiators who know how to deal with tricky insurance companies. Personal injury lawyers typically secure higher settlements for their clients.
Litigation. Settlement is not always an option in a personal injury case. Personal injury lawyers fight to get clients the maximum amount of compensation commensurate with their injuries.
Contact a Massachusetts Personal Injury Attorney Today
Coping with the aftermath of a severe injury causes physical pain, emotional stress, and financial burden. You deserve compensation when someone else's negligent behavior harmed you, causing preventable injuries. The skilled legal team at Dolman Law Group Accident Injury Lawyers, PA can handle the details of your claim while you focus on healing, rehabilitation, and moving on with life after injury. Contact us today online or at (833) 552-7274 to discuss the details of your accident or event that led to your injuries, the specifics of your injuries, and the best path forward for your case.
---
Dolman Law Group Accident Injury Lawyers, PA
76 Canal Street, Suite 302
Boston, MA 02114