Hair Straightener Uterine Cancer Lawsuit (July 2023 Update)
Do you use hair straightening products? If so, you may be at a higher risk of developing hair straightener cancer, specifically uterine cancer, as a result. Unfortunately, many of these product users have been diagnosed with cancer, and they are joining a hair straightener uterine cancer lawsuit to request compensation for their losses.
The Scientific Link Between Hair Straighteners and Uterine Cancer
A recent study published in the Journal of the National Cancer Institute and conducted by the National Institutes of Health (NIH) has discovered an increased risk of uterine cancer among people that use hair straightening chemicals or relaxers. Also, black women have a much greater risk of developing endometrial cancer, the most common form of uterine cancer.
Frequent users of chemical relaxers were more than twice as likely to develop uterine cancer compared to the general population who did not use hair relaxers. A frequent user is someone who treats their hair with chemical straighteners or relaxers at least four times a year.
Medical researchers were puzzled for decades why uterine cancer rates were so disproportionately high among black women. It turns out black women are not predisposed to uterine cancer or ovarian cancer. The study showed that the relationship between uterine cancer incidence and hair relaxer use did not differ because of race. Rather, black women are disproportionately impacted because they use chemical hair straightening products more than other races.
How Our Product Liability Lawyers Can Help You Bring a Hair Straightener Lawsuit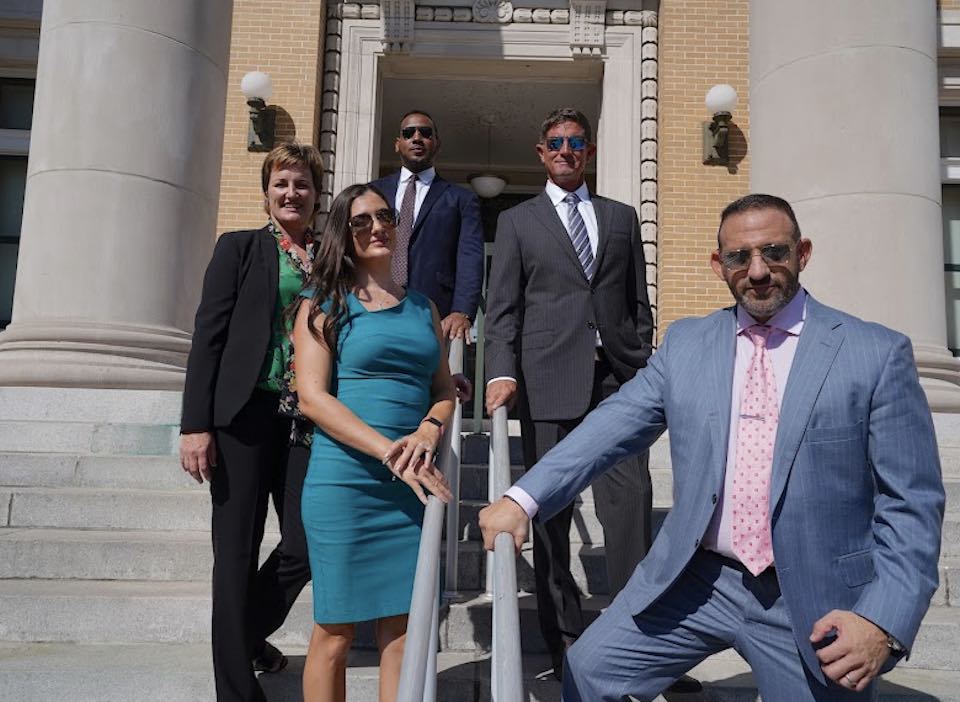 There is currently a multidistrict litigation that consolidates a large number of hair straightener lawsuit claims filed by those who have been affected by this increased cancer risk. The team at Dolman Law Group is representing plaintiffs who have been affected by hair straightener cancer, and we are prepared to fight for your rights as well.
Dolman Law Group is an award-winning personal injury law firm dedicated to assisting clients harmed by defective products. Our product liability lawyers have over 120 years of combined experience representing clients suffering debilitating injuries. We can provide you with the skills and insight developed through this experience to build a successful case.
The makers of products like chemical hair straighteners owe consumers a basic duty of care. Their failure to provide a product free of the unnecessary risk of cancer or, at the very least, a warning about this risk can potentially make them liable for the damages consumers of their products have suffered.
Speaking to a product liability lawyer can shed light on whether you may be able to take legal action, which parties may be liable, what damages you can recover, and more. With our assistance, clients have obtained the compensation they need to get their life back on track and hold negligent companies responsible for the injuries and financial consequences their products cause.
Uterine Cancer Diagnoses — Hair Straighteners Could Increase the Risk
Chemical hair straightening products are used primarily to help style curly or wavy hair by breaking down its structure. They are often used repeatedly to maintain the effect, which is now believed to put many users at risk for uterine cancer, ovarian cancer, and uterine fibroids requiring extensive treatments, including hysterectomy.
The endocrine-disrupting chemicals in hair straightening or hair relaxer products are likely the cause of these cancers, based on the study mentioned above by the National Cancer Institute. At a very minimum, these chemicals have been shown to cause adverse health effects. Most specifically, the risk of developing uterine cancer has now been firmly linked to hair straightener use.
If you use hair straightening products and have been diagnosed with uterine cancer, please reach out to us right away at 833-552-7274.
The First Hair Straightener Lawsuit Filed in 2022
Following a diagnosis of uterine cancer in 2018, Jenny Mitchell was the first person to file a hair straightening lawsuit in the United States Federal Court for the Northern District of Illinois. Mitchell's lawsuit alleges that exposure to phthalates and other endocrine-disrupting chemicals in hair relaxers she used led to her developing endometrial cancer at age 28. In turn, she underwent a full hysterectomy before her 3oth birthday rendering her permanently infertile.
Thus, her lawsuit blames hair straighteners for causing uterine cancer. While this may have been the first chemical hair straightening lawsuit to be filed, a slew of others was not far behind. Over the past months, a large number of plaintiffs have filed claims and joined the ongoing hair relaxer lawsuit.
Chemical Hair Straightener Cancer Lawsuit Basics
Hair products, like other cosmetics and household products, should meet rigorous safety standards. Consumers should expect their personal care products to be safe for use without danger to their health. However, the FDA does not regulate the cosmetics industry. The presence of cancer-causing (carcinogenic) chemicals can be grounds for filing a product liability lawsuit to seek compensation for damages suffered as a result of negligence.
We believe hair straightener manufacturers such as L'Oreal were negligent in using phthalates, an endocrine-disrupting chemical that has been causally related to cancers of the female reproductive system. Phthalates have been linked to uterine cancer and ovarian cancer. We suspect they potentially play a large role in the creation of uterine fibroids as well. A recent study links uterine fibroid growth to phthalates. Uterine fibroids may result in a hysterectomy that renders a woman permanently infertile.
Dolman Law Group is a nationally recognized and award-winning law firm that has assisted many clients with mass torts, catastrophic injury, and product liability lawsuits ranging from consumer goods to defective drugs. We are at the forefront of the hair straightener uterine cancer lawsuit. Contact our hair straightener lawsuit attorneys about the possibility of taking legal action if you have developed uterine cancer, ovarian cancer, or uterine fibroids requiring a hysterectomy due to the regular use of hair straightening products.
Current Updates on the Chemical Hair Straightener Uterine Cancer Lawsuit - July 2023
Dolman Law Group has been involved in the hair relaxer lawsuit since mid-October of 2022, and this post will remain the most up-to-date web page concerning developments in this lawsuit. We were among the first law firms in the nation to represent women who were diagnosed with uterine cancer, ovarian cancer, and uterine fibroids resulting in a hysterectomy following the use of chemical hair relaxers.
Be sure to bookmark this page and return often for the most current updates.
July 5, 2023 - Defendants Try to Delay MDL By Requesting Limited Discovery Procedures
The defendants are requesting a division of pre-trial discovery issues. They want all efforts at this point focused on general causation issues and whether there is sufficient evidence to link hair relaxers to uterine cancer and other serious conditions. All other discovery issues would be delayed until the causation issue is fully investigated.
The plaintiffs oppose this tactic because it will only delay the case, potentially for years. Instead, plaintiffs want to push for a trial date to put pressure on the defendants to make a reasonable settlement offer rather than face a potential multi-million dollar verdict. We expect the court will deny the defendants' motion and help move the cases along as quickly as possible.
As of June 16th, there were 149 pending hair relaxer cancer cases in this multi-district litigation, with 25 new cases filed in the 30 days since mid-May.
June 5, 2023 - Filing Deadline Today for Briefs Outlining Causation Issues
The court set today's deadline for both sides to file a brief explaining whether hair straightening or relaxing products can cause the many illnesses and injuries alleged. As further support for the MDL, a recent study released by the Boston University School of Public Health has linked the use of hair-relaxing products to a lower fertility rate.
Like other research that found harmful endocrine-disrupting chemicals in these products, this recent study published in the American Journal of Epidemiology found a racial impact. The authors determined that women of color (black, Hispanic, and multi-racial) have a greater likelihood of fertility problems because they use hair straighteners more frequently and for longer periods of time, starting at a younger age.
Considering the Sister Study discussed in this page and the most recent Boston U. report, it will be interesting to see how the defendants try to invalidate the scientific proof linking these hair products to various illnesses, and uterine cancer in particular.
June 1, 2023 - MDL Discovery Procedures Addressed and Master Complaint in Place
During May, the parties addressed procedures to help move the MDL along. Handling such a large volume of relevant documents, many of which may be confidential or privileged, will require certain management and disclosure processes. Two points of contention remain: how to handle electronically stored documents and overall confidentiality issues.
A Master Complaint has been created to help plaintiffs enter the MDL using a comprehensive form that includes shared allegations among all potential claimants. One of the main allegations in this litigation relates to ongoing harm experienced by users of hair-relaxing products that contained endocrine-disrupting chemicals. In addition to the Master Complaint, each plaintiff must prepare and file a Short-Form Complaint that sets forth the specific details, allegations, and damages unique to their claim.
As of March 15, 2023, the MDL contained 124 pending cases. More than 100 cases were added in the past three months alone.
May 1, 2023 - Plaintiffs can now file their lawsuits directly in the MDL
Until recently, people who wanted to bring legal action against hair straightener manufacturers were required to file a lawsuit in their local federal court and request a transfer to the national multidistrict litigation (MDL) located in the Northern District of Illinois. Judge Rowland, who is in charge of the MDL, has made it easier to participate in the MDL by allowing direct filings using a short-form complaint.
Earlier this month, the MDL contained more than 100 cases, but with this recent ruling, we expect the addition of hundreds of cases every month through this summer.
February 8, 2023 - The Multidistrict Hair Straightener Lawsuit (MDL) is Created
The Judicial Panel on Multidistrict Litigation (JPML) issued an order consolidating all existing lawsuits filed in federal courts throughout the U.S. into a new hair relaxer MDL (Multidistrict litigation) with venue in the Northern District of Illinois under Judge Mary Rowland. Although the MDl started with only 60 cases, we anticipate at least 100 plus hair relaxer lawsuits will be added to the MDL each and every month going forward. This has the potential to develop into a massive lawsuit in the coming months.
Judge Rowland will be tasked with managing the various parties, their pre-trial coordination, and, potentially, bellwether trials in the future.
The creation of the MDL faced opposition from defendants who argued that an MDL was not suitable since the hair straightener lawsuit names several competing hair relaxer manufacturers, and plaintiffs used various brands throughout their lives. They also pointed out that no clear chemical culprit has been named as the one responsible for the injuries suffered by the plaintiffs.
Despite this, the MDL was created in the interest of efficiency when handling not just the existing hair relaxer lawsuits but the vast number of claims that are expected to be filed in the future.
January 26, 2023 - Defendants Formally Object to a Hair Relaxer Lawsuit MDL
Arguments for and against a hair relaxer MDL were heard by the Judicial Panel on Multidistrict Litigation today in Miami. Plaintiffs argued that chemicals found in products such as Dark & Lovely, Just for Me, Motions, Olive Oil Relaxer, Organic Root Stimulator, Cantu Shea Butter Relaxer, and others caused them to develop cancer of the uterus or ovaries as well as uterine fibroids resulting in a hysterectomy.
Further, the plaintiffs contend these hair relaxer products were specifically marketed to African American women. Plaintiffs have requested a consolidation of all federal lawsuits in the United States Federal Court for the Northern District of Illinois.
Hair relaxer manufacturers argue that all lawsuits should not be consolidated as they cover numerous defendants and products. The defendants would prefer to defend lawsuits filed in federal courts throughout the country. In the alternative, they have requested a consolidation of all hair relaxer lawsuits in the Southern District of New York (SDNY).
December 28, 2022 - Defendants Oppose a Multidistrict Hair Straightener Lawsuit
Multiple defendants have now filed motions opposing the transfer of venue and the creation of a national chemical hair relaxer uterine cancer MDL. Over the last ten days, responses from manufacturers of chemical hair straighteners, such as L'Oréal, Strength of Nature, Dabur, and House of Cheatham, have been filed with the Joint Panel on Multidistrict Litigation.
The manufacturers all opposed the centralization of these lawsuits and allege the vast number of defendants and diseases make consolidation an inefficient solution. In fact, they would prefer the lawsuits continue on their current tracks throughout the nation. Further, they also oppose the Northern District of Illinois as a venue, and L'Oréal, for one, would prefer the venue to be the Southern District of New York should an MDL be created.
December 17, 2022 - Arguments Held to Determine Hair Straightener Lawsuits Procedures
The Joint Panel on Multidistrict Litigation (JPML) entertained oral arguments on whether all pending hair straightener uterine cancer lawsuits should be consolidated into a new MDL. A group of plaintiffs has argued that the common questions of fact and law contained in these lawsuits spread throughout Federal jurisdictions should be consolidated in order to streamline discovery and set bellwether trials in the near future.
MDLs are created to avoid redundancy in discovery across potentially thousands of cases. Further, an MDL prevents a situation where pre-trial rulings conflict with one another, and common witnesses would be trekking all over the nation to appear in various lawsuits.
December 11, 2022 - Judicial Panel to Decide Fate of Proposed MDL
The Judicial Panel on Multidistrict Litigation (JPML) has scheduled a hearing for January 26, 2023, in Miami, to determine whether all pending hair relaxer lawsuits filed in federal courts throughout the U.S. should be consolidated into one jurisdiction. Defendants oppose the motion to consolidate all lawsuits into an MDL (Multidistrict Litigation) due to the numerous defendants and products involved.
We believe the JPML will rule in favor of consolidating all lawsuits. Many recent mass tort lawsuits, including the Tylenol autism lawsuit, have been consolidated into an MDL despite various defendants and products involved in the underlying actions.
November 15, 2022 - Plaintiffs File a Motion to Consolidate Hair Straightener Lawsuits
A number of plaintiffs came together and filed a motion with the Joint Panel on Multidistrict Litigation (JPML) to transfer actions and establish a national hair straightener uterine cancer MDL (Multidistrict litigation). The plaintiffs seek to consolidate all chemical hair relaxer lawsuits that are currently pending in Federal Courts throughout the United States and have them brought into a single jurisdiction before one Judge.
In their memorandum of law, the plaintiffs requested that all hair straightener lawsuits be consolidated in the United States District Court for the Northern District of Illinois *Chicago). We anticipate the defendants (the largest being L'Oreal) will oppose this motion for consolidation due to the number of defendants and products involved. Further, we expect defendants to propose alternative jurisdictions to the Northern District of Illinois.
November 4, 2022 – Hair Relaxer Class Action Lawsuit Filed
A class action lawsuit was filed on November 3, 2022, in the United States District Court for the Northern District of Illinois. The lawsuit seeks class-action status for the named plaintiffs and all individuals similarly situated and names L'Oreal USA, Inc., L'Oreal USA Products, Inc., and Softsheen Carson, Inc., as defendants. Each woman plaintiff claims they purchased a chemical hair relaxer product containing endocrine disrupting chemicals, but they would have never purchased the product if they had been warned it contained potentially toxic chemicals.
What makes this class action lawsuit unique is that all plaintiffs expressly admit they have not been diagnosed with any injury related to the hair products. However, they request the defendant manufacturers pay for medical monitoring going forward, including testing and preventative screening.
In essence, the plaintiffs contend their regular exposure to toxic chemicals makes them susceptible to uterine cancer, ovarian cancer, and uterine fibroids. Testing and preventative screening are essential as early detection of hormone-based cancers can potentially save lives or greatly reduce medical expenses incurred in the treatment of such.
We are curious if a trend will develop in hair relaxer litigation, where other law firms begin pursuing medical monitoring claims due to a failure to warn of dangers related to hair products.
October 22, 2022 – Chemical Hair Relaxer Lawsuit Generates Media Attention
Famous civil rights attorney Ben Crump has filed a lawsuit on behalf of Jenny Mitchell against L'Oreal, alleging that Ms. Mitchell's regular use of their brand, Dark & Lovely, resulted in the development of uterine cancer. The lawsuit followed on the heels of a new study published in the Journal of the National Cancer Institute, which found women who regularly used chemical hair relaxers (defined as at least four times a year) were more than 2.5 times likely to develop uterine cancer.
Uterine Cancer and the Damage it Causes
Uterine cancer, as its name suggests, is cancer located in the uterus, usually beginning in its lining (endometrium). It is one of the more common gynecological cancers that affect the female reproductive system. However, in many cases, it can be cured in the early stages through a hysterectomy and other treatments such as immunotherapy and chemotherapy.
Types of Uterine Cancer
There are two types of uterine cancer:
endometrial cancer
uterine sarcoma
Endometrial cancer, the most common form of uterine cancer, grows within the lining of the uterus. It occurs when cells located in the lining of the uterus increase in number and grow out of control. Endometrial cancer is also known as endometrial carcinoma. In turn, endometrial cancer is divided into a number of subclassifications based on how the cancer cells appear under a microscope. The most common type of endometrial cancer is adenocarcinoma.
Uterine sarcoma is a very rare form of uterine cancer that grows within the muscle and supporting tissues of the uterus.
Uterine cancer is hormone-based, and a women's hormonal balance plays a large role in the vast majority of endometrial cancers. Estrogen leads to the development and growth of uterine or ovarian cancer; hence, endocrine-disrupting chemicals are a significant risk factor for both types of cancer.
Uterine cancer can be an incredibly painful and distressing illness. As with any malignant cancer, it has the potential to create significant damages, such as overwhelming medical bills, lost wages, mental anguish, and loss of quality of life. Consumer rights are a pillar of our society and critical to our well-being and safety. When products cause illnesses and health risks as serious as uterine cancer, a product liability lawsuit and mass torts case should be considered.
Do the Chemicals in Hair Straighteners Cause Uterine Cancer?
The Link Between Endocrine-Disrupting Chemicals and Uterine Cancer or Other Health Conditions
Many chemical hair straightening products contain endocrine-disrupting chemicals (EDCs), which alter and disrupt the functions of our endocrine system. Disruption of the endocrine system can lead to several diseases controlled by our hormones, such as diabetes, obesity, and cancer.
The High Incidence of Hair Straightener Uterine Cancer
The connection between endocrine-disrupting chemicals and uterine cancer has been researched, including this recent study from the National Institutes of Health. Endocrine disruptors such as phthalates, parabens, and fragrances are present in chemical hair straightening products.
Research is increasingly indicating that there is a correlation between hair straightener use and uterine cancer. Two studies were conducted and published in peer-reviewed journals. A 2010 study published in Environmental Health Perspectives discovered that women of African descent use more chemical hair relaxers and have higher levels of parabens and phthalates in their bodies. This research provides a likely explanation for why they suffer from more severe and frequent breast and endometrial cancers than white women.
We are very confident in the science linking endocrine-disrupting chemicals and uterine cancer, and we believe the scientific evidence is strong for proving a link between chemical hair straighteners and uterine cancer.
Other Hormone-Related Cancers Like Endometrial Cancer
Endometrial cancer (uterine cancer) and ovarian cancer rely on the hormone estrogen to grow and develop. Endocrine disruptors can lead to the overstimulation of cells and aid in developing hormonal cancers. We can no longer ignore the link between hair straighteners and endometrial, breast, and ovarian cancer.
Endometrial cancer and ovarian cancer are both hormone-sensitive cancers. The most common cancer found in this study was endometrial cancer via an endometrioid (tumor). Endometrial cancer is particularly sensitive to hormonal factors, which gives greater credence to endocrine disruptors in chemical hair straightening products being the likely culprit. We believe there is a strong link between endometrial cancer and hair straighteners.
Sister Study Shows Devastating Hair Straightener Cancer Impact on Women
This recent study comes on the heels of prior studies. The International Journal of Cancer discovered possible links between hair straighteners and hair dyes and the development of breast and ovarian cancer. This latest study examined the data from the Sister Study led by the National Institute of Environmental Health Sciences (Cancer Epidemiology Group) on roughly 33,500 women in the United States aged 35 to 74. The study subjects filled out questionnaires asking about their use of hair products like hair straighteners, hair dye, permanents, body waves, relaxers, and hair pressing products.
The study found 378 cases of uterine cancer diagnosis out of the 33,497 participants in the hair straightener study. Out of the women who reported never using hair straightening products, only 1.64% would develop uterine cancer by age 70. On the other hand, 4.05% of women that reported using chemical hair straighteners and relaxers developed uterine cancer by age 70.
Frequent Users Have the Greatest Risk of Cancer
Women that reported frequent use (prolonged exposure) of chemical hair straighteners were found to be at higher risk of developing uterine cancer than those that had never used these kinds of hair products. A noticeable increase in risk was observed even after a few uses yearly. Uterine cancer is fairly rare, and these statistics may not exceed the single digits, but they indicate a verifiable risk increase that can be tied to the use of chemical hair straighteners.
The study participants that used hair straighteners saw twice as many cases of uterine cancer compared to participants that never used these hair products. Moreover, despite these only being single-digit percentages, when applied to the large number of women that use these products, these percentages translate to thousands of cases of uterine cancer.
Can Hair Products Increase the Risk of Uterine Cancer?
Although the study in the Journal of the National Cancer Institute did not ask which specific brands of chemical hair products the participants used, it determined that risks for uterine cancer applied to those that used chemical hair straighteners. The same links to uterine cancer did not exist with hair dyes, highlights, and perms. Despite this, many of these products still are under heavy scrutiny due to past studies finding a potential link between them and other cancers like breast cancer.
Researchers from the National Institute of Environmental Health Sciences (NIEHS) also utilized data from the Sister Study, a program committed to researching breast cancer. Their analysis identified 2,794 cases of breast cancer after chemical hair straighteners use and a 30% increase in the risk of developing breast cancer among women that used hair straighteners at least every five to eight weeks.
How Does Chemical Hair Straightener Increase Uterine Cancer Risk?
The research conducted thus far is unable to provide a concrete explanation for why straightening hair is linked to a higher potential for uterine cancer. Studies have only been able to suggest that there is a correlation and make some predictions about the role hair straighteners play. Scientists believe that endocrine disruptors in certain substances are directly responsible for the raised risk of many illnesses, such as cancer, diabetes, and obesity.
The fact remains that black women are twice as likely to be diagnosed with uterine cancer and, more specifically, endometrial cancer.
Studies have shown that these hair products tend to have harsher chemical compositions, which are needed to break down the structure of the consumer's hair for the desired straightness or relaxed state.
The cancers connected to these hair products tend to be caused by hormonal disruptions, which have led scientists to theorize this may be how hair straighteners increase cancer risk and, more specifically, uterine cancer risk.
Scientists worry that endocrine-disrupting chemicals are readily absorbed into the scalp. Further, they present estrogen properties in the human body, which may play a large role in the rapid growth of uterine cancer and endometrial cancer. Endometrial cancer is the fourth most common cancer among females.
Chemical hair straightening products usually contain parabens, bisphenol A, and formaldehyde, which individually contribute to the occurrence of uterine cancer but collectively may prove to be more dangerous. These hair straightening products contain high levels of these chemicals, and we are just learning how those dangerous chemicals work together and how they can lead to endometrial cancer.
Increased Hair Straightener Cancer Risk Among Black Women
Uterine cancer is considered fairly rare. However, studies have indicated that black women are diagnosed with it at a higher rate than any other race or ethnicity. The results of these studies echo this increased risk of developing uterine cancer.
Black women comprised only 7.4% of the National Institutes of Health study's participants. However, they made up 59.9% of those that reported using chemical hair straighteners. In another study, researchers found that black women that regularly used permanent hair dyes were associated with a 60% increase in breast cancer diagnosis, compared to an 8% increase in risk among Caucasian women.
The researchers found no associations between uterine cancer among non-straightening hair products that the women reported using, including bleach, highlights, perms, and permanent hair dye that altered natural hair. Chemical hair straightening products simply contain extremely high amounts of endocrine-disrupting chemicals.
The study, Use of Straighteners and Other Hair Products and Incident Uterine Cancer, is the first epidemiological evidence linking hair relaxer use to uterine cancer (and the most common form of uterine cancer—endometrial cancer). The rate of uterine cancer reported in this study is alarming, as it amounts to a relatively rare type of cancer.
Black women are the primary consumer demographic for chemical hair straighteners and relaxers due to pressure to conform to Eurocentric beauty standards and, in many cases, a desire for cosmetic versatility. This demographic not only consumes these products more than women of other races, but they also use them much earlier in their lives. It is also believed that black women are more likely to use multiple products simultaneously, possibly contributing to the risk of cancer.
Researchers have long sought to understand why black women have higher rates of uterine cancer. The answer may be that black women use hair straightening chemicals at four times the rate of white women. Further, other hair products contribute very little risk of uterine cancer.
Finally, researchers also believe that exposure to hair straightening chemicals at earlier ages is also troubling, as the scalp allows for greater absorption. Hair straighteners also cause burns and lesions, which may further exacerbate the absorption of chemicals into the scalp. The goal is to eliminate or at least drastically decrease health disparities among black women.
Who are the Hair Straightener Lawsuit Defendants?
Far and away, the biggest defendant in this lawsuit will be L'Oreal. The L'Oreal company manufactures well-known hair straighteners, including Dark & Lovely and Soft & Beautiful. Other companies with competing products that will be named as defendants include Unilever, which manufactures Sunsilk and Just For Me, and Proctor & Gamble, which manufactures Ultra Sheen. Smaller manufacturers who will also be named in forthcoming lawsuits include Softsheen Carson, Inc., Dabur International, Namaste Laboratories, Beauty Bell Enterprises, Parfums De Coeur, Cureplex, Avlon Industries, and House of Cheatham.
Potential Defendant Hair Straightener Brands
Popular brands of chemical hair straighteners that may be involved in the hair straightener cancer lawsuits include;
Bantu
Dark & Lovely
Soft & Beautiful
Just For Me
Sunsilk
Ultra Sheen
Creme of Nature
Motions Hair Relaxer
African Pride
TCB Naturals Relaxer Crème
Positively Smooth Relaxer System, and
ORS Olive Oil.
Contact Dolman Law Group for Help With Your Hair Straightener Cancer Lawsuit
If you or a loved one has been diagnosed with uterine cancer after using chemical hair straighteners or relaxers, do not hesitate to contact Dolman Law Group about your potential hair straightener lawsuit. Dolman Law Group serves clients from 15 locations across the state of Florida as well as across the nation.
We offer free consultations to prospective clients and can help you determine the legal options available to you regarding a hair straightening lawsuit. Call us today at 833-552-7274 to learn more.
The Dolman Law Group works with local counsel in any jurisdiction outside Florida for the purpose of filing lawsuits in jurisdictions wherein we are not licensed. Thus, we will follow each State's ethical rules to ensure a local attorney is involved.