Many injured workers hesitate to consult with a Florida workers' compensation lawyer for many reasons. Some may be concerned about being pressured, concerned about cost, or think their case is not important enough. Rest assured that speaking with someone in our law office will only make the process of obtaining benefits easier for you—not more difficult.
Why You Should Work Work With Our Florida Workers' Compensation Attorneys
If you or a loved one has been injured in a workplace accident, Dolman Law Group offers a completely free initial consultation and case evaluation. That means that we will personally sit down with you, provide a free case assessment. During the initial work comp consultation, we will inform you of your rights, let you know of any potential course of action, and provide you the ideal attorney to handle your situation; all completely free of charge. We also offer a "No Recovery, No Fee" promise to our clients, enabling you a peace-of-mind knowing that you are not obligated to pay us anything until we achieve a payout for you. We do not get paid if you don't.
If you're looking for a Florida workers' compensation lawyer; we are here to help you. We will zealously handle any actionable Florida workplace injury claim. We aim for client satisfaction from start to finish and have no doubts about achieving this goal. Contact Dolman Law Group Accident Injury Lawyers, PA today and our workers' comp lawyers will get started on your case quickly and confidentially.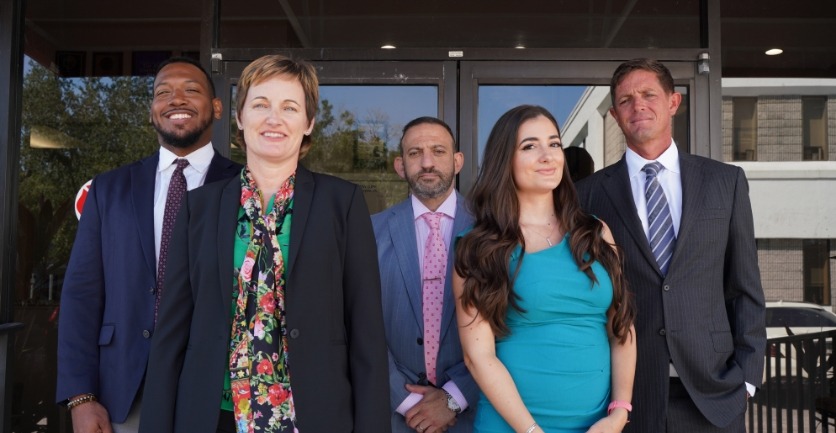 About Dolman Law Group
Dolman Law Group Accident Injury Lawyers, PA was founded in 2009 by Matthew Dolman, Esq., who is now the president and Managing partner of the firm. Matt attended Stetson University where he majored in trial advocacy; one of the highest-rated trial advocacy programs in the nation. Matt is a lifetime member of the Million Dollar Advocates Forum and Multi-Million Dollar Advocates Forum for resolving cases in excess of $1 Million and $2 Million respectively.
He has been selected by his colleagues as a Florida Super Lawyer and a member of Florida's Legal Elite on multiple occasions. He has also been selected as a top 100 lawyer in the State of Florida, by National Trial Lawyers. Stanley Gipe is a Board Certified Civil Trial Lawyer with the Florida Bar which connotes his expertise in trying cases before a jury. Stan has served as lead counsel on numerous jury trials and has personally handled over 1000 injury lawsuits throughout Florida.
Dolman Law Group has recovered over $175 million for victims of negligence which includes those injured on the job. The Florida personal injury lawyers at Dolman Law Group have a combined 115+ years of experience representing those who have been injured as a result of negligence exhibited by an individual or corporation.
How Long Do I Have To Report My Workplace Injury?
The simple answer is thirty (30) days, but you should report your injury as soon as possible in order to prevent any grounds for denial of coverage. Your employer then has no more than seven (7) days to report the injury to their insurance company. After that, you should receive an information brochure within three (3) days. If you or a loved one has been involved in a situation regarding a workers' compensation issue, our Florida Workers' Compensation Attorneys at Dolman Law Group Accident Injury Lawyers, PA offer a completely free consultation and case evaluation. We can ensure that you do not miss any deadlines for filing claims or for reporting your injury. The sooner you contact us, the faster we can help!
What happens if I worked for a subcontractor who did not carry workers' compensation insurance?
All employers in Florida with four (4) or more employees are required to carry workers' compensation insurance in the event a worker gets injured or ill. Moreover, because construction is one of the most dangerous industries when it comes to injuries, all construction employers with at least one (1) worker must provide workers' compensation coverage, including subcontractors. If you work for a subcontractor, you should be able to trust that you are covered by a workers' compensation policy. In fact, subcontractors are required to prove to the entity that contracted them that they are covered. You may ask for proof yourself. Unfortunately, many subcontractors unlawfully fail to obtain workers' compensation coverage and even lie to both workers and the general contractor about it. For a list of what is considered a construction job, see this webpage. Unfortunately, you may not realize that your employer does not have proper coverage until after you have been injured on the job. Fortunately, there are still ways for you to obtain benefits and compensation.
An experienced workers' compensation advocate can help you "go up the ladder" to receive benefits from the general contractor's workers' compensation insurer. If this unlawful situation applies to you, contact our office to discuss your case and obtain a free initial consultation as soon as possible.
Why Choose Our Florida Workers Comp Attorneys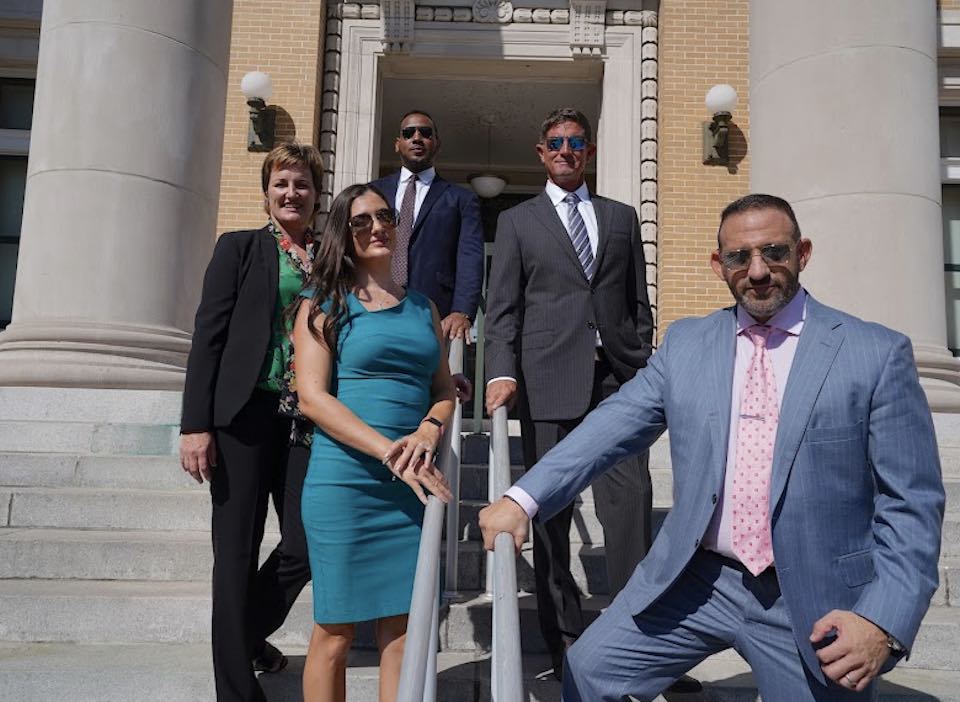 With eleven Florida offices, we are able to cover a large portion of the state. Dolman Law Group maintains offices on both coasts and Orlando. In fact, we have offices in Tampa, North Miami Beach, Doral, Clearwater, St. Petersburg, Fort Lauderdale, Aventura, Boca Raton, Bradenton, New Port Richey, and Orlando. Thus, we are your local work injury law firm.
Our workers' compensation attorneys in Florida are always available for a free consultation case evaluation. Our firm focuses on personal injury law, representing many practice areas, including those who have been injured in car or motorcycle accidents, wrongful death, traumatic brain injury, slip and fall accidents, distracted or drunk driving, and many more.
At Dolman Law Group, we are on your side. Being home to seven different experienced, successful, and professional attorneys makes having our team fighting for you a wise choice. We also provide an important gateway for success by providing our clients with the personal cell phone number of the work injury lawyer handling their case, enabling genuine personal attention. We've been 'in it to win it' since 2009 and we hope you are as well. Contact Dolman Law Group for a free consultation today.
---
Here's what Francesca from Clearwater said about us on Google: "Working with Dolman Law was very easy. We dealt with Lauren and Geoff, both of whom were helpful and always willing to answer questions. We were satisfied with the outcome of the case and the amount of time it took to settle it. We would definitely consider Dolman Law again if we ever found ourselves in the same situation as before. " Rating: 5/5 ⭐⭐⭐⭐⭐ Check out all of our Google reviews!
---
Dolman Law Group Accident Injury Lawyers, PA 800 North Belcher Road Clearwater, FL 33756 (727) 451-6900 Contact us with our easy Online Form which will email us directly.
---
*The above information was written and reviewed by either Attorney Matthew Dolman or another injury lawyer at the Dolman Law Group Accident Injury Lawyers, PA which has a combined 90 plus years of experience practicing Florida personal injury law. Matthew Dolman himself has been practicing personal injury law in Clearwater and St. Petersburg for the last fifteen (15) years. The information provided comes from extensive research and years of experience trying legal cases in courtrooms throughout Florida.
All Areas We Serve in Florida