After a personal injury in Chicago, you need an experienced attorney to obtain fair compensation for your losses. A skilled personal injury lawyer can handle your claim while you focus on healing and recovery.
Dolman Law Group Accident Injury Lawyers, PA, represents personal injury victims like you. Our emphasis on safeguarding client rights and achieving favorable outcomes makes us the advocate and ally injured Chicagoans need.
About Dolman Law Group Accident Injury Lawyers, PA
Dolman Law Group Accident Injury Lawyers, PA, is an award-winning personal injury law firm handling cases nationwide, including Chicago. We ensure that personal injury victims get the compensation they deserve so they can pay their bills and proceed with their lives.
Our team of dedicated and experienced legal professionals offers you the highest-quality legal representation. We have a stellar track record of successful verdicts and settlements in even the most challenging personal injury cases. We can't guarantee results, but we promise to put our team's maximum resources and know-how behind fighting for justice and fair compensation.
Visit, call, or contact us for your free consultation.
Your Rights to Personal Injury Compensation in Illinois
Personal injury law deals with compensation for losses you suffer because of someone else's careless, reckless, or intentionally harmful actions. In Illinois, anyone—an individual, corporation, or other entity—you can hold who harms you under wrongful circumstances legally liable for damages.
Dolman Law Group Accident Injury Lawyers, PA, obtains those damages for personal injury victims like you.
Our team can often secure compensation for:
Medical expenses incurred treating your injury and any resulting health complications.
Costs of repairing or replacing damaged personal property, such as your vehicle.
Other out-of-pocket expenses for your accident or injury.
Loss of earnings and job benefits from missing work.
Future loss of income and opportunities due to a disability.
Physical pain from your injuries or medical treatments.
Emotional suffering or trauma from your accident or injury.
Loss of quality or enjoyment of life.
Scarring, disfigurement, or loss of bodily function.
In the tragic case of a death from a personal injury in Illinois, a representative of the deceased victim has the right to sue for wrongful death damages on behalf of the victim's surviving spouse, children, or close family members. A representative of the victim's estate may also pursue a survival action for additional damages.
At Dolman Law Group Accident Injury Lawyers, PA, our team has extensive experience handling wrongful death and survival cases.
Money cannot replace your lost loved one, but pursuing legal action can provide crucial financial support by compensating you and your loved one's estate for:
Loss of your loved one's earnings, financial support, and household services.
Loss of your loved one's companionship, consortium, or parental guidance.
Your loved one's medical expenses related to the cause of death.
Your loved one's pain and suffering before death.
Your grief, sorrow, and mental suffering.
Funeral and burial expenses.
We encourage you to contact our team in Chicago for a free consultation if you recently suffered a personal injury or lost a loved one in a preventable accident or incident. You may recover compensation.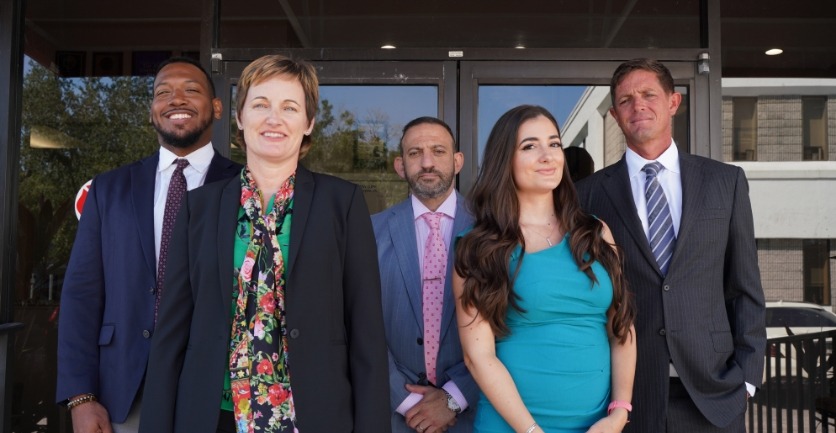 Personal Injury Cases We Handle
Dolman Law Group Accident Injury Lawyers, PA, handles many Chicago-area personal injury claims. Here are some categories of cases our team routinely tackles for injured clients.
Car Accidents
Car accidents are a leading cause of accidental injuries and fatalities in Chicago. According to the Illinois Department of Transportation (IDOT), over 98,000 traffic accidents happened in Chicago in a recent year, resulting in hundreds of deaths and thousands of injuries. We fight to get Chicago car crash victims and grieving families fair compensation for their losses.
Truck Accidents
Truck crashes cause significant destruction on Chicago streets and highways. Victims frequently suffer severe or fatal injuries. Our team understands the trucking industry and how to prove cases against negligent truckers and trucking companies to get compensation for you for the harm they caused.
Motorcycle Accidents
Chicago motorcyclists have the same right to use the roads as car and truck drivers. Other motorists, however, frequently disregard bikers' safety. Our Chicago team fights for injured motorcyclists and the families of bikers who die in preventable crashes to ensure they receive the money they need to pay their bills and rebuild after an accident.
Bicycle Accidents
Riding a bike in Chicago shouldn't mean risking your life. More than 1,000 bicycle accidents occurred on Chicago streets in a recent year, according to IDOT, killing 11 riders and injuring 975. If you or a loved one sustained injuries in a Chicago bicycle accident, our team has the resources to seek justice and fair compensation for your losses.
Pedestrian Accidents
Pedestrians encounter alarming risks in Chicago. IDOT data reflects that 56 pedestrians died, and more than 2,000 sustained injuries in accidents in a recent year. Dolman Law Group Accident Injury Lawyers, PA, can help to secure the maximum payments possible from the at-fault driver or other liable parties if you or a loved one were in a pedestrian accident.
Slip and Fall Injuries
The law requires Chicago property owners to protect their visitors from unreasonable hazards. If you fell and suffered injuries on a property you don't own in Chicago, you may be able to claim damages. Dolman Law Group Accident Injury Lawyers, PA, holds property owners, tenants, and others accountable for preventable injuries sustained on their premises by innocent visitors.
Nursing Home Abuse and Neglect
Nursing home operators in Chicago have a special obligation to care for their residents. Any failure to live up to that standard by allowing abuse and neglect of residents can result in tragic and unforgivable outcomes. We fight to ensure nursing home operators pay when their careless or intentional actions put residents' health and well-being at risk.
Medical Malpractice
Chicago medical providers must deliver a quality standard of care to their patients. When they fall short, patients can suffer severe injuries and health complications. Proving medical malpractice cases takes particular skill and know-how. Dolman Law Group Accident Injury Lawyers, PA, has a long track record of securing fair compensation for victims of medical negligence.
Dangerous Drugs and Consumer Products
We trust that over-the-counter and prescription medications and other daily-use products are safe for human consumption. Drug and consumer product manufacturers sometimes misplace this trust by allowing defective products to reach store shelves, putting the public at risk.
Dolman Law Group Accident Injury Lawyers, PA, has the resources and sophistication to handle claims against manufacturers for individuals who suffered severe health problems and other consequences from using defective products.
Mass Torts
Some personal injuries happen on a large scale. One accident or series of incidents can affect hundreds or thousands of victims. To address the harm caused by these mass torts and obtain fair compensation, victims need lawyers with the resources and sophistication to fight the nation's most powerful corporations, institutions, and insurance companies.
Childhood Sexual Abuse
Illinois law provides an extended period for survivors of sexual abuse during childhood to take legal action against their abusers and others who enabled or facilitated that abuse, such as clergy, scouting organizations, and schools. Even if you suffered abuse long ago, you may still have the right to claim monetary damages. Dolman Law Group Accident Injury Lawyers, PA, fights for justice and fair compensation for Chicago-area survivors of childhood sexual abuse.
You Don't Need To Fight Insurance Companies Alone
Insurance coverage plays a role in most personal injury cases. Your insurance may protect you against some of your losses. The party (or parties) at fault for your injury may also carry liability insurance to compensate you.
Insurance coverage, however, does not guarantee payment. Insurance companies will do anything to avoid paying what they owe, including offering lowball settlements or asking questions intended to incite you to say something to undermine your claim.
At Dolman Law Group Accident Injury Lawyers, PA, we handle all insurance issues on your behalf. You'll never have to field a call from an aggressive insurance adjuster or worry about whether you've said the wrong thing, settled for too little, or missed a critical deadline. We deal with insurers so you can focus on healing and recovering from your trauma.
Protect Your Rights to Personal Injury Compensation
Your actions in the wake of suffering a personal injury can impact your rights to compensation. Here are some tips to protect your interests and position yourself for a successful claim.
Take Care of Yourself
Your attorney's ability to recover fair compensation may depend on showing that you've taken reasonable steps to care for yourself. Attend doctor's appointments, take your medication, do physical therapy, and follow your medical team's directions. The medical and other records of your efforts can serve as robust evidence to prove your claim.
Keep Documents and Other Evidence
Keep all documents related to your injury, including bills, receipts, statements, medical records, and accident reports. Your attorney will review all of them.
Keep all items connected to your injury or the accident that caused it until your lawyer can examine them. The clothes you wore when you suffered injuries, your damaged vehicle or bicycle, and other physical evidence usually constitute critical evidence in your claim.
Hire a Personal Injury Lawyer Immediately
You risk your rights from the moment you suffer a personal injury. At-fault parties, defense lawyers, and insurance companies will take steps to avoid legal and financial responsibility for your losses. You need a skilled, trained attorney to protect you from their tactics, meet deadlines, and build the strongest possible case on your behalf.
You can easily afford to hire our personal injury lawyers. Dolman Law Group Accident Injury Lawyers, PA, offers a free consultation to personal injury victims and their loved ones to explain their rights and options risk-free. We represent clients on a contingent fee basis, which means you pay for our services only if we deliver results.
Contact an Experienced Chicago Personal Injury Lawyer Today
Chicago personal injury victims and their loved ones have substantial rights to compensation under Illinois law. It, however, takes the work of a skilled personal injury lawyer to secure the compensation you need to pay your bills and rebuild your life.
Dolman Law Group Accident Injury Lawyers, PA, goes the distance for personal injury victims like you. You can reach us at (312) 500-2901 or our online contact page. Connect with us today for your free consultation.