Have you been injured on the job in Doral?

Are you wondering if you can file a Doral workers' compensation claim?

Is your employer pressuring you to return to work too quickly?
If you've suffered a workplace accident or illness, you may have questions about filing a workers' compensation claim. A Doral workers' comp lawyer at Dolman Law Group Accident Injury Lawyers, PA, can help you through this complex process while protecting your rights.
Why You Should Work With Our Doral Workers' Compensation Attorneys
Workplace accidents are often complicated. The injuries suffered at work could prevent you from returning to work in the same capacity. It could also reduce your ability to work in the future, further complicating your ability to provide for yourself and your family. That's why we fight aggressively from the start.
Our Doral workers' compensation lawyers have the experience and resources to tackle these complex cases - and win. We work quickly to identify all liable parties and help protect your ability to receive all the benefits you deserve. We are a nationally-recognized, award-winning law firm for a reason. Our workers' comp attorneys give each of our clients the personalized attention and support they need at every turn.
We are a local law firm with an office located in the heart of Doral. We know the businesses, corporations, industries, and construction companies where Doral workplace accidents occur frequently, such as CityPlace Doral, the Miami International Airport, shipyards, and construction sites. When you suffer a workplace accident in Doral, we can be there quickly wherever you need us - in your home, your hospital room, or your office. To make things even easier, we offer FREE consultations and reviews, so you can seek fair compensation based on your unique circumstances.
Our Doral personal injury law firm is located at 8400 NW 36th Street in Doral, Florida. We are close to the Miami International Airport and CityPlace Doral shopping mall.
To schedule a free case evaluation with one of our lawyers, call Dolman Law Group today at 305-930-7688.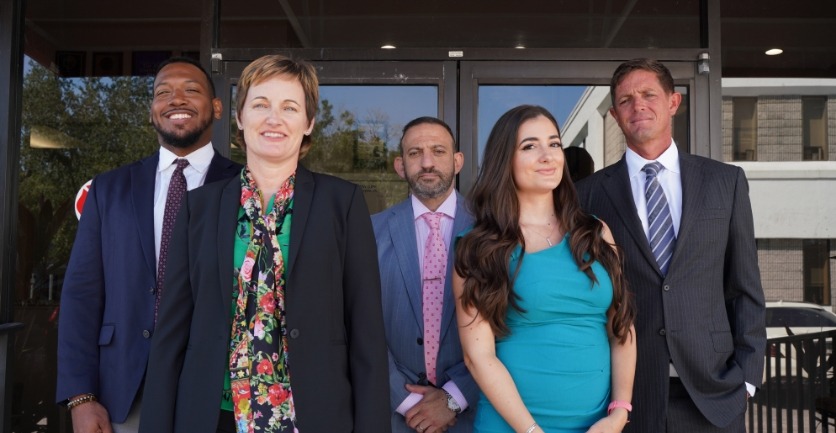 A By-the-Numbers Look at Workers' Compensation Statistics in Doral & the U.S.
As reported by the National Safety Council, a worker in the U.S. is injured on the job every seven seconds, resulting in more than two million employer reports of injuries and illnesses in one recent year alone.
Ever wonder what the most dangerous job in the United States is or how many workplace injuries there are each year? The United States Department of Labor provides statistics based on annual numbers:
2.8 million nonfatal workplace injuries and illnesses were reported by U.S. private industry employers in a recent year.

45,800 fewer workplace injuries and illnesses were reported in that year, compared to one year earlier.

882,730 occupational injuries and illnesses in private industry resulted in missed days from work.

The median days away from work in the manufacturing industry were 8. This represented one fewer missed day from work than the prior year.

4 occupational groups represented 67 percent of the workplace injuries and illnesses requiring days away from work. Those groups included: other production workers, metal and plastic workers, material moving workers, and assemblers or fabricators.

34 percent of the days away from work in manufacturing involved musculoskeletal disorders.

23,570 days away from work cases were reported in the healthcare field.

11,140 days away from work cases were reported in the administrative and support services industry due to slips, trips, and falls.
Your Doral Workers' Comp Lawyer Must Have an Intricate Understand of Florida Workers' Compensation Laws
According to the Florida Office of Insurance Regulation, here are some of the features of the state's workers' compensation laws:
Most employers are required to provide workers' compensation to their employees. The benefits serve as a wage replacement for employees who have suffered a workplace injury or illness.

There are three types of benefits available in addition to medical care coverage: temporary total disability (TTD), temporary partial disability (TPD), and impairment benefits. TTD benefits pay 66 2/3 percent of your weekly wage. TPD is 80 percent of the difference between the wages an individual received before the injury and what they're able to earn now.

With some exceptions, workers' compensation claims must be made within 30 days. The hard deadline for filing petitions for benefits is two years.

Claimants are limited to benefits equaling no more than 100 percent of the statewide average weekly wage, or 66 2/3 percent of your weekly wages.

Benefits begin on day 8 if your injury results in less than 22 days missed from work.

For disabilities lasting more than 21 days, benefits begin on day 1.

Individuals may only receive benefits for psychiatric claims that stem from physical injuries for 6 months.

If a minor is legally employed and injured at the workplace, the damages that they are eligible to receive are double that of a claim from a legally employed adult.

Workers' compensation claimants are required to see only doctors that are authorized by the workers' compensation insurance company.

If your benefits are denied, you may still be able to receive compensation by filing a lawsuit against the workers' compensation insurance company. An experienced workers' comp attorney can assist you.
Common Workplace Injuries in Doral
Workplace injuries vary widely, depending on what industry the injured individual was working in. However, here is a list of some of the injuries we've seen with our workers' compensation clients:
Carpal tunnel syndrome

: This is a condition that affects the hands and wrists. It generally comes from repetitive or awkward hand movements, including computer and assembly line tasks. It also can be caused by the need to grip something tightly, mechanical stress on the palm, and vibration.

Back and neck injuries

: Spinal injuries are among the most common workplace injuries. Back and neck injuries can include spinal cord injuries and bulging or herniated discs. If you experience symptoms such as pain, numbness, and tingling in one or both arms, it's crucial to report these problems quickly to ensure a doctor performs the best diagnostic tests to diagnose your injury.

Head and brain injuries

: Head and traumatic brain injuries (TBIs) can occur on the job when an object strikes a worker or as a result of a fall. These types of injuries are most common in construction jobs but can occur anywhere. Landscaping jobs also pose a high risk of head or brain injuries due to falling from heights or because items may be dropped from above onto the head.

Hip and leg injuries

: Employees may suffer injuries to their legs and hips from a fall or when objects fall on their legs. Also, workers whose jobs require unnatural twisting movements can experience lower body injuries.

Rotator cuff and shoulder injuries

: Although these injuries are common in workers who must lift heavy items, rotator cuff and shoulder problems can happen to office workers as well. These types of injuries may not appear on an X-ray and could be more difficult to diagnose.

Catastrophic workplace injuries

: A catastrophic injury is so severe it leaves a worker totally and permanently disabled. Permanent Total Disability benefits are generally substantial, with compensation reaching hundreds of thousands of dollars in some cases. Some injuries that could lead to permanent total disability include paralysis of the arms, legs, or trunk from spinal cord damage; amputation of a limb or hand; traumatic brain injury that results in damage to important bodily functions, including sensory, motor, and speech; severe neurological disorders; second or third degree burns over certain percentages of the body; total blindness; or vision problems that keep a worker from doing their job.

Work-related deaths: When a worker dies from a workplace illness or injury, their family may be eligible to receive benefits, including funeral expenses and monetary benefits based on the worker's average weekly wage. The benefits received may max out at a certain level.
Don't Sign a Worker's Comp Settlement Before Speaking With a Doral Work Comp Attorney
Sometimes, depending on the circumstances of the case, an employee who is eligible to receive benefits can do so in a single lump sum payment rather than in continuous payments. This lump sum is called a settlement. While this is a preferable way to receive benefits for many workers, it isn't without risks. A knowledgeable workers' compensation attorney can help you understand the downsides so that you can make the best decision possible in your situation.
One of the bad things about accepting a settlement is that you give up the right to pursue additional compensation in the future. If you do decide to settle, you will want an attorney to negotiate on your behalf in order to help you receive an amount of compensation that can meet your needs for the foreseeable future. If you are offered a settlement that is less than the amount you and your attorney think is fair, you have the option to decline the offer.
Frequently Asked Questions Our Doral Workers' Comp Lawyers Answer
What happens if I fail to report my injury to my employer within 30 days?
While there are plenty of exceptions to the 30-day window in which to report a workplace injury, you should definitely try to meet the deadline and report the injury as soon as possible because a failure to do so could result in a denial of coverage.
Is my employer required to carry workers' compensation coverage?
More than likely, yes. In Florida, employers with at least four employees are required to provide workers' compensation coverage. Construction companies, due to the high incidence of injuries in that industry, are required to carry the coverage if they have more than one employee. This number includes subcontractors.
What happens if my employer doesn't carry workers' compensation coverage?
Even if you are unable to receive workers' compensation benefits from your employer due to the employer not providing proper coverage or your claim being denied, you may still be eligible for compensation that you can pursue by filing a legal claim.
How does a workers' compensation case begin?
The first step in initiating a claim for workers' compensation benefits is to file a Petition for Benefits (PFB). A PFB is much like a complaint in a civil litigation matter because lists specific benefits that the claimant is entitled to, including lost wages, medical expenses, prescription medications, mileage for trips to and from the authorized medical provider, physical therapy, and more. The insurance carrier has 14 days after the submission of a PFB to either pay the requested benefits or file a response to the claimant.
Is it possible for me to collect workers' comp benefits in Doral and still file a lawsuit for compensation?
Yes. It is possible for some employees who have been injured due to the negligent or reckless actions of a coworker or even a manager to obtain workers' comp benefits from their employer and also seek compensation via a personal injury lawsuit. An attorney who is well-versed in both workers' compensation and personal injury can help you determine if this is an option for you.
Can the insurance carrier force me to get a second opinion on my diagnosis?
When your diagnosis is the subject of a workers' compensation case, yes, they can. The second opinion is called an Independent Medical Examination (IME), and if you refuse to get one when your employer's insurance carrier requests it, it could result in the denial of your case. There are several reasons why a carrier would request an IME, including disagreeing with the initial diagnosis, the failure of the initial doctor to treat your condition fast enough or to collect evidence in order to resolve some controversy about your claim.
Spotlight on Workers' Comp in Florida
According to a post from Orlando Weekly, businesses across the state are expected to see a decrease in workers' compensation rates in 2019. The decrease is in line with the trends in other states, as improvements in loss experience offset moderate increases in claim severity. Regulators approved a 13.8 percent decrease for 2019. This follows a 9.5 percent average rate reduction in 2018.
As reported by the Florida Watchdog in December 2018, Florida lawmakers are looking at implementing an independent medical review process that could potentially reduce costs and accelerate resolutions of disputed claims. The process, which California implemented in 2012, would rely on asking doctors, rather than legal professionals, to resolve disputed claims. The change in how these cases are handled could shrink the time it takes to resolve these matters from around six months under the current system to less than 30 days. Further, implementing an independent medical review process could save businesses around $22.6 million annually, the report states.
An article from Business Insurance stated that the average weekly wage paid to injured workers by employers increased to $929 at the start of 2019, which represents a 2.4 percent increase over the average weekly wage set for 2018. The increase is in line with Florida law, which calls for the weekly wage compensation to equal 100 percent of the statewide average weekly wage. The average weekly wage is determined each year on June 30.
A Doral Workers' Comp Lawyer at Dolman Law Group Can Help With Your Work Injury Claim
It is not unusual for employees filing a workers' compensation claim in Florida to encounter challenges and complications in the process. For guidance throughout the work comp claims process, the experienced Doral workers' comp lawyers at Dolman Law Group are ready to lend a hand as soon as possible.
We understand workers' compensation laws and procedures and can provide information to help you determine the benefits you're eligible to receive. We can represent you in the process of filing your claim and provide solid advice as to whether or not an additional personal injury claim would be a viable and helpful resolution to your case.
For a free consultation and case review with a Doral workers' comp attorney, contact Dolman Law Group through our online form or by calling (305) 930-7688.
Dolman Law Group Accident Injury Lawyers, PA
8400 NW 36th St.
Suite 450
Doral, FL, 33166
(305) 930-7688
What Our Clients Have to Say:
"My experience with this law firm has been extremely pleasant. After being involved in an accident where I was injured, I was able to seek treatment from the best doctors in the area. I was lucky to have a team that assisted in scheduling my appointments that worked around both my full time work schedule and my demanding grad school schedule. Even with a move out of state to New York, I was able to remain with this law firm and continue treatment in south Florida while remaining under the care of the doctors that I felt most comfortable with. Even though I suffered injuries and experienced difficulties in that aspect, the team here was able to make sure that I was able to continue work and stay on track with grad school all while I moved to a new state."
Rating: 5/5 ⭐⭐⭐⭐⭐
Anna Slough
August 2018
Read more reviews on Google!