As the most populous city in proper in Florida and the largest city by area in the U.S., residents and business owners hold many types of property. Unfortunately, property damage can occur, including damage from weather-related events such as hurricanes, damage to vehicles resulting from accidents, and even damage from structure fires.
Individuals who incur property damage can seek compensation by filing a claim against the negligent party's liability insurance policy or against their own insurance policy, such as a homeowners or renters insurance policy. An experienced Jacksonville property damage lawyer can protect your claim's value and keep you from falling victim to insurance providers' tactics to avoid paying out on claims.
If you have suffered property damage, you can learn more about the claims process through a free case evaluation with a Jacksonville property damage lawyer from Dolman Law Group Accident Injury Lawyers, PA. These evaluations outline the services our legal team can offer to assist you with your claim.
Why You Need Dolman Law Group to Help You With Your Property Damage Claim
The legal team at Dolman Law Group Accident Injury Lawyers, PA, has been helping the injured across both coasts of Florida to obtain compensation. Our experience with contract law allows us to assist our clients in determining the type of property damage they can claim, valuing the costs of the damage they incurred, communicating with the insurance provider, and even taking the case to court if the insurance provider fails to fairly compensate the claim.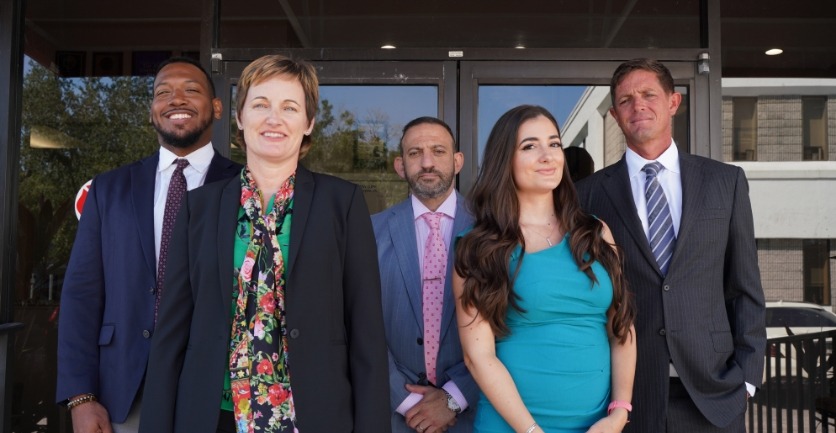 Come See Us at Our Jacksonville Office
The Dolman legal team understands the importance of having a local lawyer for your claim and the ability to meet with your lawyer without planning a road trip to do so. In Jacksonville, the office of Dolman Law Group Accident Injury Lawyers, PA, is located at 12574 Flagler Center Boulevard #101.
About Property Damage Claims
According to the Insurance Information Institute (III), around one in every 20 homeowners will submit a claim against their homeowners' policy each year. The vast majority of these claims involve property damage, including theft. The average cost of these claims can reach $14,000. The most common type of damage to result in a property damage claim against a homeowners insurance policy is wind and hail damage, which accounts for around 45 percent of all homeowners' claims.
However, damage to one's home is not the only reason to seek compensation for property damage. Several types of accidents and incidents can result in damage.
The Type of Property Damage that Occurs in Jacksonville
Jacksonville is a big and busy city in a state that frequently experiences hurricanes, flash flooding, and other weather-related events that can damage homes, vehicles, and other property. Here is a look at some of Jacksonville's most common sources of property damage claims.
Vehicle Damage
According to the Florida Department of Highway Safety and Motor Vehicles (FLHSMV), more than 13,000 accidents annually occur on public roadways in Duval County that feature property damage but no injuries. Florida law requires that drivers purchase personal injury protection (PIP) insurance policies with a minimum coverage level of $10,000 to assist with injuries. PIP includes coverage of a portion of the expenses incurred for medical treatment and wage loss. Still, it does not provide coverage of damage to a vehicle sustained in the accident.
Claims for property damage sustained in a motor vehicle accident caused by another party's negligence are generally filed against the at-fault party's auto liability insurance policy. As noted by the FLHSMV, Florida's registered drivers must maintain an auto insurance policy with a minimum coverage of $10,000 in property damage liability. Vehicle damage claims can also be filed against the vehicle owner's comprehensive and collision policy if they have one.
Damage to Homes and Businesses Caused by Water
The Insurance Information Institute's figures reveal that water damage and damage caused by freezing are the second-most common type of property damage claim to be filed against a homeowners insurance policy, accounting for about one in every five claims made. This includes claims made for mold damage, a common result of water damage. Common culprits causing this damage include leaking appliances, roofs, and faulty plumbing.
Many of Jacksonville's homes built before the 1970s have cast iron pipes. While cast iron pipes should last between 80-100 years, the salty soils found in Florida cause those pipes to break down more easily and faster than expected. This can result in water damage due to a higher likelihood of toilet and sink backups and burst pipes.
Is Weather-Related Damage Covered by Insurance?
Jacksonville is in a high-risk zone for hurricanes, with dozens of hurricanes affecting area homes and businesses over the past several decades.
Luckily, much of the damage caused by hurricanes is covered by homeowners' or property insurance policies, including:
Wind damage
Hail damage
Damage from fallen trees
Lightning strikes and power surges
Two types of weather-related damage generally not covered by a standard insurance policy include damage from earthquakes (very rare in Florida) and flooding. The website Risk Factor states that 15 percent of all properties in Jacksonville have a greater than 26 percent chance of being damaged by flooding within the next 30 years.
Standard homeowners policies do not cover flood damage, but flood insurance is available for those at risk through a federal flood insurance program.
Smoke and Fire Damage
The Jacksonville Fire Department is one of the busiest in the nation, with more than 155,000 calls for service in a year's time. While all of these calls were not about fires, many were. House fires are particularly common in the winter when Jacksonville experiences cold weather. While crews typically experience around one structure fire a day, fires are common in older construction in which the fire can run up the wall and into the structure's attic space.
Fires can cause extensive damage to structures and their contents through contact with flames, smoke, and even water from water-fighting efforts.
Other Property Insurance Covers
Property insurance claims can include items lost by theft or damaged by weather-related events, fires, and other incidents. While you can claim household and business contents, many policies exclude damage to external property structures such as garages, sheds, or fences unless the claimant has specifically requested additional coverage.
How Must Insurance Companies Handle Jacksonville Property Damage Claims?
When a property damage claim is filed against an insurance policy, the provider who services that policy will generally assign a claims adjuster to the case. The claims adjuster is an insurance company employee tasked with protecting the company's bottom line by evaluating the claim, inspecting the damage, and interviewing the claimant.
They will then use the information gleaned from these actions to determine:
If the policy that the claim has been filed against covers that type of damage.
Whether any issues would negate that coverage, such as the policyholder's lack of care and maintenance of the property
How much is owed to the claimant to cover the cost of repairing or replacing the damaged property
Once the claims adjuster has determined if the claim is covered and how much is owed to the claimant, they will offer to settle the claim.
Property damage claimants with an experienced property damage lawyer from Dolman Law Group on their side have several advantages in this process, such as:
Guidance as to the types of damage they can claim and the value of that damage. Because insurance companies notoriously use tactics to reduce the value of claims, including offering settlements far below the damage value, the claimant should understand the type of compensation needed to repair or replace the property so they know whether the settlement offer is fair.
The ability to negotiate with the insurance provider in order to get them to increase their offer to an amount that fairly covers the claim.
The understanding of the statute of limitations for the claim, which determines how much time the claimant has to file a lawsuit in court. In Florida, plaintiffs must file property damage lawsuits must within four years of the damage. Your attorney will work to ensure that all of your legal options for seeking compensation remain open by ensuring that your claim is filed before the statute of limitations expires.
A legal team to navigate the court process and hold the insurance provider accountable for the coverage they offered to provide when you purchased their policy.
The Insurance Company Can Deny the Claim
There are several reasons—many of them legitimate—that can result in the insurance company denying a property damage claim, including:
The insured failed to pay their premiums and let their coverage lapse.
The claim is for damages excluded from coverage in the insured's policy.
More than four years have passed since the property damage occurred.
The claimant failed to respond to a communication from the insurance provider.
The claim was filed fraudulently.
However, the insurance company cannot take specific actions when considering a claim, such as:
Delaying responding to or investigating a claim that has been filed.
Refusing to communicate with the claimant about the claim.
Misrepresenting the coverages and exclusions of the claim to avoid compensating the claimant.
Offering a settlement that is too low to cover the damage properly.
These actions are considered bad-faith insurance practices. They can result in additional compensation for the claimant if you prove that the insurance company acted unethically. An attorney who is educated on what insurance companies can and can't do when considering a property damage claim is essential, as they can quickly respond when bad faith insurance practices occur.
Frequently Asked Questions About Jacksonville Property Damage Claims
As the largest city by area in the continental U.S., Jacksonville has become a popular place for corporate expansions and relocations. There are many types of property here and many ways in which property damage can occur. Here is a look at some of the most frequently asked questions about property damage claims.
What needs to be done immediately after property damage has occurred in Jacksonville?
Immediately after your home or business property sustains damage:
Take a video or photographs of the damage and gather contact information of any witnesses to the accident, an official police report, and receipts for any costs you incurred, such as bills for hotel lodging or vehicle rental.
Contact your insurance company. Even in the case of a property damage car accident in which you intend to seek compensation from another driver's liability insurance policy, you must still report the accident to your insurer. If you want to file a claim against your homeowners or property policy, request that your insurer provide you with claims forms.
Be careful about the terminology you use when you describe the property damage for your insurer. For example, if you say your home was "flooded," it can cause problems for you, as most insurance companies do not cover flood damage. They do, however, cover water damage.
Contact an experienced attorney who can assist you in the claims process.
What is the statute of limitations on property damage claims? What happens if I miss the deadline?
The statute of limitations is a legal deadline on the time you have to file a property damage lawsuit in court. Florida sets the statute of limitations on property damage claims at four years from the damage. This deadline is a vital part of your claim. You must follow the statute of limitations to ensure you can seek compensation through the court process for the property damage you incurred. An insurance provider will not consider compensating the claim if the statute of limitations expires.
One of the essential services that a Jacksonville property damage lawyer can provide to assist you with your claim is managing the timing of the claim to ensure that all of your options for obtaining compensation for the damage you incurred remain open. While you're given four years to deal with the claims process, starting this process as soon as possible is crucial to obtain the coverage you need and not raise questions with the insurer as to why you waited so long to file the claim.
If an accident injured me and damaged my car, do I have to file two claims?
Car accidents frequently result in both property damage and injuries. Injuries can be covered by your personal injury protection (PIP) policy up to the limits of that policy. (Florida requires a minimum coverage limit of $10,000.) If your injuries meet the state's serious injury threshold or the medical treatment and income loss incurred exceeds the limits of your PIP policy, you do not have to file separate claims to seek compensation for car repair and the expenses and effects of an injury. Florida's four-year statute of limitations applies to property damage and injury claims. You can include the property damage to your car as part of the same claim as the expenses and effects of your injury.
I don't understand my insurance policy. How do I know if it covers my property damage?
The experienced property damage lawyers from Dolman Law Group Accident Injury Lawyers, PA, are highly skilled in contract law. We understand the jargon used in insurance policies, and our legal team can also help you understand your policy. When you schedule a free case evaluation with our attorney, bring your policy with you. We will take a look and help you determine what your coverages are.
What usually happens after a property damage claim on my home is filed?
The Consumer Financial Protection Bureau explains that when a property damage claim is filed, the insurance company will assign a claims adjuster to evaluate the claim and view the damage. The claims adjuster will then determine how much the company is obligated to pay for the damage and can offer a settlement amount for either the cost of replacing the damaged property or the actual cash value.
For example, if the claim was filed against your homeowners' policy for fire damage to your house, a replacement cost settlement would provide the fund to rebuild the home or repair the damage using similar materials. An actual cash value settlement will provide the funds you need to repair or rebuild your home based on the home's value.
If you still owe money on your home, the insurance company will generally pay the settlement through a check made out to both you and your mortgage company to protect the mortgage company's financial interest in the property.
Generally, a portion of the settlement will be paid upfront before work begins so that a contractor can be hired. Additional parts of the award will be released as the work progresses, with the settlement fully paid once the work is complete and the home passes inspection. In many cases, the claimant can obtain reimbursement for costs associated with finding temporary housing provisions while the work is taking place.
It is important to note that you are still obligated to pay your mortgage while work is done on your home.
My home was damaged due to a flood. Will my insurance policy cover the damage?
According to the website Risk Factor, around 15 percent of all properties in Jacksonville have a 26 percent chance of being severely affected by flooding within the next 30 years. Overall, the city carries a moderate risk of flooding during this period, and flooding is likely to impact the community's day-to-day life. In the past, Hurricane Irma created flooding that impacted 348 properties, and increasing climate change leads to predictions that more floods will impact the area in the future.
Most homeowners and property insurance policies offered by insurance companies across the country exclude coverage for damage from floods, despite (or perhaps because of) how common flood damage is and how expensive it is to repair. According to the Federal Emergency Management Agency (FEMA), just an inch of flood water in a home can result in up to $25,000 in damage.
FEMA provides flood insurance coverage for property owners through its National Flood Insurance Program (NFIP). Through this program, the federal government partners with insurance providers to have a separate policy that provides coverage for buildings, damage to the contents of those buildings, and associated costs. Individuals can obtain this insurance by asking their insurance provider for assistance in purchasing it or by finding an insurance provider who can through FEMA's Flood Smart insurance provider locator page.
Home and business owners who want flood insurance should plan ahead, as it generally takes 30 days for a flood policy to go into effect.
Does my homeowner's policy cover wind damage?
Travelers Insurance noted that most homeowners' policies cover wind damage, and the wind is one of the most common factors resulting in property damage claims.
Storms that create significant wind damage and that insurance usually covers include:
Tornadoes
Hurricanes
Thunderstorms
Hailstorms
Microbursts
Derechos
Nor'easters
Generally, insurance policies will provide coverage to help repair or replace damaged roofs, siding, or windows resulting from a wind event. It should be noted, however, that most standard policies will only cover damage to outbuildings such as garages if the policyholder has additional structure coverage. You will also need structure coverage to replace and repair damage to your property's fences.
Policyholders must take precautions, such as routinely inspecting their roofs and siding and providing proper structure maintenance. Failing to properly maintain a property can result in a reduced settlement or even a denial of a claim.
If I file a lawsuit for property damage, will I have to go to court?
The vast majority of civil claims—including claims for property damage or even claims for injuries—are resolved by settlements before they ever reach the court. This is because one thing insurance companies dislike even more than paying out on claims is spending money and time on litigation, where they can be ordered to pay the total value of the claim as well. Instead, they prefer to offer a settlement and retain control of how much compensation is paid to the claimant.
However, an experienced property damage lawyer from Dolman Law Group is not just focused on quickly resolving a case. We focus on fighting for you to get as much compensation as possible for the property damage you suffered.
While settlements are generally a faster, less expensive way to obtain the compensation you need, it is essential to have an attorney who is not afraid of the court process if it means fair payment for your claim.
What are some examples of bad-faith insurance practices that can impact my claim?
Insurance companies use bad faith insurance practices to avoid contractual obligations to policyholders.
Bad faith insurance practices may include:
Making unreasonable demands on the claimant to prove a loss
Misrepresenting the contract's language to convince the claimant that no compensation is available for the claim
Deliberately delaying the investigation into a claim or refusing to respond to the claim
Convincing the claimant to accept a ridiculously low settlement
Claimants must be careful when talking to claims adjusters about their claims because the adjuster can use any information they provide to reduce the settlement offer amount. Accepting a low settlement can result in insufficient money to cover repairing or replacing your property. Experienced attorneys know the tactics that insurance companies use to avoid paying claims and what the insurance provider is contractually obligated to do when they receive a claim.
What services can an attorney provide to assist me with my claim?
An experienced property damage lawyer can help you throughout the claims process. We can interpret your insurance policy for you to know what is—and isn't—covered, help you value the damage you incurred, and manage communication with the claims adjuster to negotiate a settlement that fairly compensates you.
If the property damage resulted from a car accident in which another driver was responsible, we could help you file a third-party claim against that driver's auto liability policy.
If the insurance company handling your claim fails to compensate you, we can file a lawsuit to seek the compensation you need through the court process and require the insurance company to be accountable to you. If your claim has been denied, we can also help you appeal that denial. If your claim falls victim to bad faith insurance practices, there can be additional compensation available through the court.
If You Need Help With Your Property Damage Claim, We're Here For You
One in 20 homeowners files a claim annually, which is generally worth several thousand dollars (or more). The claims process, however, is not a well-oiled machine in which property owners can easily access the compensation they need after paying premiums for their coverage. Insurance companies may use bad-faith tactics to avoid covering legitimate claims.
If you've incurred property damage in Jacksonville, a highly skilled lawyer from Dolman Law Group Accident Injury Lawyers, PA, can help you understand the claims process. They will review your insurance policy, help you understand if coverage is available, and help you file your claim. If you filed a claim and it has been denied, our legal team can help you understand the claims appeals process and provide the information needed to the insurer to reconsider the claim.
With offices across both Florida coasts, reaching Dolman Law Group is easy. Contact our Jacksonville office by calling (904) 441-6903 or filling out our online contact form.