If you suffer a workplace injury, you may be uncertain as to your rights under the law and what responsibilities your employer may have in the reimbursement to you of medical expenses and other losses such as your wages and other expenses. A worker's compensation attorney, like those at Dolman Law Group Accident Injury Lawyers, PA, can help guide you through the process of a worker's compensation claim for your injuries and discuss other benefits that may be available to you.
If You Suffer an Injury at Work, Get Help With Dolman Law Group Accident Injury Lawyers, PA
As a member of the workforce, you depend on your job to support yourself and your family. When an injury occurs on the job, you may incur unexpected medical bills and the inability to meet your other financial obligations due to loss of work because of your injuries.
At Dolman Law Group Accident Injury Lawyers, PA, we understand the importance of financial stability and security for victims of workplace accidents. We want to help you fight for the compensation you deserve in a worker's compensation claim. Our team of attorneys can work alongside you to prepare a claim or injury and support your case to pursue a positive resolution that benefits you.
Industries at Highest Risk of Worker's Compensation Industries
An injury can happen to any individual in the workforce. Work-related injuries and illnesses are common across every field, but certain industries are at higher risk of severe to fatal injuries.
In just one year, reports indicate that over 2.8 million workers will suffer a nonfatal injury while at work, and of that number, nearly 900,000 will miss more than one day of labor due to their injury.
While most of these members of the workforce are likely to recover, there is a significant number that can face lasting impacts due to the seriousness of their injuries and may be unable to live their lives as they did before the workplace accident.
Examples of a workforce with a high incidence of workplace injuries include:
Construction work
Manufacturing jobs
Transportation and shipping
Healthcare workers
Retail workers
Merchandise and stocking positions
Agricultural workers
Jacksonville Workers' Compensation Lawyer Near Me 833-552-7274
The Most Common Types of Workplace Accidents in Jacksonville
Many dangers can arise during your time at work. While some hazards are inherent to the type of industry you may work in, others are dangers you do not expect and may not be able to protect yourself from. Workplace accidents can be minor or have catastrophic and deadly consequences. Many workers face risks to their safety and health day in and day out. When something goes wrong, their life can change in an instant due to a work injury or illness.
Examples of common workplace accidents are:
Falls
Slip or trip
Heavy machinery accidents
Falling materials, objects, or equipment
Vehicular accidents
Chemical exposure
Fires or explosions
Electrocution
For a free legal consultation with a workers' compensation lawyer serving Jacksonville, call 833-552-7274
Common Injuries After a Workplace Accident
The type of injury you sustain in a workplace accident will affect not only your recovery but the likelihood that you will fully heal, as well as your ability to return to your career after the accident. In minor to moderate accidents, a victim may take some time to heal but will eventually recover and be able to return to work and their responsibilities with little to no difficulty.
However, a victim of a serious to catastrophic accident may be unable to return to their prior position at all due to their injuries. In cases of severe injuries, the individual is often unable to work in any capacity after a workplace accident.
Workplace injuries can include:
Crush injuries
Loss of digit or limb
Spinal cord injuries
Burns
Traumatic brain injuries
Broken bones
Muscles strains
Torn ligaments or tendons
Nerve damage
Loss of eyesight or hearing
The Difference Between a Lawsuit and a Worker's Compensation Claim
After a workplace injury, you will begin to think about how you will recover from the loss of your wages and the mounting medical costs for your treatment and care. Initially, you may even consider a lawsuit against your employer. However, in many instances, that may not be allowable under Florida law.
Florida requires most employers to carry some form of worker's compensation insurance coverage. When an employer carries worker's compensation insurance, they cannot be liable for personal injuries to their employees due to negligence in a lawsuit.
In fact, in worker's compensation claims, negligence or fault for the accident is rarely relevant unless an employer maliciously or intentionally harms you. The claims process considers whether the injury took place and the severity and impact of those injuries on you.
While you will likely be unable to sue your employer for injuries in the workplace, there are some situations in which a case may warrant a lawsuit after a workplace injury. First off, if an employer does not carry worker's compensation insurance and you suffer an injury, they may be liable to you for your damages. In addition, if there is another third party other than your employer that is potentially responsible for the injuries you sustain, they may be liable to you under the law for your injuries and losses.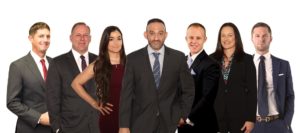 The Role of an Attorney for the Victim of a Workplace Injury
Workers who suffer an injury in the workplace may not understand the need for an attorney in their claim. The process of an insurance claim may appear straightforward, but many factors can influence the outcome of your case and, ultimately, the amount of compensation an insurer may offer you for a workplace injury. An attorney on your behalf can help ensure that you seek the maximum compensation you may be eligible for under the law and improve your chance of a successful outcome for your benefit.
The reality is that worker's compensation claims are often difficult and tedious processes. Any omission, lack of evidence, or a simple mistake can result in a worker's compensation claim denial by an insurer. With the help of an attorney at the outset of your case, you can help make certain you take the right steps to avoid unnecessary complications or delays that can prevent you from receiving the compensation you may rightfully deserve after your injury.
Gather the Necessary Evidence and Support for Your Worker's Compensation Claim
It is not enough to claim that your injuries took place during work hours or at your workplace. You must provide the evidence to support your claim. Worker's compensation insurers require ample evidence that details how the accident took place as well as details that pertain to your injuries. It is not uncommon for worker's compensation claim denials to occur when a victim fails to provide adequate evidence that supports the compensation claim.
A worker's compensation claim attorney can help you gather the best evidence available to support your case and claim. While you may have some evidence in your possession, a lawyer can help you discover additional evidence that can strengthen your case and justify the amount of monetary compensation you are seeking. Contact Dolman Law Group Accident Injury Lawyers, PA today to get started.
Potential evidence in a worker's compensation claim can include:
Expert independent medical testimony
Testimony by witnesses to the accident or your injuries
Medical records and history
Testimony by your medical providers
Employment records and history
Expert testimony from individuals in your work industry
Video or photographic evidence of the accident or your work environment
Other evidence that supports your injury claim and demands for compensation
Calculation of Your Eligible Benefits
As a victim of a worker's compensation accident, it is an intimidating process to face on your own. You may know that you are likely eligible for some compensation but are unsure of the amount or how to determine the benefits that apply to you and proceed with a claim.
A worker's compensation attorney in Jacksonville, like those at Dolman Law Group Accident Injury Lawyers, PA, can work alongside you to help you understand the amount of compensation you can be eligible for under a claim and how to best negotiate and prove your need for those benefits with the parties responsible for the handling of your claim.
Benefits in a Florida worker's compensation claim can include:
Disability benefits that will depend on the severity and impact of your injury
Medical costs for treatment and rehabilitation
Costs for travel to and from medical appointments and care
Work rehabilitation and counseling to assist in career options after an injury
Death benefits for the surviving family of an individual that dies from a workplace injury
Advocate For Your Rights Throughout the Process of a Claim
A worker's compensation lawyer will take the lead on your worker's compensation claim. All communications and requests that pertain to your claim will go through your attorney's office after you hire legal representation. You will no longer have to worry about missing a call for information or request as your attorney will keep you up to date on your claim process and any necessary next steps.
Throughout the process of your claim, beginning with the first action to file for the claim on your behalf, your lawyer will make your rights and interests a priority. Insurance companies and your employers do not often have your best interests in mind, but rather their own. Their main focus may be to limit the compensation you are eligible for and dispute any claim possible. Insurers do not want to pay out the maximum compensation and will likely work hard to get away with the least amount of money possible in each scenario. Your attorney will not let that happen, and can fight for the compensation you deserve according to the facts of your case and your injuries.
Negotiate on Your Behalf
Ultimately, your goal in a worker's compensation claim is to reach a settlement as quickly as possible that benefits you. An attorney that represents you will attempt to reach a fair and reasonable amount of settlement with the worker's compensation insurance. If a fair settlement is not attainable or the insurer disputes the validity of your claim, your attorney can proceed to a trial if need be.
Discover Other Potential Liability or Benefits for Your Injuries
If you suffer an injury while on the job that has lasting effects on your daily life and ability to return to work, you may be eligible for additional compensation beyond a worker's compensation claim. While you cannot sue an employer for injuries you suffer where worker's compensation insurance is available, other parties may bear liability for your injuries.
Manufacturers of defective products, landowners, and other parties can potentially bear liability for your injuries if any negligence on their part caused your injuries. Your attorney will look closely at the facts surrounding the events that led up to the accident and your injuries to see if there is any other party that may be to blame for your damages.
Furthermore, victims who qualify for worker's compensation may also seek additional disability benefits if their injuries result in permanent or long-term disabilities. Since worker's compensation and Social Security Disability benefits can affect one another, this complex matter requires an attorney to handle and ensure that you properly apply for benefits.
Act Fast After Your Workplace Injury
Under Florida law, an individual that suffers a workplace injury or illness has only 30 days to report the injury to the employer and begin the process of a worker's compensation claim. If a victim fails to meet these deadlines, they may lose their right to worker's compensation insurance.
If you suffer an injury at work in the Jacksonville area, contact a worker's compensation attorney at Dolman Law Group Accident Injury Lawyers, PA at (904) 441-6903 for your free case evaluation. We will discuss the specifics of your case and how we can help you seek compensation.
---
Jacksonville Office
12574 Flagler Center Blvd.;
Suite 101
Jacksonville, FL 32258
Phone: (904) 441-6903
Client Testimonial
"AMAZING and understanding attorneys! Did great on my case and I highly recommend Dolman Law Group Accident Injury Lawyers, PA for anyone that has been injured in an accident!"
Rating: 5/5 ⭐⭐⭐⭐⭐
Koralis R.
Jan 2020
Read more reviews on Google!
Call or text 833-552-7274 or complete a Free Case Evaluation form