Jacksonville Truck Accident Lawyers
Jacksonville serves as a global destination for businesses, featuring three major interstates—I-95, I-10, and I-75—plus three major railroads and an international airport. While this contributes greatly to the city's economy, travelers on local roadways face an increased risk of sustaining injuries in accidents involving commercial vehicles. These accidents often result in catastrophic injuries and fatalities to occupants of other, smaller vehicles.
If you suffered injuries in a Jacksonville truck accident or have lost a loved one to this particularly deadly type of crash, you can seek compensation for the expenses and impacts of your injury or loss. A Jacksonville truck accident lawyer from Sibley Dolman Gipe Accident Injury Lawyers, PA, can help you understand the process of filing a personal injury or wrongful death lawsuit. We have helped many individuals obtain compensation after a devastating truck accident.
Some of our recent case results include:
$3.85 million for a client who suffered a spinal injury as well as a traumatic brain injury when a semi-truck rammed his vehicle. These injuries resulted in the need for surgical treatment as well as cognitive deficits.
A $3.2 million settlement for a client who suffered a traumatic brain injury in an accident involving a commercial truck.
$1.75 million for a client who sustained a partially torn rotator cuff and a traumatic brain injury after an improperly maintained semi-truck struck his car.
Why Are Jacksonville Truck Accidents So Dangerous?
Commercial trucks, also known as tractor-trailers or semi-trucks, are massive vehicles, weighing up to 80,000 pounds when fully loaded—which constitutes about 20 to 30 times the weight of the average passenger car.
This endangers the occupants of smaller vehicles, including through:
An increased distance needed to stop. A vehicle does not automatically come to a complete stop once a driver perceives a hazard on the road and responds by braking. Instead, the vehicle travels some distance before the brakes can stop it. A tractor-trailer needs 20 to 40 percent more space to come to a complete stop than a passenger car, which can pose a particular danger in the stop-and-go traffic often seen in and around Jacksonville.
Significant blind spots on all four sides of the vehicle. All vehicles have a blind spot, an area around the vehicle that the driver cannot see in their rear or side-view mirrors. In passenger cars, blind spots often exist around the rear sides of the vehicle and create hazards when the driver attempts to change lanes. Commercial trucks have significant blind spots on all sides of the vehicle that feature hazards to other drivers when the truck driver attempts to change lanes, turns, backs up, or even increases speed without noticing a nearby vehicle. While the public message about a truck's blind spots often focuses on the responsibility of other drivers to stay out of the truck's no-zone, the truck driver also has a responsibility to check the travel lane or the area behind the vehicle before changing lanes or reversing.
A higher center of gravity. On average, semi-trucks in the U.S. reach a height of about 13.5 feet. The vehicle's height raises the center of gravity, which makes the truck more prone to rolling over when the driver attempts a sharp curve or corner or an emergency-driving maneuver.
Higher ground clearance. The space between the bottom of the truck and the roadway may allow a small vehicle to slip beneath the truck during an accident. This often-deadly phenomenon is known as an underride.
Fatigue. Truck drivers often travel to Florida from other export-intensive areas, such as Los Angeles, many miles away. Fatigue poses such an issue in the trucking industry that the Federal Motor Carrier Safety Administration has implemented Hours of Service rules that regulate how many hours a driver can operate the truck before taking a break. Despite these regulations, many drivers feel tempted to drive while fatigued. In fact, 13 percent of all truck accidents in the U.S. involve a fatigued truck driver.
Pileups. Truck accidents often involve multiple vehicles and drivers who can't stop in time to avoid becoming part of the scene. A tractor-trailer can reach lengths of about 72 feet—long enough to create a hazard for several lanes of traffic if it overturns.
On the major highways through Jacksonville, travel lanes may become congested with fast-moving, highly distracted traffic, which makes the lack of maneuverability in the large truck a hazard to everyone on the roadway.
The Types of Injuries Incurred in Truck Accidents
The types of injuries that individuals suffer in accidents involving commercial trucks may prove fatal or catastrophic. Catastrophic injuries may become so severe that they pose a high likelihood of permanent deficits that will damage the individual's ability to earn an income or accomplish self-care tasks independently. Most often, catastrophic injuries involve the two organs that make up the body's central nervous system—the brain and the spinal cord. Despite the importance these two organs have in controlling the body's functions and involuntary responses, neither of them proves particularly adept at healing from injury.
In addition to brain and spinal cord injuries, other injuries commonly associated with truck accidents include:
Broken bones or even crushed limbs from the force of an accident with such a massive vehicle.
Damage to the discs and vertebrae of the spine. This type of injury often results in chronic pain and the need for surgical intervention to relieve the loss of mobility associated with back and neck injuries.
Internal injuries, such as damage to the lungs, kidneys, liver, spleen, or heart. Internal injuries often result in internal bleeding, which may prove difficult to detect and can result in life-threatening complications if not addressed promptly.
Burns incurred as a result of hot surfaces or fire.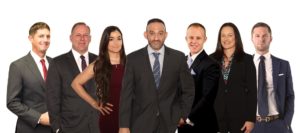 Seeking Compensation after a Jacksonville Truck Accident
In Florida, individuals may seek compensation for the expenses and psychological impacts of the injuries they have sustained because of someone else's carelessness or recklessness. Additionally, the family members of an individual who died in a truck accident can also seek compensation. Pursuing compensation can prove complicated; you should consider retaining an experienced Jacksonville truck accident attorney to help with your claim. An attorney can answer questions regarding your legal options, handle all negotiations with insurance companies and at-fault parties on your behalf, and pursue compensation for the full cost of your injuries.
Personal Injury Lawsuit
Injured individuals must file their truck accident lawsuit within four years of the date on which the Jacksonville truck accident occurred. These lawsuits seek to prove who bears liability (legal responsibility) for the accident and show the expenses and psychological impacts of the injury.
You can seek compensation for expenses and impacts such as:
Medical expenses, including the cost of emergency treatment, ambulance or air ambulance transport, hospitalization, diagnostic testing, surgical and physician services, prescription medication, physical therapy and rehabilitation, and the provision of assistive devices, such as prosthetic limbs, crutches, or a wheelchair.
Lost wages if your injury caused you to miss work.
Loss of future earning capacity if your injury resulted in permanent deficits and you can no longer earn as much as before the accident.
Property damage, such as the cost of repairing or replacing your vehicle if it sustained damage in the accident.
Physical pain and suffering resulting from your injuries, particularly intense procedures required to treat them or from complications that developed because of the injury.
Emotional distress.
Loss of the enjoyment of life if your injuries cause you to miss out on activities or events that you previously enjoyed.
Loss of consortium, compensation collected on behalf of the injured person's spouse for the loss of physical intimacy and companionship that the spouse may experience following a serious injury.
Wrongful Death Lawsuit
Florida's Wrongful Death Act provides an avenue for the family members of a deceased truck accident victim to seek compensation. Florida requires certain family members or a personal representative of the deceased's estate to file this type of claim, generally within two years of the date on which the death occurred.
Family members can receive compensation for losses such as:
The loss of support and services that the deceased provided to their loved ones.
The loss of the deceased's companionship and protection.
Mental pain and suffering experienced by the deceased's family members because of the loss.
The loss of parental companionship, support, guidance, and instruction.
Medical expenses incurred in treating the deceased's final injury paid by a family member or directly by the estate.
Lost wages, benefits, and earnings from the time of the deceased's final injury until their death.
The wages, benefits, and earnings the deceased would have earned throughout their career had they lived.
Funeral and burial or cremation expenses that either a family member or the estate paid.
Determining Liability in a Jacksonville Truck Accident Lawsuit
It may feel easy to assume in a truck accident that liability falls on the truck driver, and in many cases, this is true. However, you must remember that other sources of liability can exist, including additional sources of liability. An experienced truck accident attorney will help you determine all of the potential sources of liability and all insurance resources that you can access for compensation.
In addition to the truck driver, other potential sources of liability in a truck accident include:
The trucking company, which may face vicarious liability for the actions of its drivers while on the job. The trucking company should properly vet the drivers it hires by screening their background and criminal histories. They need to ensure the driver has the proper license and training to handle the rigors of the job. They must ensure compliance with all federal trucking industry regulations regarding drug and alcohol screenings, annual medical exams, hours of service, and the routine maintenance and repair of the truck.
The shipper, who must ensure that the trucking company and truck driver have the proper licenses and insurance policies, and that they remain in good standing with federal regulating authorities. The shipper also has the responsibility to ensure proper loading of the truck's cargo to avoid a weight imbalance that would cause the truck to overturn.
Other drivers, whose negligent actions could have resulted in an accident with a vehicle that proves difficult to maneuver.
The individual or entity tasked with providing maintenance and repair services on the truck.
The manufacturer or distributor of defective parts used on the truck or other vehicles involved in the accident.
To prove liability, you must show the following elements:
The at-fault party owed you a duty of care to respond as a reasonable person in the circumstances leading up to the accident to protect the safety and property of others. Truck drivers owe other individuals on the road a duty to drive safely and avoid causing injury-sustaining accidents.

The at-fault party breached the duty of care. This refers to actions that the at-fault party took that violated the duty of care for the given situation. A truck driver that chooses to speed, drive beyond the hours of service limits, or drive while under the influence of alcohol or drugs has breached the duty of care to drive safely.
The breach caused your truck accident.
You sustained injuries and/or monetary damages as a result of the accident.
Sibley Dolman Gipe Accident Injury Lawyers, PA, Can Help
If you've sustained injuries or lost a loved one in a Jacksonville truck accident, an experienced truck accident attorney can help you in the process of seeking compensation. With offices across both Florida coasts, you can easily reach Sibley Dolman Gipe Accident Injury Lawyers, PA, at (904) 441-6903, or you can write to us using our online cohttps://www.dolmanlaw.com/jacksonville-personal-injury-lawyers/ntact page.