Located just a short drive from Miami and a mile from the Miami International Airport, thousands of residents and businesses call Doral home. However, of the many things that happen in Doral, one of the least enjoyable is property damage.
Property damage can involve damage to your vehicle in an accident on one of the city's roadways. It can also involve damage to your home or business due to weather-related events, structure fires, and even cast iron pipes found in many older homes throughout Florida and are known to leak, leading to water damage.
Property damage claims can be confusing. Whose insurance are you filing the claim against? What insurance policy will cover the property damage you have sustained? How do you file a claim, and how much compensation can you receive?
These are all very common questions for Doral property damage claimants.
If you need answers to these or other questions, you can trust an experienced Doral property damage lawyer from Dolman Law Group Accident Injury Lawyers, PA, to have the answers and provide services to assist you with the claims process.
If You Sustained Property Damage in Doral, Dolman Can Help
The skilled property damage attorneys at Dolman Law Group Accident Injury Lawyers, PA, have extensive experience in helping those throughout Florida to receive needed compensation to repair or replace their vehicle, home, office, or items that have been damaged or stolen.
We provide several services to make the process easier for you, including evaluating your insurance policies to determine whether coverage is available for the type of damage you incurred, helping you fill out your proof-of-loss form, and determining a fair value for your claim, communicating with the insurance provider to negotiate a settlement, or even filing a lawsuit and representing your case in court if the insurance provider fails to pay you for the damage.
Reach out to Us at Our Convenient Doral Office
The claims process is difficult enough without having to take a long drive to meet with your attorney or to explain how your property was damaged to someone who doesn't live here. Because of this, Dolman Law Group has provided offices across both coasts of Florida (in addition to a few other places around the U.S.) to provide not only quality legal services but also local ones.
You can find our Doral office at 8400 NW 36th Street, #450.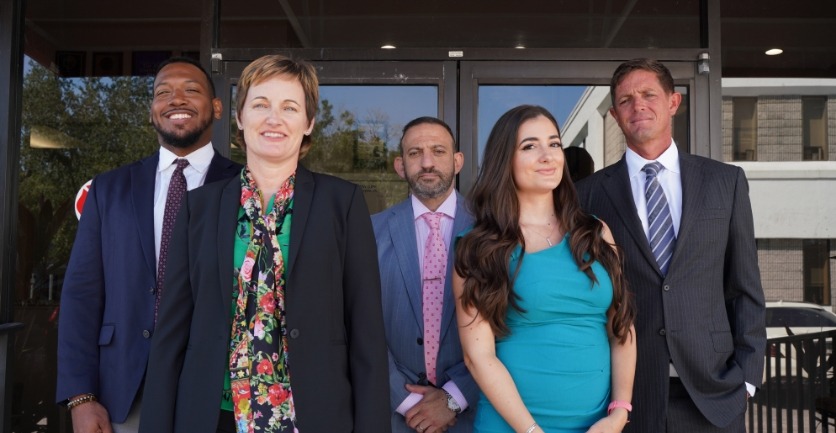 Types of Property Damage That Occurs in Doral
Many types of property can become damaged and result in a property damage claim. Here is a look at some of the most common sources of property damage in Doral.
Smoke and Fire Damage
Doral provides fire protection and firefighting services through the Miami-Dade Fire Department, with its Doral Station 45 located at 9710 NW 58th Street. This is one of 71 stations operated by the department that serves unincorporated areas of Miami-Dade County in addition to 29 area municipalities.
Despite a well-trained firefighting community and stations to allow for quick response to fires, a fire can destroy a home in a matter of minutes. Those structures that can be saved from the fire can incur heavy damage from the smoke from the firefighters' efforts to extinguish the blaze.
Water Damage
The first structure in Doral was the Doral Hotel and Country Club, which was built in the early 1960s and quickly became the region's hot spot. The area didn't capture the interest of residents looking for a place to call home until the 1980s. Because the city is comparatively new, it does not experience the issues with cast iron pipes that many other locations throughout south Florida do, which can fail, resulting in major plumbing issues that can lead to water damage.
However, some other things can cause property damage, even in the newer homes and businesses in Doral, such as leaking appliances, roof leaks, and plumbing backups.
Weather-Related Damage
Like many locations throughout Florida, Doral faces a risk of hurricanes.
The city has developed these hurricane preparations:
Storm surge planning zones
Designated emergency evacuation areas based on where a resident lives in the city
Additional evacuation centers, lists of hospitals operating during a specific storm, and distribution points for necessities such as food and water after a hurricane
Lists of emergency evacuation bus pick-up sites to assist those who do not have transportation to get themselves or their families to an evacuation center
While area residents are helped through the city's hurricane preparations in the days before the storm arrives and even as it is ongoing, few things can prepare a homeowner when the evacuation orders have been listed, and they return home to find destruction. There are several potentially damaging facets of hurricanes, including damage from wind and hail, the most common source of property damage claims, and damages to appliances from power outages or lightning strikes.
One type of damage commonly experienced in hurricanes but not covered by standard homeowners' policies is flood damage. Residents throughout the U.S. obtain flood insurance through a federal program, the National Flood Insurance Program, provided by the Federal Emergency Management Agency (FEMA). FEMA works with around 50 insurance companies in over 23,000 communities to provide needed coverage for the damage caused by floods.
Motor Vehicle Accidents
The Doral area typically sees more than 40,000 property damage-only accidents each year. These are accidents in which none of the parties involved reported injuries that could necessitate a personal injury claim that included damage to a vehicle as one of the types of compensation that can be received.
When a motor vehicle accident occurs in Doral in which an individual sustains damage to their car due to someone else's negligence, they can file a claim against the at-fault party's property damage liability insurance. Drivers who register their vehicles in Florida must obtain $10,000 in property damage liability insurance to cover the damage caused to others due to their carelessness or recklessness.
Conversely, if someone experiences damage to their vehicle caused by an uninsured driver, they can file a damage claim against their own collision policy. If they sustain vehicle damage due to issues unrelated to collisions, such as hail or theft, they can file a claim against a comprehensive insurance policy.
Other Types of Property Damage in Doral
Insurance policies cover nearly any type of property damage that occurs in Doral, including stolen items, jewelry, equipment, or electronics. The unfortunate thing about this is that many people need help understanding what is included in their policy and what type of policy they would seek coverage from.
How Insurers Handle Property Damage Claims
Insurance providers don't like to pay insurance claims, as the payouts can hurt their bottom line. They hire claims adjusters to protect their finances by evaluating the claim and determining the minimum amount they must pay (if any) on the claim. They often resort to tactics to trick a claimant who doesn't have the benefit of an attorney into believing that their policy does not cover their damage or that a lowball settlement offer is all they're eligible to receive.
Can Your Insurer Deny Your Claim?
Yes. Property damage claims can be denied for several reasons, including the insured failing to pay their premiums, resulting in a lapse in coverage. Another common reason for a denied property damage claim is that the policyholder is attempting to claim damages excluded from the policy's coverage.
The insurance company can also deny your claim if you failed to respond to its communications or provide adequate proof that you owned the damaged property, or documentation such as bills and receipts that justify the claim's value. Claims can even be denied for minor data errors.
How You Can Prepare for Filing a Claim
You have sustained property damage, and you're planning to file a claim. Now what?
Here are some things you can do to prepare for the property damage claims process before you speak with an attorney.
Take photos or videos of your sustained damage to provide visual evidence for your claim.
Hold on to receipts, bills, and other documentation of the damage you sustained and the expenses you have incurred.
Begin inventorying the items that were lost and damaged and the value of those items. This information will be required on your proof-of-loss form.
Attend a free case evaluation with a Doral property damage lawyer from Dolman Law Group Accident Injury Lawyers, PA. At this meeting, you can learn more about the claims process and how our legal team can provide services that help increase your chance of being fairly compensated for your damaged property.
Why You Need an Attorney for the Property Damage Claims Process
Insurance policies are hard to interpret. Insurance companies have tactics to avoid paying claims or reduce the amount owed to a property damage claimant. When an insurance provider fails to compensate a valid claim fairly, they may engage in bad-faith insurance practices.
However, in some cases, you must prove bad faith insurance practices in court to receive payment for both the claim and additional compensation for the unfair tactics of the insurance company. Court processes come with formalities and hard deadlines.
Because of all of these potential obstacles that can - and often do - arise during the property damage claims process, having an experienced Doral property damage lawyer is important.
They can provide to assist you by:
Evaluating the insurance policies you have available to determine whether the policy covers the type of property damage you incurred.
Assistance during the claims process, such as help filling out the proof-of-loss forms, filing a claim, or even requesting an appeal for a denied claim.
Determining a value to your claim and guiding to help you understand what constitutes a fair settlement so that you can make informed decisions about your claim when a settlement is offered.
Communicating with the insurance provider to protect your claim's value from bad faith tactics and to negotiate a settlement that provides adequate compensation to repair or replace your damaged property.
Filing a property damage lawsuit on your behalf within Florida's four-year statute of limitations on property damage claims.
Frequently Asked Questions About Doral Property Damage Claims
When property damage occurs in Doral, many people want to know how to file a claim to receive compensation from their insurance provider. Here are some of the most frequently asked questions about property damage claims in Doral.
I just suffered property damage in Doral. What should I do?
To improve the strength of your claim.:
Take photos or videos of the damage that occurred.
Keep receipts for the costs you incurred due to the property damage. Keep the expense receipts if you have to rent a car or stay in a hotel due to property damage.
Contact your insurance provider and request that they provide you with claims forms.
Speak with an experienced property damage lawyer from Dolman Law Group Accident Injury Lawyers, PA, who can help you understand what the policy you're filing the claim against covers and can provide services to assist you throughout the claims process.
How long do I have to file a property damage lawsuit in Doral?
The statute of limitations for property damage claims in Florida is generally four years from the damage. Allowing this deadline to expire will generally bar a claimant from seeking compensation through a lawsuit. Insurance companies will no longer pay on the claim if you file after that.
While four years is quite a bit of time to file a claim, claimants must never wait that long, as it will give the insurance company reason to doubt how and when the damage took place and leave little time for the work that needs to be done to prepare a litigation claim.
My claims adjuster seems nice. Can I trust them?
Many claims adjusters are lovely people. However, it is important to remember their job and what it means to your claim. The claims adjuster is an insurance company employee tasked with saving their employer money by reducing or eliminating the claim's value. They can use quite a few tactics to do this. In other words, their mission in the claims process is directly opposed to yours.
Having a Doral property damage lawyer assist you with your claim is extremely helpful. They can handle the communication with the claims adjuster, keeping the conversation focused on fairly paying you for the repair or replacement of the property and preventing a low settlement or denial of the claim for a less-than-legitimate reason.
How long does the insurance company have to evaluate my claim?
Insurance companies are expected to adhere to a number of deadlines when evaluating and settling claims. Wallet Hub notes that insurers in Florida have 14 days from when the claimant contacts them to report the damage and acknowledge the claim receipt. They provide paperwork and instructions for the policyholder to file a claim.
They have 30 days to decide on the claim after receiving a completed proof of loss form. A proof of loss form itemizes the damaged or stolen property and its value. The insurer often requests proof that you owned these damaged or stolen items. Many homeowners regularly update an inventory list of their belongings to provide this information to an insurer if needed easily.
Finally, when an insurer approves a claim, they have 20 days to issue payment.
What is the difference between replacement cost and actual cash value?
Allen Financial Insurance Group explains several ways the insurance company can calculate the value of your claim.
The two most common methods are:
Replacement cost, which involves the insurance company providing the claimant with a payment based on the cost of replacing the item that was damaged or stolen. This payment is often a better method for the claimant because it reimburses them for replacing their property with a new one of like kind, without much consideration given to how much the replaced item was used.
Actual cash value, also referred to as market value, provides the claimant with a payment based on the actual cash value of the property minus depreciation. This is the preferred method for most insurance companies as it allows them to reduce the claim due to wear and tear on the item.
What constitutes bad faith insurance relating to property damage claims?
An insurance company uses bad-faith insurance practices to devalue claims. While these actions are prohibited, they happen frequently, and many claimants who need the assistance of an attorney are not even aware that they've been duped into accepting less than their claim is worth.
Some examples of bad faith insurance practices that are used to reduce the value of a property damage claim include:
Denying a claim without providing a reason to the claimant for the denial. Insurance companies are supposed to inform the claimant in writing if their claim has been denied, and include a written justification for the denial. Likewise, they're also supposed to notify the claimant if they choose to lower the settlement value for any reason.
Deliberately delaying an investigation into the claim. The claim can neither be approved or denied without a claims adjuster first investigating to determine whether the policy covers the damaged property, and how much is owed to the claimant. By delaying an investigation, they're also delaying the property damage claimant's ability to repair or replace the damage.
Offering a low settlement. While insurance providers are concerned with paying as little as possible on legitimate claims, they're not supposed to make settlement offers that are only a fraction of the value of the damage being claimed.
Intimidating the claimant. Claimants who attempt to obtain compensation without the assistance of an experienced lawyer often find themselves subjected to threats that if they do not accept a low settlement offer, there will be no compensation available.
Misrepresenting the language of the policy to avoid paying the claim. This would include telling the claimant that their policy excludes a certain type of damage when coverage is available through the policy for the claim.
Delaying payment on a valid claim. If the insurance company approves the claim, they only have a limited time to pay the amount offered to the claimant.
Refusing reasonable requests made for the documentation that the insurance company used to determine the claim. The claimant has a right to know the reason for the claim's denial, which is particularly important because there are only certain reasons the insurance company can deny a claim.
Why don't most standard insurance policies cover flood damage?
Decades ago, communities across America suffered several flood disasters, and insurance companies realized that providing coverage for flood-related property damage was too costly. So they decided not to provide coverage in standard policies for floods. However, when faced with widespread damage and the inability of home and business owners to repair flood damage on their own, the federal government stepped in and created the National Flood Insurance Program.
Since the creation of the program, insurers have decided not to cover other types of property damage claims due to natural disasters, such as earthquake damage. Texas insurance companies no longer offer coverage for hurricane-force winds. There has even been discussion about excluding wildfire damage from coverage.
My house was destroyed, and I can't make my mortgage payment. What should I do?
According to Ramsey Solutions, 42 percent of American households have a mortgage. Mortgages account for 70 percent of the debt held by American consumers. Lenders generally require borrowers to maintain a standard property insurance policy, but whether to obtain additional coverage to completely insure the losses that can be incurred when a home is destroyed is often left to the borrower. The expenses associated with losing one's home can add up quickly, often before there is time for the insurance provider to consider the claim.
If your home is lost due to a fire or a weather-related event, it is good practice to let your lender know about the situation. In many cases, the lender can provide a mortgage forbearance. This allows you to withhold mortgage payments for a set amount of time, allowing you to get back on your feet. Mortgage forbearances generally last six months, with the ability to extend the forbearance for an additional six months.
It is important to note that typically your lender will want you to catch up on your mortgage payments after the forbearance period is over, which will mean paying additional money each month on your mortgage for a while.
There are organizations and governmental entities that can assist those who have lost their homes due to a disaster.
For example, the Federal Emergency Management Agency (FEMA) provides aid through its Individuals and Households program, such as:
Temporary housing assistance
Lodging expenses reimbursement
Home repair or replacement
Permanent housing construction
Must an attorney seek compensation through the property damage claims process?
An attorney plays a crucial role in helping property damage claimants to receive the compensation they need to repair or replace stolen or damaged property or a cash value reimbursement. While many claimants attempt to navigate this process independently, they often need clarification and support from the claims process or may feel pressured by a claims adjuster to accept a settlement that seems too low for the losses they have incurred.
The property damage attorneys at Dolman Law Group Accident Injury Lawyers, PA, are skilled in contract law and can help individuals understand the legalese of a property damage policy.
They can help determine a value of the claim that provides fair compensation for all of the expenses incurred due to the damage or loss.
They can assist with the claims process and engage the claims adjuster in negotiations to effect a settlement agreement on behalf of the client.
They can guide settlement offers and assist claimants who have had their claims denied in appealing the decision.
Finally, they can file litigation to fight for their client to obtain the compensation they need while holding the insurance company accountable for its contractual obligations to its insured.
If you need help with the property damage claims process, an experienced property damage lawyer from Dolman Law Group can evaluate your claim for free and lay out your legal options. It's easy to reach us by contacting our Doral office.
Questions About Your Doral Property Damage Claim? Dolman Has Answers
The property damage claims process is a common source of confusion. Because several policies cover certain damages while excluding others, it can be difficult to determine which policy your claim can be filed against. Property damage compensation can also be sought by filing a third-party claim against another party's insurance, such as a claim against a negligent driver's auto liability policy for repairing or replacing a vehicle damaged in an accident.
If you have questions about your specific claim, please reach out for a free case evaluation with one of Dolman Law Group's experienced property damage lawyers. Contact our Doral office by calling (305) 930-7688 or send us a message using our online contact form.