There is no such thing as a "good" injury. Some injuries, however, are worse than others. The class of injuries that forever change the course of your life, leaving you permanently disabled or even struggling to survive, are known as "catastrophic" injuries. An experienced Tampa catastrophic injury lawyer at Dolman Law Group Accident Injury Lawyers, PA, understands the complicated challenges you may face after a serious accident. We are here to protect your legal rights as you focus on your medical journey.
At Dolman Law Group, we have witnessed the massive physical, emotional, and financial toll of catastrophic injuries firsthand. We hope you and your family never have to face this sort of tragedy. However, if the worst does happen, we encourage you to contact us.
Why You Need a Tampa Catastrophic Injury Lawyer at Dolman Law Group Fighting For You
For decades, Dolman Law Group has represented Floridians injured by someone else's careless, reckless, or intentionally harmful actions. Our team of dedicated and determined Tampa personal injury attorneys focuses our legal practice exclusively on representing injured victims and their families. Our mission is to provide the finest legal representation to anyone who suffers a catastrophic injury caused by someone else. Read some of our clients' stories to see for yourself how we achieve this mission every day.
Our impressive track record of high-dollar settlements and jury verdicts on behalf of our clients with catastrophic injuries speaks for itself. We achieved those accomplishments by providing individualized legal services, including sophisticated, aggressive legal strategies that can help you recover the compensation you need and deserve during this difficult time.
A catastrophic injury can devastate your life. Each Tampa catastrophic injury attorney in our law firm makes sure our clients receive the respect and personal attention they deserve and their injuries demand. We can never guarantee the outcome of a catastrophic injury case, but we can promise to provide sound, straightforward, and accurate legal advice to give you the best possible chance of maximum recovery.
Common Types of Tampa Catastrophic Injuries
Tampa residents and visitors see their lives turned upside-down by many different kinds of catastrophic injuries. The most common of those, in our experience, are the following:
Spinal cord injuries. Violent trauma to the vertebrae and discs of the spinal column can damage the bundle of nerves running through them that transmits signals from the brain to the body, known as the spinal cord. An injury that nicks, tears, or severs the spinal cord can cause the loss of sensation in and/or function of muscles and organs below the point of injury. Injuries of this nature rarely heal. They leave victims bound to wheelchairs and other assistive devices, frequently unable to work or engage in fulfilling activities. They also cost millions of dollars to treat over a victim's lifetime, which the injury tends to shorten by causing a host of secondary health complications.
Burns. Severe burns inflict a particularly horrific agony on their victims. They take months of intensely painful surgeries and treatments to heal, pose an extreme risk of infection, leave disfiguring scars, and often leave a victim permanently disabled and suffering from emotional trauma.
Traumatic brain injury (TBI). TBI occurs when the brain sustains damage, typically resulting from a jolt, blow, or penetrating injury to the head, deprivation of oxygen or blood flow, or swelling within the skull. Once injured, the brain can take a long time to heal, if it ever does. Victims of TBI struggle with significant motor, cognitive, and emotional impairments that often prove difficult to treat.
Traumatic amputations/crushed limbs. Losing an arm or leg to an accident inflicts a lifetime of disability and expense. Victims must contend with the difficulty of adapting to the inconvenience of an artificial limb, which is not only painful but emotionally taxing.
Long-term health complications. Some catastrophic injuries are not caused by a sudden accident but rather by a slower-moving event. Tampa residents and visitors exposed to toxic environments in their homes and workplaces, harmed by the mistakes of health care providers, or placed at risk of disease by dangerous products, suffer long-term health complications that are no less physically, emotionally, or financially harmful than more acute injuries.
These are just a few examples of catastrophic injuries. In fact, any injury that takes an especially heavy toll on a person's life could qualify as "catastrophic." No matter the nature of your injury, Dolman Law Group is ready to help you recover the compensation you deserve.
An Experienced Tampa Catastrophic Injury Lawyer Can Handle These Devastating Cases
We work with clients who have sustained catastrophic injuries in a wide variety of accidents and incidents. Some of the most common circumstances leading to a Tampa catastrophic injury include:
Motor vehicle crashes. This includes Tampa car accidents, Tampa truck accidents, and Tampa motorcycle accidents. There were over 29,000 motor vehicle crashes in Hillsborough County alone, in one recent year, according to official data. In addition to the 175 of those crashes that resulted in fatalities, more than 13,000 crashes left occupants and drivers injured, many catastrophically.
Bicycle crashes and pedestrian accidents. Though far fewer in number than motor vehicle accidents, bicycle and pedestrian accidents in the Tampa area inflict massive casualties every year. The rate of fatalities and catastrophic injuries in these accidents far exceeds that of car and truck crashes, principally because pedestrians and cyclists have no physical protection in an impact with a vehicle.
Falls. Falling represents a leading cause of serious, and even fatal, injury for Floridians over age 65, according to the Department of Health. However, Slip and fall accidents can leave a Tampa resident or visitor of any age struggling with a lifelong disability.
Construction accidents. Tampa construction workers face daily dangers on the job. From working at heights to handling welding equipment to operating heavy machinery, every task a construction worker undertakes has the potential to end in tragedy.
Defective products. Manufacturers of the products we use every day have a special obligation to the general public to ensure nothing they sell is unreasonably dangerous for use as intended. Unfortunately, the makers of products as small as pills to as large as automobiles fail to live up to their obligations from time to time. Products that fail at an unexpected moment can lead to devastating injuries.
Medical errors. We rely on healthcare workers to "do no harm." Most of the time, medical professionals do their jobs admirably and with great care. Like everyone else, however, they are human. They make mistakes, and sometimes, those mistakes—like missed diagnoses, faulty prescriptions, or botched surgeries—cause devastating health complications for their patients.
Sexual abuse. The profound physical and emotional wounds of sexual abuse live with survivors for decades. For too long, the legal system turned its back on sexual abuse survivors by closing the doors to courthouses after too-short periods of time. But no longer. Legislatures around the country have begun to pass laws that give survivors a chance to seek justice and accountability for the trauma they suffered.
Nursing home abuse. With its large population of retirees, Florida is home to thousands of nursing facilities. Most of them take great care to treat our elderly family members with dignity and compassion. Sometimes, however, nursing home staff abuse residents physically, emotionally, and sexually, inflicting injuries that lead to a rapid decline in our loved one's health and well-being.
No matter what the circumstances that caused catastrophic injuries to you or a loved one in the Tampa area, the compassionate, diligent legal team at Dolman Law Group stands ready to help.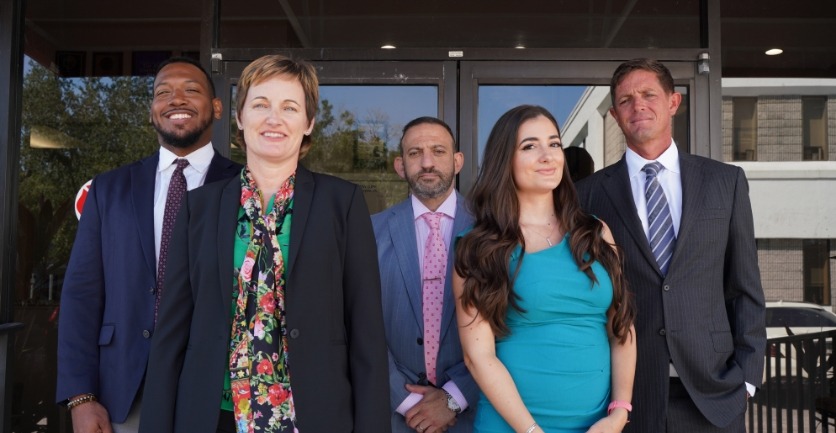 The Financial Losses Your Tampa Catastrophic Injury Attorney Can Help You Recover
In Florida, individuals, businesses, and organizations face legal liability for careless, reckless, or intentional actions that cause harm to others. In a legal action to collect damages from parties with legal liability, Tampa victims of catastrophic injuries can typically hope to recover two categories of compensation: Economic (or special) damages, which pay victims for the present and future out-of-pocket costs associated with a catastrophic injury, such as:
Medical costs;
Long-term care and rehabilitation costs;
Medical equipment, mobility devices, and modifications to living spaces;
Wages lost from missing work because of a catastrophic injury; and
Future income lost because of disabilities/impairments caused by a catastrophic injury.
Non-economic (or general) damages, which compensate victims for the harmful effects of a catastrophic injury that are not associated with specific expenses, such as:
Harm to intimate or personal relationships; and
Loss of life enjoyment.
Sometimes, victims of a catastrophic injury can also seek to recover punitive (or "exemplary") damages. Under Florida law, a jury can award these damages if, based on "clear and convincing evidence," it "finds that the defendant was personally guilty of intentional misconduct or gross negligence." Florida law caps punitive damages at $500,000 or three times the combined total of the two other damages categories above, whichever is greater. What amount of damages a victim of a catastrophic injury may recover varies widely from case to case. The particular facts and circumstances of an injury determine a damages amount. Experienced Tampa catastrophic injury lawyers, like those at Dolman Law Group, work hard to collect evidence to prove their clients' entitlement to the largest amount of damages possible.
Dedicated Tampa Catastrophic Injury Attorneys Always Meet Important Deadlines
Victims of catastrophic injury and their families may have a sense that they will eventually need diligent, skilled, compassionate legal representation to help them recover compensation from those who did them harm. Few realize, however, how important it is to seek that representation as soon as possible after an accident or incident causes life-altering injuries.
From the moment a catastrophic injury happens, the clock starts ticking on the injury victim's window of time to take legal action for compensation. How long that window stays open depends on the facts of the particular accident and injury. Some accident victims have a general idea that the "statute of limitations" in Florida lasts four years from the date of an injury in most cases. The statute of limitations, however, is just one of many potential deadlines that affect a catastrophic injury victim's rights. For example, other important (and shorter) time limits may include:
The deadline to seek medical care for an injury covered by a Florida "no-fault" auto insurance policy (only 14 days);
The deadline to seek damages from a state or local government agency (3 years);
Multiple deadlines for investigating a potential claim for medical malpractice; and
The deadline for taking action for wrongful death (2 years).
Do not make the mistake of thinking that you have four years to file a lawsuit in all cases. That is incorrect. Your legal right to seek compensation for your catastrophic injury could expire very quickly. The best defense against missing important deadlines is to contact an experienced Tampa catastrophic injury attorney as soon as possible. By meeting with and retaining a lawyer right away, you entrust the protection of your legal rights to a professional whose sole duty is to serve your interests. Act now, before it is too late to take action to recover the compensation you need and deserve to help you put your life back on track.
Our Tampa Catastrophic Injury Lawyers Answer Some FAQs
Any accident or injury can be distressing, but a catastrophic injury is life-altering. Many injuries heal over time, but a catastrophic personal injury often results in permanent disability. A catastrophic injury survivor may face a diminished quality of life and a daunting and uncertain future. When the injury is so severe that it affects the injured person's daily life and relationships, the experience can be traumatic. Serious long-term injuries may involve physical, mental, emotional, and economic consequences and raise many questions. We answer a few commonly asked questions below.
What is a catastrophic injury?
According to the American Medical Association (AMA), a catastrophic injury is often a "serious injury to the brain or spinal cord." However, a catastrophic injury may also involve damage to another body part. For example, the amputation of one or more limbs can be catastrophic, depending on how the injury affects the injured person's ability to function. Catastrophic injuries may additionally lead to severe complications because the injury makes the victim more vulnerable to other injuries or diseases, and the injuries or accompanying complications are sometimes fatal. Florida's statutes define catastrophic injury as an injury resulting in permanent impairment. The permanent impairments listed in the statute include:
Spinal cord injuries;
Amputations;
Severe brain or closed-head injuries;
Burns;
Blindness; and
Loss of reproductive organs resulting in an inability to procreate.
In some cases, the anticipated outcome, or the way the injury will likely affect the injured person's life in the future, defines a catastrophic injury. The injured person may never return to work or have the ability to train for different employment skills, so they can no longer support themselves or their family. Someone who loved to participate in hobbies, group activities, or travel may suffer a reduced enjoyment of life. The victim may need a paid caregiver to provide for their daily needs. All of these changes and losses affect an individual's mental health and may cause anxiety or depression.
What are the most common causes of catastrophic injuries?
Catastrophic injuries can happen in many ways to anybody and result from any type of accident. They generally happen without warning, so life changes with shocking suddenness. Some of the most common sources of catastrophic injuries are accidents. When these injuries occur as a result of someone else's failure to act with care, the other party may be liable for the injured person's resulting losses. Common types of accidents that can result in catastrophic injuries include:
Car and truck accidents. Some people are lucky enough to walk away from a motor vehicle accident with only minor injuries. But motor vehicle crashes are a major cause of brain injuries, spinal cord injuries, burns, and amputations. According to a Florida Highway Safety and Motor Vehicles report, 403,626 automobile accidents occurred throughout that year in Florida—an average total of 1,106 per day. As a result of those automobile accidents, there were 2,917 fatalities and 236,157 injuries. Of those, 19,196 were incapacitating injuries, injuries that could lead to lifelong medical issues and the inability to return to work.
Slip and fall accidents. According to the CDC, slip and fall accidents are the leading cause of traumatic brain injuries (TBIs) and spinal cord injuries.
Medical malpractice. Victims of medical negligence, such as misdiagnosis, surgical errors, or medication mistakes, may suffer catastrophic injuries.
Construction accidents. The machinery, chemicals, industrial tools, and scaffolding used in construction work come with a high risk of injury. Construction workers sometimes fall from heights or are burned by ungrounded electrical currents.
Recreational activity accidents. Sports and recreational activities can cause catastrophic injuries. For example, swimming is a popular activity in Florida. However, many people have suffered severe spinal cord injuries as a result of swimming pool accidents.
Defective products. Improperly designed or manufactured consumer products and medical devices can lead to catastrophic injuries.
What are some common types of catastrophic injuries?
Catastrophic injuries create serious, long-term consequences. Victims may have ongoing or recurring losses arising from temporary, partial, or total disabilities, loss of sensory or bodily functions, cognitive impairments, or permanent disfigurement. Some common types of catastrophic injuries include, but are not limited to:
Brain injuries. The brain controls practically everything else in a person's body. Brain injuries, such as concussions, edema, hematomas, and penetrating injuries to the brain, can cause cognition, memory, movement, behavior, and speech issues. Recovery is often slow, uncertain, and limited.
Spinal cord injuries. Damage to any part of the spinal cord or nerves at the end of the spinal canal frequently causes permanent changes in how the victim's body functions below the site of the injury. Sometimes an accident compresses, dislocates, or crushes vertebrae, and the victim may be permanently disabled as a result. Spinal cord injuries often cause partial or complete paralysis. Researchers have estimated that 17,730 new spinal cord injury cases occur each year, and between 249,000 and 363,000 people are currently living with spinal cord injuries in the United States.
Burn injuries. Each year, approximately 500,000 people suffer burn injuries requiring hospital treatment. Depending on the size and degree of the burn, it may be life-threatening. Second-degree burns can cause scarring, and third-degree burns can destroy nerves. Even with the best medical care, the recovery period is usually long and extremely painful.
Scars. Although scarring is a part of the healing process, scars can be emotionally devastating for many people. In some cases, scars can be disfiguring and lead to a loss of self-esteem and a diminished quality of life.
Compound fractures. Compound fractures occur when a bone fragment comes through a person's skin near the site of the break, which leads to a high risk of infection. In general, broken bones may require surgery and sometimes screws and metal plates. Orthopedic injuries also often involve extensive rehabilitative care for the victim to regain the proper function in the limb. In the worst cases, a crushed limb may require amputation.
In addition to physical injuries, victims and families can also face substantial losses related to slow and painful recoveries or rehabilitation, psychological suffering, mental anguish, reduced quality of life, and lost emotional support, companionship, or family relationships.
How can a Tampa personal injury lawyer help me pursue a catastrophic injury lawsuit?
Victims of severe injuries that require expensive, long-term medical care and constant at-home assistance may wish to file a catastrophic injury lawsuit, which is a type of personal injury lawsuit. Pursuing this type of claim is fundamentally no different from filing an ordinary negligence claim.
In a catastrophic injury claim, as in other negligence claims, the plaintiff (the person who brings a legal case against another person, known as the defendant) must establish certain grounds for the suit. The plaintiff must show that the defendant had a duty to exercise reasonable care, failed in or breached that duty of care, that the failure or breach caused the plaintiff's injuries, and that the plaintiff suffered damages as a result.
To prevail in a catastrophic injury claim, it is important to determine who was legally at fault for the incident that caused the injury. At first, this may seem simple, but in many cases, it can be a complicated issue. More than one party may be responsible for an accident and the resulting injuries. The court determines each party's degree of fault based on the evidence presented at trial. For example, say a drunk driver swerved out of their lane and hit another car head-on, and the victim in the other car suffered a severe spinal cord injury resulting in paralysis. Obviously, the impaired driver is most likely at fault.
But what if the driver's car malfunctioned due to a defective part? Did that contribute to the accident? Or perhaps the victim's injury was made worse while undergoing a medical procedure in the hospital? Evidence to prove each party's degree of liability may include reports from law enforcement agencies, accident reconstruction specialists, and medical experts.
What type of losses can a Tampa catastrophic injury attorney seek in my injury case?
The injured victim may receive two basic categories of damages for a personal injury claim: economic damages and non-economic damages.
Economic damages cover actual financial loss, such as lost wages and medical bills.
Non-economic damages are to compensate the victim for other forms of loss, such as pain, suffering, and emotional distress.
In general, personal injury damages may include:
Compensation for medical bills arising from the injury. These may include medical care or treatment of any type, including hospital visits, nursing home care, or physical therapy. It should also include the cost of future medical care.
Lost wages. Compensation for lost wages includes work missed due to the injury or medical care for the injury. The victim may also receive compensation if the injury or subsequent disability reduces their future ability to earn wages. If the victim permanently cannot work because of the injury, then damages may include the wages they would have made over a lifetime.
Pain and suffering. This includes damages for the amount of pain a victim has suffered, as well as compensation for the length of the recovery or the permanent and debilitating nature of the injury.
Emotional distress. Damages for emotional distress provide compensation for depression, anxiety, or post-traumatic stress disorder a victim has suffered as a result of the injury.
Loss of companionship or loss of consortium. These damages are to compensate a family member for the loss of a relationship with the victim, such as the inability to have a physical relationship.
Wrongful death. Family members of victims who died as a result of their injury may bring a lawsuit for wrongful death.
The court may also award punitive damages to punish any unethical or bad behavior on the part of the defendant. As a general rule, Florida courts only award punitive damages in egregious cases of gross negligence or intentional harm. Punitive damages are limited to three times the amount of compensatory damages, or $500,000, whichever is greater. There are also caps with regard to medical malpractice cases. To assess the total for each category of damages, the court looks at the severity of the defendant's injury and their resulting current and future losses. Medical experts may provide evidence to describe the physical and mental losses arising from the injury. Economic experts can help calculate potential related future expenses.
What is the personal injury statute of limitations in Florida?
The statute of limitations provides a time limit within which a plaintiff must file a complaint in court that alleges that they suffered a personal injury due to the defendant's negligence. According to Florida Statute §95.11, an injured person generally has four years from the date of their injury to file their claim. However, for certain types of claims, this time limit may be different. For example, Florida Statute §95.11(4)(b) reduces the statute of limitations for medical malpractice cases to two years after the date the victim is injured or discovers their injury. A catastrophic injury victim may be overwhelmed by pain, as well as adjusting to the limitations and other major life changes brought on by their condition. It may be easy to lose track of time. However, the injury victim must take action before this deadline expires.
Contact a Tampa Catastrophic Injury Lawyer at Dolman Law Group Today
At Dolman Law Group Accident Injury Lawyers, PA, we spend our careers fighting for people just like you who have been forced to confront life after a catastrophic injury. Some of our clients have been told they might never walk again, work again, or live the same life again. We are not afraid to stand up to the largest insurance companies, the most powerful business interests, or the most well-paid lawyers in Florida to protect our clients.
When you work with a Dolman Tampa catastrophic injury lawyer, we promise to use every ounce of skill, know-how, and experience to help you receive the maximum compensation allowed by law. If your life has been shattered by a catastrophic injury, contact us today. We have a handy local Tampa office as well as offices on both Florida coasts. Reach out to us online, or call us at (813) 303-0916 for a free, confidential, no-obligation consultation today.
Tampa Office
13513 Prestige Pl. Suite 103
Tampa, FL 33635
(813) 303-0916