Tampa regularly ranks as one of the most pedestrian-friendly cities in Florida, with walkable neighborhoods and plenty of pedestrian infrastructure that make it easy to get around on foot.
That does not necessarily mean, however, that pedestrians in Tampa face no danger while walking near or across area roads. Pedestrian accidents still occur in Tampa, and when they do they can cause catastrophic injuries that permanently disrupt the victim's life.
If you or someone you love suffered injuries in a Tampa pedestrian accident, you may have the right to claim significant financial compensation. Contact a Tampa pedestrian accident lawyer at Dolman Law Group Accident Injury Lawyers, PA, today for a free consultation with a Tampa pedestrian accident lawyer and learn about your options.
We'll Fight to Recover Fair Compensation for All of Your Pedestrian Accident Injuries
Pedestrians are significantly more likely to have an injury or death in an accident than drivers and passengers in motor vehicles. Even after the accident, you may have to undergo months, if not years, of rehabilitation.
Dolman Law Group Accident Injury Lawyers, PA, is committed to helping injured pedestrians obtain compensation in Tampa, Florida, and beyond. Our law firm has recovered millions of dollars for injured victims, and our past successes evidence the fact that we are not willing to accept lowball settlements from the insurance company. Our Tampa personal injury attorneys have helped clients achieve:
$300,000.00 after a slip-and-fall accident in a parking lot
$165,000.00 for a herniated disc injury
$939,000.00 for injuries sustained in a rideshare accident
While these impressive results don't guarantee your case a specific outcome, you can be confident that we'll go above and beyond to ensure it has the greatest chance of success.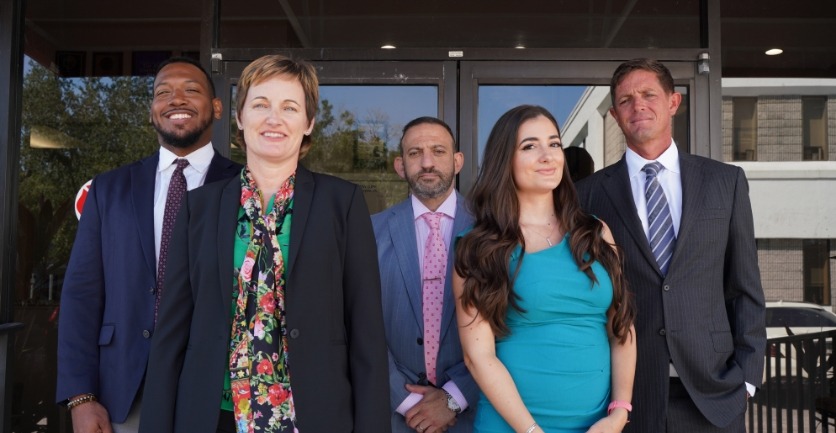 Dolman Law Group Provides Comprehensive Help for Tampa Pedestrian Accident Victims
After getting hurt in a pedestrian accident in Tampa, you need a lawyer who can handle every aspect of the process of securing maximum compensation on your behalf. Dolman Law Group Accident Injury Lawyers, PA, is that kind of team.
Case Size Doesn't Matter
Big injuries? Small injuries?
At Dolman Law Group Accident Injury Lawyers, PA, it does not matter. If you suffered injuries in a Tampa pedestrian accident, we want to get you the compensation you deserve for those losses. We work relentlessly to maximize the compensation our clients recover, no matter how bad their injuries or who was at fault.
We Get Results
Substantial Tampa pedestrian accident injuries deserve equally substantial compensation.
At Dolman Law Group Accident Injury Lawyers, PA, we have an extensive history of helping clients recover significant compensation for accident-related losses. Our case results include numerous multi-million dollar recoveries for our injured clients.
We Have Offices Conveniently Located Where You Need Them Most
At Dolman Law Group Accident Injury Lawyers, PA, we have offices on both Florida coasts, including in Tampa. We aim to make it as easy as possible for our clients to connect with us and get the legal support they need. In addition to our conveniently-located offices, we also offer virtual consultations to new and existing clients who might not have the ability or strength to come see us in person.
Did you get hurt in a Tampa pedestrian accident? Dolman Law Group Accident Injury Lawyers, PA, wants to help. Contact us for your free consultation.
The Basics of Compensation After a Tampa Pedestrian Accident
Many of our clients ask us, "How much is my pedestrian accident claim worth?" Many of them have substantial injuries and face financial difficulty due to their accidents, and hope to recover as much compensation as possible, as soon as possible.
At Dolman Law Group Accident Injury Lawyers, PA, strive to get our clients every last penny they need to pay their expenses and rebuild their lives. In Tampa pedestrian accident cases, many of them can claim the following types of damages.
Compensation for Medical and Other Expenses
Pedestrian accident victims in Tampa generally have the legal right to recover compensation for medical expenses related to their injuries. Many people face high medical costs after a pedestrian accident, because getting hit by a motor vehicle frequently causes massive trauma. Their claims can usually seek payment for expenses like emergency care, hospitalization, surgeries, rehabilitation, medication, and medical equipment.
Pedestrians who carry personal injury protection (PIP) insurance as part of an auto policy may have the right to use that coverage to pay some of their medical costs. If PIP does not cover all of an injured pedestrian's expenses, however, they may also have the right to pursue compensation from the party at-fault for causing the accident, or another liable party.
A pedestrian accident can also lead to victims incurring other expenses they wouldn't have otherwise had. A claim for damages can demand payment for these costs, too. They may include, for example, the amount a victim pays for services like childcare or house cleaning, or the value of lost or damaged personal property.
The team at Dolman Law Group Accident Injury Lawyers, PA has extensive experience evaluating and recovering medical and other expenses for victims of accidents in Tampa.
Compensation for Lost Earnings, Job Benefits, or Other Income
Pedestrian accident injuries can, for many people, mean a lot of time out of work. Some spend time in a hospital. Some must limit their activities on doctors' orders. And some cannot work because their injury leaves them temporarily or permanently disabled.
Whatever the reason for missing work after a pedestrian accident, victims generally have the right to claim their lost earnings and job benefits (including paid-time-off used) as part of their damages. Those whose injuries leave them long-term or permanently disabled can seek payment for the value of their lost future earnings, in addition to past lost income. As above, PIP insurance may cover some of these losses, if a victim carries it, but they can also be sought from an at-fault or other liable party.
A pedestrian accident can also interfere with a victim's ability to earn income in other ways. For example, injuries may prevent a victim from pursuing a new job opportunity or career path. Or they may disqualify the victim from receiving a scholarship or other, non-work financial benefit. Those losses can also be recovered in a claim against an at-fault party or insurance policy.
Dolman Law Group Accident Injury Lawyers, PA, fights to make sure victims receive every possible component of earnings, income, and benefits they lost because of a pedestrian accident.
Compensation for Pain, Suffering, and Other Non-Financial Damages
Financial losses aren't the only damages a pedestrian accident can cause — not by a long shot. Victims of a pedestrian accident frequently suffer severe physical and emotional trauma that disrupts every aspect of their lives.
The amount recoverable through an insurance claim or lawsuit can also include compensation for these non-financial (or non-economic) damages, such as:
Physical pain or discomfort due to injuries or medical treatments
Emotional distress or mental health challenges
Loss of independence
Disruption of everyday life
Loss of enjoyment of life or favorite activities
Changed relationships with spouses or loved ones
Difficulties resulting from scarring and disfigurement
At Dolman Law Group Accident Injury Lawyers, PA, we work closely with our clients and their loved ones to gain a complete understanding of the struggles and challenges they face because of a pedestrian accident injury. Then we get to work pursuing as much compensation for those difficulties as possible.
Tampa Pedestrian Accidents and Driver Negligence
Pedestrian accidents happen for various reasons; however, when a driver shows negligence or recklessness toward someone, it can lead to serious consequences. Many pedestrian accident cases involve factors such as road rage, intoxicated driving, and distracted driving. If a driver's recklessness led to your injuries, this could be negligence—and could entitle you to seek compensation.
Drivers owe a duty of care to pedestrians, as they do to other road users. You could hold a driver accountable for these and other forms of negligence:
Driving while intoxicated: Drunk driving is a serious problem. Pedestrians are at an even higher risk from drunk drivers—when motor vehicle operators fail to observe traffic signs, slow down around school zones, or yield to pedestrians, they endanger pedestrian lives.
Failure to yield: Pedestrians have the right-of-way in crosswalks, intersections, and red traffic lights. When drivers fail to yield the right-of-way in these places or violate other traffic laws, pedestrians can suffer serious injuries.
Driving while distracted: Activities that distract the driver, such as texting, adjusting the GPS, or eating, can cause drivers to miss the sight of a nearby pedestrian.
Failure to use the rearview mirror: Ignoring the vehicle's rear while backing up can cause serious pedestrian injuries.
Occasionally, a pedestrian accident will involve more than one liable party. Examples of cases in which more than one person or entity shares negligence include:
Poor road conditions: Those responsible for maintaining roadways and crosswalks must ensure that these areas are not hazardous to drivers or pedestrians. A crosswalk with a malfunctioning signal or a pothole that hasn't been repaired properly could cause or exacerbate a pedestrian accident. If poor road conditions contributed to the accident, liability may be shared between the driver and the municipality or agency responsible for maintaining the road.
Defective vehicles: Product liability sometimes comes into play in a pedestrian accident. For example, a car with defective brakes could prevent a driver from stopping in time to avoid colliding with someone, or they may be required to swerve to avoid hitting another obstacle.
In some pedestrian accident cases, liability is not clear-cut at first glance. However, our skilled Tampa pedestrian accident lawyers have ample experience in investigating incidents such as these. We will ensure that your rights are protected and acquire as much evidence as possible to support your claim; traffic camera footage, police reports, eyewitness testimony, and medical records can be invaluable in making sure that you get every last dollar that you deserve for your injuries.
Our attorneys will seek all these forms of evidence and more showing that a driver caused your harm or injuries. We will also help you handle every step of your case, including negotiations with the insurance company.
Common Injuries Suffered by Pedestrians in Accidents
Pedestrian accidents often result in serious injuries when a moving vehicle strikes them, as they have no protection or cover. If you now face serious or catastrophic injuries, you could seek compensation according to your level of harm.
Some of the most common injuries in pedestrian accidents include:
Head and brain injuries: Unfortunately, many pedestrian accident victims suffer from traumatic brain injuries. A head or brain injury could leave a victim seriously debilitated. Even a mild traumatic brain injury can cause long-lasting symptoms that leave you unable to work and live as you did before the accident.
Broken bones: Breaks or fractures suffered in pedestrian accidents can affect the legs, arms, ribs, and pelvis. These bones can take a long time to heal.
Spinal cord injuries: Pedestrians in accidents are at high risk of spinal cord injuries. These injuries can leave them paralyzed or suffering the loss of motor skills. The medical bills involved in treating these injuries can be particularly costly, as they often involve extensive surgeries.
Wrongful death: The most devastating result of a pedestrian accident is loss of life. If you lose your loved one in a preventable pedestrian accident in Tampa, you can get help from a Tampa wrongful death attorney to help you with your legal options. In this case, you may receive compensation for funeral costs and other end-of-life expenses, in addition to non-economic damages such as loss of companionship and loss of consortium.
A Tampa pedestrian accident lawyer can help assess the scope of your damages and pursue compensation that addresses your total losses and expenses. Whether this is accomplished through a claim with your insurance company or a personal injury lawsuit against the liable party, our attorneys will treat your pedestrian accident case with the care it deserves.
What to Do After a Tampa Pedestrian Accident
In the unfortunate event that you or someone close to you is struck by a vehicle, take these steps immediately.
Get to safety: The last thing you need is to remain in harm's way. If you can move, get as far away from traffic as possible.
Call law enforcement: Use your cellphone or have anyone around you call law enforcement and medical personnel.
Collect contact information: If the driver who struck you doesn't flee the scene, obtain their contact information, license plate numbers, and insurance information. If you're not in a position to talk to the driver, have someone do it for you. However, you should take care not to say anything to the driver or anyone else that may be used against you; do not suggest that you were at fault in any way for the accident.
Take pictures: Use your cellphone to take photos of the accident scene if you can. If you're able to, you should also take a picture of your injuries. This will serve as evidence of the injuries you sustained.
Seek medical care: It's important to see a doctor, regardless of how major or minor your injuries are. You may feel okay initially, but you could have internal injuries, which can be serious or life-threatening if left untreated.
Once you've seen a doctor, you should contact a Tampa pedestrian accident attorney from our team. We can help you understand your legal rights and seek compensation.
How Our Tampa Pedestrian Accident Attorneys Can Help Maximize Your Claim
We know that insurance companies will frequently attempt to avoid paying out what injured claimants are truly due to protect their own interests. Your provider may be quick to offer you a settlement; however, this amount is rarely enough to compensate you fully for the damages you sustained.
Our lawyers have seen enough pedestrian accidents in Tampa to know that these events can cause serious upheaval to the lives of victims and their families. If you've sustained injuries, you'll likely in no position to be handling your own legal affairs. The insurance company knows this, and will likely try to take advantage of it. Your personal injury attorney will fight to maximize your claim and can negotiate with insurance adjusters on your behalf. If necessary, your lawyer is also prepared to litigate for you in a court of law.
We take our duty to protect victims' rights and hold negligent parties accountable seriously. The pedestrian injury attorneys at Dolman Law Group Accident Injury Lawyers, PA, are standing by, ready to hear your story and determine if we can help your case.
Contact a Skilled Tampa Pedestrian Accident Attorney Today
Pedestrian accidents in Tampa can inflict severe trauma and leave victims buried under a mountain of unplanned expenses. They do not deserve to bear those burdens on their own, and they don't need to. A skilled Tampa pedestrian accident injury lawyer can pursue a claim for compensation on their behalf that holds at-fault parties and insurance companies financially accountable.
If you or someone you love suffered injuries in a Tampa pedestrian accident you need a legal team on your side that knows how to investigate, build, and present a winning case for compensation on your behalf. Dolman Law Group Accident Injury Lawyers, PA, is a team of seasoned legal professionals that fights day-in, day-out for Tampa accident victims.
With offices across both Florida coasts, including right here in Tampa, you can easily reach us at (813) 303-0916, or you can write to us using our online contact page. Contact us today for a free case consultation.
Tampa Office
13513 Prestige Pl. Suite 103
Tampa, FL 33635
(813) 303-0916