Accidents occur every day throughout the Greater Tampa area. Cars crash into one another. People fall down flights of stairs. Workers sustain injuries on the job. In that split second before one's body gives in to the impact, there's just enough time to consider the potential consequences. People rarely anticipate that a fall or a vehicle crash or an on-the-job mishap could cause a life-altering spinal cord injury.
Unfortunately, thousands of Americans sustain new SCIs each year. When the force from an accident is strong enough to damage the spine, it's also traumatic enough to cause severe pain, suffering, and psychological issues. Spinal cord injury recovery is often a long-term process. The injured person must develop the tenacity and flexibility to manage high recovery and rehabilitation costs, lost income, temporary and permanent impairments, and drastic lifestyle changes.
Our Tampa spinal cord injury lawyers have seen this happen to far too many of our clients. When someone else's negligence causes an injury with the power to affect a person so drastically, they must take responsibility for the damages they cause. Our Tampa Spinal Cord Injury Lawyers can help you do just that.
We Work Hard to Make Negligent People Pay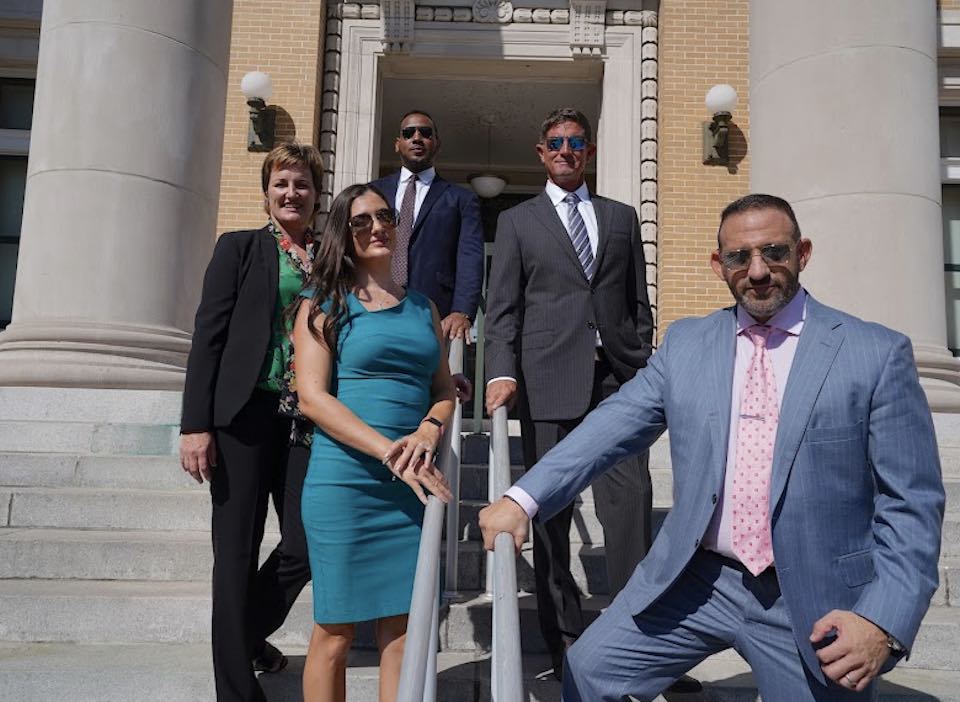 At Dolman Law Group Accident Injury Lawyers, PA Accident Injury Lawyers, we have dedicated our practice to injured clients only. Our Tampa personal injury attorneys understand the complex liability and damage issues that arise when an accident is serious enough to cause catastrophic injuries. We've resolved auto and truck liability cases, slip and fall accidents, workplace injuries and many other situations that have left our clients with unimaginable pain and permanent disabilities.
We've worked with our clients and their families to sort through the liability issues. We've identified every potentially negligent entity. We've used our firm's resources to prepare our clients' cases so we could produce the best possible outcomes. We've always understood that a damage award couldn't restore our clients' health. We've worked hard to recover damages for our clients because it helped them improve their quality of life.
Our Results
At Dolman Law Group Accident Injury Lawyers, PA Accident Injury Lawyers, we've recovered millions of dollars for our injured clients. We've accomplished this with comprehensive case investigations, evidence evaluations, and aggressive settlement efforts. We have worked with responsible parties, insurance companies, self-insured corporations, and defense attorneys. When possible we have negotiated settlements for our clients. We've resolved cases through facilitated negotiation during mediations and arbitrations. When litigation was the best alternative, we've presented our evidence before a judge and jury. As each ease is different we can't guarantee a specific outcome. Our attorneys promise to put forth our best effort for each client. We believe that our case results demonstrate our commitment.
Semi-truck accident, $3.2 million settlement: Our client sustained a brain injury when a tractor-trailer caused an accident. We settled the case during a pre-trial mediation.
Semi-truck accident, $1.75 million settlement: Our client sustained a torn rotator cuff and a mild traumatic brain injury in a tractor-trailer accident. We negotiated a fair settlement after the defendants attempted low-dollar negotiations directly with our client.
Auto accident: $1.58 million verdict: We negotiated a fair settlement for our client's two herniated discs. The responsible parties previously offered an inadequate amount due to our client's prior injuries.
Tampa Spinal Cord Injury Lawyer Near Me 833-552-7274
What Is a Spinal Cord Injury?
Spinal cord injuries occur when a trauma damages or severs the spinal cord. This sometimes happens when an accident or intentional act fractures, crushes, compresses or causes other serious damage to one or more vertebra. Bone and disc fragments and other displaced tissue damage the spinal cord and destroy nerve extensions. Paralysis and loss of function occur when spinal cord damage prevents the nerve extensions from carrying signals between the brain and the rest of the body.
A spinal cord injury reduces or destroys a person's functional abilities at or below the location of the damage and sometimes internally. An injured person loses the most functioning ability when the damage is located high on the spine and affects the cervical vertebrae in the neck. While there are limited spinal cord injury treatment options, The National Institutes of Neurological Disorders and Strokes explains that improved emergency care and aggressive treatment sometimes minimizes damage and restores limited function.
If administered within eight hours of an injury, the steroid drug, methylprednisolone, "appears" to reduce nerve cell damage.
Respiratory support helps patients with severe cervical damage.
Electrical nerve stimulation "may" restore limited bladder, breathing, limb movement, and other functions.
Spinal Cord Injury Classification
Medical professionals describe a spinal cord injury type based on the degree of damage. They assess the injured person's impairment category based on damage location and severity and loss of function:
Injury Type
Incomplete: The trauma causes damage but doesn't sever the spinal cord. The loss of function and sensation vary.
Complete: The trauma completely severs the cord at the damage location. The affected person retains no sensation or motor function at or below the injury site.
Impairment Categories
Tetraplegia (quadriplegia): Functional and sensation losses beginning at the upper spine and downward. Quadriplegia often includes some degree of paralysis or functional losses in the upper body, all limbs, and in some internal organs.
Paraplegia: Paralysis and loss of function affect the legs, lower body, and some internal organs.
Triplegia: Paralysis and loss of function involving three limbs. Illnesses and medical conditions often cause Triplegia.
For a free legal consultation with a spinal cord injury lawyer serving Tampa, call 833-552-7274
How Does a Spinal Cord Injury Occur?
The National Spinal Cord Injury Statistical Center has tracked SCI patients since the early 1970s. They don't document all SCIs but, based on their research, they project that an estimated 17,730 persons sustain new spinal cord injuries each year. NSCIS further estimates that as of 2019, there are approximately 291,000 persons in the US living with an SCI. Their data documents spinal cord injury causes, demographics, and other information for 34,130 patients in their database from 1973 to September 2019.
Primary SCI Causes
Vehicular, 42.04 percent
Falls, 22.86 percent
Violence (primarily gunshot wounds), 16.97 percent
Sports, 10.01 percent
Medical/surgical complications, 2.88 percent
Other/unknown, 5.24 percent
Spinal Cord Injuries Change Everything
A spinal cord injury is considered catastrophic, because it's usually fatal or disabling. As with most catastrophic injuries, spinal cord injuries affect every facet of the injured person's life. Emergency treatment is usually just the beginning of their recovery and rehabilitation efforts. When a person survives an SCI-causing accident, they must adjust to a new life as a long-term patient. Even after they reach maximum recovery, their rehabilitation regimens often continue indefinitely. The Model Systems Translation Center provides online resources for SCI patients and their families. Their website also provides insight into the tough path SCI patients often follow.
Inpatient rehabilitation: SCI patients begin rehabilitation while still hospitalized. Before re-entering their home environments, they must develop new skills to make it easier to adapt to their new circumstances. Patients often make multiple adjustments that range from managing their bowels and bladders to reestablishing the confidence to live independently.
Outpatient rehabilitation: Outside of the hospital, SCI patients need continued therapy and rehabilitation. It helps them develop and sustain physical strengths and improve newly developed abilities.
Driving: Despite disabilities, many SCI patients regain their driving capabilities. A doctor or specialist in driving rehabilitation must assess their vision, strength, cognitive and other abilities. Depending on their disabilities, a returning driver often requires a vehicle with assistive devices and wheelchair access. The Florida Health Brain and Spinal Cord Injury Program helps SCI patients with assistive technologies, vehicle modifications, and other services.
Personal relationships: Changing abilities and health concerns often trigger shifts in personal and family relationships. Some SCI patients struggle with responsibilities, physical intimacies, parenting duties, and other aspects of their lives they once took for granted.
Reemployment: New disabilities often make it difficult for SCI patients to return to their prior jobs or careers. The Florida Division of Vocational Rehabilitation provides programs that help newly disabled people find and keep gainful employment.
Legal Responsibility for Spinal Cord Injuries
Vehicle accidents and falls cause spinal cord injuries more frequently than any other accidental events. People also sustain SCIs while participating in many other everyday activities. Liability depends on the responsible party's actions before the occurrence, the accident location, and the circumstances. Accidents often involve more than one negligent party.
Auto accident: Vehicle operators and owners are responsible for negligent actions behind the wheel. An owner who entrusts a vehicle to a driver with a known adverse driving history also has a negligent entrustment exposure. As an SCI injury meets Florida's Personal Injury Protection tort threshold, the injured person would have an immediate right to make a claim for damages or file a lawsuit.
Commercial truck accidents: When a commercial driver is operating a truck within the scope of his employment, his employer is vicariously liable for his actions. An employer who allows a bad driver to use a company vehicle has a negligent entrustment liability exposure. Other responsible parties include the owner of the vehicle, negligent maintenance or repair contractors, a manufacturer that sold a defective vehicle or component, a loading contractor if a load shift or other load-related problem caused or contributed to an accident.
Falls: Property owners are liable for safety and security issues on their property. If a commercial property owner subcontracts the maintenance, security, construction, and other property-related duties the subcontractors share liability. A property owner accrues negligence based on the injured person's status on the premises. Negligence is sometimes based on prior notice of a security or safety hazard.
Violent acts: Commercial property owners share liability for violent acts if they had notice of a security or safety concern and failed to address it. Security and management subcontractors share the owner's liability.
Sports: When children sustain sports-related SCIs, coaches, trainers, and team-sponsoring schools and organizations share liability for their injuries. Equipment manufacturers share liability for adult and child injuries attributable to defective or inadequate equipment.
Work-related incidents: Employees sustain SCIs in vehicle accidents, construction accidents, falls from elevated work areas, and other adverse events. An employer owes nothing beyond worker's compensation benefits. An injured employee may still recover damages from a non-coworker, sub-contractor, other persons, and other businesses.
Medical accidents: Medical professionals are responsible for an SCI if their treatment failed to meet the appropriate standard of care.
Spinal Cord Injury Recoverable Damages
Claim settlements in Florida include economic and general damages. Under certain circumstances, a court includes punitive damages in a judgment.
Economic Damages
A settlement includes economic damages based on an injured person's out-of-pocket costs. When a Personal Injury Protection insurer pays the economic expenses, their subrogation rights entitle them to recover what they paid. A settlement still considers past and future costs in determining the full value of an injured person's claim. Recoverable economic damages include:
Current and future lost income
Diminished earning capacity
Hospital and doctor bills
Medication costs
Prosthetics, mobility devices, and accessibility structures
Therapy costs
Medical transportation
Personal care
Household replacement services
Funeral and burial expenses
General Damages
General damages place a settlement value on an injured person's emotional, psychological, social, and lifestyle losses. Values are often difficult to assess as they are based largely on the injured person's subjective concerns. General damages often include:
Physical pain and suffering
Anxiety and emotional distress
Diminished spousal and family relationships
Scarring and disfigurement
Anger and depression
Loss of bodily functions
Punitive Damages
Florida Statute 768.72 allows plaintiffs to collect punitive damages. A plaintiff must produce clear and convincing evidence of the defendant's "…intentional misconduct or gross negligence."
How Do Irresponsible Parties Avoid Paying the Damages They Owe?
When an injured person sustains a spinal cord injury, the claim usually has a significant settlement value. Responsible parties sometimes use aggressive negotiation and defense strategies to minimize their ultimate payout.
Unreasonable Negotiation Tactics
Defendants, their insurers, and defense attorneys often rely on a plaintiff's case preparation problems to motivate a low settlement agreement. They realize that some law firms don't have the experience or the resources to present a comprehensive case. They must consider trial costs versus the settlement potential. This sometimes pushes injured people to accept a low offer instead of waiting for a better award at trial.
Pushing a Case Toward Trial
Defendants and their insurance companies continue their cost vs. benefit strategy when low-ball negotiations stall. When they can't motivate a plaintiff to accept a low offer, they initiate depositions, interrogatories, document production requests, and other costly discovery. This strategy sometimes forces plaintiffs to reconsider previous settlement offers in light of ongoing litigation and potential trial costs.
Courtroom Defense Strategies
Instead of negotiating a fair settlement, defendants sometimes allow a case to go to trial. They plead defenses that they hope will help them avoid or reduce the damages they must pay.
No negligence: A defendant refuses to acknowledge any wrongdoing. Plaintiffs have the burden of proving that the defendant was negligent.
Assumption of risk: Property owner defendants often rely on an assumption of risk defense. They assert that an injured plaintiff accepted the risks when they chose to enter the property.
Trespasser: A property owner's liability is based on the injured person's status on the property at the time of injury. If the owner proves that the plaintiff was trespassing when they sustained an injury, the only duty they owed the plaintiff was not to set traps.
No defect: In most instances, a manufacturer avoids paying damages if the plaintiffs cannot prove that a defective product or component caused an injury. This defense is sometimes relevant to vehicle accidents or on-the-job injuries involving allegedly defective industrial equipment.
Damages: Defendants try to avoid damages by producing evidence that the plaintiff's injuries or disabilities aren't as profound as alleged. They sometimes allege that the damages occurred elsewhere.
Our attorneys have always managed traditional defendant, insurer, and defense attorney strategies with strategies of our own. Our law firm has examined and evaluated the evidence for every injury claim. We have relied on our experience and our firm's resources to push back against unfair negotiation and defense tactics. We have always prepared our cases to produce the best outcomes for our clients.
Tampa Spinal Cord Injury FAQ
Tampa has its share of adventures. However, sometimes those adventures lead to serious injuries, including spinal cord injuries. Spinal cord injuries are among the most serious injuries that a person can incur, often resulting in a lifetime of medical treatments. If you have suffered a spinal cord injury in Tampa due to an accident that was caused by someone else, Florida law allows you to recover injury-related damages through a personal injury lawsuit. Experiencing a spinal cord injury can be a frightening and confusing time, filled with questions. Here are some of the most frequent questions we are asked about spinal cord injuries from our Tampa clients and prospective clients.
What is a spinal cord injury?
As explained by the Christopher & Dana Reeve Foundation, the spinal cord is a bundle of nerves located within the bony protection of the spinal canal that extends from the base of the skull to the lower back. The spinal cord, along with the brain, makes up the body's central nervous system.
The cord carries messages from the brain to the rest of the body and controls movement and function. Contrary to popular belief, this type of injury rarely involves a cord that is actually severed. Instead, most individuals with spinal cord injuries have a cord that is intact, but damaged.
Spinal cord injuries are defined as either complete or incomplete. Complete injuries feature total loss of sensation or function below the site of the injury. Incomplete injuries involve partial loss of sensation and function below the site of the injury.
The completeness of a spinal cord injury is determined through several diagnostic tests including those aimed at determining the level of muscle control that the individual has below the site of the injury as well as a pinprick test to determine the lowest level of the body in which the individual experiences sensation.
While those with incomplete injuries have the highest likelihood of a meaningful recovery from their injury, they also are more likely to suffer chronic pain after their injury due to the nerves still sending pain signals to parts of the body.
The higher up the injury is located on the spine, the more widespread the damage will be. Those suffering injuries in the cervical (neck) region of the spine often suffer loss of movement below the neck and cannot breathe without the assistance of a ventilator while those with injuries in the sacral region may walk and have control over most bodily functions.
More than half of all spinal cord injuries occur in the cervical area and about one-third occur in the thoracic (upper back) area.
It is impossible to know at the onset of the injury how extensive the damage will be. It is not unusual for individuals who have suffered a spinal cord injury to see some improvement during the acute care phase. However, the longer an individual goes without improvement in function and sensation, the more likely it is that the damage will be permanent.
How common are spinal cord injuries?
Spinal cord injuries are not that unusual of an occurrence. According to the American Association of Neurological Surgeons, as many as 450,000 people in the United States are currently living with a spinal cord injury, with around 17,000 new spinal cord injuries occurring in this country each year.
Who is most likely to suffer from a spinal cord injury?
More than half of all new spinal cord injuries occur in people who are between the ages of 16-30. 80 percent of those cases involve males.
What causes spinal cord injuries?
Many types of accidents can lead to a spinal cord injury. The most common causes of this type of injury include:
Motor vehicle accidents, which account for nearly half of all new spinal cord injuries each year.
Falls, which are the culprit of around 31 percent of all new spinal cord injuries and are the leading cause of spinal cord injuries in individuals over the age of 65.
Acts of violence, including gunshot or knife wounds. Violence results in around 13 percent of all new spinal cord injuries.
Sports and recreational injuries, which account for approximately 10 percent of all new spinal cord injuries.
Alcohol use is a factor in approximately one quarter of all spinal cord injuries.
If I experience a spinal cord injury, does it mean that I will never walk again?
Not necessarily. There are four segments to the spine—the cervical region, which is located in the neck; the thoracic region, which is in the upper back; the lumbar region, which is the middle portion of the back, and the sacral region, which is the lower back. Typically, the deficits that a person incurs due to the injury depend both on the severity of the injury as well as the location in which the injury occurred. Injuries to the upper portions of the spine will often result in more parts of the body being affected and the "completeness" of the injury will determine whether all sensation and function are lost beneath the site of the injury, or whether the individual retains some sensation or function.
What are some of the complications of spinal cord injuries?
Spinal cord injuries can come with a lot of complications, usually as a result of loss of sensation and function to various parts of the body. Complications that those with this type of injury may suffer include:
Urinary tract infections caused by changes in the individual's ability to control his or her bladder.
Constipation and bowel obstruction resulting from loss of bowel control.
Inability to sense hot or cold due to loss of sensation.
Pressure ulcers, also known as bedsores, which can occur when a person has remained in the same position for too long.
Blood clots that result from swelling in the extremities, often caused by changes in circulation. Blood clots can result in life-threatening conditions such as a pulmonary embolism or stroke.
The inability to expel secretions from the lungs due to loss of function in the diaphragm and abdominal muscles. This can lead to pneumonia and other respiratory ailments.
Changes in muscle function, including spasticity, which is when the muscles are too tight or rigid, or flaccidity, which is soft or limp muscles lacking tone.
Can spinal injuries be cured?
The spine has a limited ability to heal itself naturally. This means that, after the initial swelling has gone down, the deficits that remain are likely permanent. However, advancements in medical treatments available for this injury have given scientists hope that someday they may find a cure.
Will a spinal cord injury reduce my life expectancy?
A 50-year study of individuals with spinal cord injuries revealed that slightly over 8 percent of those suffering from tetraplegia—which is a loss of sensation and function in the arms, legs, torso, chest, and pelvis—died within a year after the injury, along with around 4 percent of those with paraplegia. Paraplegia is the loss of function in the legs, feet, and pelvis; 47 percent of patients with tetraplegia and 62 percent of patients with paraplegia survived 40 years after their injury. The most severe injuries involve the use of a ventilator as the individual can no longer breathe on his or her own as a result of the injury. These individuals are most likely to see a drastic decline in life expectancy following the injury. The most common and significant complication of a spinal cord injury is pneumonia, and the most common cause of spinal cord injury-related death is cardiovascular complications.
How much does it cost to treat a spinal cord injury?
The costs of treating a spinal cord injury vary, depending on the severity of the injury. It is estimated that the price tag for medical treatment in the first year after the injury will be between $320,000 and $985,000. These costs can total as much as $5 million through the course of the individual's lifetime.
What if my PIP coverage isn't enough to pay for medical expenses related to my spinal cord injury?
Tampa drivers are required by state law to obtain a personal injury protection (PIP) policy upon registering their vehicles. The required amount of coverage for this policy must be at least $10,000. When a person is injured in a motor vehicle accident in Florida, this policy can provide compensation for some medical expenses and lost wages, up to the policy limit. Because the treatment of a spinal cord injury is so complex, this amount of money likely will not make much of a dent in medical expenses incurred by a spinal cord injury, and will not provide any compensation for the extreme impacts that this type of injury has on the sufferer's life. Spinal cord injuries almost always satisfy the state's serious injury threshold, as they produce a loss of bodily function and significant permanent injury. This means that the injured individual is eligible to recover damages from the liable party through a personal injury lawsuit. In Florida, people generally have four years from the date of the injury to file a personal injury lawsuit.
What damages can I recover from a personal injury lawsuit after a spinal cord injury?
Some of the damages that can be recovered include:
Medical expenses, including emergency treatment, transport to the hospital by ambulance or aircraft, diagnostic testing, surgical services, physician services, prescription medication, hospitalization, physical therapy, and rehabilitation. Mobility devices such as wheelchairs or crutches can also be included.
The cost of hiring someone to help with personal care tasks or to perform household services such as cooking, laundry, or lawn care that the individual is no longer to complete by himself or herself.
Lost wages due to being too injured to work.
Loss of future earning capacity.
Modifications to the home that are necessary to accommodate the injury, including widened doorways, lowered countertops, roll-in showers, and automatic doors.
Non-economic damages such as pain and suffering, loss of enjoyment of life, loss of consortium, and mental distress.
Who is liable for my spinal cord injury?
Liability refers to an individual's legal responsibility for the damages incurred in an accident. If your accident was caused by someone else's negligence, recklessness, or intentional acts, then that person or entity is liable. Some examples of liable parties in accidents that result in spinal cord injuries include:
A distracted driver who rear-ends another vehicle and causes the driver of that vehicle to suffer a spinal cord injury.
The owner of a home or shop where an invited guest experienced a fall that resulted in a spinal cord injury.
An individual who assaults a person during a robbery, resulting in that person suffering an injury to his or her spinal cord.
The owner of an amusement park where an individual suffered a spinal cord injury on a park ride.
The maker of a defective auto part that resulted in an accident and caused an individual to suffer a spinal cord injury.
Your spinal cord injury attorney will identify the liable parties in your case and the insurance resources that the liable party has available to compensate you.
Do I need an attorney to pursue compensation for damages related to my spinal cord injury?
It's a wise idea. Spinal cord injuries are very serious, often resulting in life-changing impacts and medical expenses related to the frequent complications that arise with this type of injury. If your injury was the result of someone else's actions, an experienced spinal cord injury attorney can provide services to help you obtain the compensation you need to face the long term consequences of this type of injury. It's your attorney's job to see you made whole financially following a spinal cord injury; it's your job to get better.
Tampa Spinal Cord Injury Attorney
If you or your loved one sustained a spinal cord injury due to someone else's negligence, we want to help you protect your legal and financial rights. The Dolman Law Group Accident Injury Lawyers, PA Accident Injury Lawyers have convenient offices along both Florida coasts. We've recovered millions of dollars for our injured clients, and we'd like to determine if we can help you. Call us at 833-552-7274 or complete our contact form online to arrange a free consultation.
Tampa Office
3715 W. Horatio Street Suite G, Tampa FL 33609
Phone: (813) 212-8509
Call or text 833-552-7274 or complete a Free Case Evaluation form