Injured bikers often face an uphill battle following a motorcycle accident. Sometimes riders have to deal with insurance adjusters who want to reduce their company's potential liability exposure, so the adjuster might try to blame the motorcyclist for causing the accident that injured them. If you've been in a motorcycle crash, contact the Tampa motorcycle accident lawyers at Dolman Law Group to learn more about your legal rights and allow us to handle the aggressive insurance companies who want to pay as little as possible for your injuries.
Our personal injury lawyers in Tampa have a long history of helping victims recoup their losses. We know how to handle motorcycle accident claims, and we're ready to battle the insurance companies head-on. Our mission is to obtain the maximum amount of damages for motorcyclists following a tragic accident, and our team will fight to ensure that the responsible parties meet their legal obligations.
Injured motorcyclists who try to negotiate directly with the insurance company may not collect enough money to cover their medical bills, lost income, and bike repairs, let alone provide for future expenses that may arise. A typical motorcycle accident claim involves much more than submitting bills and receipts. We can help you place a value on many, less tangible losses you may have suffered and ensure you request the right amount of compensation under your unique circumstances.
How Can the Tampa Motorcycle Accident Attorneys at Dolman Law Group Help You After a Crash?
We'll take the time to listen to your experience. You will receive the individualized attention and assistance you deserve when you speak with our legal team. Since we know that every situation is different, we'll ask a lot of detailed questions to be certain we completely understand your needs. Then we'll explain how the law applies to your case and what you can expect going forward. 
Our Tampa personal injury lawyers will work directly with you throughout your claim as we pursue compensation for your motorcycle accident injuries. We will counsel you about your rights, determine who is responsible for your injuries and damages, and explain the best course of action to obtain fair damages.
Our firm also assists with other issues critical to the success of your case, such as:
Preparing your case and gathering evidence by investigating your accident, obtaining expert witnesses, processing court paperwork, obtaining medical records, and more

Ensuring that our lawyer will always be at your side, advocating for your best interests and ensuring that nobody takes advantage of you

Informing the insurance company of your claims and attempting to negotiate a settlement on your behalf

Fighting for your right to compensation in civil court, including taking your case to trial if necessary.
We can do all of the above with our award-winning attorneys, extensive knowledge and skills, and ample resources gained through years of successful litigation on behalf of clients.
Why Should You Partner With a Tampa Motorcycle Accident Attorney at Dolman Law Group?
With over 40,000 satisfied clients served and more than $400 million recovered in settlements and verdicts, we have a lot to brag about. However, what we do is not about us. It's about you, our injured client. Our track record of achievement merely shows how much we care about our clients and how we will strive to help you succeed.
We have vast experience fighting for the rights of our motorcyclist clients. Here are just a few successful cases we resolved for our clients:
A motorcyclist with multiple injuries received $1.4 million

A biker with a traumatic brain injury recovered $1 million

A motorcyclist with head and shoulder injuries was awarded $750,000

A motorcyclist with neck damage received $450,000

A motorcyclist suffering neck injuries recovered $320,000
While previous successes do not guarantee future outcomes, you can rest easy knowing that our team of Tampa motorcycle lawyers is representing you and fighting for your needs. Our firm has the resources, skills, and knowledge needed to handle even the most severe and complicated motorcycle accident claims. We will not hesitate to take insurance companies to court if necessary.
When you're involved in a life-changing motorcycle crash, Dolman Law Group is dedicated to successfully resolving your accident injury claim.
Don't Just Take Our Word For It... Our Satisfied Clients Share Their Experiences Working With Dolman Law Group
When you are considering which Tampa motorcycle accident lawyer to work with, you need to know about other accident victims' experiences. Here are some comments from prior Dolman Law Group clients.
"Big shout out to Matt Dolman for representing me with my motorcycle accident. I highly [recommend] him as one of the best motorcycle accident lawyers in the area. He's just so on point with everything, confident in his abilities, and does not for one moment stop or slack off until the job is done. Thanks again Matt. The settlement you secured for me was literally life changing and I am just so grateful." - Carlos B.
"Happy I came across this firm. They treated me very well and the service they provided was unlike any other [I've] ever gotten before. I am pleased, satisfied, and impressed and suggest anyone needing their services check them out. You won't regret it!" - Sal R.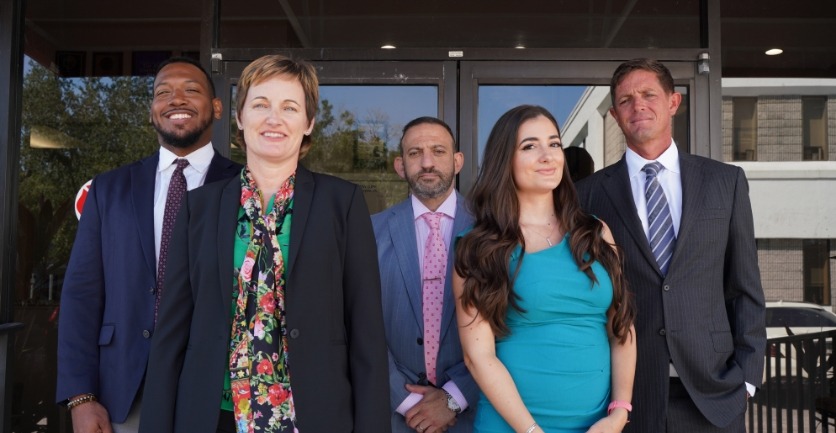 You Can Afford to Hire a Tampa Motorcycle Accident Attorney From Dolman Law Group
It can be challenging to know when and if you should work with an accident lawyer. Luckily, many personal injury lawyers offer free consultations where you can ask questions and learn about the law firm you may retain to be sure it's a good fit for your needs. As part of the free consultation, you should discuss how your lawyer will be paid.
Our personal injury attorneys accept cases on a contingency fee basis, which means we only get paid if our clients receive compensation. As a result, everyone is motivated to fight for the highest amount of compensation possible.
After a motorbike accident, dealing with insurance companies and creditors takes time and energy that you may not have as you recover from your injuries. Allow us to take care of the legal issues while you focus on your healing. We'll do our best to help you regain a normal life and return to riding as soon as possible.
What Compensation Can a Tampa Motorcycle Accident Lawyer Request on Your Behalf?
Based on a thorough investigation, record review, and extensive conversations with you, our motorcycle injury lawyers will build a strong case and request compensation for all related damages, such as:
Medical expenses for the emergency

Ongoing and future treatment

Pain and suffering

, including chronic pain

Income loss from time off work

Reduced quality of life, especially when injuries are severe

Depression, stress, and other related mental anguish

Expenses associated with replacing your motorcycle

Transportation to doctor's accidents
Who is Responsible to Pay for Your Tampa Motorcycle Accident Injuries?
When you've been injured in a motorbike accident as a result of someone else's fault, you could have a strong foundation on which to construct a case. Under the law, several parties might be held accountable.
Depending on your unique circumstance, the following parties could be responsible for your accident losses:
Your personal injury protection (PIP) insurer

Another driver

A trucking company

A vehicle parts manufacturer

A mechanic

A municipality
Contact a Tampa Motorcycle Accident Lawyer at Dolman Law Group for a Free Consultation Today
Our Tampa office provides a FREE consultation and case assessment to answer your questions and so we can learn more about you and your legal needs. We want to chat with you and help you explore all your legal choices, even if you aren't convinced you have a case. Our goal is to give you the best information and advice so you can make the best decisions about your personal situation.
To get started, contact us online or at (813) 303-0916 for your free consultation.
Our motorcycle accident attorneys serving Tampa are ready to meet with you in person or virtually to review the specifics of your case. Then, we can file a lawsuit or insurance claim for you to ensure you receive the most compensation allowed by law. Don't wait any longer, reach out today!
Tampa Office
13513 Prestige Pl. Suite 103
Tampa, FL 33635
(813) 303-0916