Cocoa Beach's economy depends on local companies' ability to obtain shipments containing products needed for the area's top industries, including agriculture, gas extraction, construction, and retail trade. They also rely on commercial trucks to carry shipments of products made in the region to other parts of the country or even to other parts of the world via ports.
While truck traffic is a necessary component of a thriving local economy, commercial trucks are massive vehicles capable of causing serious injuries and even the death of other roadway users.
Suppose a truck accident injured you. In that case, a Cocoa Beach truck accident lawyer from Dolman Law Group Accident Injury Lawyers, PA, can evaluate your case for free, explain to you the claims process, and tell you about the services our legal team can provide to obtain the compensation you need.
Common Causes of Truck Accidents in Cocoa Beach
According to the website BestPlaces, the top industries in Cocoa Beach include:
Agriculture, forestry, fishing, and hunting
Mining, quarrying, oil and gas extraction
Construction
Manufacturing
Wholesale and retail trade
Transportation and warehousing
Utilities
Information
Each of these industries relies on commercial trucks to transport products. These trucks commonly use routes that include I-95, S.R. 520, and U.S. 1. Additionally, it is not uncommon to see truck traffic on arterial streets around the city as they deliver or pick up shipments from local businesses.
However, these streets often become filled with traffic during certain times of the year. Traffic congestion presents several hazards, particularly when it involves a commercial truck that weighs 20 to 30 times as much as the passenger cars it shares the road with. Here is a look at some truck driver behaviors that commonly lead to truck accidents in Cocoa Beach.
Tire Defects and Other Maintenance Issues
The most common cause of truck-involved accidents is tire defects, accounting for around 30 percent of all truck accidents. Having a tire blowout in a vehicle often results in loss of control. This is especially true with a commercial truck that is already difficult to maneuver.
Truck owners/operators and trucking companies are federally required to commit to a regular maintenance schedule for commercial trucks to address parts such as the tires and brakes that wear faster due to the many miles the truck travels as well as the weight of the vehicle. On most roadways in Cocoa Beach and around the country, a fully-loaded tractor-trailer can weigh up to 80,000 pounds.
In addition to having the truck serviced regularly, truck drivers must perform a pre-trip inspection on the vehicle before every trip. This inspection requires the driver to look over all parts of the truck in search of hazards that can compromise its safety.
The Federal Motor Carrier Safety Administration (FMCSA)—the agency tasked with regulating and overseeing the U.S. trucking industry—requires truck drivers to place a truck out of service if the driver deems it unsafe because of the pre-trip inspection. But many drivers and trucking companies choose to operate vehicles with safety hazards.
Speeding
Around 70 percent of all U.S. products reach their destinations via a commercial truck. They deliver most of these products on a deadline, and a driver will often deliver a shipment to Cocoa Beach only to immediately pick up another shipment.
While drivers holding commercial driver's licenses (CDLs) must have a clean driving record to obtain and maintain their CDL. Too many traffic tickets can result in a driver losing their privilege to operate a commercial truck.
Many of them exceed the posted speed limit or drive too fast for the traffic and weather conditions.
Speeding reduces the time a truck driver has to notice that there is a hazard in the roadway, such as another vehicle or a pedestrian while increasing the distance the truck needs after braking for brakes to pull the vehicle's weight to a complete stop. A loaded tractor-trailer requires 20-40 percent more distance to stop at slower speeds and on dry roads. However, if the truck is speeding, that distance is even more.
Distracted Driving
Distracted driving is another common cause of truck accidents in Cocoa Beach. The city presents a lot of external distractions, such as people and vehicles on the road, construction work zones, billboards, and unique shops that can cause a driver to look away from the road, which is a visual distraction.
The distractions inside the truck's cab include manual distractions such as eating, drinking, smoking, or adjusting vehicle or GPS controls, which cause the driver to take their hands from the wheel. Long journeys, talking with family or friends on the phone, or even daydreaming can draw the driver's thoughts from the task of safe driving and are examples of cognitive distractions.
One driving distraction that caught traffic experts' attention—including those from the FMCSA—is texting and other cell phone use while driving. Texting is simultaneously a manual, visual, and cognitive distraction. When traveling on I-95 at highway speeds, when it takes a driver to read or reply to a text, they will have driven an 80,000-pound truck the length of a football field without attending to the roadway.
According to the FMCSA, texting drivers are more than 23 times more likely to experience a safety-critical event, such as a crash, near-crash, or lane deviation. The FMCSA prohibits texting and driving for commercial truck drivers.
Failure to Yield the Right-of-Way
Intersections are often difficult for truck drivers and dangerous for those sharing the road with the truck. Ninety-seven percent of vehicle occupants killed in an accident involving a truck and a passenger car are the occupants of the passenger car.
Commercial trucks have significant blind spots on all four sides, and roadways are often narrow in Cocoa Beach. The truck accelerates slower than other vehicle types and requires long distances to come to a complete stop. Speed, mechanical failures, and driver fatigue can contribute to failure to yield accidents occurring in Cocoa Beach intersections.
Impaired Driving
The FMCSA has set the alcohol impairment level at 04 grams of alcohol per deciliter of blood, which is half the legal .08 blood alcohol content considered impaired driving for most adults over 21. While truck accidents featuring an impaired truck driver are far less common than one might think, some truck drivers indulge in alcohol or illicit drugs while driving. Other truck drivers fail to realize the potentially intoxicating effects of over-the-counter or prescription medications.
Alcohol and drugs can deprive the truck driver of important skills needed to operate their vehicle, including loss of signal detection, the ability to track a moving target, and control speed, steering, and braking—all of which are more difficult in a massive tractor-trailer. Seventeen percent of commercial truck drivers involved in accidents had used an over-the-counter drug at the time of the accident.
Truck Driver Fatigue
The FMCSA notes that around 13 percent of all truck drivers involved in an accident are tired at the time of the crash. Driver fatigue is a major cause of truck accidents.
Truck drivers can be more prone to fatigued driving because:
Truck drivers often choose to drive at night when traffic volume is lower. The circadian rhythm is the body's sleep/wake cycle, and it involves an internal clock that controls the daily patterns of the body. Because of this internal clock, most people are instinctively wired to experience lulls in alertness during the late night and mid-afternoon hours.
Truck drivers can travel hundreds of miles a day, often covering boring terrain that can cause them to feel tired and even lose focus while driving. The FMCSA's Hours of Service requirements demand that drivers take regular off-duty breaks while driving so they have adequate sleep and avoid the effects of fatigued driving. Fatigue can mimic alcohol impairment in that it creates slowed responses to emergency driving situations, difficulty stopping, controlling one's speed, or maintaining a single lane of travel.
FMCSA studies reveal that truck drivers are most likely to experience an accident within one hour of waking due to sleep inertia, which impairs the driver's performance of certain tasks, including short-term memory, reaction time, and the ability to stay awake. Many drivers sleep in their sleeper berths during their off-duty time to avoid hotel costs during long hauls and get right back to work upon waking.
Around one-third of all truck drivers suffer from sleep apnea, a breathing-related sleep disorder that causes brief interruptions in breathing when sleeping. These pauses in breath can last more than 10 seconds and occur hundreds of times during the night, leaving the driver feeling tired even when they've had a full night's sleep.
Improperly Loaded Cargo
In most cases, the shipper must load the cargo into the truck. If the cargo is not properly loaded, it can result in a weight imbalance inside the vehicle, making the truck even more difficult to maneuver. Weight shifts within the trailer also can make the driver more likely to experience a rollover accident when turning or taking corners at speed.
Lack of Experience
Truck drivers are required to obtain a CDL to operate their vehicles on public roadways. To obtain this license, they must pass written and on-the-road tests to prove that they understand the basic operation and safety procedures involved in operating the truck. However, while this training is important, it does not train the driver to handle the day-to-day dangers they face when traveling on roadways in and around Cocoa Beach.
Lack of experience can cause a driver to be unaware of how to do certain tasks that can avoid accidents or lead to performance errors at critical times.
While trucking companies must properly train their drivers, the truck driver shortages that have plagued the industry in recent years have led to vigorous recruitment efforts, the lowering of the minimum age to obtain a CDL, and drivers getting behind the wheel before they're ready.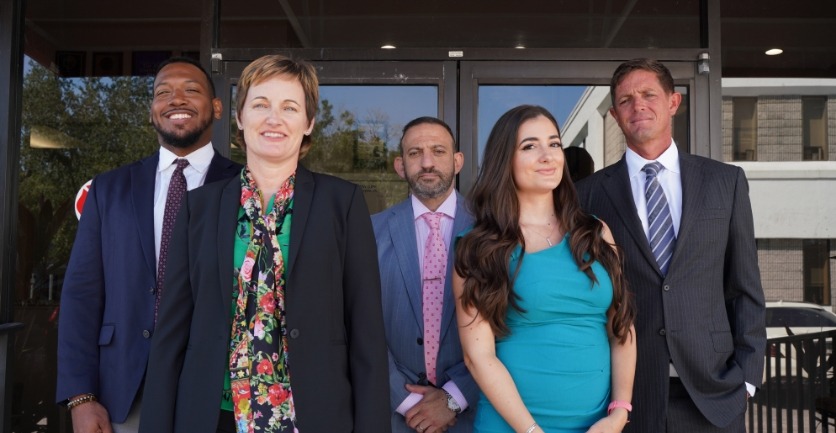 The Types of Injuries Associated with Cocoa Beach Truck Accidents
Due to the size discrepancy between tractor-trailers and other vehicle types, truck accident injuries and deaths most often occur to the occupants of other vehicles. The injuries associated with this type of accident are often severe and can include damage to the brain or spine that can permanently impair a driver's ability to earn an income.
Other injuries associated with Cocoa Beach truck accidents include:
Traumatic limb amputations result from a driver being crushed inside the vehicle or making contact with sharp metal during the accident.
Internal injuries, including damage to the heart, lung, liver, kidneys, or spleen, can result in dangerous blood loss, organ failure, and even death.
Broken bones in nearly any part of the body due to the profound force of a collision involving a heavy and fast-moving tractor-trailer.
Burns resulting from contact with flames, hot surfaces, and caustic chemicals that were involved in making the vehicles done or were being transported as cargo by the truck.
During the collision, there are deep cuts and abrasions due to the vehicle's occupants coming in contact with broken glass, metal, or plastic.
Cocoa Beach truck accident injuries can impact every facet of a person's life, including their ability to earn an income, live independently, participate in enjoyable activities, and even their relationships with their family and friends.
Call Our Cocoa Beach Truck Accident Lawyers Today
An experienced Cocoa Beach truck accident attorney from Dolman Law Group Accident Injury Lawyers, PA, has the skills, understanding, and experience to make the complex act of seeking compensation for injuries resulting from a truck driver's negligence. Instead of settling as many cases as quickly as possible, we focus on providing personalized and compassionate services to our clients while fighting aggressively for them to obtain the maximum compensation available for their claims.
With offices across both Florida coasts, you can easily reach Dolman Law Group Accident Injury Lawyers, PA, at 321-456-9379 or write to us using our online contact page.
Cocoa Beach Office
1980 N Atlantic Ave, STE 218
Cocoa Beach, FL 32931
321-456-9379
---
What Our Clients Have to Say:
"Chad Robinson always responded immediately whenever I had questions or concerns. He worked hard to make sure I received what I deserved."
Rating: 5/5 ⭐⭐⭐⭐⭐
Michelle Dorn
December 19
Client Testimonial
"AMAZING and understanding attorneys! Did great on my case and I highly recommend Dolman Law Group Accident Injury Lawyers, PA for anyone that has been injured in an accident!"
Rating: 5/5 ⭐⭐⭐⭐⭐
Koralis R.
Jan 2020
Read more reviews on Google!