The fun and carefree vibe of Cocoa Beach and the beautiful scenery along the city's roadways makes it a popular destination for motorcyclists. However, the roads here often fill with other traffic, including vacationers unfamiliar with the route and drivers engaging in risky driving practices.
If a motorcycle accident injured you, let a Cocoa Beach motorcycle accident lawyer help. Dolman Law Group Accident Injury Lawyers, PA can help you seek compensation for the financial and psychological costs you incurred due to the accident. We have been assisting the injured in Florida for many years as they navigate the personal injury claims process, and we can evaluate your case for free.
What Makes Cocoa Beach a Dangerous Place for Motorcyclists?
Cocoa Beach is not only popular with motorcyclists but also with beach-goers, Space Coast tourists, and others who come to the area to have fun. Often that fun involves alcohol, as well as drivers who are so distracted by the sights and sounds of the area that they forget to focus on driving safely.
During popular vacation times of the year, such as Spring Break, the traffic becomes thick on the roads leading into and throughout the city. Finding a parking space becomes more difficult for drivers, leading to people parking and opening their doors in unexpected areas of the roadway.
Motorcycles are less crashworthy than other types of vehicles traveling through Cocoa Beach, and riders can quickly lose traction in certain situations. Beach sand regularly finds its way to the road, causing a risk of a motorcycle accident from the tires slipping. Hurricane season presents a whole new list of hazards for riders.
The Ways Drivers in Cocoa Beach Cause Motorcycle Accidents
According to the Florida Department of Highway Safety and Motor Vehicles, Brevard County sees nearly 300 motorcycle accidents annually, many of which occur in Cocoa Beach. More than 250 of these accidents result in injuries, and around two dozen motorcyclists are killed on Brevard County roadways yearly.
Many motorcycle accidents in Cocoa Beach occur due to careless and reckless drivers of passenger cars, trucks, and commercial vehicles. Here is a look at some driver behaviors that lead to motorcycle accidents.
Left-Turning Drivers
As noted by RideApart, one of the biggest risks facing motorcyclists is drivers making left turns at intersections without a solid green turn arrow. If there is only a solid green light at the corner, the left-turning driver is required to judge a safe gap in traffic to pass through the travel lanes going through the intersection. If the driver fails to see the approaching motorcyclist traveling straight through the intersection, there is an extreme risk of the car colliding with the motorcycle.
Some common reasons a driver would not see an approaching motorcyclist when making a left turn include distracted driving and inattentional blindness. Inattentional blindness refers to how the brain processes information at a chaotic scene such as an intersection. A driver will typically notice larger hazards such as an approaching tractor-trailer but fail to recognize the presence of more minor risks such as motorcycles or other vulnerable roadway users, including bicyclists and pedestrians.
While inattentional blindness occurs naturally, it does not take away the liability of a driver who failed to yield the right-of-way to a motorcycle at the intersection.
Distracted Driving
Distracted driving is a significant factor in all types of traffic-related accidents, including those involving motorcycles.
Driving distractions include anything that causes the driver to:
Look away from the road, which is known as a visual distraction
Take their hands from the wheel, which is known as a manual distraction
Think about other things besides driving safely, which is a cognitive distraction
Internal distractions refer to activities or occurrences inside the car, such as texting (which involves all three types of driving distractions), eating, drinking, smoking, visiting with passengers, or attending to children or pets in the back seat. External distractions are activities and occurrences outside the vehicle, and Cocoa Beach roadways provide plenty.
Some common external driving distractions that can lead to a motorcycle accident include people and vehicles on the road, beautiful scenery, exciting shops, or even the sites of previous crashes.
Distracted driving is dangerous to motorcyclists because the period in which the driver is not attending during the roadway is often plenty of time for motorcycles to enter or cross the driver's lane of travel.
Tailgating
When a driver follows another car too closely—which is commonly called tailgating—they risk causing a collision if the driver of the lead car suddenly stops or slows. The majority of rear-end accidents occur in this way.
While rear-end accidents involving two cars can result in injuries or even death, that is a less-likely outcome than it is with other types of accidents. However, if a car follows a motorcycle too closely, they run a significantly higher risk of causing a catastrophic injury or even death. Motorcycles lack protective features that prevent the rider from being ejected from the vehicle in an accident.
Impairment by Alcohol or Drugs
Alcohol impairment is another leading contributor to traffic accident injuries and fatalities, including motorcycle accidents, with 32 people dying daily in the U.S. due to drunk driving. In vacation hotspots like Cocoa Beach, there is no shortage of people wanting to party, and establishments are happy to provide them with the space and drinks to do so.
Alcohol and drugs cause significant deficits in drivers' skills to operate their vehicles safely.
Some of these deficits include:
Loss of the ability to track moving targets
Difficulty steering, braking, and maintaining a single lane of travel
The inability to perform multiple tasks at once, which driving often requires
Reduced responses to emergency driving situations
The inability to control one's speed
Short-term memory loss and difficulty concentrating
A reduction in information processing capacity needed for signal detection
Impaired perception
Difficulty making good driving decisions
Speeding
When a collision occurs while one of the vehicles is traveling at a high rate of speed, it is generally a more severe collision because speed increases the force of the accident. This can turn a minor accident with another vehicle into a serious affair and is often deadly when a motorcyclist is on the receiving end of a speed-related collision.
Speeding reduces the time the driver has to see a hazard on the roadway and respond to it by applying the brakes. At the same time, it increases the distance the vehicle will travel after braking because the brakes have to work harder to stop the vehicle. It causes difficulties for motorcyclists and other roadway users to determine a safe gap in traffic in which to enter a travel lane.
Dooring
As mentioned, there are busy times in Cocoa Beach when the roads and parking lots fill with vehicles, including the winter months when the snowbirds return, spring break, and any large event happening in the region. One of the major issues Cocoa Beach motorcyclists face when the city's streets and lots fill up is the risk of being doored.
Dooring occurs when the occupant of a vehicle parked alongside the road opens their door into the path of an oncoming motorcyclist. This causes the rider to collide with the door or risk an accident with a vehicle in a neighboring travel lane while trying to swerve to avoid it.
Failure to Yield the Right-of-Way
Failure to yield is among the most common causes of accidents occurring in intersections, and it occurs when a driver fails to yield the right-of-way to other roadway users at a stop sign or stop light. With a slimmer frame and fewer lights, motorcycles are less likely to be seen by drivers than other vehicle types, particularly on poorly-lit roadways.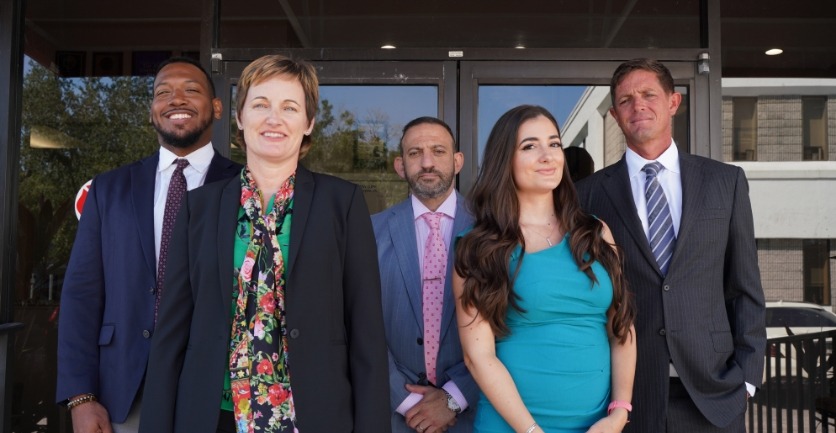 The Types of Injuries Commonly Sustained in Motorcycle Accidents
As noted by the National Safety Council, while motorcycles make up only 3 percent of the vehicles on U.S. roads, they account for 14 percent of all traffic fatalities and 4 percent of all occupant injuries. A two-wheeled vehicle, compared to four-wheeled vehicles, is relatively unstable. This instability makes it even more likely that they will lose control of the vehicle during a collision. Lack of protection for the rider's body could mean a catastrophic injury in a motorcycle accident.
A traumatic brain injury is one of the most deadly and debilitating injuries that a motorcyclist can incur in an accident. The brain is responsible for sending messages to the rest of the body through the spinal cord to control both voluntary and involuntary responses.
Despite its importance, the brain has a limited ability to heal from injury. Because of this, many of the deficits resulting from the injury will be permanent, including memory loss, difficulty speaking or understanding spoken communication, loss of vision, difficulty controlling emotions and behaviors, and loss of balance and coordination.
Brain injuries pose a high likelihood of permanent impacts that impair the sufferer's ability to earn an income.
Other catastrophic injuries that a motorcycle accident can cause include:
Spinal cord injuries
Traumatic limb amputations
Loss of vision
Severe damage to the spinal vertebrae and discs
Other common injuries in Cocoa Beach motorcycle accidents include:
Road rash refers to a deep skin abrasion caused by contact between the skin and a rough surface such as asphalt. While traumatic brain injuries are the most common injury leading to death after a motorcycle accident, road rash is among the most common injuries experienced in one.
Broken bones, particularly in the hips, legs, and feet, due to being the collision's impact point or being crushed beneath the motorcycle during the accident.
Internal injuries include damage to the lungs, liver, kidneys, bladder, or spleen due to the motorcyclist's abdomen colliding against other obstacles such as cars, road signs, medians, and more. Internal injuries often feature unseen and severe bleeding, known as a hemorrhage.
Burns. The rider is in proximity to the motorcycle's gas tank, which is relatively unprotected and prone to being punctured due to the crash. This can result in caustic and flammable liquids burning the rider.
Damage to the soft tissues and joints in any part of the body. Motorcycle accidents are generally violent occurrences involving an ejected driver contacting any number of obstacles on the roadway or alongside it.
Contact a Cocoa Beach Motorcycle Accident Lawyer Today
Serious or debilitating personal injuries in Cocoa Beach can change a person's entire life, preventing them from performing the tasks of their job. This injury could also require care at a long-term nursing facility or an at-home nurse, taking away their ability to participate in their favorite hobbies and even changing the nature of the sufferer's relationships with their family.
With offices across both Florida coasts, you can easily reach Dolman Law Group Accident Injury Lawyers, PA, at 321-456-9379, or you can write to us using our online contact page.
Cocoa Beach Office
1980 N Atlantic Ave, STE 218
Cocoa Beach, FL 32931
321-456-9379
---
What Our Clients Have to Say:
"Chad Robinson always responded immediately whenever I had questions or concerns. He worked hard to make sure I received what I deserved."
Rating: 5/5 ⭐⭐⭐⭐⭐
Michelle Dorn
December 19
Client Testimonial
"AMAZING and understanding attorneys! Did great on my case and I highly recommend Dolman Law Group Accident Injury Lawyers, PA for anyone that has been injured in an accident!"
Rating: 5/5 ⭐⭐⭐⭐⭐
Koralis R.
Jan 2020
Read more reviews on Google!