The National Spinal Cord Injury Statistical Center tells us every year across the country, more than 17,000 people face the debilitating physical consequences and overwhelming financial burdens of a spinal cord injury. Empirical data and statistics show that motor vehicle accidents, motorcycle collisions, and falls cause most of these preventable injuries.
You need a lot of help to determine the length of the recovery process, the ultimate cost of care, and what compensation you need and deserve to reach maximum medical improvement and independence. Until you retain a lawyer, you give the insurance company significant power over you.
You can take that power back by calling the Spring Hill spinal cord injury lawyers at Dolman Law Group Accident Injury Lawyers, PA.
With offices from coast to coast in Florida and throughout the nation, our experienced Spring Hill spinal cord lawyers at Dolman Law Group Accident Injury Lawyers, PA, are aggressive advocates for those harmed by another person's negligence or recklessness.
Spinal cord injuries are devastating; the economic ramifications are immense, and the physical recovery process is arduous. We have the financial resources and determination to fight for maximum compensation for our spinal cord injury clients and their families.
Some Causes of Spinal Cord Injury
Motor vehicle accidents are a major cause of spinal cord injuries. U.S. 19 in our area is one of the most dangerous roads in the state. More often than not, a spinal cord injury results in permanent changes below the injury site.
Damage to the spine can happen in any number of ways, including:
A motor vehicle accident (car, bus, truck, motorcycle)
Unsafe premises (slip and fall accidents)
A medical or surgical error
A sports injury
A bicycle accident
A pedestrian accident
A defective product
A construction accident
A workplace injury
Nursing home abuse
The Spring Hill spinal cord injury attorneys at Dolman Law Group Accident Injury Lawyers, PA, can:
Investigate the particulars of spinal cord injury accidents.
Obtain and review police and accident reports.
Be certain that physical evidence is preserved for future use.
Review medical records, surveillance footage, and photographs.
Identify potentially responsible parties (drivers, employers, business owners, medical professionals, and product manufacturers).
Make use of expert witnesses and reconstructionists.
A core value in our law practice is open and honest communication. We pride ourselves in being accessible to our clients, so much so that we print our cell phone numbers on our business cards. If a client has a concern, we want to help and assist right away.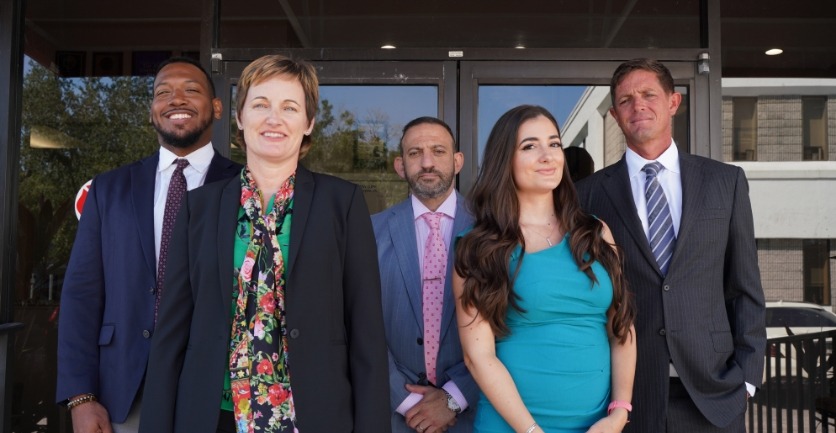 The Physical Recovery From a Spinal Cord Injury
Life is not easy following a spinal cord injury (SCL.) The recovery process, both physical and financial, is complicated. A family facing the consequences of someone else's poor decisions will need the help and direction of a law firm with the conviction and commitment to fighting for total and fair compensation.
Looking down the road, the lifetime costs for a 25-year-old with an SCI can reach $2.6 million. You should not pay the costs of another person's negligence.
Victims have a legal right to seek compensation for medical expenses, lost income ( and any other company benefits such as expected bonuses and company-paid insurance), the loss of future earning capacity, and pain and suffering. The new normal for a spinal cord accident victim is the possibility of a lifetime of being dependent.
This can be hard to put into perspective. Faced with the probability of abandoning one's chosen profession because of a permanent disability, many accident victims also develop anxiety and depression. There is a significant change in the family dynamic when a major financial contributor cannot work. Embarrassment about physical limitations may cause social isolation and a lost ability to participate in activities that once brought pleasure.
These victims pay high prices for someone else's wrongdoing.
At Dolman Law Group Accident Injury Lawyers, PA, our focus is to develop a plan of action that will identify and address the physical and emotional needs of each client; we are nationally recognized and have a vast network of medical specialists, private investigators, accident reconstructionists, and financial experts at our disposal.
We are aggressive and strive to explore all available sources of compensation for accident victims. We offer free case evaluations for potential clients. Contact us at our Spring Hill office or any of our other offices.
Post-Injury Costs
Rehabilitation after a spinal cord injury is designed to facilitate maximum independence and community reintegration. Every case is different, and each of our spinal cord injury clients has different needs. We believe every spinal cord injury family deserves personalized service, and we strive to foster and maintain long-lasting relationships. Many catastrophic accident victims benefit from physical therapy, occupational therapy, speech therapy, and psychotherapy.
The costs of recovery extends beyond the means of most families, especially when every aspect of daily living is affected and compromised. Individuals unable to pay out-of-pocket may struggle to get the care they need to deal with the long-term complications of someone else's actions.
Our legal team at Dolman Law Group Accident Injury Lawyers, PA, understands the importance of seeking compensation that will give our clients the funds for their current medical expenses and the long-term management they require and rightfully deserve.
Potential Lifetime Complications of a Spinal Cord Injury
Limited mobility
Loss of sensation (Inability to sense hot or cold)
Chronic pain
Loss of bladder or bowel control
Sexual dysfunction
Sleep apnea
Involuntary muscle stiffness
Respiratory issues
Heart palpitations
Changes in personality
Nausea and abdominal pain
Infections
Cognitive impairment
Digestive issues
Problems regulating body temperature
Problems controlling blood pressure
A propensity to develop pneumonia
Pressure ulcers (bedsores)
Blood clots
Swelling in the extremities
The inability to expel secretions from the lungs
Additionally, those living with a spinal cord injury are prone to depression, anxiety, and drug or alcohol dependence.
Additional Costs of a Spring Hill Spinal Cord Injury Beyond Medical Care
A spinal cord injury can mean a lifetime of challenges, barriers, and unexpected but necessary expenses. The spinal cord injury attorneys at Dolman Law Group Accident Injury Lawyers, PA, are aggressive advocates for our clients and their families. We work to develop a clear and comprehensive picture of each accident victim's injuries and losses; It is our goal to seek maximum compensation for such things as:
Adaptive and assistive tools and devices—designed to help accident victims with dressing, eating, mobility, and personal hygiene.
Some examples include:
Adaptive bikes
Canes
Crutches
Custom wheelchair seating
Gait trainers
Manual or electric wheelchairs
Mobility and rehabilitation equipment
Orthotic and prosthetic devices
Reach extenders
Scooters
Standing devices
Trunk stabilizers
Sit-up assist rails
Walkers and rollators
A lift van
Home modifications—for safety and to foster as much independence as possible, some spinal cord injury victims may need:
Accessible bathrooms and bedrooms
Accessible lighting
Automatic door openers
Ceiling track lifts
Door and hallway widening
Emergency exits
Grab bars
Handicap ramps
Low-pile carpet and smooth flooring
Stairlifts and porch lifts
Hiring a caregiver. Individuals with spinal cord injuries may need full-time caregivers to help with the everyday activities of daily living, as well as personal hygiene.
Recoverable and Compensable Damages Following a Spinal Cord Injury in Spring Hill, Florida
Economic damages
Economic damages are easy to identify and tabulate. These are the actual (present and anticipated) care costs and losses.
Such damages include:
Current and future lost income
Diminished earning capacity
Hospital and doctor bills
Diagnostic testing
Medication costs
Prosthetics, mobility devices, and accessibility structures
Therapy costs
Transportation to and from medical appointments
Personal care assistance
Long-term nursing care
Property damage
Household replacement services
Funeral and burial expenses ( if the injury caused a death)
When determining the value of missed time away from work, financial experts and life planners are often used to help determine the future.
Non-Economic Damages
General or non-economic damages consider the emotional, social, and lifestyle losses that come with a spinal cord injury. The ability to show the insurance company or a judge and jury how this injury directly impacts an accident victim's life is mainly dependent on the personal injury lawyer's ability to substantiate and validate these intangible losses and place a fair settlement value on each.
General damages often include:
Physical pain and suffering
Anxiety and emotional distress
Diminished spousal and family relationships
Scarring and disfigurement
Loss of enjoyment of life
Anger and depression
Loss of bodily functions
Punitive Damages
Under Florida law, a defendant may need to pay punitive damages for intentional misconduct or gross negligence. Although Florida caps punitive damages at three times your compensatory damages, or $500,000, whichever amount is higher, this amount can restore a lot of your independence. Our spinal cord injury lawyers understand the importance of punitive damages in catastrophic injuries and will seek them whenever we can.
A Spring Hill Florida Personal Injury Lawyer Explains the Often Overlooked Costs of a Spinal Cord Injury
When calculating the compensable costs of a catastrophic injury, some often overlooked items may be included in a final settlement figure.
Our lawyers will evaluate the viability of expenses such as:
Meals purchased traveling to and from medical or therapy appointments
Parking fees
Tips for valet services
The cost of travel to and from medical appointments (for both the accident victim and a caregiver)
Cost of hotel stays and meals for required travel out-of-town for medical treatments
Cost of public transportation, such as bus fares, taxi fees, and rideshare services
Time Restrictions
The statute of limitations for personal injury claims is state-specific. In most cases, the clock starts on the date of the injury. In Florida, an accident victim has four years to file a claim and initiate a lawsuit after the accident. There are exceptions—claims against a government entity must be made within three years, and in the event of a wrongful death, qualified family members only have two years to file suit.
Why Choose Dolman Law Group Accident Injury Lawyers, PA After Your Spring Hill Spinal Spinal Cord Injury
Unfortunately, life will never be the same for many spinal cord injury victims. Although we are unable to give them back everything they have lost, we continue to focus on representing individuals who suffer injuries because of someone else's wrongful and careless actions.
We take pride in our personal service and treat our clients the way we would expect our own family to be treated. We do not shy away from complicated cases and are not afraid to stand up to large insurance companies.
As our founder, Matt Dolman, says, "Insurance companies know who we are. They don't mess with us. We have a reputation for keeping insurance carriers honest. They know our firm will aggressively litigate our cases and take them to trial if it benefits our client."
Securing financial compensation for personal injury victims is what we are trained to do. We have the size, experience, and resources to take on even the most complicated personal injury claims.
Matt Dolman is part of the Multi-Million Dollar Advocates Forum, which recognizes attorneys who have achieved settlements or verdicts over $2 million. He is also a Florida Super Lawyer and one of the top 100 trial lawyers by National Trial Lawyers.
Collectively, our legal team has won multi-million dollar settlements, judgments, and jury awards for our clients. There are no guarantees, but we have an impressive record of success.
If you or a family member is dealing with a spinal cord injury, contact us at our Spring Hill office at (352) 612-3437 or visit one of our many locations throughout the state. We fight to help our clients win the largest settlements or awards possible so they can live their best possible lives. Contact us today to learn how we can fight for you.