According to the Florida Department of Highway Safety and Motor Vehicles (FLHSMV), there were 5,952 reported Florida bicycle crashes in one recent year. These accidents led to 169 fatalities and 5,574 injuries, mostly suffered by bicyclists. If you suffered injuries in a bike crash, trust a Tampa bicycle accident lawyer at Dolman Law Group Accident Injury Lawyers, PA, to protect your legal rights.
When You Need a Successful Tampa Bicycle Accident Lawyer Fighting For You, Call Dolman Law Group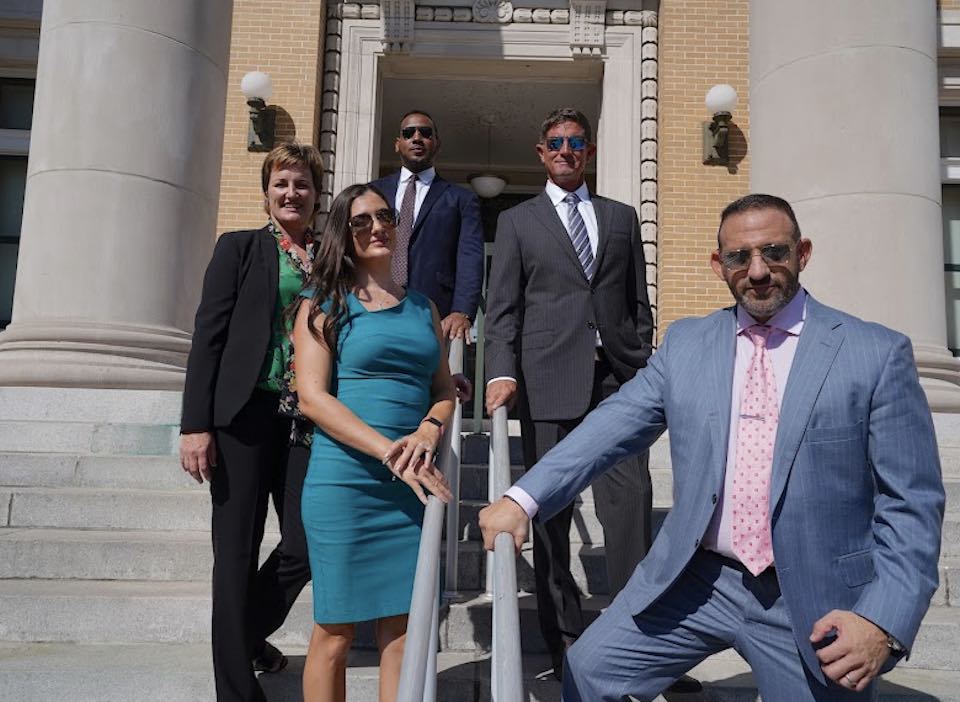 If you are a victim of a Tampa area bicycle accident, you don't have to look far to find lawyers who claim to be able to help you recover compensation for your injuries. However, because of the severe harm bicycle accidents cause, you deserve more than just any lawyer.
You deserve the finest legal representation available in the Tampa area: a team of lawyers with an intense commitment to client service and a track record of success. You deserve a dedicated bicycle crash attorney from the Dolman Law Group on your side.
Clients come to our law firm during some of the most difficult times of their lives. Our team welcomes them with open arms, ready to pursue justice, accountability, and compensation on their behalf from anyone whose actions harmed them.
Every client of Dolman Law Group receives individualized attention. Our Tampa personal injury lawyers are always available to answer questions and provide guidance. Our singular mission is to represent the interests of our injured clients, and we start with a free consultation so we can better understand each client's needs and goals for taking legal action after a Tampa bike crash.
Why are There So Many Tampa Bicycle Accidents?
Bicyclists face significant risks on Tampa-area roads. Only some of the local highways and byways have dedicated bicycle lanes. Our roads swell annually with tourists and visitors unfamiliar with local traffic patterns and rules of the road for cyclists. Finally, other than wearing a helmet, cyclists have virtually no way to protect themselves from serious injury or death in a collision with a motor vehicle.
If a Tampa bicycle crash caused by someone else's careless or reckless actions has upended your life by causing serious injuries or a tragic loss of life, you deserve the finest legal representation available in the Tampa area. When you need help securing compensation from those who caused you harm, turn to the Tampa bicycle accident attorneys at Dolman Law Group.
Damages a Tampa Bicycle Accident Lawyer Could Recover For You After a Collision
After a cycling accident, you may be under financial stress, especially if you sustained severe injuries. Your medical bills may be piling up, or you could have to take a leave from work. Either way, you deserve to recover the money you lost due to these damages. The liable party should have to pay for their negligent actions. Damages you could recover after a bicycle accident include:
Medical costs

: These include costs for medical treatment you have already received and future medical costs. If you had to take an ambulance ride or pay emergency room or hospital bills, you could receive compensation for those losses. Rehabilitative costs such as physical and occupational therapy can also be included in medical costs.

Lost wages:

If you could not work during your recovery, you could recoup the funds you lost. Even if you were only out of work for a few days, you can still add lost wages to your claim. If you cannot return to work in the same capacity, lost future earnings can be included, as well.

Property loss

: If your bike, clothing, helmet, or other property was damaged during the accident, it can be included in your claim. You could be compensated for the repair costs or fair market value of your items.

Pain and suffering

: Bike accidents can leave severe and painful injuries. Any suffering you endured due to the bicycle accident can be included in your claim. Our attorneys will help you come up with an appropriate amount of money to seek based on the circumstances of your pain and suffering.

Emotional distress:

After being in a bicycle accident, especially one that leads to severe injuries, you could suffer from mental health conditions such as anxiety, depression, and post-traumatic stress disorder (PTSD). You may receive compensation for suffering these conditions.
Our Tampa Bicycle Accident Attorneys Can Explain How to Calculate Your Recoverable Damages
Types of recoverable damages include economic and non-economic damages. Economic damages are easier to calculate because they are objective monetary losses. Examples of economic damages include medical costs, lost wages, and property loss. It is important to keep receipts of those losses so you can seek that amount of compensation.
Non-economic losses are more difficult to calculate because they are subjective, non-monetary losses. There are no receipts you can show to prove how much money you lost. An attorney at Dolman Law Group can assist you with calculating non-economic damages.
Why Tampa Cycling Accidents Happen
Under Florida law, a bicycle is a vehicle just like any other. As the Florida Bicycle Association puts it:
"Bicyclists have the same rights to the roadways and must obey the same traffic laws as the drivers of other vehicles. These laws include stopping for stop signs and red lights, riding with the flow of traffic, using lights at night, yielding the right-of-way when entering a roadway, and yielding to pedestrians in crosswalks."
By the same token, Florida motorists are obligated to treat cyclists as equal road users. Cyclists have a right to occupy an entire travel lane and to have motor vehicles yield to them just like any other vehicle. Cyclists do not have any obligation to ride on the shoulder to let motor vehicles pass.
Unfortunately, motorists often treat cyclists as second-class citizens on Tampa streets, leading to tragic accidents. Some of the most common ways these accidents happen include:
Aggressive driving: Hurried drivers have a way of growing frustrated with cyclists. They try to speed around bicycles. They yell at bicyclists. They honk. They tailgate. They engage in all manner of scary, dangerous behaviors that risk cyclists and can cause a tragic accident. There is no excuse for these behaviors. Cyclists deserve as much respect and courtesy as anyone else on the road.
Failing to yield the right of way:

A common cycling collision involves a car or truck turning or changing lanes directly into the path of a bicycle. These accidents frequently happen because the driver does not see the cyclist, even when the cyclist is perfectly visible when approaching a car from the opposite direction or in the driver's rearview mirror. To combat this so-called "in-attentional blindness," drivers must always remind themselves to look out for vehicles of all shapes and sizes, including bicycles.

Doorings:

Anyone who has ridden a bicycle on a Tampa street with parallel parking likely knows the danger of "getting doored." As the name suggests, these are accidents that occur when a driver or passenger in a car parked on the side of a street opens a vehicle door directly into the path of a cyclist approaching from behind. The cyclist cannot stop in time to avoid crashing into a door, resulting in a nasty fall. Everyone can do their part to prevent doorings by opening car doors with the hand farthest from the door handle—a technique called the

Dutch reach

,

which forces passengers to turn their bodies and increases the chance they will see an approaching bicyclist.

Impairment:

Drivers who operate vehicles while under the influence of drugs or alcohol or get behind the wheel without enough sleep put cyclists at risk. Impaired driving slows reflexes and dulls perception, increasing the likelihood that a driver will cause a tragic collision with a Tampa cyclist.

Poor visibility:

By their very size and shape, bicyclists face an uphill battle in making sure motorists see them. To maximize their visibility, cyclists should always use front and rear blinking lights and wear bright clothing with reflective material. If you ride to work and don't want to change clothes, a reflective vest like those worn by road crews will do the trick.
Common Cycling Injuries Our Tampa Bicycle Accident Lawyers Handle
There is no single injury that typifies Tampa bicycle accidents. The reality is, in a collision between a bicycle and a motor vehicle or a bicycle wreck caused by the actions of a motorist, the cyclist is lucky to escape alive. Serious, life-altering injuries are common in Tampa bicycle accidents, including:
Spinal cord injuries:

Cyclists usually fall from their bikes and often tumble over their handlebars in a crash. Their bodies collide with hard, uneven surfaces with significant force. These awkward falls can damage cyclists' spinal columns and, in turn, the delicate bundle of nerves within the column known as the spinal cord. Bruising, nicks, and tears in the spinal cord interrupt the flow of messages from the brain to the body. They cause numbness, weakness, or paralysis that might go away in time but just as easily might not. Permanent paralysis changes a cyclist's life forever and imposes massive costs that can run into millions of dollars in the first year of treatment alone.

Severe road rash

: Thrown from the saddle in a wreck, a cyclist may slide along the road surface for a distance. Friction with asphalt quickly tears away the cyclist's (usually thin) clothing and "sandpapers" the exposed skin beneath. The resulting injury is known as "road rash," which is more akin to a severe burn than a skin problem. Road rash causes multiple traumas - laceration, abrasion, avulsion, and even thermal burn - which, when combined, can take months to heal. Dirt and grime can also become embedded in the wound, risking infection and often leaving the victim with a discolored, disfiguring scar known as a "traumatic tattoo."

Traumatic brain injury (TBI):

Florida Statutes require all cyclists 16 years old and younger to wear helmets, but really, all bicyclists should put on a helmet whenever they ride. Helmets substantially reduce the risk of death and traumatic brain injury (TBI) in a bicycle accident. A TBI occurs when the brain sustains damage from a blow or jolt to the head. When a severe TBI does not cause permanent loss of consciousness, it can leave a victim with significant, long-term cognitive, motor, and emotional impairments. Even a "mild" TBI, also known as a concussion, can leave a cyclist battling chronic headaches, confusion, and fatigue.

Breaks, tears, and other orthopedic injuries:

In many Tampa cycling accidents, the best case a rider can hope for is to escape the crash with a few broken bones, torn ligaments or tendons, or other orthopedic injuries that, with proper care, will likely heal over time. Still, these injuries can cause lasting disability and chronic pain.
No matter how a Tampa bicycle crash harms you or a loved one, our team at Dolman Law Group has the resources and experience to help you recover the compensation you deserve.
Our Tampa Bicycle Accident Attorneys Answer Frequently Asked Questions (FAQs)
Bicycles are a serious transportation option for work, play, and sports. Tampa is the perfect location for bicycle enthusiasts. The weather is beautiful, and the bike trails are plentiful. Bicycling is fun and exciting, but when cyclists share the road with other vehicles, the outcomes are sometimes catastrophic.
Bicyclists have the same legal rights as car and truck drivers, but they have an additional challenge. They must try to stay safe while riding among drunk drivers, distracted drivers, speeders, and other risk-taking motorists. When a car or truck collides with a bicycle, the vehicle operator usually drives away with minimal damage. Bicyclists often sustain serious, catastrophic, or even fatal injuries.
Bicycle/vehicle accidents are sometimes unavoidable. We've created this list of Tampa bicycle accident FAQs because we believe it's important to understand the issues.
Why do So Many People Ride Bicycles in Tampa?
Bicycle ridership has increased for many reasons. While they were once the ultimate transportation for children, more adults are responsible for the recent increases in bicycle usage.
This has occurred for several reasons, such as:
They're great for exercise, play, commuting, and earning a living.

They are simple, affordable transportation.

They cost far less to purchase and operate than a car or truck.

They're eco-friendly because they run on manual power instead of fossil fuel.
Do Bicycle Accidents Occur Very Frequently in the Tampa Area?
Yes. The FLHSMV provides a concise analysis of bicycle accidents in Florida and each of its counties. For example, Hillsborough County, where Tampa is located, reported these numbers in a recent year:
472 bicycle crashes occurred

446 bicyclists sustained injuries

14 bicyclists lost their lives
How do Florida Bicycle Accident Statistics Compare to National Trends?
The National Highway Traffic Safety Administration publication, Traffic Safety Facts: Bicycles and Other Cycles, reports national pedal cyclist accident data through 2018.
The NHTSA category "pedal cyclist" includes "riders of two-wheel, non-motorized vehicles, tricycles, and unicycles powered solely by pedals." Notable statistics include:
857 pedal cyclists were killed in motor vehicle crashes in the U.S. in 2018.

Florida had 161 pedal cyclist accident fatalities in 2018, the highest number of any state.

With 7.56 bicycle fatalities per 1 million residents, Florida had the highest bicycle fatality rate in 2018. The nationwide rate that year was 2.62 fatalities per 1 million residents.

Nationwide, 79 percent of fatal bicycle accidents occurred in urban areas in 2018.
Do Tampa Bicycle Accidents Occur More Frequently at Night?
It seems reasonable that bicycle accidents would occur more often during low-visibility hours. Historically, serious bicycle accidents occur almost equally during daytime and nighttime hours.
The NHTSA's 2018 statistics confirm:
Fatal accidents took place under all lighting conditions: Dark (50 percent), daylight (46 percent), dawn (2 percent), and dusk (2 percent).

Bicycle accident fatalities occurred more frequently on weekends.

Fatalities happened most often from 6:00 pm to 8:59 pm. 19 percent of weekday fatalities and 23 percent of weekend fatalities occurred during these hours.

On weekdays, 18 percent of fatalities happened between 3 pm and 5:59 pm.

On weekends, 20 percent of cyclist fatalities occurred between 9 pm and 11:59 pm.
Where do Most Fatal Bicycle Accidents Occur?
Accidents occur most often in population-dense, urban areas. This is most likely because bicyclists share the road with more trucks, cars, buses, and large commercial vehicles in urban areas.
The NHTSA provides these figures on fatal accident locations during 2018:
79 percent of bicyclist fatalities occurred in urban areas.

21 percent of fatal accidents happened in rural locations.

29 percent happened at an intersection.

60 percent occurred in other locations along roadways.

11 percent occurred at highway-adjacent locations such as shoulders, parking lanes, sidewalks, and roadway medians.
What Circumstances Cause Most Bicycle Accidents?
Bicycle/vehicle crash circumstances vary. They often involve distracted driving, drug-impaired driving, drunk driving, speeding, and drowsy driving. The Governor's Highway Safety Association report, A Right to The Road, describes a "unifying theme" in many bicycle/vehicle crashes. In most cases, "the motorist often fails to notice or observe the bicyclist."
The GHSA report further identifies common accident events:
A cyclist and motorist are traveling in the same lane, and the vehicle overtakes the cyclist.

A car or truck driver makes a turn, cutting off the cyclist's path.

A vehicle driver pulls into the stream of traffic from a parking lot or other non-roadway area.

A vehicle operator "doors" an oncoming cyclist.

A driver can't see the bicycle due to inattentiveness, low visibility, or impaired visibility.

A car or truck driver doesn't properly judge a bicycle's speed.
Who Is Most Frequently Involved in Fatal Bicycle Accidents?
Child bicyclists were once more frequently injured than adults, but those statistics have changed over time. The NHTSA 2018 data reveals that adult men are the most frequent bicycle accident victims:
Men sustained pedal cyclist accidents more frequently than women.

Male cyclists sustained fatal injuries at a rate seven times higher than women.

Eighty-eight percent of fatal pedal cyclist crash victims were adults.

The average age of pedal cyclists killed in 2018 was 47.

Cyclists aged 55 to 59 sustained more fatal accident injuries than any other age group

Of the pedal cyclist accident victims killed in 2018, 4 percent were under age 15.
What Types of Bicycle Accidents Cause Fatalities?
The NHTSA provides insight into the types of accidents that cause bicyclist fatalities. The agency's "Traffic Safety Facts: Bicycles and Other Cyclists" publication describes the types of vehicles involved.
It also pinpoints the types of initial impacts.
The majority of cyclists who sustained fatal injuries in single-vehicle crashes in 2018 were struck by the front of the vehicle.

Light trucks were involved in 356 fatal bicycle accidents nationwide in 2018.

In 88 percent of these crashes, the front of the truck came into contact with the bicycle.

24 percent of large truck accidents involved an impact on the truck's right side.

29 percent of bus-related fatal accidents involved the bus's right side.

5 percent of fatal bicycle accidents involved a collision with a private passenger vehicle's right side.

2 percent of bicyclists sustained fatal injuries when struck in the rear.

Large trucks caused a higher percentage of rear-end accidents than other vehicles.

The NHTSA believes large vehicle drivers' tendency to make wide right turns is the primary factor in right-side collisions.
What Kinds of Injuries Can Bicyclists Sustain in a Vehicle/Bicycle Accident?
When a vehicle/bicycle crash occurs, the cyclist often sustains serious to catastrophic injuries. These sometimes include fractured bones, traumatic brain injuries, spinal cord damage, internal damage, and other conditions. It's difficult to imagine how profoundly an accident affects a cyclist and their loved ones.
Outside Magazine provides an inside look in a piece titled "To the Driver Who Hit Me and Ran." The author offers a first-hand account of his horrific bicycle accident. The incident occurred in Boulder, Colorado, but it provides insight into the types of accidents that happen in Tampa, throughout Florida, and in locations across the country.
The victim describes what happened when a van struck his bicycle in the rear and then left the scene. A passing motorist noticed the bicyclist on the side of the road and called an ambulance. The victim's fiancée discusses retrieving his bicycle and how the accident impact broke it in half. The victim talks about his injuries: 24 broken ribs, fractured vertebrae, a spinal cord injury, a snapped femur, a collapsed lung, a shattered ankle, and a crushed pelvis. He explains how the emergency doctor, whose task was "putting [him] back together," told him how close he had been to losing his life.
The article also shares the cyclist's x-rays and photos taken during his recovery. In the accompanying podcast "What Happens to a Cyclist's Body When It's Hit by a Car?" the victim, his fiancée, and his rescuer discuss the victim's post-accident events, treatment, and recovery. A brief video shows the victim walking with the help of a full leg brace and forearm crutches.
If I'm Injured in a Bicycle Accident, Who Pays My Medical Bills?
First, your auto insurance company pays your medical bills under your Personal Injury Protection (PIP) coverage. Per Florida Statutes § 627.736, this should cover 80 percent of your medical bills and 60 percent of your lost wages up to your $10,000 PIP limit. Beyond this, you will likely need to rely on private health insurance (or another form of insurance like Medicaid) and/or pay out of pocket.
However, you have a legal right to make a liability claim against a driver who caused your accident when your injuries meet or exceed one of these thresholds:
Significant and permanent loss of an important bodily function

Permanent injury

Significant and permanent scarring or disfigurement

Death
Why do Bicyclists Sustain Such Serious Injuries?
When a car crashes into a bicycle, the vehicle driver usually walks away unharmed. Bicyclists often deal with head-to-toe trauma.
These factors contribute to the big differences in the vehicle driver's and the bicyclist's post-accident status:
Weight:

Cars have an extreme weight advantage over a bicycle. A small car weighs approximately 4,000 pounds. Bicycle weights vary depending on the type of bike. Traditional bicycles weigh about 19 pounds. E-bikes weigh 38 to 70 pounds. Specialized bikes weigh more or less. At these weights, no bicycle can protect a rider from a 4,000-pound car's impact. The differences are more profound when a vehicle crash occurs at moderate to fast speeds. The injury potential increases when a 10,000-pound bus, truck, or commercial vehicle causes the accident.

Protection:

Bicyclists have limited resources to protect riders from injury during an impact. Safety lights make bicycles more visible. An appropriate helmet protects a cyclist's head during a crash. Cars and trucks have metal reinforcements, seatbelts, airbags, and other safety devices to protect drivers and passengers.

Balance:

Most cycles have two wheels. This makes balance difficult after a crash. When a collision occurs, the impact often sends a bicyclist to the pavement, into a pole, or into the striking vehicle. Even a simple crash has the power to eliminate a biker's balance and expose them to additional injuries.

City infrastructure

: Bicyclists need natural or constructed barriers to separate them from traffic. While separation won't eliminate all bicycle/vehicle accidents, it can reduce them.
Do Florida Laws Cover Bicycle Riders?
Florida Statutes § 316.2065 details Florida's bicycle laws. These laws grant bicycle riders the same rights and duties as other drivers, with a few exceptions.
Bicycle owners aren't required to register a bicycle or obtain a driver's license.

Bicycles should not be ridden by more people at one time than they were designed to carry.

Cyclists and passengers aged 16 and under must wear an

appropriate helmet.

A bicycle must have a white headlight after sunset. It must be visible at least 500 feet away.

Bicycles must also have a red rear reflector and a red light that's visible at least 600 feet away.

Failure to comply with certain statutory requirements subjects a bicyclist to a non-criminal citation and a fine.
Why You Should Hire a Tampa Bicycle Accident Lawyer If You are Injured in a Bike Crash
While you are not legally required to hire an attorney to help you, it can be the best way to ensure your legal case moves forward while you take the time needed to heal from your injuries. Your attorney can research legal issues, evaluate your damages, and deal with insurance carriers. They will protect your legal rights while you rest.
When you consult with our Tampa bicycle accident lawyers, your consultation meeting is free. You don't have to commit to filing a claim or lawsuit. We will simply discuss your accident and explain your potential legal options. You decide if or when you want to move forward.
Steps to Take After a Tampa Bicycle Accident
For the most part, you cannot plan for the trauma of a bicycle accident. You can, however, get to know the basic steps to take after any kind of crash that will protect you or your loved one's legal rights and financial interests. Those are:
Make Sure Your Environment Is Safe
If you are involved in a bicycle accident on a busy road, it is best to get out of harm's way as soon as possible. If your injuries are not severe, move to an area out of traffic. This could include a sidewalk, grassy area, or storefront. If you can, check to ensure everyone else involved in the accident is out of harm's way.
Seek Needed Medical Care
No matter how you feel after a Tampa bike crash, always seek medical care right away. Do not trust your assessment of whether you've sustained an injury. For one thing, few, if any, people can accurately judge their health condition in the stressful moments after an accident. For another, many injuries take time to show symptoms but can be diagnosed easily by a physician. What's more, going to the doctor does not just protect your health - it also generates important records of your injury that can prove vital in later legal action.
Obtain Contact Information From Everyone Involved in the Accident
Ask for the name, phone number, and insurance information of the driver involved in the accident. Also, request the contact information of anyone who witnessed the crash. This could be useful later when determining the cause of the accident and who was at fault. If you are injured, ask someone who witnessed the accident to record this information for you.
Preserve Evidence if Possible
From the moment you crash your bicycle, it becomes a potentially crucial piece of evidence in a later legal action. It is up to you to preserve that evidence so your lawyer and any experts your lawyer hires can evaluate it. Do not throw your bike away or get it fixed yet. Set it aside and do not touch it until your lawyer has had the chance to decide whether it might be useful in proving someone's liability for damages.
If you can, take photos of the accident scene. This includes your bike and the other vehicle involved. It is also important to write down your version of the events. A bicycle accident can be traumatic, so it is vital to write down the details while they are still fresh in your mind.
Avoid Conversations with Insurance Adjusters and Opposing Lawyers
If you carry PIP insurance as the owner of a car or truck registered in Florida, it will likely cover you for your initial medical expenses for minor injuries, and you should take care to comply with the policy terms to alert your insurer to your injuries.
Keep in mind that PIP coverage requires that you seek medical care for traffic accident injuries within 14 days, or you risk losing your coverage. In alerting your carrier to the accident, stick to the facts and never make stray comments that might suggest you are not injured seriously or that the accident was your fault.
When speaking with someone else's insurance company (or lawyer), entirely different considerations apply. If an insurance company that insures someone else contacts you, the injured cyclist, it may just be trying to limit the amount of money it has to pay for your injuries.
Insurance adjusters - the people who investigate and negotiate insurance claims - may try to get accident victims to make statements that harm those victims' rights or offer tiny settlements hoping the victims will bite at "quick" money. Do not fall for these tactics. Refer any insurance company (or any lawyer) to your lawyer instead.
Contact a Tampa Bicycle Accident Lawyer as Soon as Possible
You have nothing to lose when you speak with one of our Tampa bicycle crash injury attorneys and potentially everything to gain. An initial meeting with the team at Dolman Law Group is always free of charge and allows you to assess whether you have the legal right to recover financial damages from someone who caused your accident. A lawyer can also serve as an important buffer between you and the insurance companies that may try to pressure you into accepting an insufficient settlement amount.
Reach Out to a Dedicated Tampa Bicycle Accident Lawyer at Dolman Law Group Today
Each compassionate Tampa bicycle accident lawyer at Dolman Law Group has extensive experience representing victims of Tampa bicycle crashes and other serious personal injury claims. We have more than 115 combined years of experience and a stellar track record of fighting to recover every dollar of compensation our clients deserve.
With offices in Tampa and on both Florida coasts, our lawyers are ready to meet with you at your convenience. You can contact us online or by phone at (813) 303-0916 to talk with a member of our team.
Tampa Office
13513 Prestige Pl. Suite 103
Tampa, FL 33635
(813) 303-0916