When a loved one dies and it's expected, it already brings significant stress, sorrow, and depression to families. However, when a loved one is killed unexpectedly because of an accident or surgery, those feelings are usually much stronger: you now have to deal with the sudden loss of someone you loved.
Florida's Wrongful Death Act allows you to recover losses that you have to deal with when a loved one dies at the hands of another. Those who could recover compensation include the decedent's spouse, children, parents, immediate blood relatives, or adopted brothers and sisters who depend on the decedent for services or support. If you are suffering from the loss of a loved one, you can learn what a skilled Tampa wrongful death lawyer from Dolman Law Group can do for you today.
At Dolman Law Group, We Will Advocate for You
Our award-winning Tampa personal injury attorneys advocate for our clients to receive the compensation they deserve. Losing a loved one is often the hardest experience someone can go through. We want you to focus on healing from their death while we work tirelessly to get you the compensation you deserve. Being compensated financially will not bring your loved one back, but it can help ease the burden of financial strains after they are gone.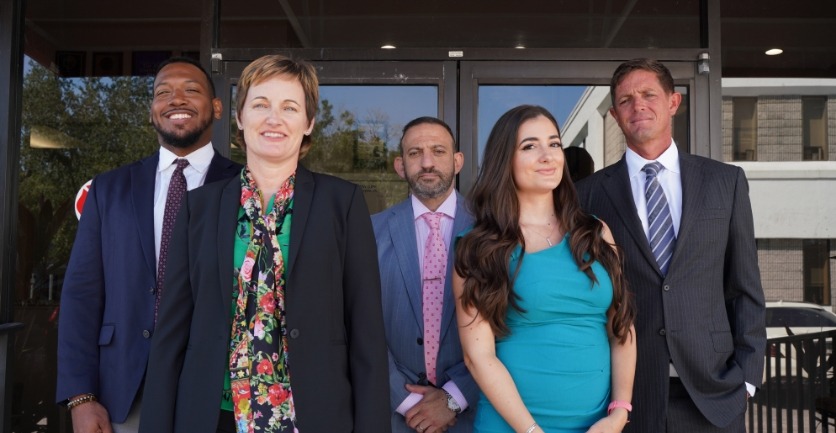 Our attorneys are highly experienced with wrongful death cases and will give your case the care and attention it needs. We provide exceptional service to our clients in the following ways:
We offer free consultations:

During the free consultation, we will discuss your case and determine if we want to move forward. Our attorneys can answer any legal questions you have and give you a predicted timeline for your case. We will discuss the damages you have incurred and be able to come up with an estimate of the damages we will seek.

We work on a contingency basis:

That means we do not charge for our services until you have received a payout. We are confident in our abilities that we can win your case. We do not get paid unless you receive a payout.

We have extensive resources to go up against large corporations:

Examples of corporations we have litigated against include Target, Walt Disney, Walmart, Geico, State Farm, and many other insurance carriers.

Our attorneys are award-winning trial attorneys:

We have the ability to fight for you to receive a fair settlement. If a settlement can not be reached, we are ready to represent you during a trial.

Each of our clients will receive their attorney's personal cell phone number and email:

We want you to feel comfortable reaching out to your lawyer if you have any questions or concerns. Each attorney will respond in a timely manner and can provide status updates on your case.
You can contact us today to receive a consultation at no cost. Once we decide to move forward with your case, we will advocate for you every step of the way. We don't want you to miss out on receiving compensation for the loss of your loved one due to missed deadlines. Reach out to us today so we can get started on your case.
Initiating the Wrongful Death Claim
The Florida Wrongful Death Act states that the personal representative named in the decedent's will must initiate the claim. However, if your loved one does not have a will, the surviving spouse will probably be named as the personal representative and is the person who would file a wrongful death claim. 
If the decedent was not married, the heirs vote for a personal representative and present their choice to the court. And, if the heirs cannot decide on a personal representative, the court will appoint one. Once a personal representative is named, he or she should contact a wrongful death attorney in Tampa as soon as possible, as you have a specific amount of time to file such a claim.
You Have a Limited Time to Sue
There is a statute of limitations, or deadline, in Florida for filing a wrongful death lawsuit. Once the statute of limitations runs out, you will not be able to recover compensation for wrongful death.
If you are named as a personal representative, you can start right away. However, it does take extra time if the court must approve of or appoint a personal representative. Then, it takes time to investigate the case thoroughly so that your legal team has everything needed to work toward getting you the compensation you deserve.
We know you are dealing with the unexpected death of a loved one and the stress that goes along with it, but getting a case filed as soon as possible is important. When you hire our firm to represent you, our personal injury attorneys will investigate the case regardless of what any police report or other report states to ensure that your rights are not being violated.
Proving Your Wrongful Death Claim
Even if a police report, workplace incident report, or other reports may show that your loved one was partially at fault, you should contact a wrongful death attorney. We can investigate the accident to ensure that the reports filed are correct.
If needed, we will hire industry professionals to look at the specifics of the accident and testify in court as expert witnesses, especially in cases that involve gross negligence or intentional misconduct. Because police and other reports could be made without extensive investigation, those reports may not correctly assign fault or partial fault.
At Dolman Law Group, we make sure we have all of the pieces to show a complete and thorough investigation into the matter, especially in cases where the defendant may try to "hide" fault. You may see this type of behavior in product liability cases where the manufacturer will deny that its product was defective. You may also see this in a workplace accident where the employer tries to hide that safety equipment was not available or was faulty.
Types of Wrongful Death Accidents
A wrongful death could be the result of different types of accidents, including:
Truck accidents:

Because big rigs are so heavy, when one hits another vehicle, it could cause catastrophic injuries or even death. Truck drivers are not only bound by Florida's driving laws but must also follow federal regulations for safety, including abiding by hours of service rules. If the accident investigation finds that the truck driver lied on his or her log sheets to drive for extra hours and caused the accident because he or she fell asleep at the wheel, you may be entitled to compensation under the Wrongful Death Act.

Car accidents:

While cars are not as large as trucks, they could still do a lot of damage and cause catastrophic injuries or death. If a driver was driving under the influence, he or she may be held liable for punitive damages if the person he or she hit suffered catastrophic injuries. If a loved one died at the hands of a drunk driver, that driver may also be liable to you under the Wrongful Death Act.

Motorcycle accidents:

Motorcycle accidents are often fatal because the rider does not have the protective metal cage to help protect him- or herself. If a vehicle hits a motorcycle, the rider is usually thrown from the bike. Trucks and larger passenger vehicles could easily run over a motorcycle because of its size.

Bicycle accidents and pedestrian accidents:

These accidents are often fatal. As with other vehicle accidents, if the defendant's actions were grossly negligent or purposeful, you may be entitled to compensation under the Wrongful Death Act.

Boating accidents:

Boating accidents could be caused by other boaters or even a malfunctioning boat. If the accident is caused by another person or a malfunctioning boat that has been well maintained, you may be able to file a Wrongful Death Claim.

Product liability:

While products are meant to be safe, sometimes things go wrong. A drug could be mislabeled, or a part could be defective. If your loved one was killed because of a bad product and the investigation finds that the manufacturer knew or should have known about the issue, you may be entitled to compensation under the Wrongful Death Act.

Defective drugs:

Drugs are strictly controlled by the federal government. They must be properly labeled and properly stored. For example, a drug may be labeled improperly for dosage or type. Alternatively, your loved one may have taken a drug that is found to cause cancer or another disease, or that may cause other issues that ultimately lead to death. If a drug was the cause of a loved one's death, you may be entitled to compensation under the Wrongful Death Act.

Workplace accidents:

Many types of accidents could happen at work, especially in industries that use heavy equipment or require you to climb poles or go into underground tunnels. If your loved one's employer does not provide the proper safety equipment or provides defective safety equipment, you may be entitled to compensation under the Wrongful Death Act. Also, if your loved one was "encouraged" to be unsafe, such as driving a delivery vehicle while tired or under the influence of prescription drugs, you may be entitled to compensation.

Medical malpractice:

Many things could go wrong in a medical setting. From a misdiagnosis or non-diagnosis to errors during surgery, medical personnel are liable for their actions and inactions. For instance, a medical provider may prescribe the wrong drug or the wrong dosage, perform unnecessary surgery, or even amputate the wrong limb.
A wrongful death claim may be brought against someone in any type of accident if the defendant caused it because of grossly negligent behavior or if they intended on injuring the decedent.
Damages Available Under Florida's Wrongful Death Act
If your loved one was killed by another person's or a company's negligence, you may be entitled to damages under the Wrongful Death Act, including general, non-economic, and punitive damages.
Economic Damages
General damages are those that have a definitive cost and may include:
Medical costs:

Your loved one may have incurred medical costs prior to his or her death from the accident. These may include ambulance or life flight costs, emergency room costs, surgical costs, and other medical costs incurred while trying to save your loved one's life. You may have outstanding medical bills if your loved one died hours or days after the accident and injuries from this accident were the cause of death.

Funeral expenses:

You may be entitled to funeral and burial expenses. This includes cremation expenses, the cost of a coffin or urn, and other expenses related to the funeral and/or burial.

Lost wages:

Many people go into financial straits when a loved one dies because it often takes two incomes to survive. In other cases, your loved one may have been the sole income in the household. You may be entitled to compensation for the wages that will no longer be provided to you because of your loved one's death.
Keeping documentation of economic costs associated with the death of a loved one is critical for your attorney. They will use this information when calculating your claim's value.
Non-Economic Damages
While we understand that no amount of money will bring your loved one back, it can go a long way in reducing the stress of wondering how you will pay for outstanding bills and take care of you and your family. In addition, you could receive damage for the intangible harm you have suffered due to the loss.
Non-economic damages are those that do not have a price. Non-economic damages may include:
Pain and suffering:

The sudden loss of a loved one not only takes a toll on your finances, but your emotions also go into overdrive. The stress of losing a loved one so suddenly could cause emotional problems such as anxiety and depression. You may be entitled to pain and suffering under the Wrongful Death Act.

Loss of companionship:

A spouse and children of the decedent may be entitled to extra compensation for the loss of the companionship of their partner and father.

Loss of parental guidance:

Surviving minor children could receive these damages.

Loss of consortium:

You may be entitled to extra compensation because you have been denied a loving and physical relationship with your spouse.
Our attorneys have the knowledge and skills to calculate the amount of non-economic damages to seek in wrongful death cases.
Punitive Damages
In cases where the wrongful death was caused by gross negligence or the defendant's actions or inactions were intentional, you may also be entitled to punitive damages (Florida Statutes § 768.72). By statute, intentional misconduct is when the defendant knew he or she was doing something wrong and that these actions or inactions would cause injury or death.
Gross negligence is when the defendant's actions or inactions were extremely reckless, creating a conscious disregard for the safety, life, or rights of the plaintiff. Punitive damages are awarded to a plaintiff in rare circumstances as a punishment and/or deterrent for the defendant.
If the defendant is a corporation or another legal entity, punitive damages may be awarded if the entity's behavior is grossly negligent and the entity was an active and knowing participant in the actions that caused the injury or wrongful death.
Working With a Tampa Wrongful Death Attorney
You may be tempted to work out a settlement with an insurance company. However, it has been shown that those who hire attorneys get up to three times more compensation when they hire an attorney. Insurance companies are in business to make money. That means the more they pay out, the less they make. Insurance companies will always try to give you the least amount possible.
While money will not bring your loved one back, you are entitled to be compensated with more than just enough to cover outstanding medical bills and funeral expenses. Additionally, if you try to settle with an insurance company, you may not get punitive damages that you could be otherwise entitled to. You may also have trouble getting other compensation, such as loss of companionship and loss of consortium.
You should not talk to any insurance company other than to notify them that an accident took place, the location of the accident and whether your loved one is suffering from injuries or was killed in the accident. Always refer insurance companies to your attorney. You may unknowingly say something to the representative that could be used against you in determining fault, whether the defendant's actions or inactions were gross negligence or intentional misconduct or not.
Tampa Wrongful Death Lawyer Answers Your Questions
Losing a loved one unexpectedly is always a devastating and traumatic experience. Regardless of the circumstances of a loved one's death, those they leave behind may suffer debilitating losses that can leave families struggling. The impacts of a loss can affect every aspect of your life, interrupting any sense of normalcy. When another's actions cause the death of a loved one, it only becomes more difficult to deal with the impacts of the loss.
If your loved one died because of the negligence of another person or company, surviving family members may be entitled to compensation for their loss. Of course, we understand that holding responsible parties accountable cannot bring back loved ones lost. However, seeking compensation can allow family members to focus on the process of mourning and grieving their loved ones fully.
After suffering the loss of a family member, individuals deserve an advocate that has their best interests at heart. Experienced Tampa wrongful death attorneys regularly fight for the rights of injured victims to seek the compensation they are entitled to. Attorneys with knowledge of the law and compassion for those experiencing family tragedy can make navigating the wrongful death claims process as painless as possible. Our team seeks to do this for our clients.
What Is Wrongful Death?
Wrongful death claims are civil legal actions brought against a person or company alleging that their actions or inaction resulted in your loved one's death. Through the wrongful death claims process, surviving family members may seek damages from the negligent party responsible for their loved one's death. Under Florida Statutes § 768.21, family members must complete specific steps when seeking to recover damages.
However, the process is not always straightforward. Wrongful death claims are often particularly complicated, requiring expert witness testimony, consultation with an actuary, and a comprehensive review of medical records. Choosing an experienced and competent Tampa wrongful death attorney to advocate on your behalf can relieve the stress associated with the legal process. Family members can have peace of mind knowing their best interests will be protected.
Wrongful death can happen to anyone at any time. During this difficult time, surviving family members deserve attorneys who will provide the care and attention needed for their wrongful death claim. Attorneys at our firm will work tirelessly to ensure your wrongful death claim is treated with importance.
Who Can Bring a Tampa Wrongful Death Claim?
The impacts of an unexpected death can be widespread and may affect co-workers, close friends, and significant others. However, in general, only surviving family members are eligible to file a wrongful death claim in Florida. Under the Florida Wrongful Death Act, the following people are generally entitled to bring a wrongful death claim on behalf of a lost loved one:
Spouses

Children

Parents

Dependent blood relatives

Dependent adoptive siblings

Children born outside marriage

Personal representatives of a loved one's estate
The individuals listed above are considered surviving family members who have the power to file a claim under the Wrongful Death Act. The Act intends to limit the financial hardship placed on survivors of the deceased caused by another's wrongful behavior. To increase the likelihood of a claim's success and maximize compensation, speak with an accomplished Tampa wrongful death lawyer today.
When Can I Bring a Wrongful Death Claim?
In Florida, the statute of limitations provides that family members must initiate a claim within two years of the date of their loved one's death (Florida Statutes § 95.11(4)(d)). For some, two years may seem like a long time. However, in the aftermath of a tragedy, families can become physically, mentally, and emotionally overwhelmed. Certainly, families will need to cope with the pain of the grief and loss of their loved one. They must also work to organize their loved one's assets and liabilities in setting up their estate.
In addition, families must continue living their own lives, learning to function and move forward without the support of their loved one. In dealing with the impacts and uncertainty of a loss, time can pass more quickly than families realize. An attorney can manage the legal complexities of a claim, giving family members an opportunity to handle other important tasks.
Should the statute of limitations expire, in most cases, family members will lose the right to file a claim. Your family should not suffer because a missed deadline rendered you unable to hold the parties responsible for the loss accountable. You can speak with our compassionate Tampa wrongful death lawyers as soon as possible after the death of a loved one to make sure you get the help you need.
What Are the Common Causes of Wrongful Death?
A death is considered "wrongful" when another person or company's negligent acts cause it. There are limitless circumstances that could deem a resulting death to be wrongful, entitling family members to bring a wrongful death claim. However, some common circumstances involving wrongful death include:
Car accidents

Plane accidents

Medical malpractice

Products liability

Workplace accidents

Truck accidents

Gunshots
In some cases - depending on the situation that led to another's death - responsible parties may face criminal charges in addition to a civil case.
Do Criminal Charges Affect Civil Cases?
Criminal proceedings are independent of any civil claim for damages brought by surviving family members. For example, if your loved one was murdered, the state or local district attorney's office will likely pursue criminal charges against the offender.
Criminal charges are intended to punish especially egregious wrongful behavior in hopes to deter similar behavior in the future. A civil claim for damages, on the other hand, is intended to provide families with compensation to address the financial impacts associated with their loss.
The outcome of any criminal proceeding will not necessarily affect the need for, or right of, family members to file a civil claim for damages. Working with a trusted Tampa wrongful death attorney can ensure that families do not suffer financially because of another's criminal or negligent conduct. When the loss of life could have been avoided, both the deceased and their surviving families deserve justice.
What Is My Wrongful Death Case Worth in Tampa, FL?
Although individuals most commonly question the potential value of their case, it is the most challenging answer to provide. The circumstances of each individual case are unique, requiring careful consideration of multiple factors to determine the value of the claim. However, when valuing a compensation claim, some common considerations include:
Your loved one's loss of earning potential

Loss of future financial support

Costs of final medical expenses

Costs of funeral expenses

Loss of affection

Loss of companionship
Some losses are tangible, and as such, much easier to calculate. For example, the costs of medical bills and funeral expenses can be quickly ascertained. Invoices and receipts will clearly show the amounts paid on behalf of a loved one. Unfortunately, two-thirds of all bankruptcies filed in the United States result from medical expenses, according to a report from CNBC.
Do not let the financial burden of medical expenses harm your family. Consider allowing an experienced attorney to navigate you through the claims process, so you may recover the compensation you are entitled to. On the other hand, the intangible impacts of the loss of a loved one, although very real and painful, may be more difficult to quantify.
While the loss of a loved one's companionship does not have a set dollar amount, a wrongful death attorney can help families determine the monetary value of intangible losses. By working with the right wrongful death attorney in Tampa, families can be advised on the true value of their claim, representing the magnitude of impacts associated with their loss.
Is it Best to Settle My Claim?
Before accepting a settlement offer, surviving family members should consult with an attorney to ensure the amount they were offered is adequate. Families must keep in mind that their interests are generally not aligned with the interests of the insurance company representing the responsible party. Families aim to recover compensation for expenses incurred and future losses associated with the loss of a loved one. The insurance company, however, is interested in limiting their company's financial exposure by reducing the value of the claim.
Shortly after the death of a loved one, insurance representatives will likely call surviving family members in an attempt to discuss settling their claim. Some may be attracted to the possibility of a quick resolution so that they can begin to move forward with their lives. However, insurance companies often begin settlement negotiations with an offer that is insufficient to cover the full extent of the impacts of a loss.
Although a quick settlement may seemingly place family members' worries behind them, if the amount is insufficient, they may suffer adverse consequences later. After accepting a settlement, parties are typically prohibited from bringing any future claims for additional compensation.
Some families who accept a low settlement upfront may not realize that it is insufficient to cover all expenses and future costs. To ensure you receive a fair settlement amount, contact our Tampa wrongful death lawyers to evaluate an insurance company's offer before you accept.
How Do I Prove Another Person or Entity Caused My Loved One's Death?
After filing a wrongful death claim, families must begin to gather evidence to demonstrate that another's negligence caused their loved one's death. Families must show that:
The negligent party owed your loved one a duty of care;

They breached that duty to your loved one by acting in some unreasonable or unsafe manner;

That action directly caused the death of your loved one.
Although proving another's negligence may seem simple, wrongful death cases are typically complex and require guidance from someone with experience. Our legal team relies on years of experience helping injured victims seek compensation from negligent parties.
We understand the tactics insurance companies will use to try to get families to settle for less than their case is worth. We also know the strategies the defense team will use to try to prove the negligent party was not at fault.
Are Wrongful Death Damages Taxable?
According to the IRS, wrongful death damages that surviving family members receive from a settlement or a verdict are tax-free. However, if the wrongful death claim is brought by the estate itself, the settlement or verdict will become part of the estate's assets. If the amount of damages is substantial, the estate value may exceed the estate tax exemption limit.
In that case, the estate may become subject to the regulations of estate taxation. Working with a Tampa wrongful death attorney can fully protect an injured family's interests. Experience enables competent attorneys to guide their clients through the complexities of the claims process and evaluate potential outcomes.
Will I Have to Go to Court?
Put simply, whether a claim will proceed to court will depend on many factors. The majority of wrongful death claims are settled outside of the courtroom.
While most wrongful death cases settle out of court, sometimes, a trial is required to maximize your recovery and hold the negligent party liable. However, some cases require court proceedings to determine pertinent issues, and family members may need to be present for those hearings.
If a claim must proceed to court to be successful, an attorney can advocate on behalf of family members. Our experienced team understands how stressful this time can be, and we work tirelessly for our clients to minimize any added stress from the claims process.
Do I Need a Tampa Wrongful Death Lawyer?
Deciding to pursue a wrongful death claim is an important and difficult decision for any family suffering the loss of a loved one. Unfortunately, it is important to act sooner rather than later. As time passes, evidence will be harder to obtain, which may prevent families from proving the true value of their claim. To ensure that surviving family members are fully compensated for their losses, they should contact a wrongful death attorney as soon as possible.
Because losing a loved one is undoubtedly a traumatic experience, filing a legal claim may be the last thing on the surviving family members' minds. An attorney can help you in the following ways:
Filing the paperwork for your claim

Having knowledge of wrongful death claims

Answering any questions you have

Determining the value of your case by calculating the economic and non-economic damages

Negotiating settlement agreements

Representing you at trial if a settlement can not be reached
Hiring an attorney to advocate for your family can help reduce some of the stress associated with the legal process. Whatever the reason for your need to bring a wrongful death claim, we are here to help. We have helped many clients overcome some of their most personally challenging moments in life, and we want to help you do the same.
Contact a Tampa Wrongful Death Attorney for a Free Case Review
At Dolman Law Group, we want to be there for you during this challenging time. Our goal is to make sure you don't miss any filing deadlines, undervalue your case, or accept less than your family deserves from the responsible party.
If your loved one died because of the actions of another person or company, contact Dolman Law Group at (727) 451-6900 for a free consultation. Our offices are located across both Florida coasts, including our Tampa office at 13513 Prestige Place.
Tampa Office
3715 W. Horatio Street Suite G, Tampa FL 33609
Phone: (813) 212-8509