We rely on trucks to transport the goods we need and want throughout New York and the nation, and truck drivers work long and hard hours to get their cargo to where it needs to be. Yet, trucks pose a danger to those with whom they share the road. The average semi can weigh up to 80,000 pounds when fully loaded, more than 20 times the average passenger vehicle. When a collision occurs, their large size and massive weight create an impact that leads to increased property damage and more serious and even fatal injuries. Tractor-trailers are not the only trucks who pose a danger, though. Small and medium-size trucks such as delivery trucks, cement trucks, dump trucks, garbage trucks, and flatbeds can also cause dangerous accidents. When a truck of any size collides with another vehicle, the truck driver has the protection of his rig, leaving drivers and occupants in smaller vehicles to suffer the most from impact.
If you have suffered injuries in a truck accident, you might still experience pain from your injuries, cannot work, and are watching the medical bills fill up your mailbox. The inability to work creates additional stress on top of the pain of your injury. The economic burden of severe injuries sometimes devastates households, leading to eviction, foreclosure, and bankruptcy for some. You should not have to cope with financial destruction because of a negligent truck driver or trucking company. The legal team at Dolman Law Group Accident Injury Lawyers, PA understand the challenges and obstacles that injured truck accident victims face in the aftermath of an accident, and we are here to help. New York law permits you to seek compensation for damages in civil court against the negligent person or company who caused the truck accident.
Our experienced New York Truck truck accident attorneys help injured truck accident victims hold negligent truck drivers and trucking companies liable for losses related to their accident and injuries. Contact our New York office today online or at 833-552-7274 (833-55-CRASH) for a free consultation to determine your claim's viability and learn about your next steps.
Dolman Law Group Accident Injury Lawyers, PA's and Dolman Law Group's Results in Truck Accident Cases
The experienced personal injury lawyers at Dolman Law Group Accident Injury Lawyers, PA have helped injured accident victims for more than a decade. The firm's truck accident lawyers continuously strive for professional excellence in the negotiation, settlement, and litigation of accident claims. Their commitment to client advocacy has led to millions of dollars in settlements and jury awards for clients. In a recent case, Dolman Law Group Accident Injury Lawyers, PA secured more than $3 million during pretrial mediation for a client who suffered a traumatic brain injury in a truck accident. This only serves as an example and does not guarantee a specific financial outcome for your truck accident claim. Each case has distinctive facts and circumstances that can increase or decrease its value. Dolman Law Group Accident Injury Lawyers, PA, however, have the knowledge and resources to aggressively pursue the maximum compensation commensurate for your truck accident injuries. Call us now to see if we can help you, too.
New York Truck Accidents Lead to Severe, Catastrophic, and Fatal Injuries
Truck accidents result in the same types of injuries that car accidents cause. However, truck accident injuries are typically more severe, more likely to result in permanent disability, and more likely to cause death. The legal team at Dolman Law Group Accident Injury Lawyers, PA have helped clients with claims for multiple injuries from truck accidents. Examples of the types of truck accident injuries we handle include:
Head Trauma and Neck Injuries
The impact of a truck accident sends things flying inside a vehicle, potentially leading to a head or neck injury. Accident victims can also suffer head and neck injuries without any object directly striking them. The impact of the crash jolts their head and neck, often leading to whiplash injuries and traumatic brain injuries. Depending on the circumstances of an accident, victims might suffer minor sprains, strains, and a concussion. In truck accident claims, however, physical damages are usually much worse and those who suffer a TBI often face a lifetime of coping with the symptoms.
Back Injuries
Truck accidents cause bodies to move in unnatural positions, leading to severe and debilitating back injuries such as cracked vertebrae and herniated discs. A back injury makes it difficult for victims to escape pain, whether sitting, standing, or lying down. Many back injury patients need to undergo surgery, but it often does not eliminate pain or discomfort. It's not uncommon for back injury victims to rely on a wide array of pain management techniques, some healthier than others. Chronic lifelong pain is often par for the course when a truck accident victim suffers a back injury.
Spinal Cord Injuries
Sometimes truck accident victims who suffer back injuries also suffer a spinal cord injury. The cells of the spinal cord do not typically regenerate, so permanent damage is likely. If truck accident victims only suffer bruising of their spinal cord during a collision, any loss of function they experienced could return once any swelling subsides and bruises heal. If an accident leads to a cut or a partially severing of the spinal cord, accident victims face permanent loss of functions, often resulting in wheelchair confinement for life. Spinal cord injuries in the neck typically result in tetraplegia, paralysis from the neck down, because they are close to the brain. As injuries move down the spinal column, functional loss decreases.
Amputation
Truck accidents often cause smaller passenger vehicles to crumple during a collision, putting drivers and front-seat occupants at risk for crushed legs. Crushed limbs lose blood flow, which ultimately leads to infection and potentially death. After a truck accident, doctors try to restore blood flow to crushed limbs, but they are not always successful and must amputate to save an accident victim's life. Amputees require years of physical therapy and rehabilitation, must learn how to navigate life with a wheelchair, and often go through the frustration of learning to use a prosthetic device.
Types of New York Truck Accidents
Many types of traffic collisions can result in death and destruction, but some types of traffic accidents occur more frequently when trucks are involved. Examples of common truck accidents include:
Rear-end collisions. It takes the average semi-truck the length of two football fields to stop when it is traveling at 65 miles per hour. Truckers who do not allow enough space or drive while distracted risk striking the vehicle in front of them.
Head-on collisions.Distracted or impaired truckers sometimes swerve into oncoming traffic, leading to a treacherous head-on crash, likely resulting in one or more fatalities or catastrophic injuries.
Jackknife accidents. Truckers who apply their brakes too quickly, especially on New York's snowy and icy winter roads, risk causing their trailer to skid. A jackknife accident occurs when the trailer skids perpendicular to the cab, often blocking traffic and setting up conditions for a multi-vehicle accident.
Rollover accidents. Trucks are top-heavy, so when truckers drive too fast around curves or turns, they risk losing control of their vehicle, which sometimes leads to a dangerous rollover accident. Rollovers can block traffic and also crush nearby vehicles.
Underride accidents. These events are specific to trucks and occur when a smaller vehicle gets stuck under the trailer of a semi when a truck switches lanes or turns without clearing blind spots. The vehicle 'rides under' the trailer until the truck driver stops the truck or the vehicle breaks away. Underride collisions typically result in fatal injuries.
Cargo spills. Truck drivers or trucking company employees load cargo onto a truck before transport. Freight must be secured so it doesn't shift during transit. Unsecured cargo puts others on the road at risk for accident and injury if the cargo spills out in the middle of the highway. Motorists can collide with the cargo, the cargo can land on nearby cars, and some cargo might be toxic. Load spillage sometimes leads to multi-vehicle accidents as motorists try to avoid hitting the spilled cargo.
Common Causes of New York Truck Accidents
A wide range of situations and behaviors lead to dangerous truck accidents. Examples of common causes of truck accidents include:
Distracted Driving
Federal regulations prohibit truck drivers from using cell phones without a hands-free device, eliminating the most common driving distraction. However, cell phones are one of many distractions truckers face. Any activity that takes a trucker's hands, eyes, or mind away from driving falls under the umbrella of distracted driving and can lead to a dangerous accident. Examples include adjusting the CB or radio, programming a GPS, eating, drinking, reaching for something on the floor, and daydreaming.
Driver Fatigue
Truck drivers have demanding schedules that require long days. Many drivers must operate overnight to meet delivery and pickup times. Consistently tough schedules put truck drivers at risk for fatigue even when they comply with mandatory rest and breaks. Hours of Service (HOS) regulations help reduce driver fatigue, but they do not address other underlying causes of fatigue such as untreated medical conditions and the side effects of prescription medication. A truck driver who falls asleep at the wheel can cause a deadly collision.
Blind Spots
All vehicles have blind spots, but the larger the vehicle the larger the blind spots. Semi-trucks do not have rearview mirrors, so they need to use mirrors on their side and hood to clear their blind spots before turning or changing lanes. Truckers who do not clear their blind spots do not see passenger vehicles near them and sometimes strike them with their trailer, causing dangerous collisions.
Defective Truck/Truck Parts
Truck accidents can happen as a result of a mechanical breakdown. In some cases, a breakdown occurs because of a defective truck or truck part. Power-steering problems, brake system failure, and tire blowouts are commonly associated with defective truck parts. Sometimes design defects occur, but many truck or truck part defects occur during the building and assembly process because of human error, cheap materials, or poor machine calibration. Truckers can lose control during a mechanical failure and cause a dangerous collision.
Inadequate Truck Maintenance
Trucking companies and drivers who also own their trucks have a legal obligation to regularly inspect and fix known issues on their trucks to keep them safely operating on the road. When truck owners are negligent and don't maintain roadworthy rigs, accidents occur. Examples of inadequate truck maintenance that can lead to an accident include old tires that need to be rotated or changed, failure to fill critical fluids such as oil and brake fluid, and worn axles in danger of breaking when they cannot hold the weight of a trailer.
New York Truck Accident FAQ
The Federal Motor Carrier Safety Administration (FMCSA), the part of the Department of Transportation (DOT) that regulates the trucking industry, estimates that the number of truck accidents resulting in injury has increased since 2009. Additionally, fatal large truck accidents rose by 10 percent in one year. If you were injured in a New York truck accident, you might not know about the claims process, truck accident lawsuit, reporting, and other things related to the accident. It's in your best interest to consult one of our experienced New York truck accident attorneys as soon as possible. Until you have the chance, the answers to the following frequently asked questions about New York truck accidents provide you with preliminary information that can help give you a better idea of your legal rights and best practices in the coming weeks and months.
Do I have to file a police report after a New York truck accident?
New York has strict laws about reporting traffic accidents, but they have two types of accident reports which confuses some. Both reports are accident reports, but one is for the police, and the other is for civilians. If your truck accident was serious, it's likely law enforcement came to the scene of the accident and completed a Police Accident Report (MV-104A), which is the official police report of the officer who responded. Sometimes police simply do not make it to an accident, so you legally need to contact them to report the truck accident if there is more than $1,000 worth of damage, if someone suffered injuries, or if someone died. You should always wait for the police to arrive so you do not get charged with leaving the scene of the accident. This way you also know that an official police report is in the works. Within 10 days of the accident, you must file a Civilian Accident Report (MV-104) regardless of circumstances. You should have a copy of the Police Accident Report, but if you do not, use the information you gathered at the scene of the accident to fill out the report. You must complete the report and send it via U.S. Mail to the address at the bottom of the form.
I'm not at fault for a New York truck accident, do I need to file an insurance claim?
New York is a no-fault insurance state that requires drivers who register a vehicle to carry a minimum of $50,000 in personal injury protection (PIP) coverage. Even if you did not cause the truck accident, you need to immediately notify your insurance carrier of the accident to file a claim under your PIP coverage. Your New York PIP benefits extend to everyone in your household and cover the following up to the policy limit:
Medical and rehabilitation expenses that are reasonable and necessary
80 percent of lost income from missing work, up to a maximum of $2,000 per month
Up to $25 per day to cover other expenses such as household help and travel expenses to and from the doctor/hospital
Truck accidents are expensive, so it's likely your injuries and related expenses will quickly meet or exceed your PIP policy limit, especially if you only carry the minimum $50,000. Once this happens, you will need to file an insurance claim with the trucking company's insurance company to receive compensation for your injuries beyond your PIP coverage.
Will my PIP coverage always kick in after a New York truck accident?
In the vast majority of cases, PIP coverage kicks in after any kind of auto accident, including truck accidents. However, carriers will deny a PIP claim in some situations. They include:
You were driving under the influence of drugs or alcohol and it contributed to the truck accident.
You intentionally caused a truck accident that led to your injuries.
You were involved in a truck accident when committing a crime.
You were driving a stolen vehicle.
I am a little sore, but I didn't break anything. Do I still need to go to the doctor after a New York truck accident?
It's always in your best physical and legal interest to let a doctor examine you after a traffic accident, especially one that involves a truck. The impact of a truck accident can cause hidden injuries such as brain injuries, broken ribs, organ damage, and whiplash. Many of these injuries do not immediately show symptoms and you might not see any for hours or days. Some brain injuries and internal damage lead to death when left untreated. Most truck accidents are severe enough that those involved have no choice but to catch a ride to the nearest hospital in an ambulance. However, if you were fortunate enough to walk away from your car after a truck accident and you declined medical treatments, you should head to the doctor as soon as possible. He or she will examine you for common accident injuries, provide you with restrictions that will help you recover more quickly, and release you for normal activity if you are not injured. Your health and safety should be your top priority and motivator for going to the doctor, but documentation of your injuries also serves as valuable evidence and leverage for your attorney to use with the insurance company. Clear medical documentation of truck accident injuries supports your claim, so insurance companies and defense lawyers have little chance of denying your claim. They will also find it difficult to deny that the accident caused your injuries.
How long do I have to bring a New York truck accident lawsuit?
New York law requires accident victims, including those injured in truck accidents, to bring a lawsuit against the trucking company, trucker, or another liable party within three years from the date of the accident. If a family member you love suffered fatal injuries in a New York truck accident, you have two years to take legal action by filing a wrongful death lawsuit. New York courts typically do not hear cases that go beyond the three-year statute of limitations. The law provides for some exceptions, but they are rare. Your truck accident lawyer can evaluate your situation and determine if your case might warrant an exception, so you should still consult with an attorney regardless of how long it's been since your accident.
Who should I Sue after a New York truck accident?
Your attorney might suggest you name one or more parties in a truck accident lawsuit. Truck accident claims are often complex and involve several parties who could be partially or fully responsible for damages related to truck accident injuries. If you bring a lawsuit after suffering truck accident injuries, you might name one or more of the following as defendants in your lawsuit:
Truck driver. Careless, aggressive, or negligent truck drivers who do not follow the rules of the road, drive while impaired, suffer from fatigue, or partake in other activities that lead to a truck accident are often named in truck accident lawsuits.
Trucking company. The trucking company that owns the truck or an owner/operator could be financially responsible for accident injuries in many situations. For example, owners who do not hire qualified drivers, inadequately train their drivers, poorly maintain their trucks, or compel their drivers to violated safety laws to do their job, open themselves to liability.
Other motorists. Other drivers in passenger vehicles who do not share the road safely, cut off semi-trucks, hover in blind spots, weave in and out of traffic, or violate traffic safety laws can cause a truck driver to lose control of his rig, resulting in a dangerous and potentially fatal accident.
Truck/Truck part manufacturer. You can hold truck manufacturers liable for damages related to a truck accident and injuries when a defective truck or truck part leads to a truck accident. Tire blowouts and braking system failures are especially dangerous because they cause truckers to lose control of their truck.
Do I have to go to court for my New York truck accident case?
Most truck accident cases settle long before litigation in the courtroom. Your New York truck accident lawyer will negotiate with the insurance company(s) involved in the suit to reach an agreement that provides fair compensation for your injuries and losses related to the truck accident. However, insurance companies do not like to lose, nor do they like to pay large sums of money. If the carrier disputes liability and refuses to make a reasonable settlement offer, you can expect your attorney to prepare for trial, which typically means you must appear in court.
Should I accept an early settlement offer from the trucking company?
Trucking companies and truck owners protect their expensive trucks with ample insurance coverage. Yet, even with large policies in place, insurance companies will pull out all the stops to reduce their financial liability. One common tactic they rely on is to offer accident victims settlement offers soon after the accident. These offers attempt to entice financially stressed out accident victims to accept the offer and sign away their right to sue for future compensation. Early settlement offers are problematic for two main reasons. First, if you have suffered severe injuries in a truck accident, you may not know the full scope of your injuries. Do you have a permanent injury? Can you return to work? Will you make a full recovery? Your doctors and attorney must answer these questions to place a value on your claim. When you accept an offer, you give up your right to seek further compensation, which can leave you without the funds you need if your injuries are worse than you originally thought. Second, the insurance company will always value your claim lower than your lawyer. Early offers represent the extreme. These lowball predatory offers are almost always never close to a fair value for your claim. It's in your best interest to consider an early settlement offer as a starting point for negotiations, consult with a lawyer, and let him or her communicate with the insurance company.
What damages can I recover after a New York truck accident?
If you reach a settlement with the insurance company or the court rules in your favor if you go to trial, you could receive compensation for the following losses, expenses, and damages related to your truck accident injuries:
Medical treatment expenses not covered by your PIP insurance.
Estimated future medical treatment costs including long-term health care
Lost income from work not covered by your New York PIP insurance
Estimated future lost wages in the case of a catastrophic injury
Physical pain and suffering
Emotional distress
Decreased quality of life
Loss of consortium
Scarring and disfigurement
Punitive damages in cases involving gross negligence
How can a New York truck accident lawyer help?
Our New York truck accident attorneys do many things to advocate for our clients to help them recover compensation. Examples of the benefits truck accident lawyers bring to an accident claim include:
Expert-level knowledge of trucking industry regulations which allows them to know when truckers/companies are violating laws that lead to accidents, such as Hours of Service violations, cargo securement violations, mobile phone use violations, and maintenance violations.
Experience with claims that often include multiple defendants such as the truck driver, trucking company, and insurance company.
Experience dealing with high-value insurance claims and lawsuits characteristic of truck accidents.
Protecting clients from questionable insurance company tactics like lowball offers and twisting the victim's words to devalue a claim.
Negotiating with insurance companies to get the maximum compensation possible for a case, typically more than a client could get on his or her own.
Fighting for clients in the courtroom when settlement is not an option.
Injured in a Truck Accident? Our New York Truck Accident Lawyers Can Help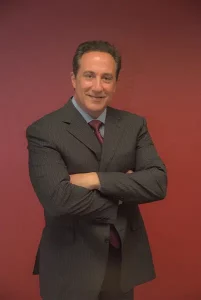 If you have sustained injuries in a New York truck accident as a result of a negligent trucking company or truck driver, you deserve compensation for losses related to your injuries.
With more than a decade of experience helping truck accident victims, the skilled legal team at Dolman Law Group Accident Injury Lawyers, PA understands how to communicate with insurance companies and navigate the challenges that come with truck accident claims. We can guide you through the claims process while you focus on healing and recovery. If you live in New York, contact Dolman Law Group Accident Injury Lawyers, PA online or at 833-552-7274 (833-55-CRASH) for a free case evaluation to discuss your truck accident, your injuries, and how they have damaged your life. One of our experienced truck accident attorneys can evaluate the viability of your claim and advise you on the best path forward with your case. Truck accidents are costly, so we understand the financial pressure you might be facing in the wake of an accident. We want to help you get the compensation you deserve after a negligent trucker or trucking company caused you harm, so that you don't need to pay the cost of someone else's actions.
---
New York Office Location
3250 Westchester Ave, suite 200A/B
Bronx, NY 10461
(718) 550-3471
Client Testimonial
"AMAZING and understanding attorneys! Did great on my case and I highly recommend Dolman Law Group Accident Injury Lawyers, PA for anyone that has been injured in an accident!" Rating: 5/5 ⭐⭐⭐⭐⭐ Koralis R. Jan 2020 Read more reviews on Google!