According to the National Sexual Violence Resource Center (NSVRC), one in three women and one in six men will experience some sort of sexual violence at some point in their life. This includes child sexual abuse - which is almost a euphemism for the rape of children - by clergy, coaches and educators, relatives, and other authority figures - which assails one in four girls and one in six boys, according to the NSVRC. 
Clearwater is hardly immune to these harrowing allegations, whether they involve children or the elderly. A sexual assault can have lifelong effects on a victim, both physically and mentally - 81 percent of women who experience assault battle with some degree of PTSD following their attacks. Resuming your life after an attack can be a difficult process. Often, it's hard to confront what happened, let alone talk to anyone about it. 
At Dolman Law Group, our sex abuse lawyers' goal is to provide a safe place for Clearwater sex abuse survivors. We know the strength and courage it takes for you to talk about your assault. You have rights. In Florida, victims of sexual assault can pursue criminal and civil charges against their abusers. To learn more about your rights and fight out how we can help you recover damages against your abuser, contact Dolman Law Group's Clearwater sexual abuse lawyers at (727) 451-6900 for a free and confidential consultation.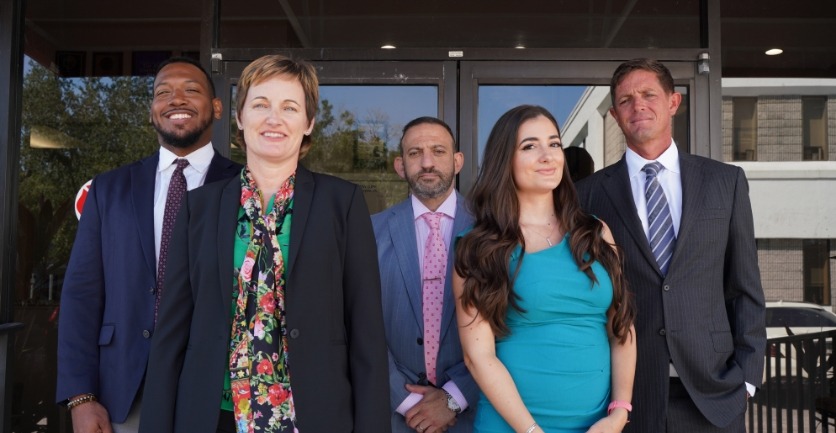 About Dolman Law Group
At Dolman Law Group, we believe that everyone has a voice. Everyone has a story that deserves to be heard. Since 2009, our lawyers have helped fight for the rights of victims in Florida. Our sexual abuse lawyers know the tactics abusers and organizations use to deny liability. When you file a claim against another party, our number one priority is to make sure they are held responsible for their actions. 
We understand the crucial role that justice can play in getting closure and recovering from the deep emotional wounds left by this type of abuse. We also know that criminal charges are not always possible or that the criminal courts do not always bring survivors justice. This is one reason why we believe civil action may be important for many victims and their families.
With offices throughout Florida, we have a wide array of resources and expertise to help build your case. Trust is important when dealing with sexual assault. At Dolman Law Group, we want you to feel safe and comfortable. All cases are 100 percent confidential. Review some of our past case results and get an idea of what we can do for you.
Our Former Clients Have Written About Their Time Working With Us
Alongside pursuing the compensation and justice you serve, we work to keep you informed and at ease throughout the legal process. Look at what some of our former clients said about that experience:
"These are great people, ethical people, and they advocated for me... I'd recommend Dolman Law Group Accident Injury Lawyers, PA and really no one else." - Bonnie
"Truly the best... They kept consistent contact, and even called to follow up when I didn't expect it. They are a very honest, professional group of people and I would refer them to anyone in need of their help." - Anonymous
When you partner with our firm, we will develop a case strategy that works to meet your needs.
The Payment Plan We Use at Our Law Firm Serving Clearwater, Florida
At Dolman Law Group, we take sexual abuse cases on a contingency-fee basis, which means:
You won't have to use your savings to finance your case - we'll do that for you.

Our team will offer you a free case review when you first contact us.

We don't require any fees up front, hourly, or out of pocket.
If we decide to work together, we will agree on a percentage that our lawyers will take from the compensation they win for you. If they cannot come to a resolution, then you owe them nothing. That way:
You reduce your financial risk.

We can get started on your case right away.
What Is Sexual Abuse?
Sexual abuse is a crime. When there is no consent, a criminal act has occurred. Florida has a very specific definition of consent. Lack of physical or verbal resistance shall not constitute consent. Further, a person is unable to give consent if they are mentally or medically incapacitated or if they are under the age of 18. In Florida, many acts constitute sexual abuse. This includes:
Sexual assault or unwanted touching

Rape

Statutory rape

Sexual harassment
A romantic relationship or marriage is not a defense for sexual assault. Nor is a previous sexual relationship. Abusers can make you feel like you gave consent and/or guilty for what occurred. This is part of their manipulations.
You have rights. When someone violates these rights, they need to be held accountable. Pursuing a civil case against the abuser and any institution that allowed or ignored the abuse may be the best way to ensure they pay for what they did and the damages they caused you.
Where does Sexual Abuse Occur?
The scary thing about sexual assault is that it can happen anywhere. Revelations over the past several years have proven just how pervasive sexual assault is. Over the past two decades, shocking allegations have been made against the Catholic Church, the Boy Scouts of America, several universities, and numerous other organizations. Thousands of victims have filed suits against the church and these organizations for abuse that spans over several decades.
Florida's Attorney General recently announced that the state will be looking into allegations against the Roman Catholic Church and has called on victims to come forward and call a designated tip line. Sadly, statistics show that in the majority of cases, the attackers knew their victims. Many had some type of leadership role or another role of importance and used it to lure victims.
When assault happens in a workplace or institution, these companies may hold a level of liability. Locations where another party may hold liability include:
Schools, including primary, secondary, and collegiate campuses

Church

Sports organizations

Charity groups

Places of employment

Businesses or apartment complexes with inadequate security

Nursing homes

Daycare facilities
An experienced sexual abuse lawyer on our team can help you determine whether parties beyond the abuser hold any responsibility for the abuse. In many cases, you may be able to pursue damages from those who protected your abuser, as well. To speak with an attorney, contact Dolman Law Group.
The Long Term Effects of Sexual Abuse
Sexual abuse is a violation of your personal dignity and trust. It can be hard to understand what has happened to you and how you can begin to heal. The brain responds to trauma in a variety of different ways. Recognizing when you are struggling and the effects of abuse can help you understand when you should seek help.
Anxiety
Anxiety is the brain's response to perceived danger. After abuse, it is normal to be fearful that the abuse may happen again or have a response to certain people or places. Anxiety can present with physical and psychological symptoms. Signs of anxiety include:
Obsessive thoughts

Nervousness

Panic

Restlessness

Insomnia

Digestive issues

Sweating

Trembling
Some level of anxiety is normal. But when the anxiety begins to interfere with your day-to-day activities, it may be time to take action. Your healthcare provider can help you connect to resources that may be able to reduce your anxiety. This may include individual or group counseling or medication. Additionally, you may find some relief by participating in self-care activities such as yoga, meditation, or journaling.
Depression
Depression affects nearly seven million adults. After sexual abuse, survivors often report feelings of sadness, hopelessness, guilt, and blame. It's important to remember that abuse is not your fault. Abusers are good at turning the blame or making you question your role in the abuse. Don't neglect your mental health. Recognizing when you are feeling depressed and getting treatment is important. Signs of depression include:
Sadness

Feelings of hopelessness

A loss of interest in activities you once enjoyed

Fatigue

Sleep problems

Anxiety

Decreased appetite

Mood changes

Difficulty concentrating
Post-Traumatic Stress Disorder (PTSD)
Approximately one in eleven people will be diagnosed with PTSD at some point in their life. Women are twice as likely to develop PTSD than men. PTSD is a psychological response to trauma. It is different than anxiety or depression but includes many of the same symptoms. Survivors who experience PTSD often have difficulty moving on from the traumatic experience. They may have recurrent thoughts or dreams about the event. Certain places or events can trigger these feelings.
There is treatment for PTSD. Counseling or medication can help you reduce the symptoms you are experiencing. Contact your healthcare provider or a person you can trust if you feel you may have PTSD.
Your Legal Rights
In Florida, victims have the right to pursue criminal and civil charges based on sexual abuse. It is important to note that a not-guilty verdict in a criminal trial does not preclude you from filing civil charges. In fact, you may be able to pursue a civil case even when there was never enough evidence or other support for a criminal charge.
A civil case can help you recover financial damages related to the events of your attack. While money won't take away your pain, it can help you seek treatment to help you heal from your trauma. These damages may include:
Medical bills: Sexual assault can cause physical and emotional pain. Victims of assault may find success with individual or group counseling. Sadly, anxiety, depression, and PTSD are common after a sexual attack. A personal injury case can help you cover the costs of doctor visits, therapy sessions, medication, and exams.

Lost wages: A sexual attack is a traumatic experience. It affects individuals differently. Some people may find it difficult to return to work, temporarily or permanently. This may be particularly true if the attack or incident happened at work. If this is the case, we may be able to help you recover lost wages.

Pain and suffering: Pain and suffering is often the biggest cost in the case of a sexual assault. An attack can have a lifelong effect on the victim. Pain and suffering damages are designed to compensate you for emotional and mental distress, physical pain, and any effect that the assault had on your quality of life. This may include your loss of companionship, loss of a relationship, or loss of enjoyment.
In some cases, punitive damages may also be available. Punitive damages penalize the at-fault parties for their particularly negligent or reckless actions. In some sexual abuse cases, an organization may have known what was happening but failed to stop it or took actions to sweep it under the rug.
Sometimes, a jury awards punitive damages in sexual abuse cases when an institution trusted with providing the victim with safe, secure services protects the abuser rather than those who accused them of wrongdoing. Examples could include youth organizations, schools, churches, camps, and more. Our attorneys can discuss more with you when we work on your case.
Florida's Statute of Limitations
Every state has laws regarding the amount of time you have to take legal action after a crime or injury. This time frame is referred to as the statute of limitations. It is important to understand that the statute of limitations for filing criminal charges is different than filing a civil case. In Florida, the statute of limitations for filing criminal charges will depend on the specifics of the case.
For cases where the abuse resulted in death or the victim is under 16, there is no statute of limitations. For other cases, the time frame may be as little as four years.
Like criminal charges, the statute of limitations for filing a civil claim depends on the specifics of the case. This is why you need to talk to an experienced sexual abuse lawyer right away. Generally, however:
For victims under the age of 16, there is no limit on the time you have to file a civil claim.

If the victim is under the age of 18, the statute of limitations does not begin until that person turns 18. At that point, the statute of limitations is seven years.

For most other cases, survivors have four years to file a civil lawsuit.
There are exceptions, though. We encourage you to reach out to our team to discuss the circumstances of your potential claim and let us determine any legal timelines that may apply.
Resources for Sexual Abuse Survivors
It's always important to know that you are not alone. One of the best things you can do is speak to someone you can trust. This may be a friend, a family member, or a mental health counselor. Additionally, there are organizations designed to help victims of assault heal and find coping mechanisms. Online, these resources include:
Additionally, you can connect with resources through your healthcare provider, church, or local department of human services. Don't hesitate to ask for help. These resources are designed to help you find a safe place and take the appropriate steps after abuse.
This is especially important to our clients who are taking legal action against their abusers. We often find this brings up new feelings, and discussing the events at length can trigger some uncomfortable times. We encourage all our clients to have a strong support system in place, including a mental health care provider, support group, or another form of counseling.
Contact Dolman Law Group's Clearwater Sex Abuse Attorneys for Help You Can Rely On
Sexual abuse is never okay. When abuse happens, you have rights. In addition to criminal charges, the law allows survivors to make a civil claim. This award can help you find resources to recover from the abuse and begin to move forward.
At Dolman Law Group, our experienced Clearwater personal injury lawyers will collaborate with you to find the path that works best for your circumstances. We understand how personal this process is and the strength it takes to take legal action. We are here to help you process your feelings in your own way, on your own time. Our legal team will never pressure you to do something that you are not ready for or uncomfortable with. The most important thing is for you to feel safe and to trust the team around you. 
We respect your right to privacy. As such, the details of your case will always be confidential. With locations on both coasts, our legal team is here to serve you. To schedule a free and confidential consultation, contact Dolman Law Group at (727) 451-6900 or visit us online for more information.
Dolman Law Group Accident Injury Lawyers, PA
800 N Belcher Rd
Clearwater, FL 33765
Phone: (727) 451-6900