It's common when employees get injured at work, that they will need to take time off to recuperate. These injuries could be due to negligence on the employer's part, exposing workers to unnecessary danger. Back and neck injuries can also occur due to car accidents, medical malpractice, assaults, and slip and fall accidents.  
Unfortunately, pain is a possible outcome of these injuries. Some victims take years to regain their health again while others end up having a lifetime disability to grapple with. If you're harmed in this manner, a Tampa back and neck injury lawyer can help you get compensation to cover your damages. 
Understanding Back and Neck Injury
The Bureau of Labor Statistics (BLS) surmises that back injuries represent 1 in 5 work-related injuries, and upwards of one million workers suffer back injuries every year. Furthermore, 25% of all compensation insurance claims go toward helping victims of back injury. Affected employees suffer debilitating pain that keeps them from working and enjoying life, and sometimes, the damage is permanent.
Relentless incidences of back injuries also cost employers millions of dollars as they settle to avoid protracted lawsuits by injured employees. There's a correlation between back pain and physical activities like lifting, bending, pushing, twisting, and pulling. Reducing this form of bodily harm requires educating workers on the safest methods to execute their responsibilities without overstraining their backs.
Neck injuries, on the other hand, emanate from cumulative stress, sudden trauma like being struck by an object, muscle strain, or wear and tear of the joints. The Occupational Safety and Health Administration (OSHA) has designated forms for recording such injuries in great detail. The many empty fields may look intimidating, but your back and neck injury lawyer will be on hand to assist and file your compensation claim.
Risk Factors for Back Injury
The back plays an integral role in the human body with the help of critical components that include 33 vertebrae, discs, nerves, and muscles. It holds the spinal column, which gives support and flexibility so the human body can bend and rotate as needed. Nerves transmit electrical impulses throughout the body, feeding important information to the brain. Understanding how these components interact is vital in guarding against back injuries.
Back injury is linked to occupational, as well as non-occupational factors as outlined below:
Poor Posture
There are many reasons for back-related pain, like a car accident, sporting activities, or congenital problems. However, lower or upper back pain cases happen gradually due to bad posture, and you may not realize it until there's discomfort. Repetitive things like sitting behind a desk all day without stretching your muscles or carrying heavy loads trigger tension and tighten the back muscles.
Improving your posture when performing strenuous tasks can ward off back problems. If your job is mainly sedentary, consider taking short breaks to perform mild exercises, like a shoulder blade squeeze, arm-across-chest stretch, and upper-body stretch.
Poor Physical Condition
Examining national health survey results from 1988 through 2010, researchers found huge increases in obesity in the United States, mainly attributed to the lack of physical activity. Research by Stanford University deduced that, contrary to popular opinion, the lack of exercise is the real culprit behind obesity and not poor diets. Employees of all ranks are strongly encouraged to work out regularly for better physical well-being.
Improper Body Mechanics
Correct and safe body movement matters when it comes to preventing back injuries. When this is not observed, abnormal pressure on the spine makes the structures therein degenerate. You may not realize how big the problem is until your movement is hampered.
Incorrect Lifting
Construction, mining, industrial jobs, etc., can be high strenuous occupations with rigorous lifting, loading, and offloading of cargo. Your employer must train you in the proper lifting techniques to avoid harming your back. Combating this problem requires a comprehensive approach, mainly on the employer's part.
In a factory or industrial plant setting, the facility layout, proper lifting design, and appropriate equipment are some of the essential measures to keep back pain at bay. Handling loads with suitable machinery is advisable instead of transporting single units, while good housekeeping practices are also helpful. Other non-occupational risk factors for back and neck problems include advanced age, psychosocial stressors like anxiety, and smoking tobacco.
Preventing Neck and Back Injuries at Work
The responsibility is on employers to ensure their staff doesn't incur an injury during work hours. A Tampa back and neck injury lawyer would be interested in knowing what preventative measures are implemented to negate harm. More specifically, if your employer does the following in the workplace:
Offer regular training on safety techniques

Provide appropriate equipment to do various tasks

Allow Ergonomic Evaluator Specialist to evaluate jobs after an injury

Combat fatigue by giving workers the required breaks

Enable the rotation of duties to prevent undue pressure

Designate working areas to improve efficiency, for example, by minimizing reaching

Maintain equipment and machinery so they're safe to use

Promote safe return to work for injured workers, for instance, through modified roles
Compensation for Back and Neck Injuries
Injuries can happen, even when employers and workers adhere to all safety protocols. When this occurs, the employee may sustain varying degrees of pain and miss work during recovery. Their income is compromised, and they cannot fulfill their domestic responsibilities, like caring for young children. Your lawyer can help you seek restitution for various damages, including:
Existing medical expenses

Projected medical bills

Lost income

Diminished earnings in the future

Loss of consortium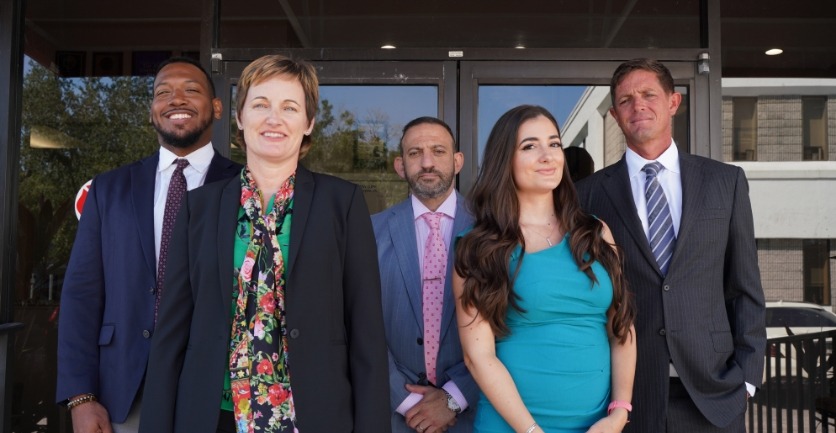 Contact a Tampa Back and Neck Injury Lawyer Today
If you sustained a back and neck injury, a Tampa personal injury lawyer could help you recoup compensation from your insurance company. At the Dolman Law Group, we have years of experience assisting clients in negotiating with insurance adjusters. You can trust us to defend your rights and shield you from the bullying practices of employers who put profits above their workers' well-being. Contact the Dolman Law Group today for a free case review.
Tampa Office
13513 Prestige Pl. Suite 103
Tampa, FL 33635
(813) 303-0916