Accidents remain a part of everyday life in cities and towns across the nation, including Sarasota. When you sustain an injury because of another party's negligence, Florida law gives you the right to seek compensation for losses that are related to your injury. The process of seeking compensation is complex and differs between cases. Victims who have suffered injuries are often overwhelmed by the healing process and the added financial and emotional stress, leaving them unsure how to proceed with legal action. The guidance and experience of a skilled Sarasota Personal Injury Lawyer at Dolman Law Group Accident Injury Lawyers, PA can be invaluable to victims by allowing them to focus on recovery while their attorney handles the details of their personal injury lawsuit.
What Types of Sarasota Personal Injuries Might Result in a Lawsuit?
A variety of injuries caused by the negligence of another person, business, or government entity may give rise to a personal injury lawsuit. Sarasota personal injury lawyers often represent clients who have sustained one of the following injuries:
Traumatic brain injuries (TBI)
Back and neck injuries
Spinal cord injuries
Electrocution injuries
Burn Injuries
Amputations
Dog Bites
Drowning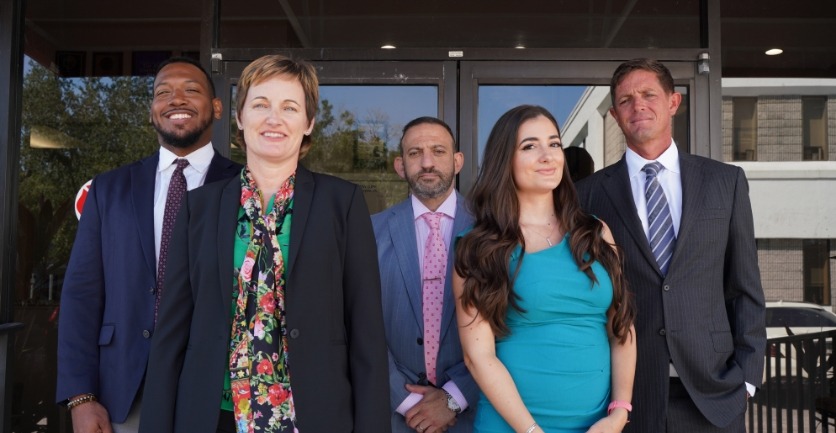 What Injuries Can Result in Severe Losses?
Some accident victims are fortunate enough to walk away from an accident relatively unscathed; however, many others sustain serious and life-changing injuries. Victims injured by another party's negligence or intent to harm may face significant losses that they might be able to recover in a personal injury lawsuit, including:
Medical expenses - Even when victims carry insurance, they may still amass tens of thousands of dollars in medical expenses including ambulance and emergency services, hospital stays, doctors visits, surgeries, X-rays and other scans, prescription medications, and more. In the case of a permanent disability or long-term condition, some of these expenses might recur frequently and include additional items such as physical therapy, rehabilitation services, long-term nursing and medical care, assistive devices, assistive technology, and more.
Lost wages - Many victims also require time away from work to recover from their injuries, whether undergoing treatment or spending time in the hospital. Recuperation requires physical and mental rest. Severe physical injuries prohibit victims from engaging in work-related activities that require heavy lifting or other physical activities. The continued loss of wages during recovery pile up and add a layer of financial stress on victims and their families.
Lost earning capacity - When victims sustain a catastrophic injury that results in lifelong complications or permanent disabilities, they might not be able to return to their job. Instead, they may have to seek out a different type of employment. In the most severe cases, victims might be permanently disabled and unable to work at all. This results in the loss of future wages, often referred to as lost earning capacity.
Non-economic losses - Not all losses can be calculated by examining medical bills and pay statements. These intangible losses include compensation for pain and suffering, permanent disabilities, loss of enjoyment of life, scarring, disfigurement, loss of consortium, and more.
What are Punitive Damages in Sarasota, Florida?
If you are injured in Sarasota, you might also be eligible for punitive damages from the court. Punitive damages are rare, but they are awarded in two types of personal injury cases in Florida:
Intentional misconduct - Under Florida law if another party intentionally harms you, the court might award punitive damages.
Gross negligence - In cases where the defendant's actions were so egregious that they displayed a disregard for others, the court might also award punitive damages.
Florida law does, however, have some caveats regarding the amount of punitive damages the court may award:
The general rule on punitive damages is that Florida courts may not award more than three times the amount of compensatory damages or $500,000, whichever is greater.
In the event that the court finds that the wrongful action that resulted in injury was driven by financial gain without regard for the danger of the conduct and consideration for injury, the court may award four times the amount of compensatory damages or $2,000,000, whichever is greater.
In the event that the court finds that the defendant had specific intent to harm the claimant, and the wrongful conduct did indeed harm the claimant, Florida law removes any cap on punitive damages.
A recent example of a local case where punitive damages were awarded includes a wrongful death suit filed by the estate of a Sarasota army veteran against R.J. Reynolds Tobacco. The representatives of the deceased claimed that the tobacco company knowingly conspired and covered up the dangers of smoking which contributed to the man's death, caused by complications with lung cancer. The jury awarded $21.5 million dollars to the estate, $14 million of which were punitive damages.
What are Sarasota Personal Injury Claims?
Multiple scenarios and types of accidents give rise to a personal injury claim. Here are some of the most common types of cases handled by personal injury law firms in Sarasota.
Motor vehicle accidents - The most recent data from the Florida Department of Highway Safety and Motor Vehicles (FLHSMV) reports approximately 6,600 injuries in Sarasota County in 2017 which resulted in about 4,000 injuries, and almost 50 fatalities. When injuries are serious, caused by another party's negligent driving, and the injured incurs losses, victims often turn to a trusted personal injury attorney to seek compensation for their injuries.
Bicycle accidents - Sarasota is a haven for serious cyclists and those who enjoy a simple joyride on a warm sunny day. The famous Legacy Trail, opened in 2008, extends for more than 12 miles and runs just south of Sarasota to Venice. The joy and fun of a leisurely bike ride also carries some risk. In 2017, almost 200 bicycle crashes occurred on the roads of Sarasota County; unfortunately, one fatality did occur.
Pedestrian accidents - Even with low bicycle fatalities, Sarasota County remains in the top 25 counties in Florida for traffic crashes that result in serious or fatal injuries for bicyclists and pedestrians. In fact, the Sarasota County Sheriff's Office and Sarasota Police Department have received High Visibility Enforcement (HVE) grants to improve pedestrian and bicycle safety. In 2017, 185 traffic crashes, including 12 fatalities, involved pedestrians in Sarasota County.
Boating accidents - Getting out on the water is one of the finer aspects of living in Sarasota, but accidents do happen and many times are a result of negligence. When operators are distracted collisions occur. These collisions frequently result in injury, such as the 59-year-old Sarasota man who was injured after a boat and jet ski collided in the summer of 2018 in waters near Varmo Road. The Florida Fish and Wildlife Commission (FWC) reports that in 2017, 261 boating accidents involved collisions and 38 percent of them were due to distraction or lack of a maintaining a proper lookout on the vessel.
Dog attacks - According to the Florida Department of Health, two Floridians die each day from a dog attack and more than 600 Floridians are hospitalized each year because of injuries sustained from dog bites. Dog owners have a duty of care to protect others from their pets, especially if they are dangerous.
Slips, trips, and falls - Unintentional falls are the number one cause of traumatic brain injuries (TBI), hospitalization, and fatalities in Florida, and those over 65 years old are especially at risk. In 2017, more than 12,000 people visited emergency departments in Sarasota County for injuries related to a fall, with approximately 2,200 of them resulting in hospitalization. When falls occur because a property owner has not maintained a safe environment for visitors, they might be held liable by the court.
Medical malpractice - We expect doctors and other medical professionals and specialists to heal and care for patients, not harm them. The notion of medical malpractice has been in the local news lately because of local doctor and politician, Venice state Rep. Julio Gonzalez, who ran for Congress in Florida's District 17 the fall of 2018. Gonzalez allegedly failed to diagnose and treat an infection in a patient's open fracture, which ultimately resulted in death. This is only one example of malpractice; doctors might misdiagnose patients, prescribe the wrong medicine or wrong dosage, make surgical errors, or make other errors or commit negligent acts that result in serious injury or death.
Nursing home neglect and abuse - With baby-boomers aging and entering nursing care facilities, stories of abuse and neglect are rampant across the nation. Sadly, Sarasota's care facilities have not escaped scrutiny. In a recent case, a Florida court fined a Sarasota nursing home for not notifying the family of a resident's deteriorating health and failing to offer adequate quality of life and quality of care programs for residents. Elders have rights when they are in a nursing home; a skilled personal injury attorney can advocate for them and make sure they receive the care they deserve and help them seek compensation for injuries they might have sustained from neglect or abuse.
Workplace injuries - When someone is injured at their job in Sarasota, they can often simply file a workers' compensation claim with their employer's insurance carrier to get a portion of medical expenses and lost wages. Yet, sometimes insurance carriers deny claims or reduce benefits, employers don't carry proper insurance, or benefits only partially help because the extent of the injury and it's recovery time are too large. Personal injury lawyers can help with the workers' comp claim process and deal with insurance companies, while those who are injured concentrate on recovery and rehabilitation.
What is The Process of Seeking Compensation?
Experienced personal injury attorneys will seek out the best path to maximize results for a particular case and its individual circumstances. Here is a broad outline of the process that you will go through in the event that you have been injured due to another party's negligence or intent to harm and wish to seek compensation.
Case evaluation - A skilled personal injury attorney will evaluate your case and determine your eligibility for recovering damages. This typically includes a discussion at a free consultation where you share the details of your case and a lawyer will advise you on your next steps.
Investigation - Personal injury firms often investigate accidents and events for their clients to see exactly what happened and to have the necessary details to support the case. This might include reaching out to a network of specialists such as accident reconstruction experts and other professionals that might offer insight.
Determining fair compensation - Recovering damages includes providing evidence that supports your losses. A personal injury attorney will help you obtain medical bills, earnings statements, and any other necessary documentation. This might also include enlisting experts such as life care planners and other analysts to make complex calculations regarding future losses and non-economic losses.
Filing an insurance claim - Florida requires Personal Injury Protection (PIP) coverage for all motorists. In the event that your accident is motor-vehicle related, you will begin by filing an insurance claim. In other types of accident, you might need to file a claim with a property owner's homeowners' policy or commercial policy. A personal injury lawyer can help you with these initial steps that might result in the recovery of damages without filing a lawsuit or going to trial.
Filing a personal injury lawsuit - If insurance carriers underestimate your injuries and undervalue your claim, you might need to file a lawsuit in Sarasota County Civil Court. An experienced personal injury attorney will advocate for you, negotiate a fair settlement, or go to trial if necessary.
Hire a Sarasota Personal Injury Attorney Today
Seeking compensation to recover damages from a personal injury includes complicated legal issues that are sometimes intimidating and confusing for victims. The best lawyer navigates the complexities of the legal process while aggressively pursuing the best possible outcome for you throughout the journey. No matter what type of injury you might have suffered, contact an experienced Sarasota Personal Injury Lawyer at Dolman Law Group Accident Injury Lawyers, PA that you can trust is essential to your recovery and your future.
Dolman Law Group Accident Injury Lawyers, PA - Sarasota Office
---
What Our Clients Have to Say:
"Chad Robinson always responded immediately whenever I had questions or concerns. He worked hard to make sure I received what I deserved."
Rating: 5/5 ⭐⭐⭐⭐⭐
Michelle Dorn
December 19
Client Testimonial
"AMAZING and understanding attorneys! Did great on my case and I highly recommend Dolman Law Group Accident Injury Lawyers, PA for anyone that has been injured in an accident!"
Rating: 5/5 ⭐⭐⭐⭐⭐
Koralis R.
Jan 2020
Read more reviews on Google!