Were you injured in a Sarasota Car Accident?
Sarasota County, Florida is a great place to live, as evidenced by a population of more than 400,000 permanent residents. The county's population can increase to as much as 500,000 residents during the winter, due to the influx of snowbirds—seasonal travelers (usually retirees) who migrate to warmer climates during the winter months. As both the City of Sarasota and the surrounding county continue to grow, so do the auto accident statistics. In 2017, Sarasota County recorded more than 6,600 car accidents, resulting in over 4,000 injuries. The Florida Department of Highway Safety and Motor Vehicles notes that a single-car crash can result in multiple injuries and often times has fatalities associated with it. Any type of injury requires medical attention and more serious injuries sometimes require additional surgeries, long-term medical and personal care, and expensive medicines.
The Burden of Car Accident Injury Damages
Your everyday bills won't stop just because you stopped working after you were injured; if anything, your bills will only increase now that you have medical expenses. Contacting a Sarasota car crash attorney experienced with personal injury claims is important to pursuing compensation for your injuries. Not sure whether your accident warrants an injury attorney? Read our acclaimed article where we sort out the difference between an accident that needs a Sarasota Car Accident Lawyer and one that doesn't.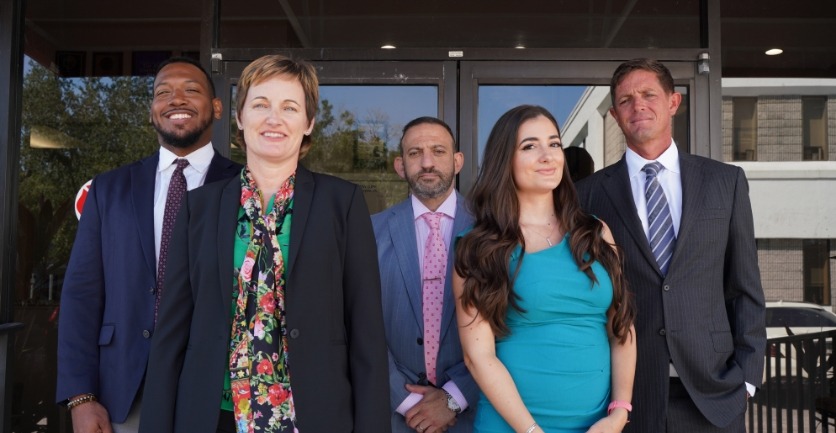 5 Most Dangerous Intersections in Sarasota
A recent investigation by Sarasota's WWSB ABC Channel 7 named the five most dangerous intersections in Sarasota. Using data collected by the Sarasota-Manatee Metropolitan Planning Organization (MPO), ABC 7 reported the following intersections as most dangerous, with number one the most serious
14th Street West and 53rd Avenue West – Approximately 50,000 cars travel through this intersection every day. While 30,000 fewer cars than the number two most dangerous intersection, the road is much narrower. The MPO gives the intersection a crash severity ranking of 2.0, meaning there is a higher risk for drivers becoming involved in a serious accident.
14th Street West and Cortez Road West – This intersection witnesses an incredibly high volume of traffic—an estimated 80,000 cars daily—putting drivers at risk for experiencing an automobile accident with serious injury.
State Road 70 and Lockwood Ridge Road in Bradenton – With an average of more than 60,000 cars a day, this intersection is highly congested, making it a hot spot for accidents.
14th Street West and 57 Avenue West in nearby Manatee County – Popular with drivers driving to and from Manatee and Sarasota counties, the heavy volume contributes to an increased risk of accidents.
University Parkway and North Lockwood Ridge Road – The MPO rates this intersection with a 1.8 crash severity rate.
Driving to work or to shop in and around Sarasota and neighboring Manatee County is something that thousands of Floridians do every day. Every driver has a responsibility to drive in a cautious and courteous manner. With so many drivers sharing Florida roadways, no amount of defensive driving can protect you from the negligent and reckless behavior of another driver. When you experience serious harm due to no fault of your own—whether at a dangerous intersection or on a city street—it is in your best interest to seek the services of an experienced Sarasota personal injury lawyer without delay.
Reported Car Accidents Involving Injuries in Sarasota
Source: www.flhsmv.gov/
Why Are Auto Accidents in Sarasota on the Rise?
Sarasota County experienced an 11.68 percent increase in accidents in just one year. Injuries from car collisions increased 10.61 percent in one year. Data from the Florida Department of Highway and Motor Vehicles (DHSMV) lists common factors that contribute to car accidents throughout the state.
Operating a vehicle in a careless or negligent way – 6,136 incapacitating injuries and 18,662 non-incapacitating injuries in one year
Failure to yield the right-of-way – 3,505 incapacitating injuries and 10,466 non-incapacitating injuries in one year
Running a red light – 689 incapacitating injuries and 2,181 non-incapacitating injuries in one year
Additional factors include DUI and road rage, among others. Many witnesses interviewed for the ABC 7 report cited driver impatience as a leading cause of accidents at the dangerous intersections. Whatever the reason, no one should suffer physically, emotionally, and financially due to another driver's negligence or reckless behavior.
A Closer Look at Distracted Driving
A recent study using data from the EverDrive app found that Florida ranks second only to Louisiana when it comes to distracted drivers. In 2016, there were 50,000 crashes attributed to distracted driving, accounting for 5 crashes every hour. These crashes resulted in 3,500 serious injuries and 233 deaths, according to data from the DHSMV. Florida is currently one of five states where police can not pull over a driver specifically for texting. While it is illegal, it is considered a secondary infraction. A police officer must pull you over for some other traffic offense first. EverQuote, Inc.—the online insurance company that released the EverDrive app results—reported that 92 percent of drivers nationwide with cell phones have used them within the past 30 days. The motion-sensing app measured aggressive turning, hard braking, and sudden acceleration, among other factors. The results were eye-opening, especially when it comes to the statistics involving Florida.
Staying Safe in Sarasota
Residents and visitors are at risk every time they travel in and around Sarasota. Sarasota County 911 dispatch reports show that during one day in October of 2018, Sarasota area fire departments responded to eight traffic crashes with injuries. If you drive throughout the region on a daily basis, it is not a matter of if but rather when you experience a serious motor vehicle accident. While we hope it never happens to us, we simply cannot predict the actions of other drivers. That's why drivers who cause harm to others must be held accountable for their actions. Take the following steps immediately following an accident:
Do seek and accept medical attention
Do provide a statement to police. It provides documentation that is helpful in pursuing your claim
Don't speak with insurance company representatives who represent the driver at fault. Refer them instead to your attorney
Do concentrate on your number one priority—your health and recovery. Leave the details of your case in the hands of a trusted attorney.
Always practice defensive driving to the best of your ability. Be aware, however, that negligent and reckless drivers are everywhere. There's nothing on their car declaring them as such, but their actions prove their disregard for others. If someone has caused you harm while you were driving in a safe manner, contact a Sarasota car accident attorney. Time is of the essence. The sooner an attorney can review your case, the sooner they can interview witnesses, review reports, and pursue fair compensation for you and your family.
One Car Crash—Multiple Injuries
An automobile collision happens in a second. Once the impact is over, the physical and emotional damage begins. Cars are replaceable while physical injuries, such as the loss of a limb, are permanent. Seek medical attention right away when involved in a car crash. Even if you feel fine, get a physical evaluation anyway as some symptoms may appear long after your accident. Depending upon the severity of your injuries, life as you know it may never be the same. Common types of serious injuries from car accidents include:
Traumatic brain injuries (TBI) – The Centers for Disease Control (CDC) define a TBI as a "bump, blow, or serious jolt to the head, or a penetrating head injury that disrupts the normal function of the brain." TBIs can range from mild and moderate to severe, with changes affecting thinking, sensation, emotion, and language. Patients with a TBI sometimes experience long hospital stays, extensive therapy, and a need lifelong personal care.
Spinal cord injuries (SCI) – The National Spinal Cord Injury Statistical Center cites vehicle crashes as the leading cause of spinal cord injuries. Estimated lifetime costs for a patient with a spinal cord injury are in the millions. Associated costs include possible home renovations to accommodate a power chair, replacement of a power chair throughout the patient's lifetime, and repeated hospital stays.
Internal injuries – Internal injuries are especially dangerous because they present no visible signs. Punctured lungs, broken ribs, and internal bleeding are a few types of internal injuries that show no outward symptoms. Important diagnostic tests at a medical facility are essential to diagnosing and treating these potentially life-threatening injuries.
Broken bones – A broken bone is another serious injury that sometimes requires surgery and extensive medical care such as physical therapy.
Soft tissue injuries – Sprains, strains, and soft tissue tears can happen in the neck, back, shoulders, knees, or other parts of the body. Soft tissue injuries can involve surgery and extensive physical therapy. These types of injuries are painful and sometimes results in permanent physical limitations.
A car accident is a serious, sudden shock to your body. Because the human body is so complex, a motor vehicle accident with a hard impact can inflict more than one injury. Improvements to car safety such as airbags and stricter seat belt laws aid in saving lives, however, serious injuries can still occur. A serious injury from an auto collision that was not your fault demands justice. Severe injuries such as those listed above can result in weeks, months, and even years of recovery. In some cases, victims never fully recover. Prepare for your uncertain future by enlisting the services of a highly skilled personal injury attorney as soon as possible.
Pursuing Justice
Under Florida Law, a vehicle accident victim must seek recovery from their own personal injury protection (PIP) coverage. Florida requires this coverage, which is not based on fault. The basis of the law is that your own policy should cover your medical expenses and other losses, regardless of who was at fault. PIP coverage is, however, limited, and because of this, sometimes fails to cover losses stemming from serious injuries. In such cases, a highly skilled personal injury attorney can review the circumstances of your accident to decide upon the best course of action. Examining how to seek recovery from negligent drivers, like drunk or distracted drivers, is something best left in the hands of an experienced personal injury attorney. Depending upon the circumstances of your case, you may receive a settlement from the at-fault driver's insurance company or a judgment from a personal injury lawsuit. With both possible outcomes, strong negotiation skills are a must for securing the best possible outcome. Insurance companies who represent the at-fault driver will try aggressive methods in order to get you to settle. Their interest is not with you, but rather in what's best for them. Many insurance companies will offer low dollar amounts in an effort to settle the case quickly. If you experience serious injuries in a car accident while driving in and around Sarasota, do not speak with the at-fault driver's insurance company—secure the services of a personal injury attorney and refer all insurance company calls to your attorney.
Have Peace of Mind With Dolman Law Group Car Accident Lawyers
A highly skilled personal injury attorney offers you peace of mind when it comes to the details of your case. Knowing that your case rests in experienced hands brings a peace of mind that is essential to your recovery. A car wreck is a serious and upsetting event. You now face unexpected medical bills and lost wages. Your future seems uncertain as the plans you had might change. When reaching out to a Florida personal injury attorney, inquire about a free evaluation. Most personal injury firms offer a free consultation in order to review your case. No one case is alike, however, letting a professional attorney review your case for free is informative for how to move forward. The time immediately after a car collision is stressful, confusing, painful, and overwhelming. Learning new skills or recuperating from a serious surgery isn't the time to worry about medical bills yet it is often top-of-mind while lying in a hospital bed. The fact that you are the victim of someone else's carelessness and negligence is something they, not you, should worry about.
Contact a Sarasota Car Crash Attorney Today
You deserve fair compensation for your medical expenses, lost wages, and pain and suffering. Pursuing a settlement or litigation is best left to the professionals who deal with similar cases on a daily basis. Securing the services of an experienced Sarasota personal injury lawyer can provide you with the peace of mind you need in order to focus on yourself and your family. Start your journey to justice by contacting a Sarasota vehicle attorney today. Dolman Law Group Accident Injury Lawyers, PA - Sarasota Office