In Spring Hill, there are a number of medical facilities where residents and visitors can go to obtain treatment for a wide variety of injuries and illnesses. Each of these facilities is required to provide a standard of care that involves the provider taking reasonable actions to prevent causing harm to a patient. Despite this legal duty, many providers make errors due to negligence that cause their patients to incur injuries during treatment.
If you've been injured due to a healthcare provider's negligence in Spring Hill, you can seek compensation for the expenses and effects of your injuries through the medical malpractice claims process. However, this process is complicated, and you might need an experienced Spring Hill medical malpractice lawyer to obtain the compensation you need for your claim.
Why Trust Dolman Accident Injury Lawyers, PA, With Your Claim?
Dolman Law Group Accident Injury Lawyers, PA, is a national law firm based in Florida with offices at 17 locations throughout the state, including Spring Hill. Our attorneys have earned a reputation as fierce litigation lawyers who are not afraid to take a case to trial if it means our client is fairly compensated for their injuries. Despite our extensive network of legal and medical professionals, we commit to providing the small firm personalization and attention to detail that our clients deserve.
We Have a Spring Hill Office to Serve You Better
Having a local personal injury attorney in Spring Hill provides many benefits, including easily reaching out and accessing assistance from those who understand the community where you live.
The legal team at Dolman Law Group understands how beneficial and reassuring it can be to have the personal services only a local attorney can provide for you during the claim. That's why we are pleased to have offices across the state representing the diversity of the communities we serve.
In Spring Hill, you can find your local office for Dolman Law Group Accident Injury Lawyers, PA, at 10485 Heley Street, between Mariner Boulevard and Lamson Avenue. Call us for your free case evaluation.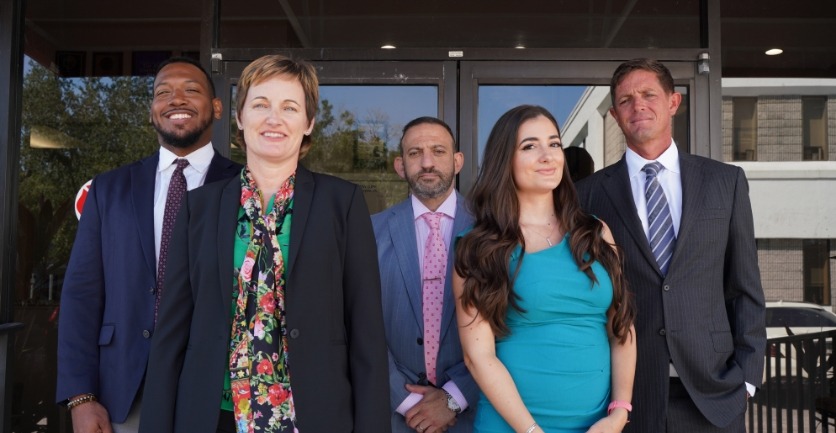 What Causes Medical Malpractice in Spring Hill?
According to a study commissioned by the Florida Safety Net Hospital Alliance, the shortage of healthcare workers in Florida is increasing.
It will continue to grow in coming years, with an estimated shortfall of nearly 18,000 physicians by 2035, including:
More than 1,500 emergency room physicians
About 500 OB/GYNs
More than 650 anesthesiologists
More than 600 cardiologists
Hundreds of shortages in thousands of other medical specialties
In addition to physician shortages, the shortages of other staff, including nurses, are also expected to increase. Staffing shortages are one of the major causes of medical errors, as physicians and facilities are pressured to take on more cases than they can logistically provide proper care to, and can cause other lapses in safety due to overloaded staff.
Types of Medical Malpractice
As explained by the American Board of Professional Liability Attorneys (ABPLA), medical malpractice occurs when a hospital, doctor, or other health care professional—through a negligent act or omission—injures a patient.
The following characteristics are present in medical malpractice claims:
A violation of the standard of care that patients in medical facilities throughout Spring Hill reasonably expect to receive when seeking care at local medical facilities.
An injury that resulted from medical negligence. Not all medical errors are medical malpractice, and medical malpractice claims can only be made if an injury has occurred.
The injury resulted in significant expenses and psychological impacts to the claimant. Because medical malpractice claims are among the most difficult to work on, they are also the most expensive, with increased costs to account for medical experts and other types of evidence and testimony not featured in other types of personal injury claims.
Here is a look at the most common medical errors resulting in medical malpractice claims.
Diagnostic Errors
After analyzing 25 years' worth of medical records, researchers from Johns Hopkins Medicine have found that diagnostic errors cause the largest number of claims. They also result in the most severe patient harm and the highest payouts on medical malpractice claims, with $38.8 billion paid out to claimants during a 15-year period.
Diagnostic errors include:
Missed diagnosis, which occurs when a health care provider has information from patient history and even diagnostic or laboratory tests that can lead them to make a correct diagnosis and they fail to do so.
Wrong diagnosis, which occurs when a health care provider uses the information provided by the patient and medical tests to come up with a diagnosis, but it is not the correct diagnosis. A wrongful diagnosis can result in a patient obtaining the wrong type of treatment to address their condition.
Delayed diagnosis, when the health care provider takes an unreasonably long time to diagnose and begin properly treating a condition, which often leads to the worsening of the condition during the delay.
Failure to Treat
Failure to treat occurs when a healthcare provider fails to diagnose or treat a diagnosed condition properly, causing the patient to incur further harm. Examples of failure to treat can include a physician failing to order the types of diagnostic or laboratory tests that would inform a diagnosis, mishandling the products of medical tests so that they are unusable in making a diagnosis, or diagnosing a condition and failing to provide a treatment plan that helps the patient recover from the condition.
Prescription Errors
Research published in the British Journal of Pharmacology indicates that medication errors are widespread in medical facilities and as a result of pharmacist negligence. These errors can include providing the wrong medication for the patient's condition, the wrong dose to safely and effectively treat the condition or the wrong method of administering the drug.
Surgical Errors
Several mistakes can be made during surgery, and these errors have an extremely high risk of causing patient injuries.
Surgical errors that can result in a Spring Hill medical malpractice claim include:
Operating on the wrong part of the patient's body.
Damaging healthy organs and tissues during the surgery.
Leaving medical instruments, towels, or sponges in the body cavity after the procedure is complete.
Administering too little or too much anesthesia to the patient.
Failing to monitor the patient properly as they recover from the procedure.
Birth Injuries
While it is not uncommon for infants to suffer minor injuries during the birth process, when a provider's negligence during pregnancy, labor, delivery and the provision of postpartum care results in injuries to the mother or newborn, it can result in a birth injury claim.
Birth injuries can occur as a result of provider negligence, including:
Failure to diagnose a medical condition in the mother or fetus during pregnancy that could result in birth complications or harm to the mother or fetus.
Failure to perform a cesarean section when medically indicated.
Failure to properly monitor the vitals of both the infant and the mother during labor and delivery.
Improper use of medical instruments designed to assist in the delivery process, such as vacuum suction or forceps.
Failure to Obtain Medical History/ Informed Consent
To treat a patient, providers are required to obtain a medical history that includes an explanation of symptoms the patient is suffering, as well as other information, including allergies to any types of medications and family medical history that can aid in forming a diagnosis.
Providers are also required to explain the type of treatment being offered to the patient, any known risks, and any alternative treatment options available for the patient. If this information is provided to the patient and they agree to the procedure, it is known as obtaining informed consent.
About the Medical Malpractice Claims Process in Spring Hill
Medical malpractice insurance is a type of professional liability insurance maintained by most healthcare providers to protect them financially against claims made by patients who have been injured due to medical negligence. To obtain or retain a license to practice in Florida, providers are generally required to either show proof of a medical malpractice liability policy of at least $100,000 per claim or $300,000 aggregate coverage a year or the financial ability to pay at least this much for claims.
When a doctor makes an error that results in an injury, a claimant can seek compensation for the expenses and psychological effects they incurred as a result of that injury by filing a claim against the provider's insurance policy or the provider itself if they do not have a medical malpractice policy.
Suppose the insurer (or provider) fails to fairly compensate the claim by paying the amount demanded or engaging the claimant in a settlement agreement. In that case, the claim can be filed as a medical malpractice lawsuit for a judge or jury to hear the facts of the case and make determinations about liability and compensation.
Most claimants have two years to file their medical malpractice lawsuits in court. In some cases, four years will be permitted to file the claim when there is a delayed discovery of the injury or the realization that it was the result of a medical error.
It is highly crucial to file the lawsuit within the state's statute of limitations, as failure to do so can result in the claimant being barred from using the court process to seek compensation for their claim. It can also result in the at-fault provider's insurance company refusing to settle the claim. Once the statute of limitations has expired, the insurance provider no longer faces legal consequences for not paying the claim.
In order to file a medical malpractice claim in Florida, the claimant and their attorney must file a notice of intent, which includes an affidavit of merit. The affidavit requires the claimant's attorney to find a similarly positioned medical professional to review the case and determine that there is likely a just cause for filing the claim.
Why You Need an Attorney for this Type of Claim
Obtaining the required affidavit of merit to show that medical negligence likely took place and caused the patient's injuries is only one of the complicated legal requirements a claimant must meet to obtain a successful resolution to their claim.
Many types of evidence and documentation must be obtained during the claim process. Meeting these requirements can be challenging for claimants without legal experience or a team of legal professionals to assist them. Working with the experienced medical malpractice attorneys from Dolman Law Group Accident Injury Lawyers, PA may increase the likelihood of success in your claim.
In addition to helping you obtain evidence and meet the legal requirements of filing a claim, your attorney can assist you with other aspects of the claims process. This includes negotiating a settlement with an insurance provider motivated to make a claim go away for as little money as possible or going up against the insurer or provider's legal counsel in court. Your Spring Hill medical malpractice attorney can also provide the guidance you need to make crucial decisions about your claim.
Were You Injured as a Result of a Medical Error? Dolman Can Help
Medical malpractice claims are a complicated type of legal matter. The legal team at Dolman Law Group Accident Injury Lawyers, PA, has extensive experience with this type of claim and has a local office to provide you with the most personalized services available. Obtaining a free case evaluation is as simple as calling us at (352) 612-3437 or contacting us online. Reach out to us today to begin your legal claims process or to learn more.