When you are traveling along Bonita Springs roadways, the last thing anyone is expecting is to be involved in a collision. However, thousands of people in Lee County are involved in traffic accidents every year. Many of these accident victims learn the other driver was impaired, leading to an entirely different set of circumstances to deal with.
After a Bonita Springs accident involving a drunk driver, a Bonita Springs drunk driving accident lawyer at Dolman Law Group can help you. We have experience with these collisions and are here to help you get justice.
Why Hire Dolman Law Group Accident Injury Lawyers, PA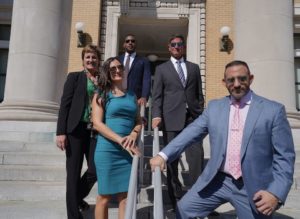 At Dolman Law Group, our attorneys have decades of experience handling cases on behalf of injured victims. We serve as aggressive advocates for those who have suffered an injury because of another person's bad judgment or deliberate action.
We will review all the facts associated with the accident, and we will help make sure that your rights are protected. We will work hard to make sure that each victim gets the best possible settlement for their injuries and the financial losses suffered because of their injuries.
Congested Roads in Bonita Springs
Residents of Lee County are accustomed to congested roadways. The average Bonita Springs resident spends approximately 22 minutes traveling one way to work. With several tourists enjoying the many parks, playgrounds and having easy access to spring training for major baseball teams, it is easy to grow complacent about the traffic.
However, three major roads see unusually high traffic, including:
Interstate 75. The interstate covers more than 400 miles and serves as a major travel route for residents and visitors in Florida. I-75 serves as a major route for truck traffic, making the roadway especially congested.
State Route 41 "Tamiami Trail." This road is more than 475 miles long, starting at the Georgia border and ending near Miami. Unsurprisingly, this route can be busy, and being a gateway to Georgia, the chances of encountering a drunk driver are significant.
County Road 865. While CR865 covers less than 50 miles, it is still an important roadway for residents and visitors. This road intersects with I-75 and U.S. 41, presenting unique travel hazards.
Across the Bonita Springs area in one recent year, there were more than 2,600 citations issued for driving while under the influence of alcohol or drugs. There were more than 5,500 injury crashes during that year. Hundreds of people have had their lives altered because of these accidents.
Following a Drunk Driving Accident Injury in Bonita Springs, FL
With more than 5,000 people injured and several fatalities, it is not surprising that many drunk driving accident victims do not know where to turn following an accident. There are certain steps a victim may take to ensure they protect their legal rights after an accident.
These include:
Get to a safe location. One of the most important steps an accident victim can take is getting their vehicle to a safe location in the immediate aftermath of an accident. Getting to the shoulder of the road whenever possible can help a victim avoid further injury.
Contact law enforcement. Anytime someone is injured on Florida roadways, police must be notified. They will arrive at the scene and take statements from those involved in the accident. You must report the accident if the accident caused more than $500 in damage or injured someone.
Seek medical care. Some victims have no indication they are injured following a car accident. Even if you believe you are not injured or think your injuries are minor, you should seek medical attention. Make sure the medical professional know you have been in an auto accident.
Follow up on medical advice. Always follow the instructions provided by medical providers. This is crucial, as failure to do so could jeopardize your claim for injuries.
Contact an experienced attorney. Before reporting an injury to an insurance company, contact a lawyer who has experience handling accidents. This step can prevent a victim from making mistakes which could be used to minimize their claims.
The more information you can collect at the accident scene, the better. Someone should collect the other driver's contact information, driver's license number, and insurance information. In addition, if there were witnesses to the accident, their contact information should be recorded. These items will help victims when they meet with a drunk driving accident lawyer.
Injuries Suffered in Drunk Driving Accidents on Bonita Springs Roadways
When drivers are under the influence, they are not always paying attention to the roadways around them. Furthermore, their reaction time is significantly slower than a driver who is not impaired. Impaired drivers may also have problems with judging distance making it harder for them to slow down and stop their vehicles.
Some of the injuries a victim may suffer in a drunk driving accident include:
Broken bones. Depending on the type of accident, victims may suffer a fracture in a major bone, such as their leg or arm. Depending on whether the victim was traveling at the time of the collision or a stop, they may suffer more severe breaks, including ribs, pelvis, or compound fractures.
Head and neck injuries. Whether a driver is at a complete stop or traveling when their car is hit by another, the driver is jarred. The accident's impact often thrusts the driver's head forward and snaps back to its normal position. The victim may suffer whiplash or a more severe injury, such as traumatic brain injuries.
Internal injuries. When an airbag deploys during a car wreck, the driver can suffer injuries, particularly to the chest and face areas. While these safety devices save lives, you may still suffer a serious injury when they deploy.
These are some common injuries a victim may suffer but are not a comprehensive list of injuries. Several factors impact the injury's severity, including the size of the vehicles involved, the speed, and the age and overall health of the victim. The more serious an injury is, the more likely a victim will need help from Dolman Law Group Accident Injury Lawyers, PA to help them get the compensation they deserve.
Insurance and Drunk Driving Wrecks in Bonita Springs
One of the challenges accident victims across Florida face is our auto insurance rules. Drivers are operating under a no-fault law, which means they must report the accident to their insurance company. Every driver operating on Florida roadways must carry a minimum of $10,000 in personal injury protection (PIP).
If you have severe injuries, the $10,000 may barely cover your out-of-pocket costs.
PIP benefits and requirements include:
Medical expenses. While no-fault insurance offers some benefits, it only pays 80 percent of reasonable medical expenses and lost income of 60 percent.
Seeking treatment. Victims must seek medical care within 14 days of an accident.
Denied claims. PIP coverage should make filing an insurance claim easier. However, PIP insurers can deny claims for many reasons.
Chances are high that you will exhaust the $10,000 in PIP benefits quickly. You also face limits as to when you may sue to get compensation for your losses. Victims must suffer a serious injury before they can hold the responsible driver financially liable.
Car Accidents: Serious Injury Defined
Before a Bonita Springs drunk driving accident victim can file a lawsuit against the responsible driver, they must meet the serious injury threshold.
A serious injury:
Causes scars or disfigurement, which is permanent
Results in the loss of a bodily function
Results in a disability from which victim will not recover
Medical treatment is a necessity following an accident on Bonita Springs roadways. Once a victim learns the extent of their injury and the long-term consequences of the injury, they may realize they can hold the other driver liable for the financial issues created because of the damage. Remember, traumatic brain injuries, back and neck injuries, and facial injuries can all result in long-term problems for a victim.
Regardless of the severity of an injury, it is helpful to contact an attorney with experience with Florida's no-fault statutes. At Dolman Law Group Accident Injury Lawyers, PA, we completely understand the laws and how they may impact an accident injury claim.
Insurance Company Actions Following an Accident
When someone has been involved in a Bonita Springs drunk driving accident, they may feel that since they must file their claim with their insurance company, they do not need to contact a lawyer. This could be a severe mistake.
After an accident is reported to the insurer, the claims process begins with an adjuster assigned to handle the resolution. However, the adjuster's job is not always to ensure the victim gets the benefits of their policy. Instead, their job is to protect their employer and help them minimize the claim amount paid to the victim.
When an insurance adjuster contacts a victim, some things should be avoided, including:
Taking the blame for the accident. Provide only the facts of the accident to the adjuster. Taking any responsibility for the accident could impact the victim's ability to seek additional compensation when they have a severe injury.
Agreeing to recorded statements. Providing a recorded statement to an insurance adjuster is never a good idea. Victims should remember that adjusters are trained to ask specific questions, which can later be used to reduce the amount of a claim.
Discussing their physical condition. A victim's medical records from the treatment received immediately after the accident should be presented to afford the adjuster with the victim's injuries.
These are some reasons why our experienced Bonita Springs drunk driving accident lawyers can help you. A lawyer can help a drunk driving accident victim understand what they should and should not do when discussing their claim with an adjuster.
Victims should never sign documents without legal review. Documents may include requests for medical records, copies of the police report, and more. Signing any document received from an insurer could result in a victim forfeiting certain rights.
Hiring an Attorney Versus Handling Claims Alone
Before deciding to handle an accident claim independently, a victim should carefully weigh the pros and cons of hiring a lawyer. If a victim is seriously injured, handling claims alone is not in their best interest. If the accident resulted in only minor injuries, such as bumps and bruises, working with a lawyer may not be necessary. However, before making that decision, a free consultation can help ensure victims are prepared to deal with the insurance company.
Contact Our Experienced Drunk Driving Accident Lawyers
While there are slightly more than 55,000 people in Bonita Springs, the number of tourists who travel through the area means a higher incidence of roadway accidents than in other areas.
If an accident involving a drunk driver injured you or a loved one, contact us for help. With offices across both Florida coasts, you can easily reach Dolman Law Group Accident Injury Lawyers, PA.
Bonita Springs Drunk Driver Accident Injury FAQs
When someone suffers an injury in a Bonita Springs accident caused by a drunk driver, they often have many questions that need answers. While it is best to discuss your concerns with a Bonita Springs accident injury lawyer, Dolman Law Group Accident Injury Lawyers has compiled some of the most common questions we are asked and provided answers. Remember, these answers are general and are not a substitute for legal advice.
What Should Do if a Drunk Driver Injures Me?
First, ensure you do not engage with the driver beyond getting their name, driver's license number, and insurance information. Avoiding unnecessary contact can avoid confrontation. If your car damage exceeds $500 or you are injured, contact 911 immediately.
If you can do so safely, take photographs of the scene, including the damage to each vehicle, and obtain names and contact information for any witnesses.
Should I Seek Medical Attention After an Accident?
Yes. Florida is a no-fault insurance state. When involved in an accident, a victim has only 14 days to seek medical care, or they could forfeit the right to seek compensation for medical bills under their personal injury protection (PIP) policy.
No-fault rules limit your coverage. Victims can expect their PIP policy to cover 80 percent of their medical expenses so long as it is within their policy limit and they are reasonable and necessary. Car accident victims must file a PIP claim before pursuing a personal injury claim against the driver. Additionally, the injuries must qualify as serious or exceed the PIP coverage to file a personal injury claim.
Can a Passenger in a Vehicle Operated by a Drunk Driver Sue the Driver?
If a passenger is in a motor vehicle operated by a drunk driver, that driver may be legally responsible for the injuries the passenger suffers. The best option in these cases is to contact an attorney in Bonita Springs with experience handling drunk driving cases.
Can Bars or Restaurants be Held Liable for Serving a Drunk Driver?
No. Under Florida statutes, a you may hold a host liable for a drunk driver's negligent conduct only if the person who caused the accident is "habitually addicted" and receives service despite that knowledge. If clear evidence demonstrates such a situation, you may hold the establishment accountable under Florida Dram Shop statutes. An attorney can review the details of the case and determine if an establishment is potentially liable.
What Damages Can a Victim of a Drunk Driver Claim?
When someone suffers a serious injury from a drunk driver, a variety of compensation may be available.
Some of the possible areas of compensation include:
Medical bills. Serious injuries often mean a victim needs medical care from specialists, undergoes physical therapy sessions, and may need mental health services. Someone driving under the influence may be liable for a victim's current and future medical bills.
Income and benefits. When a drunk driving accident victim cannot return to their normal job because of their injuries, they lose wages and benefits. If their injuries are permanent, they may never be able to return to work and may be able to claim lost future earning capacity. An experienced Bonita Springs car accident lawyer can help victims recover these losses from the person responsible for their injury.
Punitive damages. A drunk driver who acts especially heinously or with significant disregard for human life may need to pay punitive damages. This compensation deters similar behavior rather than making the victim whole.
Drunk driver victims should seek guidance from an accident injury lawyer to better understand their right to compensation.
What Special Rules Pertain to Drunk Drivers Under Florida's Laws?
While Florida requires most drivers to maintain a minimum of $10,000 in auto coverage, a driver must carry a larger policy for three years following a drunk driving conviction. An attorney can investigate a drunk driving accident and determine if the driver operated under this financial responsibility statute.
Does a Victim Have to Wait for the Criminal Case to Resolve?
No. While it can be helpful to have a drunk driver convicted for their wrongdoing, it is not necessary before pursuing a claim. When filing a claim against a drunk driver, the suit is considered a civil action separate from any criminal charges someone may face due to driving under the influence.
The Insurance Company Sent a Pile of Documents to Sign. Should I Sign Them?
Not without having them reviewed by an attorney first. Keep in mind there are rights that a victim of a car accident has under Florida laws. The more serious an injury someone has, the more likely the insurance company will attempt to minimize a victim's claim. The insurer needs to limit their liability, and sections of these documents may be designed to infringe on or forfeit a victim's rights.
What Happens if I Cannot Return to Work Due to Injuries?
A car accident victim's injury that prevents returning to work meets the serious injury requirement under Florida law, allowing them to file an injury claim against the driver.
When a victim's medical team determines with a degree of medical certainty that they have reached their maximum recovery, the victim may still suffer issues that prevent them from returning to work, including:
Traumatic brain injuries
Amputated limbs
Back injuries which resulted in ongoing pain or paralysis
These complicated cases require the immediate assistance of a skilled car accident attorney to ensure they get the compensation they deserve.
If an Injury Is Only Minor, Should I Contact an Attorney?
Contact an attorney when a drunk driver injures you.
Just because a driver may file a claim under their own insurance does not mean the insurer will just pay the claim. Sometimes victims are surprised when their own insurer denies their claim.
Remember that Florida has a very high rate of drivers operating without insurance. The Bonita Springs area has a nearly 6 percent uninsured motorist rate.
After an accident with an uninsured motoris, the victim may need to file a claim with their own underinsured/uninsured driver policy. A victim's own insurer can refuse to cover a victim's expenses through a confusing process. Dolman Law Group can negotiate with your insurer or the insurer of any liable party to pursue the maximum compensation.
Why Would an Insurer Deny a PIP Claim?
Personal Injury Protection covers a portion of initial medical expenses from a car accident, no matter who was at fault. Victims are obligated to pursue a PIP claim to cover their expenses. An insurer can still deny a personal injury protection (PIP) claim for several reasons.
Some of the most common include:
Failure to seek medical care. If a drunk driving accident victim fails to seek medical care promptly, they may have their claim denied.
Pre-existing condition exclusion. In some cases, if the collision merely exacerbated a pre-existing condition, the insurance company may deny the claim.
Policy exclusions. Some victims do not understand what their policy covers, which could result in a denied claim.
If the victim's injury qualifies as serious or exceeds the PIP coverage, they may file a claim against the responsible driver's insurance. Consult a drunk driving accident attorney at Dolman Law Group Accident Injury Lawyers, PA before giving up on compensation if your insurer denies your PIP claim.
How Much Can I Expect to Collect in Compensation?
There is no one-size-fits-all answer to this. Every case is unique. Victims are not at the same level of health before an accident, not every car is the same size, and every accident occurs under different circumstances.
When meeting with a car accident injury lawyer, we will review your case, including medical records. You can expect that when you work with Dolman Law Group Accident Injury Lawyers, we will fight to get the maximum settlement for your injuries and losses.
How Long Will It Take for a Claim to Settle and Be Resolved?
Insurance companies may want to settle the claim quickly and move forward. The adjuster will negotiate in good faith toward a fair settlement, which is good news for victims. However, in other cases, an insurer will draw out negotiations hoping the victim gets discouraged.
A lawsuit may be necessary when an insurer refuses to negotiate in good faith, which is another good reason to seek the assistance of a lawyer early in the claims process. When a lawyer works on a claim, they will also prepare the case for court in case necessary.
How Can I Pay for a Lawyer if I Cannot Work?
One of the concerns victims of an accident have is affording legal fees. A car accident victim out of work may already face financial challenges. We know this is a real concern.
Dolman Law Group Accident Injury Lawyers, PA, makes services accessible through:
Free Consultation. Accident victims can contact our offices for a free consultation. During this consultation, we review the case, and a lawyer will provide information about the victim's legal options.
No Obligation. Remember that a free consultation does not obligate you to hire Dolman Law Group. The consultation is free and offers an opportunity to understand your legal options and ask questions.
Contingency Fees. We accept nearly all injury cases on a contingency fee basis, meaning that unless we can successfully negotiate a settlement or court award, you will not pay any legal fees for our services.
We can discuss options for paying ancillary fees if we cannot obtain a settlement.
How Much Control Do Victims Give Up When Hiring a Lawyer?
None. While a lawyer will handle negotiations, answer calls, and deal with correspondence with the insurance company, the victim always has the final say in whether a settlement is accepted or not. Dolman Law Group will always discuss any settlement offer received with the victim. We will provide a victim with the pros and cons of accepting an offer, but the client has the final say.
Should a Victim Accept the First Offer Made by an Insurer?
In most cases, no. If an insurance company makes a fast settlement offer, this often means they are trying to ensure they are paying the least amount. Remember, the more serious the injury, the more the insurer may have to pay out on a claim.
Once a settlement is accepted, the insurance company has no further liability to a victim. That means the victim cannot receive any more compensation, regardless of how many medical bills remain unpaid or continued wages the victim loses after a settlement. This risk is why hiring a lawyer is so important.
Are There Other Reasons for Hiring a Bonita Springs Drunk Driving Accident Lawyer?
Yes, among some of the previously stated reasons, when you hire a Bonita Springs drunk driving accident attorney at Dolman Law Group, you will hire someone with legal insight, settlement negotiating skills, and litigation skills for the courtroom. You need someone with these qualifications when you have a complicated case. Never handle this process alone when an accident caused serious injuries, as the complicated legal issues can cause you to lose the compensation you need.
Contact an Experienced Bonita Springs Drunk Driving Accident Lawyer
When you or a loved one is injured in a drunk driving accident, you can contact us for help. We have offices across both Florida coasts. Contact the Bonita Springs personal injury lawyers at Dolman Law Group Accident Injury Lawyers, PA, at (239) 307-2634 or online for your free consultation and find out how we can put you on your path to recovery.