When you request a ride on a rideshare service like Uber or Lyft while traveling through Bonita Springs, you do not expect to become the victim of a rideshare collision. Whether it is a quick trip towards the beach along Bonita Beach Road or Hickory Boulevard you are traveling within or out of the area along U.S. Highway 41 or I-75, you could find yourself in an accident as a rideshare passenger or as an occupant in another vehicle.
At Dolman Law Group Accident Injury Lawyers, PA, we know how hard it can be to deal with insurers and at fault parties, but when an accident involves a rideshare service, the legal issues and potential complications can be significant. Hiring us to represent you in a rideshare insurance claim and case can help you seek the maximum compensation available and give you peace of mind knowing your case is in knowledgeable and capable hands.
Why You Should Call Dolman Law Group Accident Injury Lawyers, PA, After a Rideshare Accident in Bonita Springs
At Dolman Law Group Accident Injury Lawyers, PA, we are a nationwide law firm serving clients across the country. Since 2004, we have been representing victims of negligence against insurance companies and the parties responsible for their injuries and damages.
We care about our clients and the challenges they face within their communities, and we want to help you fight for the compensation you deserve in your rideshare case. Insurance companies for rideshare services like Uber and Lyft have lawyers protecting their interests and bottom line. You need a lawyer with experience dealing with insurance companies in rideshare claims.
Our results speak for themselves. We cannot guarantee a specific outcome in any case. However, we can share our success stories in helping clients like you reach a resolution for their damages after a rideshare crash. Such as the case of a victim suffering injuries in a rideshare accident who obtained compensation of $939,000 with the assistance of a lawyer from our team at Dolman Law Group Accident Injury Lawyers, PA.
We want to make our services and team as easily accessible as possible for Bonita Springs personal injury victims suffering injuries at the hands of another party. Our centrally located office location in Bonita Springs is on Bonita Beach Rd, just minutes away from Bonita Beach and off Exit 116 of the I-75. Contact us to book a free case consultation at a time that is convenient for you.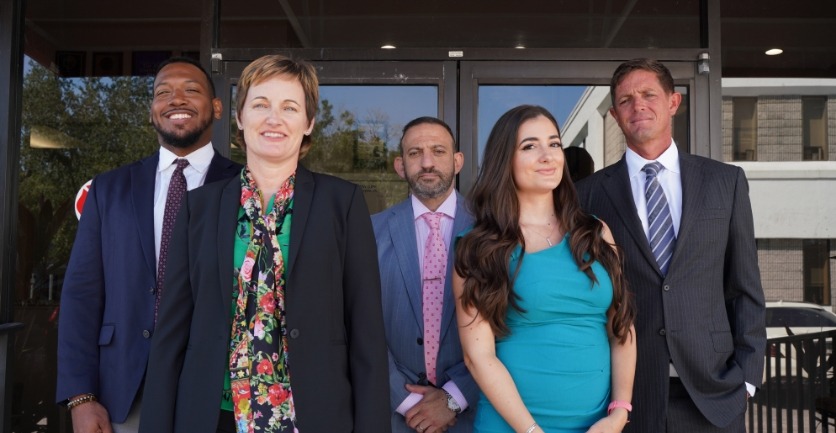 Compensation That You May Recover Following a Bonita Springs Rideshare Collision
Rideshare accidents can involve just the rideshare driver or other vehicles and drivers that influence who may be liable and the coverage available to you as a victim of the rideshare crash.
While we cannot predict the exact amount possible as monetary compensation in a case, we can help you understand the extent of your damages and losses arising from the rideshare crash. While insurers and other parties are looking to minimize their liability to you and the losses you incur, we are here to help you delineate the detrimental impacts and overwhelming damages you sustain during the accident and its aftermath.
Knowing the damages in your case can help you and your lawyer decides how to move forward, what you can expect as far as maximum compensation, and how an attorney can negotiate a possible settlement in your case.
Damages in a rideshare accident may include:
Medical costs and expenses for treatment of your injuries, now and in the future.
The income losses you experience in the immediate aftermath of the crash and any potential impact on future income.
The personal pain and suffering you endure from the injuries you sustain, the emotional and mental trauma of the accident, and the impacts on you during your physical injuries' treatment and rehabilitation process.
Property damage you incur as a result of the accident. This might include the cost of repairs or the total loss of your vehicle, if you were in another car during the crash.
Where Do Most Rideshare Accidents Occur in Bonita Springs?
A rideshare accident can happen anywhere. However, busy hotspots in the area with heavy traffic and congestion can increase the risk of a crash involving a rideshare vehicle.
Whether on your way to work, running daily errands, or visiting area attractions such as Little Hickory Island Beach, The Wonder Gardens, or attending a concert at Riverside Park, a rideshare accident could injure you.
The most frequent roads by travelers in the Bonita Springs area, such as U.S. 41 and Bonita Beach Road, are also the most likely locations where a rideshare accident can happen.
Rideshare Accidents and Rideshare Insurance Coverage Availability
When it comes to a rideshare accident, your legal options as a victim can depend on who is to blame in the collision, the parties involved, as well as the status of the rideshare driver at the time of the crash. In most cases, a lawyer could help you file and negotiate an insurance claim settlement.
If the rideshare driver is to blame for their crash, it may be their own personal liability coverage or the rideshare coverage that may apply to the losses. However, suppose another driver is to blame or multiple parties share in the negligence leading to the accident and your damages. In that case, the situation can become more complex and figuring out who is responsible and for what amount becomes a much more tedious process.
Big rideshare corporations such as Lyft and Uber have liability insurance policies to cover damages should an accident occur involving one of their drivers. However, these policies do not cover every accident, and the amount of compensation available can depend on several factors.
How can the stage a rideshare driver is in during a ride affect the insurance coverage available to a victim?
The rideshare driver has the application off at the time of the crash.
When this occurs, the company considers that the driver is not engaged in rideshare activities but is using the vehicle for their personal use. When a crash happens at this time, the rideshare insurance coverage does not cover the damages, and a victim may need to seek compensation through an insurance claim to the rideshare driver's personal vehicle insurance, their insurance or another at fault party's insurance coverage.
An attorney can shed some light on what options are available to you in this situation and how you may seek compensation from the appropriate parties.
The rideshare driver is active and available on the rideshare application awaiting a ride request.
If a crash happens in this stage, then the company considers the rideshare driver engaging in rideshare activities and may offer third party coverage for damages from a rideshare crash up to $50,000 in bodily injury protection per person and $100,000 per accident, as well as up to $25,000 in property damage per accident. A rideshare accident lawyer can go over your estimated losses and advise you as to the best path to seek maximum compensation for your rideshare damages.
The rideshare driver is currently carrying passengers to a destination or on their way to pick up a rider.
When an accident happens during this stage of a rideshare ride, then the maximum liability insurance coverage may apply to your case. The coverage, in this instance, can be up to $1 million in third party liability for damages, including bodily injury and property damage. This coverage can be available to passengers of a rideshare involved in a rideshare accident or other possible victims of a rideshare crash.
A rideshare accident attorney understands the ins and outs of rideshare policies and when they are likely in effect at the time of a rideshare crash. Your lawyer will investigate your accident to determine whether the maximum coverage is available to you as a rideshare accident victim.
Possible Injuries and Impacts on Rideshare Crash Victims
As a rideshare passenger or an occupant in another vehicle during a rideshare crash, you are at risk of sustaining serious physical injuries. Although most victims may ultimately make a full recovery and heal, others can face a long road of rehabilitation and may develop disabilities and impairments that affect their day to day life.
These consequences from rideshare accident injuries can affect how you feel physically and emotionally and your ability to meet the demands of your job and daily responsibilities.
Common injuries that can happen in a rideshare accident include:
Head or neck injuries
Back or spinal cord injuries
Broken bones and fractures
Soft tissue sprains, strains or tears
Lacerations
Burns
Internal injuries
How Do Insurance Companies Handle Rideshare Accidents?
Dealing with an insurer after a rideshare accident is difficult. When there are multiple parties or victims involved, those challenges multiply. Insurance companies will process a rideshare accident on their terms when a victim does not have an attorney to represent their interests.
Representatives of the insurance company will first determine who is at fault and then who they believe is liable for your injuries and damages if the claim goes forward and does not end in a denial. When the claim moves into the damages determination, the insurance company will want to reduce the losses to them as much as possible.
They may not value your damages and losses fairly or may fail to consider specific categories of damages altogether as part of a settlement offer. Hiring a rideshare accident attorney in the days following a rideshare crash can give you the best chance at reaching a positive resolution in your case through the insurance claims process. A rideshare accident lawyer can take into account your needs and interests as they try to reach an outcome to your benefit.
Suggestions When Navigating the Aftermath of a Rideshare Accident in Bonita Springs
The approach you take following a rideshare accident can have an impact on your legal options for compensation and the possible outcome of your case.
Focus Your Energy on Healing
It is important to ensure you do everything you can to heal properly to determine the extent of your injuries and the impacts your injuries can have on your life after the accident and your rehabilitation. An insurer may look into the treatment prescribed to you and whether you follow doctor's orders and follow through with appointments, therapies and treatment when determining your compensation amount.
Gather Any Evidence Reasonably Available to You
When you are in a rideshare crash, the last thing you want to do is track down evidence and witnesses to prove your claim and case. That is not something you should have to do or worry about when you are trying to heal. Instead, you should gather any documentation you have and set it aside for when you meet with your lawyer. This may include photographs, videos, police reports, medical records or communications sent to you from other parties in the case.
Call Dolman Law Group Accident Injury Lawyers, PA, for a Free Case Consultation
Do not hesitate to call a Bonita Springs auto attorney following a rideshare accident. At Dolman Law Group Accident Injury Lawyer, PA, we can offer you a free case consultation at your convenience to discuss the specifics surrounding your rideshare accident case and determine what options may be available and how we may be able to help you move forward.
How Can Dolman Law Group Accident Injury Lawyers, PA, affect a Rideshare Accident Claim?
Having a lawyer at your side can make a big difference in a rideshare accident insurance claim. Our team has experience dealing with rideshare insurance companies and representing rideshare accident victims. We know how to fight for you and your rights to seek the compensation that may be available to you. Contact us at Dolman Law Group Accident Injury Lawyers, PA, at (239) 307-2634 for a free case consultation at no cost or obligation to you.