Dogs have powerful jaws that can quickly cause extreme damage when they act aggressively, leaving victims with serious physical and emotional harm. Severe dog bites can lead to permanent scars, post-traumatic stress disorder (PTSD), and life-threatening infections due to bacteria in a dog's mouth.
If a dog attacks you in Spring Hill, you may deserve compensation for your medical bills, lost income, and other damages.
At Dolman Law Group Accident Injury Lawyers, PA, our team of experienced Spring Hill dog bite lawyers can explain your best options under Florida's personal injury laws and ensure you don't have to deal with these difficult consequences alone.
Spring Hill Dog Bite Lawyers: Why Choose Us
After a dog bite, you need a team that understands Florida's intricate dog bite laws. At Dolman Law Group Accident Injury Lawyers, PA, our team has years of experience, giving us an in-depth understanding of how to protect your best interests and provide support during this difficult time.
From substantiating your damages following an attack to negotiating a settlement with the liable dog owner's insurer, our attorneys handle every aspect of the claims process. That means you can focus on your physical recovery, knowing that your attorney is managing your legal case effectively and professionally.
If you're in Spring Hill, and need skilled legal guidance after a serious dog bite incident, we're here to advocate for you and ensure you obtain fair compensation.
<iframe width="200" height="113" src="https://www.youtube.com/embed/sYGkfII8vzc?feature=oembed" frameborder="0" allow="accelerometer; autoplay; clipboard-write; encrypted-media; gyroscope; picture-in-picture; web-share" allowfullscreen title="When to Hire a Car Accident Lawyer"></iframe>
The Serious Implications of Dog Bites
Dogs have strong predator instincts that can trigger in an instant. These unpredictable situations can quickly become violent attacks, especially when larger breeds get aggressive. Dog attacks have serious dangers for anyone, but children are more likely to be victims and vulnerable to serious harm. The consequences of dog bites are often severe and long-lasting, including:
Physical Injuries
The most common injuries from dog bites are puncture wounds and lacerations from a dog's teeth breaking the skin.
The injuries from a serious attack, however, can be far more destructive:
Torn flesh and muscle: In aggressive attacks, dogs can tear off a chunk of skin or muscle, leading to severe pain, bleeding, and potential surgery.
Broken bones: Larger breeds of dog, with their powerful jaws, can exert enough pressure to break bones.
Infections: Bacteria from a dog's mouth can introduce infections, such as cellulitis, or more serious conditions, such as sepsis.
Nerve damage: Particularly aggressive bites can damage underlying nerves, leading to decreased sensation or chronic pain in the injured area.
Permanent scarring: A dog's teeth can cause significant tissue damage, which might leave behind raised scars that lower a victim's self-esteem and may require corrective surgery.
Psychological Harm From Dog Bites
Beyond physical injuries, the terrifying experience of a dog bite can leave lasting psychological scars. Many victims, especially children, may develop a deep-rooted fear of dogs or suffer from PTSD. Anxiety, nightmares, and flashbacks relating to an attack can interfere with a victim's daily life, making simple activities, such as walking in a park, extremely challenging.
Types of Damages Dog Bite Victims May Recover
Just as with other personal injury cases, victims of dog bites in Florida have the legal right to pursue compensation for their physical and emotional suffering.
Potential damages that victims might recover include:
Medical expenses: These cover everything from the initial treatment for treating a victim's injuries to ongoing or future costs.
Lost income: If an attack caused a victim to miss work or affected their ability to continue working in the same job, they can claim reimbursement for lost earnings.
Pain and suffering: Florida courts recognize the intangible damages victims suffer following violent attacks and provide compensation for non-economic damages, such as emotional distress and decreased quality of life.
Dog bites can have lasting implications and create an overwhelming financial burden. While no amount of money can truly compensate for the trauma of these experiences, Florida's personal injury laws enable victims to recover their damages.
If you or a family member has suffered harm from an aggressive dog, reaching out to our team's Spring Hill dog bite lawyers can be the first step to safeguarding your rights.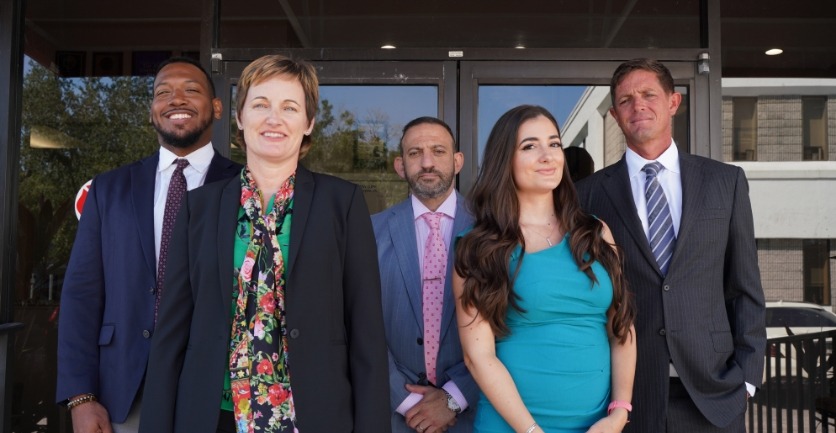 When Are Florida Dog Owners Liable for Bites?
Dog ownership in Florida entails responsibilities, especially when pets get aggressive and cause harm. There are specific statutes concerning dog bites, and these laws generally support the victims of unprovoked dog attacks.
Understanding Florida's Dog Bite Laws
Florida is one state that has adopted a strict liability approach to dog bites, which holds owners broadly responsible for any harm their dog causes. This means pursuing compensation doesn't depend on proving that an owner's negligence led to an incident. The fact that a dog bite happened makes the owner strictly liable, although there are exceptions based on a victim's behavior.
Florida also identifies and categorizes some dogs as dangerous due to their documented history of unprovoked biting incidents. The owners of these dogs are under specific legal obligations and can face more severe consequences if their dogs bite someone again.
Scenarios Exempting Owner Liability
While Florida's dog bite laws usually favor the injured party, there are situations where the dog owner might not be liable:
Trespassing: If a person suffers a dog bite while unlawfully on the owner's property, the owner may not be liable.
Provocation: If an injured party taunted, teased, or provoked the dog, this might reduce or nullify the owner's liability.
Warning Signs: If the owner had displayed a prominently visible warning sign and the victim was on the property illegally, the owner might be exempt from liability.
After a traumatic dog attack, a dedicated Spring Hill dog bite lawyer can navigate Florida's laws and explain how they apply to your specific situation.
Steps to Strengthen Your Legal Case After a Dog Bite
Serious dog bite incidents are more common than they should be in many Spring Hills neighborhoods and across Florida. These incidents can lead to severe physical injuries, emotional trauma, and financial burdens.
To protect your rights and secure the best outcome for your case, it's essential to take appropriate action in the days, weeks, and months after the event. Take the following steps to strengthen your claim for compensation after a dog bite incident:
Get Appropriate Medical Attention
Prioritize your well-being. A dog bite can lead to infections, tetanus, or rabies, as well as other complications. Getting medical care reduces the risk of long-term issues and provides critical evidence to support your legal claim. Your medical records will substantiate the severity of your injuries and create an official link with the incident.
Document Your Economic and Non-Economic Damages
The consequences of a serious dog bite can be wide-ranging and lead to direct and indirect costs. To maximize the compensation available, document all financial losses relating to the accident, including medical bills and out-of-pocket costs, such as hiring a cleaning service during your recovery.
Non-economic damages, such as pain and suffering or emotional distress, can be harder to quantify but are equally valid parts of your claim. Consider keeping a journal about your experiences after the attack, including physical pain, mental health struggles, changes to your lifestyle, and other intangible consequences you deserve compensation for.
Avoid Direct Communication With the Dog Owner's Insurance
Victims of serious dog bites in Florida typically receive compensation for their damages by accepting a settlement from the dog's owner's liability insurance provider. These companies, however, want to reduce the value of your claim and may use unethical tactics for doing so.
By communicating with them directly, you risk:
Accidentally undermining your case: You might say something that they can use to downplay the severity of your injuries or imply that you provoked the dog.
Accepting a low settlement offer: Insurers will often start with a low-ball offer that doesn't cover your damages and then apply high-pressure sales tactics to convince you to accept.
Let your Spring Hill dog bite lawyer handle the insurance provider for you to best represent your interests.
Hire a Dog Bite Lawyer Promptly
Florida dog owners are generally strictly liable for any injuries their pets cause. There are many important nuances throughout the claims process, however, that can significantly influence the outcome of your case.
With Dolman Law Group, you benefit from our team's years of experience in successfully handling dog bite cases. A skilled lawyer can evaluate the specifics of your situation, provide a clear picture of your legal options—including every avenue for getting compensation—and make informed decisions.
We can also place your case in a strong position by gathering effective evidence concerning the circumstances of the attack and your resulting damages. Insurance companies are more likely to provide fair compensation if they know you have strong legal representation fighting for your rights.
Dog bites can turn your life upside down, but taking the right steps and having skilled legal guidance from an experienced Spring Hill dog bite lawyer can effectively navigate the legal system for you.
We Support Dog Bite Victims in Spring Hill
At Dolman Law Group, we recognize the physical, emotional, and financial severity of an aggressive dog attack. We provide you with comprehensive legal support and obtain the resources you need to cover your damages.
Some of the ways we get our clients' lives back on track after an aggressive dog attack include:
Managing Every Aspect of the Legal Process
Pursuing compensation for your damages from a dog bite often entails many administrative hurdles. There's a mountain of paperwork, deadlines to meet, and many intricate aspects of the claim process that can become overwhelming, especially while you're still recovering.
At Dolman Law Group, we:
Ensure timely filing of documentation, leaving no room for procedural errors.
Coordinate with medical professionals and other specialists to collect evidence that strengthens your case.
Make sure your claim complies with Florida's legal requirements.
Calculating and Substantiating Your Damages
We will learn the true extent of your damages after a dog bite. Medical bills, pain, emotional trauma, lost income, and future medical treatments all contribute to the cost. Dolman Law Group comprehensively assesses your damages and advocates for your rights to full compensation.
Negotiating With Insurance Companies for Fair Compensation
An insurance company's primary goal is to settle for the least amount possible. Fairness is not the company's concern, but its bottom line is.
Using their experience, our lawyers can:
Understand the tactics insurers use and counteract them effectively.
Negotiate aggressively, using evidence to prove your case.
Take your case to court if negotiations don't achieve a fair settlement.
A dog bite can set in motion a tumultuous time of anxiety, stress, and worries about the future. At Dolman Law Group, our commitment goes beyond legal representation. We also provide a support system by answering all your questions and making sure you know what to expect every step of the way.
Florida has a statute of limitations for dog bite cases, meaning there's a limited window for pursuing legal action. If you or a loved one has suffered from a dog bite injury in Spring Hill, contact Dolman Law Group today at (352) 612-3437.
Glad I chose Dolman Law Group Accident Injury Lawyers, PA. Hiring Matt Dolman is the best decision you could make if you are injured in an accident. He resolved my case quickly (it only took about 4 1/2 months) and it was a pleasure to deal with the staff. The communication was great as I always knew what to expect with each stage of the process.
Refreshing. It was very refreshing to work with an attorney that took such a professional and personal approach to helping me with my legal needs. I was kept informed on everything Mr. Dolman was doing so I never felt "in the dark". Another positive was Mr. Dolman's knowledge in the trial procedures. I never felt misled through the whole process and recieved the services and results that I was promised upon our initial consultation. There were no unexpected issues or occurrences.