You can encounter an aggressive dog when you least expect it. You could be on an afternoon walk in Bonita Bay, at a friend's house, or taking a stroll along the ocean near Bonita Beach Dog Park. A dog can react unexpectedly and bite or attack a passerby without clear warning. You could risk developing diseases, secondary infections, and other complications from your injuries if you suffer a dog bite.
A dog bite is a serious matter, and we at Dolman Law Group Accident Injury Lawyers, PA, may be able to help you if you are the victim of a dog bite injury. Dog bite injuries can result in devastating impacts and consequences you may not anticipate. You may face significant financial impacts and losses from medical costs, missed work, and other incidental damages.
If a dog bite attacked you or your child in Bonita Springs, contact our Bonita Springs Dog Bite Lawyers to help you receive compensation for your injuries and subsequent damages that arise from the incident.
Professional and Experienced Dog Bite Lawyers in Bonita Springs—Dolman Law Group Accident Injury Lawyers, PA
At Dolman Law Group Accident Injury Lawyers, PA, we help clients that suffer injuries from a dog bite in Bonita Springs. We understand the nature of these often traumatic injuries and the impact a dog bite injury can have on your ability to carry out daily responsibilities or fulfill the responsibilities of your job. In addition, we offer a free case consultation to victims of dog bite injuries to discuss your case and what we may do to help you.
After a dog bite, you want to focus on your well-being. Helping your body heal and taking time to process the trauma you have gone through. Figuring out how you will pay for medical bills and other costs from the injuries can cause you stress and worry. We can manage this difficult time by looking into your case and possible legal options. If you have a case for damages after a dog bite, we can manage your claim, communicate with the insurance company, and handle your case from start to finish.
Our Spring Hill personal injury lawyers at Dolman Law Group Accident Injury Lawyers, PA, Bonita Springs office is right off Bonita Beach Rd. A short drive from Bonita Beach and a convenient location in proximity to I-75, our office is easy to find, and we can accommodate your needs when scheduling your free dog bite case consult. Call us right now to speak to a member of our legal team.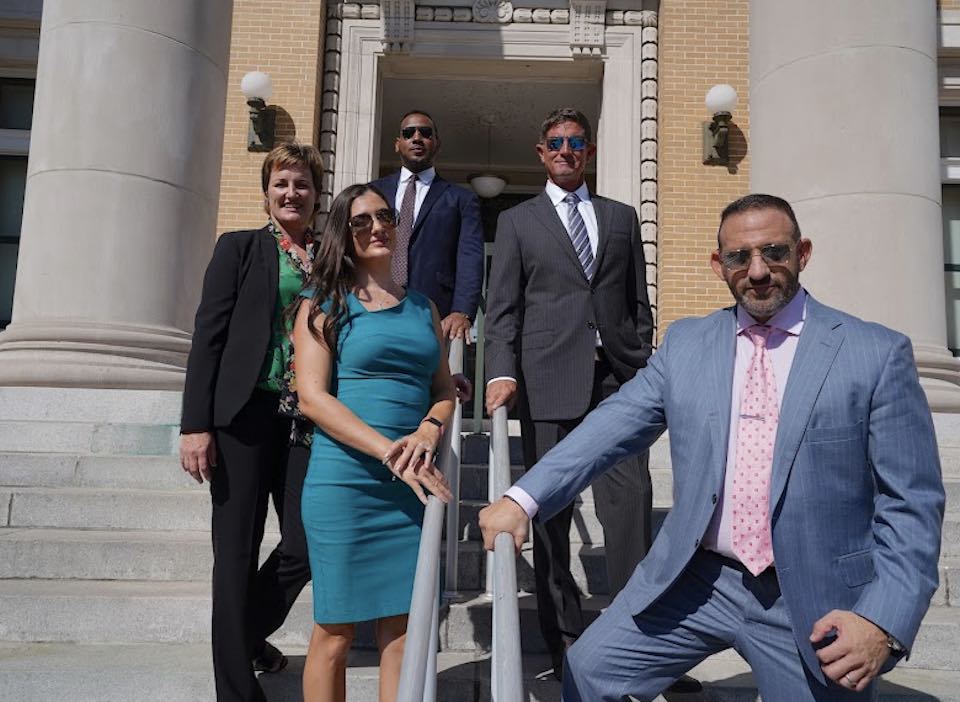 How Much Compensation is Possible in a Bonita Springs Dog Bite Case?
A dog bite can cause widespread losses for a victim. The amount of money a dog bite can cost a victim will depend on various factors, but serious injuries can result in significant damages.
Our dog bite attorneys cannot guarantee an outcome for an insurance claim or case, but we can calculate the damages we can seek for you you under the law, including monetary losses and personal suffering.
Damages in a Bonita Springs dog bite injury case may include:
Medical expenses for treatment of dog bite
Loss of wages related to dog bite incident and injury
Pain and suffering, including physical and emotional impacts
Compensation for scarring or disfigurement leading to shame or embarrassment
The Danger of Suffering a Dog Bite in Bonita Springs
Dogs can react unpredictably, and they can bite when you do not expect it. In Bonita Springs, there are many circumstances when a dog may attack or bite, causing injuries. If you work as a FedEx, Amazon, UPS, postal worker, or another delivery driver, you may come across dogs daily in your line of work, which could lead to injuries. According to the CDC, over 4.5 million people each year across the U.S. will suffer from a dog bite.
As an everyday citizen, you may encounter dogs while walking in parks like Bonita Springs River Park or Depot Park, in your neighborhood like Bonita Bay or Bonita Lakes or along the beach and streets. You may find yourself face to face with a dog on the loose or an owner who cannot control their dog even if leashed.
In some dog bite scenarios, you may be visiting the home of a friend or family member when a dog surprisingly bites or attacks you. Regardless of where the dog bite occurs, if you suffer a bite in a public place or private property where a property owner or manager welcomes you, the dog's owner may be liable for damages.
How Does the Law in Bonita Springs Treat Dog Bite Incidents?
In Bonita Springs, a Florida statute governs dog bites and liability. Under Florida law, dog bites fall under strict liability. Strict liability indicates that an owner of a dog is responsible for the damages done by their dog when there is no provocation or negligence on the part of the victim bitten.
In a strict liability matter, a dog owner must compensate victims for all damages caused by their dog.
Does a Bad Dog Sign Prevent a Victim From Seeking Compensation?
The Florida dog bite statute affords owners of aggressive dogs to put up signage indicating that a Bad Dog is on their premises to avoid liability. Putting up a "Bad Dog" sign, however, is not a catch-all for an owner to avoid all liability for the actions of their canine.
In cases where a sign referencing the dog was present, an owner could still be liable. For example, this portion of the statute excludes children under six and notes that if there is negligence on the part of an owner, they may still be liable for the damage caused by the dog.
Dog Bite Injuries and Dangerous Complications
The type of injuries that occur when a dog bites can depend on the breed of dog involved, the age and size of a victim, the timeframe of the attack and the size of the dog. Any dog bite can be serious. Although a large or dangerous dog breed is more likely to cause life-threatening injuries, a smaller dog can also cause injuries and create high-risk complications. A medical provider may rate a dog bite according to the severity of the dog bite scale.
Complications from dog bites are common because a dog's saliva comes into contact with a victim's bloodstream when there is broken skin. Additionally, dog bites can take longer to heal than other injuries, making a victim susceptible to infections that could lead to sepsis or death. Complications from a dog bite may delay your recovery timeline and cause additional hardships when you cannot work or go about your normal daily life.
Common injuries to victims of a dog bite include:
Lacerations or tears of the skin
Torn ligaments, muscles, or tendons
Nerve damage
Traumatic brain injuries
Back, neck, or spinal cord injuries
Road rash and skin abrasions
Injuries to ears or eyes
The Insurance Claims Process When a Dog Bite Occurs
It often may surprise many victims of a dog bite to learn that their injuries and damages may fall under a dog owner's insurance policy. Property liability insurance policies such as homeowners' or renters' insurance often cover dog bites within its terms.
In most cases of a dog bite, a victim can file an insurance claim for their losses with the help of a knowledgeable and qualified dog bite attorney. Filing an insurance claim under a valid property insurance policy often provides the victim an opportunity to seek compensation for most, if not all, of their losses.
Dealing with insurers for a dog bite injury is not easy and often requires negotiations from your lawyer and collecting evidence to prove and support your claim for losses. However, there may be instances when insurance is not enough to cover the severity of the damages to you, or there is a disagreement as to the extent of your damages. In those cases, a lawsuit may be possible against the insurer or dog owner directly if there is a likelihood of a successful outcome in your favor.
What Should You Do After a Dog Bite in Bonita Springs?
When you become a dog bite victim, you may suddenly find yourself with serious injuries, in pain, and unable to work or function. Your life can flip upside down in a matter of moments, from going about your day to worrying about your health, injuries, and future.
After a Bonita Springs dog bite, you can protect your rights under the law and preserve your right to compensation against the parties responsible for your injuries.
Follow Your Treatment Plan
After visiting the emergency room to treat your dog bite, you may require additional interventions such as hospitalization, surgery, and rehabilitation. Make sure to follow the directions and guidance of your medical team and doctor regarding the care of your injuries.
Insurance companies can look at how you approach your treatment when determining the compensation for your injuries and the long-term impacts of those injuries. For example, suppose an insurer determines or finds that there is something during your recovery they feel obstructs your ability to reach maximum recovery. In that case, they may try to reduce liability or your compensation in your dog bite claim.
Establish a Record of Your Experience and Recuperation
As time passes following a dog bite injury, the trauma and stress of your injuries and recovery can interfere with your ability to remember important details in the case. Keep a record of what happened with important details to refresh your memory throughout your claim or case.
Relevant information may include where and how the bite occurred, the injuries you sustained, any complications, your level of pain, and the effects on your mental and emotional well-being after the bite. You can keep a simple journal, written notepad, or an electronic record documenting the aftermath of the bite.
Contact Our Team for a Free Dog Bite Case Consultation
A dog bite may not be something you feel you need a lawyer for, but a dog bite attorney can make a huge difference in how quickly your case resolves and the compensation you ultimately receive for your damages. A dog bite injury attorney understands the legalities surrounding Bonita Springs dog bites and your rights under the law.
At Dolman Law Group Accident Injury Lawyers, PA, we have experience handling a wide range of personal injury cases, including dog bites and dog attacks. Our office offers a free case consultation with a member of our legal team to go over the facts of your case and what options may be available to you.
Call our Bonita Springs Dog Bite Lawyers to Discuss Your Dog Bite Case
If you suffer a dog bite in Bonita Springs, contact us right away to go over your rights and how we may help you pursue compensation for your losses and damages. A dog bite can have real and significant impacts on your life and lead to economic losses you may not expect.
At Dolman Law Group Accident Injury Lawyers, PA, we have the experience, compassion and knowledge to help clients suffering from dog bite injuries in Bonita Springs. Contact us now at (239) 307-2634for your free case consultation.