The Virginia Beach area has several potentially dangerous roadways that can significantly increase the risk of a car accident, including the Chesapeake Bay Bridge-Tunnel—reputedly one of the scariest bridges in America—I-95, and I-264.
An accident can leave you with high medical costs, the inability to return to work, and substantial pain and suffering. If someone else's negligence caused your accident, you might have the right to file a claim to recover compensatory damages.
At Dolman Law Group Accident Injury Lawyers, PA, we have a team of Virginia Beach car accident lawyers with the skills to navigate your claim and maximize the compensation you can recover. Contact us at 833-552-7274 (833-55-CRASH) to learn more about your rights.
Dolman Law Group Accident Injury Lawyers, PA, Can Navigate a Virginia Beach Car Accident Case
After a car accident, you might find the physical, emotional, and financial burdens accompanying such a distressing event overwhelming. The path toward legal resolution and compensation can seem long and challenging. You don't have to face these trials alone, however. 
We Have Recovered More Than $400 Million in Settlements
Our experienced team of skilled lawyers has successfully recovered over $400 million in settlements for our past clients. This figure is a testament to our commitment to securing the maximum compensation for those we represent and our formidable experience in accident injury law. Your peace of mind and recovery are our top priorities, and you can trust that we will fight relentlessly for your justice.
Some of our past car accident claim results include:
$5 million after a car accident resulting in burn injuries.
$3,850,000 after a car accident resulting in brain injury.
$3.2 million following a semi-truck accident that resulted in brain injury.
$1,875,000 after a car accident with cervical fusion and traumatic brain injury (TBI).
$1,750,000 following a truck accident that resulted in shoulder surgery and minor TBI.
While these achievements cannot guarantee the results of your case, they can provide you with deeper insight into the compensation you can expect as you work through the claim process and pursue the compensation you deserve.
The Dolman Law Group works with local counsel in any jurisdiction outside Florida for the purpose of filing lawsuits in jurisdictions wherein we are not licensed. Thus, we will follow each state's ethical rules to ensure a local attorney is involved.
Our Lawyers Understand Your Struggles
We believe in empathy and understanding at Dolman Law Group Accident Injury Lawyers, PA. Each member of our legal team recognizes the immense strain that a car accident can place on a victim and their loved ones.
Beyond legal representation, we provide emotional support and guidance, acknowledging and listening to you throughout this difficult time.
Our founding partner, Matthew Dolman, understands the challenges of dealing with car accident cases and the need for legal support and representation from personal experience. Every member of our team focuses on providing empathy for all our clients.
We Make Legal Support Affordable and Accessible
Many victims of car accidents in Virginia Beach find the potential financial burden of legal representation disheartening. At Dolman Law Group Accident Injury Lawyers, PA, we strongly believe that every victim deserves top-tier legal support, regardless of their financial circumstances.
That's why we operate on a contingency fee basis—meaning you pay nothing unless we win your case. With our firm, quality legal support is always within reach.
Do you need a lawyer following a car accident in Virginia Beach? Contact us today to discuss your case.
<iframe width="200" height="113" src="https://www.youtube.com/embed/sYGkfII8vzc?feature=oembed" frameborder="0" allow="accelerometer; autoplay; clipboard-write; encrypted-media; gyroscope; picture-in-picture; web-share" allowfullscreen title="When to Hire a Car Accident Lawyer"></iframe>
Virginia Beach Car Accidents: What You Need To Know
Understanding car accidents in Virginia Beach is the first step toward protecting your rights and securing the compensation you deserve. The following information highlights key points that every Virginia Beach driver should know:
Statistics on Virginia Car Accidents
Virginia sees more than 120,000 car accidents yearly, resulting in more than 800 fatalities. Thousands of victims across the state suffer severe injuries due to collisions annually. 
The Statute of Limitations on Car Accident Claims in Virginia
There are time limits for filing a car accident claim in Virginia. The statute of limitations in Virginia for personal injury or damage to personal property is two years from the date of the accident. Adhering to these deadlines is crucial in ensuring the viability of your claim.
How Car Accidents Occur in Virginia Beach
Understanding the common causes of car accidents becomes critically important if you're the victim of a crash.
Here are some factors that frequently contribute to Virginia Beach car accidents:
Tourists: Virginia Beach is a major tourist destination, and unfamiliarity with local roads and traffic rules can lead to accidents.
Distracted driving: Driving while engaging in other activities, particularly using a cell phone, is a significant cause of accidents.
Dangerous weather: Unpredictable weather patterns can lead to accidents due to reduced visibility and slippery roads. Virginia Beach gets around six inches of snow annually, making it difficult for drivers to develop habits and patterns for driving safely in such conditions.
Dangerous bridges: Structures like the Chesapeake Bay Bridge-Tunnel can pose risks due to their unique design and heavy traffic.
Inebriated driving: Alcohol-impaired drivers cause many accidents every year.
Speeding: Excessive speed remains a leading cause of car accidents in Virginia Beach.
Ignoring the road rules: Disregarding traffic rules and signals can lead to catastrophic accidents.
Aggressive driving: Road rage and aggressive driving behaviors often result in collisions.
Determining the cause of a car accident can prove critical. The insurance policy covering the liable party will typically cover the associated damages from the accident, which means that by determining liability correctly, you increase the odds that you can recover the compensation you deserve for your injuries.
Common Injuries in Virginia Beach Car Accidents
The injuries due to car accidents can include minor cuts and bruises or more severe conditions, such as TBIs and spinal cord damage. Those injuries can cause substantial long-term complications, including difficulty with critical tasks of daily living or managing work responsibilities. Severe injuries can also cause substantial pain and suffering long after the accident.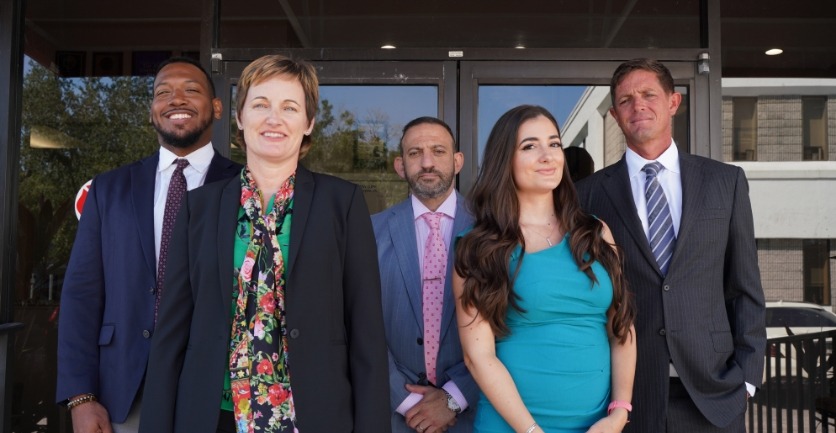 Compensation for Virginia Beach Car Accident Claims
When another party's negligence is the cause of your car accident in Virginia Beach, you deserve compensation for the expenses you face as a result. The legal team at Dolman Law Group Accident Injury Lawyers, PA, will fight diligently to ensure you receive the maximum payment appropriate for your circumstances. The compensation broadly falls into three categories:
Medical Costs
The foremost concern after a car accident is your health. Your compensation claim should cover all your medical expenses. These include the immediate costs of medical treatment following the accident and the ongoing costs of therapy, rehabilitation, and any necessary follow-up treatment or surgery.
A comprehensive claim will also consider future medical expenses if your injuries result in long-term or permanent disability or chronic pain.
Lost Income
When you're the victim of a car accident, especially a severe one, you might need to take time off from work to recover. In some scenarios, you might not return to your job or work. You can claim compensation for lost income and earning capacity in such cases. Our experienced lawyers will work meticulously to calculate these losses accurately to ensure you receive fair compensation.
Pain and Suffering
Car accidents can cause significant physical pain and emotional anguish. While these are less tangible than medical bills or lost earnings, they are no less real.
You may be eligible for compensation for pain and suffering, which considers physical pain, emotional distress, loss of enjoyment, and the overall ramifications on your quality of life due to the accident.
It's important to note that every case varies, and the damages available will depend on the specifics of your accident and injuries.
Dealing With the Insurance Company After a Virginia Beach Accident
After a car accident, you will likely have to deal with an insurance company—your own or the at-fault party's. While you might assume that these companies are working to benefit you, it's essential to remember that their primary concern is their bottom line. Without a fight, they may not provide you with the full compensation you deserve.
Tactics Insurance Companies Can Use
Insurance companies often employ tactics to minimize the compensation they offer. They may question the severity of your injuries, argue that your injuries were pre-existing, or even claim that you are at fault for the accident. They can also issue low settlement offers that may not cover the full damages you sustained in the accident.
How Dolman Law Group Accident Injury Lawyers, PA, Can Handle Your Claim
Our seasoned attorneys at Dolman Law Group Accident Injury Lawyers, PA, recognize insurance companies' tactics and can effectively counter them. We can manage all communications and negotiations with the insurance company to protect your rights and ensure you get the compensation you truly deserve.
Dealing with a Virginia Beach car accident can be overwhelming, but you don't have to endure this challenging period alone. We can handle the legal complexities while you focus on your recovery.
How To Protect Yourself After a Car Accident in Virginia Beach
If you ever find yourself the victim of a car accident in Virginia Beach, protect your rights and maximize your chances of receiving the compensation you deserve. Taking the following steps can build a solid case.
Contact a Lawyer ASAP
Reach out to a seasoned Virginia Beach car accident lawyer after any accident that results in injuries. A lawyer can provide valuable advice on how to handle the incident. Contact the legal professionals at Dolman Law Group Accident Injury Lawyers, PA, as soon as possible to preserve your rights.
Keep Track of Medical Records and Bills
Documenting your injuries is a crucial part of the compensation process. Seek immediate medical attention after an accident, even if you believe your injuries are minor or nonexistent. Your medical records will help showcase the timeline and extent of your injuries.
You should also keep track of all associated medical bills to provide that information to your Virginia Beach car accident lawyer as you build a comprehensive injury claim.
Follow Your Care Provider's Instructions
Stick to your care provider's recovery plan, and attend all follow-up appointments. This strengthens your claim by showing you recognize the seriousness of your injuries and dedicate your efforts to your recovery. Demonstrating your commitment can increase the odds that the insurance company will offer you just compensation for your injuries.
Avoid Contacting the Insurance Company Alone
Insurance companies may try to take advantage of your vulnerable situation. Let your Virginia Beach car accident lawyer handle all communications with the insurance company to prevent misinterpretations or manipulations that could harm your claim.
Trust Dolman Law Group Accident Injury Lawyers, PA, With Your Virginia Beach Car Accident Claim
Car accidents can have long-term physical and emotional repercussions. Navigating the intricate compensation claim process doesn't have to add to your distress. The dedicated team of experienced attorneys at Dolman Law Group Accident Injury Lawyers, PA, can handle these complex legal proceedings.
Contact us at 833-552-7274 (833-55-CRASH) for a free consultation today, and reclaim the peace of mind and financial security you deserve.