With quick access to local beaches and a family-friendly and affordable community within a reasonable commute to Tampa, Spring Hill offers many benefits to its residents. However, there are also several hazards that can result in injuries. Burn injuries can be particularly painful, expensive, and life-changing, and they frequently occur in the region due to car accidents, construction accidents, house fires, and more.
Suppose you suffered a burn injury due to another party's negligence. In that case, you can seek compensation for your injury's financial and psychological costs through Florida's personal injury claims process.
If you seek compensation for your injury from the liable party's insurance, an experienced Spring Hill burn injury lawyer from Dolman Law Group Accident Injury Lawyers, PA can help. We can evaluate your case for free and provide important information about the claims process and the type of services they can provide to assist you.
Why Choose Dolman to Assist You With Your Burn Injury Claim?
Dolman Law Group Accident Injury Lawyers, PA, is a local law firm that started in Florida and remains committed to providing legal assistance to those injured throughout the state.
Our attorneys have extensive experience in several types of personal injury claims, including claims involving burn injuries. We are known as fierce litigators willing to go the distance for their clients to get the rightful compensation. Our case results include a $5 million settlement for a client who suffered burn injuries in a car accident.
Our Local Office Provides You with Better Access to Services
While the internet has provided many conveniences for the daily life of Spring Hill residents—including the ability to obtain the representation of a Spring Hill personal injury lawyer who is licensed to practice law anywhere in the state—there are benefits to having a local attorney work on your claim.
Not only are they familiar with the area where the accident occurred, but also with the hospital where you obtain your treatment. Beyond that, it is simply easier for many people to reach out when they have a question or need assistance when the firm they're using is local.
Dolman Law Group Accident Injury Lawyers, PA, has local law offices in communities along both Florida coasts, including an office in Spring Hill located at 10485 Heley Street, between Mariner Boulevard and Lamson Avenue. Visit us, call our local office or send us a message for a free case evaluation.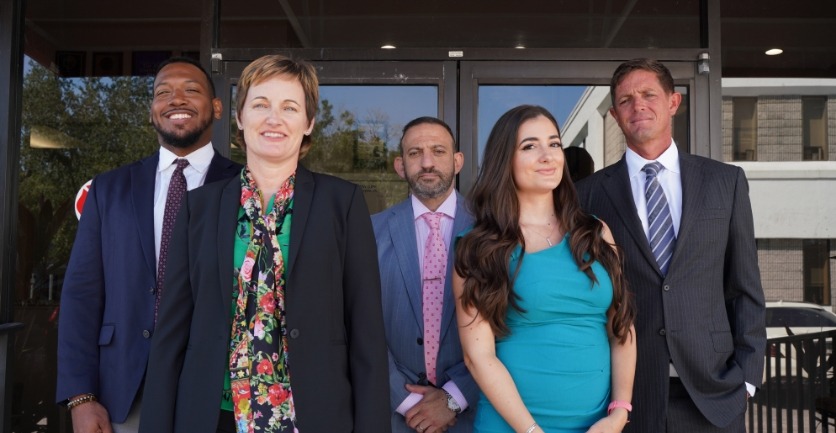 How Do Burn Injuries Occur in Spring Hill?
The Hernando County Fire Department, which operates more than a dozen firehouses, including several stations within the city, provides firefighting in Spring Hill. In one year, the department receives more than 400 fire-related calls. More than a dozen of these calls result in injuries to civilians, and a few result in deaths.
Some of the most common causes of burn injuries in Spring Hill include:
Motor vehicle accidents, particularly those involving motorcycles, as the exposure of the gas tank on most motorcycles can lead to it being ruptured during the accident. These incidents often coat the rider in chemicals that can cause burning and expose them to heat and flames that occur when a spark from the accident ignites the gasoline.
Work-related injuries in industries such as construction or the provision of utilities. These types of burns are often caused by contact with electricity. According to the Occupational Safety and Health Administration (OSHA), electrical hazards are one of the "big four" injuries that most commonly occur on construction sites. These result from improper grounding, exposed electrical parts, inadequate wiring, damaged insulation, overloaded circuits, damaged tools and equipment, wet conditions, or overhead power lines.
House fires resulting from faulty wiring or defective appliances. Property owners, particularly those who rent the property to others, are required to ensure that the home's wiring is up to code, that appliances provided with the house—such as the stove—are in proper working order, and that the home is equipped with smoke detectors to warn the occupants of a fire.
The Expenses and Impacts Commonly Experienced After a Burn Injury
According to healthcare solutions provider Paradigm, the medical treatment of burn injuries can be significant, costing more than $200,000 for a low-intensity treatment involving complications and treatment of severe burns resulting in a price tag of more than $1 million.
Each complication experienced by the patient can increase these costs, such as scarring and disfigurement, psychological complications, skin breakdown, and infections. Infections such as pneumonia or sepsis occur in approximately 35 percent of cases and can result in more than $100,000 in additional treatment costs.
In addition to treatment costs, burn injury patients commonly face lost wages due to being too injured to work and additional expenses related to services and accommodations needed to help them function during recovery. Paradigm reports that more than half of burn injury patients will suffer psychological complications, impacting their quality of life and affecting their relationships with family and friends.
How Dolman Law Group Can Help You Obtain the Compensation You Need
From start to finish, the legal team at Dolman Law Group can provide vital services to assist you in having a successful outcome for your burn injury claim. Here is a look at some of the services we can provide.
Keeping Our Assistance Affordable
Individuals who have been injured worry about how to afford an attorney. This is normal. Fortunately, it is also unnecessary, thanks to the attorneys' contingent fee billing method. The contingent fee billing method means that payment for your attorney's services is contingent on receiving compensation for your claim.
If your do not recover compensation, you do not owe your attorney for the work they did on the claim. However, your attorney will be paid a percentage of your compensation if compensation is received.
Here is how it works:
When you decide to hire an attorney to assist you with your burn injury, you will enter a contingent fee agreement with them. This agreement spells out the type of services your attorney will provide and designates a percentage of your winnings from either a settlement or a court award as payment. It should be noted that the percentage of the award that the attorney receives is often larger for claims that go to trial than it is for claims that are settled out-of-court, simply due to the increased amount of work that litigation requires.
With a contingent fee agreement, your legal team can begin working immediately on your claim. You will not be billed for their services during this time and do not have to worry about the work on your claim being paused for payment issues.
At the conclusion of your claim, your attorney will receive the compensation on your behalf and deposit it into a trust to keep it separate from their business accounts. From this trust, your attorney will deduct the fee for their services, as well as any of the money intended to pay for medical expenses in which the provider of your treatment or your own health insurance policy has placed a lien on the claim. Your attorney will then meet with you to finalize your case, and you will receive the remainder of the compensation.
Providing the Guidance You Need to Understand the Process and Make Decisions About Your Claim
In addition to a contingent fee billing method, the Dolman Law Group legal team is eager to provide as much assistance as possible without obligation by offering free case evaluations. This is a time in which you can speak with an attorney about the details of your case, obtain answers to your legal questions, and learn more about the firm and our experience in handling cases like yours.
Suppose you and our attorney agree to work together on your claim. In that case, you can expect regular updates on the progress of your case and continued guidance in understanding how your claim is valued so that you can make essential decisions, such as whether to accept an offered settlement from the at-fault party's insurer or whether to file a lawsuit.
Investigating Your Claim
Your legal team will thoroughly investigate the details involved in your claim to determine all sources of liability and all insurance resources that can be accessed to provide compensation for you. Insurance is how the vast majority of personal injury claims are compensated, as few individuals and many businesses do not have the funds to compensate the expenses and impacts associated with burn injuries out-of-pocket.
Communicating With the Insurance Companies
Insurance companies sell liability policies to make money, not pay fairly for injuries incurred as a result of their insured's negligence. Their mission is in direct opposition to the goal of a claimant, which is to receive all the compensation they need and are entitled to based on the facts of the case. Because of this opposing mission, they often use tactics to convince a claimant unfamiliar with the process to accept a ridiculously low settlement or trick them into admitting liability that is not theirs.
The legal team at Dolman Law Group Accident Injury Lawyers is aware of these tactics. It will manage communication with the insurance provider to keep the focus of these conversations on fairly settling your claim instead of on finding reasons not to uphold their contractual obligation to their insured.
Filing a Lawsuit
In Florida, burn injury claimants usually have four years from the date of the injury to file a lawsuit in court. Failing to file within the statute of limitations will almost always result in losing the claimant's right to use the court process to seek compensation for their claim.
While most burn injury claims result in an out-of-court settlement, having the right to use the court process is extremely important to the claim's success, as insurance providers face no legal consequence for failing to settle an expired claim.
Gathering Evidence and Witness Testimony
The eyewitnesses, expert witnesses, and evidence available to show that your accident occurred in the way you said it did and justify the claim's value are crucial to the outcome of the claim. Your legal team can do the legwork in gathering documentation and deposing witnesses to tell your story in the most complete and accurate way.
Presenting Your Claim in Court
When a personal injury claim goes to trial, the work involved is far more than presenting the case to a judge or jury. Litigation requires witness depositions, the discovery of evidence held by the at-fault party, filing and responding to motions filed in court, and attending pre-trial conferences.
Your Spring Hill burn injury lawyer will be present and working from start to finish to ensure that a judge or jury has all the information needed to understand how the accident occurred, who caused it, and the significant expenses and impacts you incurred as a result.
Let a Spring Hill Burn Injury Lawyer Help You Today
Burn injuries can be excruciating and impactful, often resulting in many thousands of dollars worth of expenses as well as profound impacts.
The legal team at Dolman Law Group Accident Injury Lawyers, PA, understands the difficulty of recovering from such injuries while also worrying about the financial consequences, such as medical expenses and wage loss, and adjusting to the impacts on your quality of life. Because recovering from burn injuries is hard enough, Dolman Law Group wants to help you by doing the work required to have a positive outcome on your personal injury claim.
Let an experienced accident lawyer help you understand the process of seeking compensation after you've suffered a burn injury as a result of someone else's negligence. Obtaining a free case evaluation in Spring Hill is easy. Call our local office at (352) 612-3437 or send us a message through our online contact form.