Head injuries are often severe, with many victims suffering from traumatic brain injuries (TBIs). Even perceivably mild injuries such as concussions can lead to more serious conditions requiring ongoing treatment and care. TBIs are among the most debilitating types of injuries for many accident victims. If a negligent party is responsible for a TBI, victims may be able to file a claim or lawsuit to recover full compensation.
If you or a loved one sustained a TBI in or around Bonita Springs, the experienced Bonita Springs traumatic brain injury attorneys at Dolman Law Group Accident Injury Lawyers, PA, can help you seek compensation. With over 700 years of combined experience behind us, our attorneys are here to give you the representation you need following an accident and resulting injuries.
Why Choose Dolman Law Group Accident Injury Lawyers, PA?
After an accident and subsequent injuries, including traumatic brain injuries, victims require reliable representation to build a strong case against liable parties. A dependable Bonita Springs traumatic brain injury attorney will help identify all liable parties involved and help calculate all related damages, including financial losses and pain and suffering experienced due to TBIs and other injuries.
The attorneys at Dolman Law Group Accident Injury Lawyers, PA, have decades of experience handling various personal injury case types, including those involving serious, life-changing TBIs. We provide our clients with personalized representation based on the specifics of their cases and their unique needs. Our attorneys have many years of experience backing our legal services.
It's crucial for injury victims to seek representation to handle every aspect of their cases, giving them more time to focus on making a full medical recovery and spending time with family.
If you need a reputable traumatic brain injury lawyer in Bonita Springs, visit our conveniently located Bonita Springs offices. We're located in the heart of Bonita Springs, just east of U.S. 41 on Bonita Beach Road in the Sunshine Plaza. If you cannot visit our offices, we can meet with you virtually. Regardless of where someone injured you, we're here for you when you need us.
Over the years, we have won millions of dollars in settlements for our clients, including those who've sustained TBIs after serious accidents. While we cannot guarantee settlement award amounts, we will fight to ensure you receive the compensation you deserve.
To determine whether you have a case that our Bonita Springs personal injury attorneys can help with, get your free case evaluation with our attorneys today and discover the options available to you. You can get started with an evaluation by calling Dolman Law Group Accident Injury Attorneys, PA.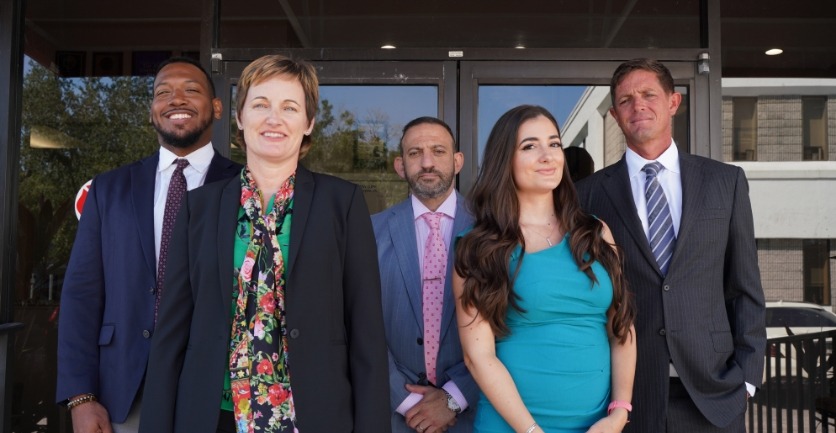 Types of Recoverable Compensation for Traumatic Brain Injuries
Following an accident resulting in a TBI, victims may experience varying degrees of suffering and financial loss. Even seemingly minor TBIs could require recovery periods and treatment that result in mounting costs, warranting compensation if these injuries resulted from another party's negligence or malicious intent. More extensive brain injuries, on the other hand, can come with extensive damages involving long-term care and lead to millions of dollars in medical expenses for the rest of the patient's lifetime.
In any case, victims may recover various types of compensation if they suffer a brain injury when another person or entity is liable. The main types of compensation in these cases include economic, non-economic, and punitive damages.
Economic Damages
One of the main types of damages that injury victims can seek is economic, referring to the expenses pertaining to the case. These damages are typically easy to calculate, but there may be many to calculate in more complex cases, particularly if TBIs require advanced treatment and long-term care.
Some examples of economic damages in cases involving TBIs include:
Medical expenses for immediate and ongoing care
Lost wages resulting from the inability to work while recovering or due to disability
Lost earning capacity if the TBI limits the victim's ability to return to work in the same capacity
Rehabilitation and physical therapy
Property damage, including damage to vehicles and other belongings
Non-Economic Damages
To supplement economic damages, injury victims may also recover certain non-economic damages. These damages apply to the pain and suffering that victims experience because of their injuries and the general trauma of the accident. Unlike economic damages, these are more subjective and aren't as easy to quantify as economic damages.
Examples of these damages include:
Physical pain
Mental anguish
Disfigurement
Loss of enjoyment of life
Loss of companionship or consortium
An attorney can help calculate these damages in addition to economic damages using certain calculation methods.
Punitive Damages
Rarely, cases may also involve punitive damages that the court awards with the intention of punishing the defendant. If a negligent party engaged in egregious behavior that resulted in a TBI or other injuries, the court may attempt to set an example by awarding punitive damages that supplement compensatory economic and non-economic damages. The desired result is that this punishment will deter the same party and others from acting in the same negligent manner.
Whether your case involves economic, non-economic, or punitive damages, the traumatic brain injury attorneys at Dolman Law Group Accident Injury Lawyers, PA, can help determine what you can receive in a TBI accident case.
Why Traumatic Brain Injuries Occur in Bonita Springs
There are many reasons why TBIs occur all over the U.S., including Bonita Springs. Often, these injuries result from traffic accidents, with Lee County seeing many accidents regularly. According to crash data from Florida Highway Safety and Motor Vehicles (FLHSMV), one recent year in the Bonita Springs area saw 15,276 accidents, with 8,845 injuries resulting from them.
One of the most dangerous roads where accidents frequently occur is U.S. 41, which sees large volumes of vehicle traffic daily as people travel north and south through Bonita Springs and throughout the state. Many people take this highway to and from work, making it a popular roadway for commuters and increasing the risk of accidents. Rain and other weather conditions that Florida frequently experiences could also contribute to accidents on 41 and other roadways in and around Bonita Springs.
In a vehicle accident or another type of personal injury involving a TBI or other injuries, you have a limited amount of time to file a claim or lawsuit. The reason for this is the statute of limitations that Florida and other states have for these types of cases. This statute gives you a limited amount of time to file before you're unable to seek compensation from liable parties.
In Florida, the statute of limitations is four years after the accident. This limit makes it critical to file a claim or suit as soon as possible following an accident if you want to receive full compensation.
The Bonita Springs traumatic brain injury lawyers at Dolman Law Group Accident Injury Lawyers, PA, may help you file before you reach the statute of limitations for your case.
Accidents That Cause Traumatic Brain Injuries and the Different Types of TBIs
TBIs may result from various types of accidents, depending on the circumstances. According to the U.S. Centers for Disease Control and Prevention (CDC), there are several common causes of TBIs.
These leading causes include:
Falls, which are responsible for around half of the hospitalizations involving TBIs
Firearm-related injuries, including firearm-related suicide attempts, which are the leading cause of TBI-related fatalities in the U.S
Motor vehicle accidents that result from impact with vehicles at low and high speeds
Assaults, including domestic violence, that causes trauma to the brain
TBIs could also involve varying degrees of injury, ranging from milder concussions to more extensive life-altering brain damage that requires lifelong care.
Traumatic brain injuries include:
Brain hemorrhages
Contusions
Diffuse axonal injuries
Intracranial hematomas
Second impact syndrome
Penetrating brain injuries
Why You Shouldn't Negotiate With Insurance Companies Alone
After suffering a traumatic brain injury in Bonita Springs, victims or their loved ones may want to file a claim or lawsuit to recover compensation from liable parties. However, negotiating with insurers on your own can compromise your case.
Even if insurance adjusters seem friendly and eager to help you get full compensation, they're working for insurers and want to avoid large payouts as much as possible. In the process, they'll look for reasons to deny your claim or, at the very least, minimize the compensation you recover.
You could wind up without a viable case or minimal compensation if you make mistakes during negotiations. You may not even realize how much you're able to recover without a professional by your side to help calculate the full settlement amount and negotiate on your behalf.
You may lack sufficient documentation to support your case, which could further hurt your ability to recover total compensation. Thankfully, with the help of a lawyer experienced in handling these cases, you can avoid these potential risks.
To ensure you can negotiate a fair settlement with insurers and avoid mistakes along the way, turn to our traumatic brain injury lawyers in Bonita Springs. The legal team at Dolman Law Group Accident Injury Lawyers, PA, can help you negotiate with insurers and get the settlement you deserve. We can help prepare all relevant evidence and documentation, draft statements before submitting them to insurers, and deal with insurers on your behalf.
Steps to Take After an Accident Resulting in a Traumatic Brain Injury
Following an accident and a subsequent TBI, there are certain steps you should take to build a strong case and maximize your chances of recovering full compensation. One of the first steps is to seek a formal diagnosis and treatment from a medical professional. You can then take the following steps to build your case:
Collect Sufficient Evidence
You should obtain as much supporting evidence as possible to increase your chances of success in a TBI accident case. This evidence could include police reports, footage of the accident and injuries, medical records and reports, and other documentation that helps prove negligence and the extent of your injuries.
Adhere to Your Doctor's Treatment Plan
TBIs often require strict treatment plans to help patients make full recovery. Not only will sticking with your treatment plan help you make a complete medical recovery, but it will also generate medical reports, receipts, and other documentation that you can use as evidence to build your case.
Avoid Social Media
While recovering from your injuries and waiting for a case to settle, you should avoid posting on social media. Insurers are likely to investigate a claim involving TBIs and other serious injuries. If investigators look at your social media profiles and find any posts that contradict your claims in any way, this could hurt your chances of getting full compensation.
Take Your Evidence to a Traumatic Brain Injury Attorney in Bonita Springs
If you've collected evidence to build a potential case against negligent parties, speaking with a reputable Bonita Springs traumatic brain injury lawyer is essential. An attorney can review your existing evidence, obtain any evidence you cannot get on your own, and determine your options regarding a case against liable individuals or entities.
Consult a Trusted Traumatic Brain Injury Lawyer in Bonita Springs
Following an accident and TBIs, you may seek compensation from the parties responsible for these and other damages. Dolman Law Group Accident Injury Lawyers, PA, is here to represent victims and their loved ones as some of the most dependable traumatic brain injury attorneys in Bonita Springs and across the U.S.
Find out how our legal team can help you—get your free case evaluation with us today. You can call our Bonita Springs office at (239) 307-2634 or contact us online.