If you need help getting compensation from your home insurance company after Hurricane Ian damaged your home, the experienced attorneys at Dolman Law Group can help.
The first major hurricane to hit Florida in years has finally arrived as Hurricane Ian hit the west coast of Florida on Wednesday. This major hurricane has left many homeowners and property owners with serious damage.
Now that the storm has done its damage, it's time to figure out how to repair the damage. For most, that means filing a home insurance claim. But that is easier than done in most cases. Insurance companies are going to be inundated with property damage claims, many of which they will deny, delay, and lowball.
If you are struggling to get the compensation you deserve from your home insurance claim after Hurricane Ian, Dolman Law Group can help. We are experienced, hands-on, and compassionate property damage attorneys who live and work right here on the west coast of Florida.
Call us today at 727-451-6900.
Our Hurricane Damage Lawyers Help Clients Get Money for Their Losses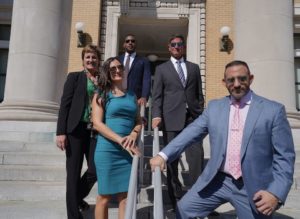 Dolman Law Group is headquartered in Florida, so we understand how hurricane destruction can affect property owners. Many of our lawyers and staff live in Clearwater, Tampa, and the Fort Myers area, so we have personal experience with hurricane damage. Because of this, we know how devastating these storms can be and the damage they can cause to homes.
We also understand that home insurance companies don't always pay out claims fairly or in a timely manner. We can help.
Why You Need a Hurricane Ian Hurricane Damage Lawyer
Navigating a hurricane damage claim after Hurricane Ian can be difficult on your own. Insurers protect themselves from liability by filling their policies with exclusionary language, loopholes, and hard-to-follow legalese. Furthermore, insurance companies in Florida and other states struck by Hurricane Ian are likely overwhelmed with claims, potentially leading to mistaken denials.
A Hurricane Ian hurricane damage lawyer can find solutions to all these problems. By reviewing your coverage and helping you document all your eligible losses, an attorney can maximize your coverage. They can also file a claim on your behalf, reducing the chance of technical or bureaucratic errors. Furthermore, an attorney can review any offers you receive from the insurance company and tell you if they are fair. If the insurer does not honor your claim in good faith, you will need a lawyer's help to take them to court.
While you could do all this work yourself, that is a lot to take on when you have many other issues to address. Instead, a Hurricane Ian hurricane damage lawyer can take over your case while you focus on other matters.
Why Dolman Law Group Is the Right Choice for Your Hurricane Ian Property Damage Claim
Now that you know how a lawyer can help your Hurricane Ian claim, why should you choose Dolman Law Group specifically?
Because of our:
More than 120 years of combined legal experience
Convenient locations throughout Florida and the U.S.
Well-established record of successful case results
Resources to take on the most challenging cases
Reputation among insurance companies for forceful representation
Commitment to customer service and meeting every client's specific needs
Potential Compensation in a Hurricane Ian Hurricane Damage Claim
The amount you could receive for a property damage claim after Hurricane Ian depends on, among other things, your type and extent of insurance coverage, the scope of your losses, and what type of damage your home or business sustained.
Depending on those factors, your insurer could owe you money for:
Structural damage to your home or business caused by wind, objects falling onto the structure, certain flooding, lightning, tornadoes, vandalism, or mold
Fire damage from a lightning strike or other sources
Damage to storage sheds, garages, fencing, and other outbuildings on your property
Damage to your boat, dock, or other marine equipment
The cost of relocating if your home sustained too much damage from the storm
Damage to appliances, furniture, and other personal items damaged during the storm
If you want a more detailed answer about how much your claim might be worth, contact a hurricane damage lawyer.
Hurricane Ian Hurricane Damage Cases We Handle
Our firm can help with property damage cases involving:
Hurricane tornado damage. According to the National Weather Service, hurricanes can create tornadoes at their edges or near the eye of the storm. Tornadoes are devastating weather events and can cause catastrophic destruction. News reports indicate forecasters issued 70 tornado warnings related to Hurricane Ian.
Hurricane lightning damage. Hurricanes are particularly violent storms that can produce electrostatic discharges. As Hurricane Ian approached Florida, satellite video showed lighting strikes visible from space. Lightning can cause fires, fry electronics, and damage plumbing and wiring in homes and offices.
Hurricane mold damage. Heavy rains and flooding can cause mold to form in homes or businesses affected by Hurricane Ian. Mold can destroy property, cause significant health problems, and lead to structural damage if it spreads.
Hurricane flooding damage. Floods are among the most dangerous and damaging aspects of hurricanes. Flooding can cause structural damage and mold in both homes and businesses.
Hurricane wind damage. Even without tornadoes, the wind from a hurricane can rip homes and businesses apart. In addition to the direct damage it does, wind can cause indirect damage by throwing objects and uprooting trees. Hurricane Ian was a Category 4 storm when it hit Florida, with wind speeds of at least 130 mph.
Hurricane vandalism damage. Sadly, some people take advantage of natural disasters to cause additional destruction in the form of vandalism.
Hurricane sinkhole damage. Torrential rain from a hurricane can cause sinkholes to form, though the holes do not always form during or immediately after a storm. Proving a hurricane caused a sinkhole can be challenging without help from an experienced attorney.
Damaged Caused by Hurricane Ian
Hurricanes Ian caused significant property damage to homes and businesses. Some of the worst damage came from Ian's wind, rain, and storm surges and flash flooding.
Wind Damage Inflicted by Hurricane Ian
According to the National Weather Service (NWS), wind is always one of the top risks for property damage during a hurricane. Hurricane Ian was no exception. As it hit the west coast of Florida as a Category 4 hurricane, Ian left buildings and homes with significant damage.
The worst of the wind damage caused roof damage, trees to fall over onto homes and structures, and countless other damage.
The extreme winds of Ian also ripped up sheds, destroyed outdoor items, broke glass, damaged siding, and tore open homes.
Water Damage From Rain Caused by Ian
As the wind caused damage to homes, roofs, and walls, the rain came pouring in. This rain damage is likely to cause water damage, mold growth, and other significant concerns. This may prove especially true for those who had to evacuate and couldn't tarp their home or save their valuables right away.
Homeowners' insurance policies typically cover rainwater damage. However, you may need evidence that it occurred because of roof damage, and not from flooding since a standard home insurance policy doesn't cover damage from flooding.
Storm Surge and Flash Flooding
One of Hurricane Ian's most damaging traits was storm surge and flooding. The pictures from areas like Fort Myers are proof of how devastating this type of damage can be.
In fact, hurricanes with major flooding and storm surges are some of the most deadly and damaging. Hurricane Ian had as many as 12-foot storm surges in some places. So there is no doubt that the damage will be intense.
Flooding can cause extensive property damage, but it's not always covered under homeowners insurance unless you paid for it separately. If you suffered hurricane Ian flooding that was not from rainfall, you should still speak to a lawyer to see if they can help.
Where Hurricane Ian Hurricane Damage Claims Are Common
Hurricane Ian's path of carnage took the storm across much of the Southeast.
Some states where Hurricane Ian caused significant damage include:
Florida. Hurricane Ian first made landfall in the U.S. in Florida. Unfortunately, this meant that the Sunshine State bore the brunt of the storm. In addition to causing at least 148 deaths in Florida, the storm did billions of dollars in damage as it tore its way through the state.
Georgia. Ian was such a large storm by the time it reached the U.S. that it caused heavy rains and high winds in parts of coastal Georgia, leading to significant damage in some areas.
South Carolina. After hitting Florida, Hurricane Ian moved back into the Atlantic Ocean before making a second landfall in South Carolina. Though Ian did not linger in South Carolina, it caused severe flooding in coastal cities like Charleston and Myrtle Beach.
North Carolina. At least four people died in North Carolina because of Hurricane Ian. In addition to these deaths, the storm caused intense flooding and high winds in coastal areas.
Challenges With Hurricane Ian Insurance Claims
Some potential issues with Hurricane Ian hurricane damage claims include:
Overwhelmed insurance companies. Natural disasters like hurricanes affect thousands of homeowners and businesses. That means insurance companies face a deluge of claims once the disaster ends. When insurance companies become overworked and facing a backlog of claims, adjusters might be more likely to make mistakes. Moreover, any insurance company wants to settle claims as quickly and for as little compensation as possible.
Technical challenges. To get the most compensation in a hurricane damage claim, you need to understand what your insurance policy says and what losses the policy covers. You also need to file your claim quickly to meet the deadline set by your insurer. Balancing these two goals can be tricky without help from someone with experience handling these cases.
Establishing coverage. Proving a hurricane damaged your home or business is not always easy. It is an essential element of your claim, though, because the insurance company will not pay for any damage it thinks you caused. Without the proper evidence to support your claim, you could find yourself in a prolonged battle with your insurer.
No going back for more. In most cases, you cannot recover any additional compensation from a given policy once you accept the insurance company's settlement offer. You must carefully review any offer to determine whether it is fair and covers all your eligible losses. Without help from a legal professional, you could miss out on the compensation you need and find yourself in trouble later on.
What to Do If Hurricane Ian Damaged Your Residence or Business
A little preparation before submitting your Hurricane Ian damage claim can help you maximize your compensation and save yourself a lot of hassle later.
Here is what you need to do:
Examine the details of your insurance policies. Review your policies to see what losses they cover. In particular, look carefully at your flood insurance policy, if you have it. Floods are not covered in standard homeowners' policies and necessitate supplemental insurance. If your home sustained heavy damage from Hurricane Ian, look to see if your insurance company will pay for you to stay elsewhere during repairs.
Be thorough when documenting your losses. Adding further losses to your claim could make your insurer question the extent of the damage you suffered. And if you accept an insurance settlement and discover additional damage later, you likely be unable to recover additional compensation. The best way to avoid these complications is to thoroughly document everything before you submit your claim.
Get a written estimate for your repair costs. Ask a contractor for an estimate of how much it will cost to fix your home or business. Including that figure in your claim can serve as a helpful starting point for settlement negotiations and give you some ammunition if the insurer makes a lowball offer.
File your claim on time. While you want to be thorough when documenting the damage to your home, you also must move quickly. Your insurance policy includes a deadline for submitting a claim, and missing that deadline can lead to a denial. Filing your claim quickly can also help you recover the money you need sooner.
Be wary of the first settlement offer. Usually, once you accept an insurance company's settlement offer, you cannot go back for more. Therefore, ask an attorney to review any offer you receive to make sure it is fair.
Hire a hurricane damage lawyer immediately. Managing a hurricane damage claim takes a lot of work, and you already have enough to worry about in the wake of Hurricane Ian. A Hurricane Ian property damage lawyer can handle your claim and protect your rights while you take care of other matters.
What Can A Hurricane Ian Damage Lawyer Help Me Recover?
If your home was damaged because of hurricane Ian, you could receive money for:
Damage to the foundation or structure of your home
Damage to sheds, fences, decks, outbuildings, and other structures
Replacement costs for damaged personal property, furnishings, and appliances
Car repair or replacement, usually paid for by your auto insurer
Loss of use of your property
The cost of staying in a hotel or rental property during repairs
Temporary housing, travel expenses, and meals during the evacuation
Pet boarding, if necessary
Other out-of-pocket expenses related to your relocation
Our team helps clients identify their recoverable losses and repair expenses. We document them and provide this documentation to the insurer while we pursue a fair payout for our client.
We Can Help You to Navigate a Hurricane Ian Damage Claim
At Dolman Law Group, our hurricane damage lawyers can help you get the money you need to repair your home and get back to normal as soon as possible. We help by providing:
Clarification about your homeowners' policy
Guidance when dealing with unhelpful insurance adjusters or companies
Documenting damage
Fighting back against refusals to pay a fair claim
Preventing delays and lowball offers
We never charge upfront fees, so you have nothing to lose. Contact us to discuss your hurricane Ian damage claim.
FAQs about Hurricane Ian Damage Claims
How Soon Do I Need to File My Claim After Hurricane Damage?
Your insurance policy likely has a timeline for filing your claim. This usually includes a deadline to notify about the damage and file the claim. We can review your policy and help to make sure we meet these deadlines.
Will My Insurance Pay for My Family to Stay Somewhere After a Hurricane?
Your home insurance may cover the cost of a hotel or rental while your home is repaired. Our attorneys can review your policy to determine if this applies to your situation.
What Do I Need To Do to Protect My Claim After Hurricane Damage?
Following a hurricane, you should:
Take photos and videos of the damage as soon as possible.
Take a walking inventory of your home before and after a disaster.
Take action to prevent any further damage (tarping holes, removing standing water, and boarding any broken windows).
Work with an attorney to manage your insurance claims.
How Much Is My Hurricane Damage Claim Worth?
We will need to investigate your case further in order to determine the worth of your hurricane damage claim. This will involve documenting the damage, inventorying your losses, and collecting receipts for any out-of-pocket expenses.
What Can I Do if My Insurer Denies My Hurricane Damage Claim?
If your claim is denied, you can start an appeals process. There are also a few other options. We recommend reaching out to our team if your insurance company denies your hurricane damage claim so we can ensure that the appeal is done effectively.
How Much Will It Cost Me to Hire a Hurricane Property Damage Lawyer for My Claim?
Our hurricane damage lawyers work on a contingency fee, which means you don't pay upfront and we only get paid if you get paid.
Speak to a Dolman Law Team Member About Your Hurricane Ian Damage Claim
Dolman Law Group offers free case reviews for those who suffered property damage from Hurricane Ian
We have offices across Florida to serve any client who suffered damage from this historic storm.
Let us review your insurance coverage, document your damage and losses, and file your claims. We also fight insurance denials for our clients.
Our clients can't speak enough about our diligence in maintaining communication throughout the whole process and our ability to deliver results. Damage from Hurricane Ian does not have to mean you must suffer through insurance claim red tape and denials.
Consider contacting Dolman Law Group about your hurricane damage claim and set up a free consultation with our hurricane damage home insurance lawyers.
The Dolman Law Group works with local counsel in any jurisdiction outside Florida for the purpose of filing lawsuits in jurisdictions wherein we are not licensed. Thus, we will follow each State's ethical rules to ensure a local attorney is involved.