Hail, especially when there are high winds and rain, can significantly damage your home or other structures. Your homeowners or other property damage policy should cover all necessary damage, repairs, and personal property replacement. However, getting the money you deserve based on your policy's terms is not always easy. Working with a
hail damage lawyer
can help secure the financial recovery you need to repair your property. At Dolman Law Group Accident Injury Lawyers, PA, our property damage attorneys help clients pursue the money they need for repairs and replacement following a major hailstorm. We can discuss your options with you today for free. We can pursue compensation to repair your damage, cover your temporary relocation costs, replace any damaged personal items, and more. Call today to get started.
Our Hail Damage Team Offers Free Case Reviews
Our team
is here to help, and we can examine your situation during a free case review. During this private, no-obligation conversation, you can learn:
What coverage is available in a standard insurance policy
Your options for seeking damages
Information about temporary relocation coverage
How our team can help based on the facts of your case
How our fees work
The next steps we can take to pursue a fair payout
This is also your opportunity to ask any questions about the claims process and what to expect. We want you to walk away from this discussion with all the information you need to make informed decisions about your legal case. Dolman Law Group Accident Injury Lawyers, PA works with local counsel in any jurisdiction outside Florida for the purpose of filing lawsuits in jurisdictions wherein we are not licensed. Thus, we will follow each state's ethical rules to ensure a local
property damage attorney
is involved.
We Manage Hailstorm Insurance Claims on a Contingency-Fee Basis
Our firm operates on a contingency-fee basis. We do not charge you anything upfront when we start work on your case. We use our resources and knowledge of the insurance industry to build a strong claim and seek just compensation. You can always trust that our attorneys are fighting for the payout you deserve because we do not get paid unless you do. We do not charge attorney's fees unless we win your case.
How Can a Hail Damage Lawyer from Our Firm Pursue Damages?
Most property damage cases our lawyers handle involve the property owner's insurance carrier. We help them file property damage claims and seek compensation based on the terms and limits of their policies. We help clients file claims through:
Homeowners insurance policies
Renter's insurance policies
Business property damage policies
Other related coverage, such as flood insurance
We review our clients' coverage to help them understand their options and what they need based on their losses. We can develop an approach for getting compensation and fighting your insurer if it denies or undervalues your claim. Having the right insurance coverage and knowing how the claims process works can make it much easier to secure the money you need and get started on your repairs right away. However, we find that most people do not understand what their homeowners or renter's insurance policy covers. We can review your policy with you during your free consultation with our team.
We Can Identify Other Liable Parties for Your Hail Damage Claim
You can't sue Mother Nature for damages following a hailstorm. However, other parties (aside from your insurance carrier) could bear liability for your hardships. For example, imagine:
A roofing company failed to install asphalt shingles correctly, and the hail knocked several out of place.
A builder did not support a porch roof adequately, and the hail caused it to collapse.
While your insurer might still pay for repairs in either of these circumstances, it might not. It might force you to sue the liable contractors or subcontractors for repairs instead. Our attorneys can help with your case, regardless of your policy terms. We can pursue a case against a liable third party or fight for compensation based on your insurance policy.
We Pride Ourselves on Offering Reliable Communication
Insurance representatives may not like hearing we are handling a case, but our hail damage attorneys from Dolman Law Group Accident Injury Lawyers, PA have their respect. They know we are knowledgeable about the insurance industry, understand property damage claims, and force them to uphold their end of the deal. We never represent insurance companies, only their policyholders. We commit ourselves to getting to know every client. We believe personal relationships make our team stand out from our competitors. Every client receives their attorney's personal cell phone number, email address, and direct extension. You always have access to your attorney and can expect prompt answers to your questions and concerns. You can also get case updates and discuss possible settlement offers this way.
What Types of Coverage Can My Hail Damage Lawyer Help Me Recover?
When you work with our team, we can explain the compensation available based on your insurance policy and the damages your property suffered. The hail damage attorneys at Dolman Law Group Accident Injury Lawyers, PA generally pursue insurance companies to recover the financial means our clients need and deserve after a hailstorm. Hailstorm damages usually fall under the covered events in a standard homeowners policy. This means the insurance company should cover these damages. While insurers usually have exceptions for earthquakes and flooding, they generally pay for any necessary repairs due to hail damage. Of course, every policy is different, so our team can review your policy and evaluate any applicable exclusions. Property damage policies often have three types of coverage:
Dwelling Repair
Your homeowners insurance policy (or business insurance policy) should cover the damage to your primary structure after a hailstorm up to the applicable limits. When you have additional outbuildings or other structures on the property, most standard policies also provide damage coverage. However, the terms of this coverage may be less than on your primary dwelling. Many insurance companies will try to pay you significantly less than you need to make the necessary repairs. This is common in property damage claims. The insurer may contest that the cost of materials and labor—or that the scope of the damage is much less than you believe. Our team helps clients determine a fair settlement value and fight to recover that compensation.
Personal Property Replacement
Both homeowners and renter's insurance policies cover personal property replacement. While the coverage that applies to dwellings pays for repairs to anything attached to the structure, personal property coverage generally applies to furniture, appliances, and other items up to the policy limit. Personal property damage insurance policies generally cover either:
Actual cash value
Replacement cost
Your policy terms will determine which one applies in your case. Our team knows how to inventory damaged items and document their value regardless of which type of coverage your policy provides. We can prove your property damages' value and seek compensation for them based on your situation.
Temporary Relocation
When your home suffers certain types of damages, it is unlivable. It is not realistic to remain in your home after severe damage, like
roof damage
or flooding. A hailstorm and damage could force you to relocate temporarily until your home receives repairs. When this occurs, you will not only need to continue paying your mortgage or other payments on your home, but you may also need to rent a hotel, apartment, or house. Your insurance may cover a portion of this cost and other related expenses. This includes pet boarding, additional commuting costs, laundry expenses, and more. Our team can determine which expenses your policy covers. That way, when negotiating with the insurer, we can fight for a fair settlement.
Can a Hail Damage Lawyer Help With My Claim's Denial?
Insurance companies
often look for reasons to underpay or lowball hail damage claims. In general, insurance representatives do not worry about how you will repair your home or pay your bills. Their concerns lie with their financial goals. Unfortunately, some insurers refuse to make settlement offers at all. They may deny your claim instead. If your insurer denied your property damage claim, our attorneys can:
Review the liable policy's details
Determine the reason for your claim's denial
Fight the denial
Gather further evidence to support your claim
Navigate the appeals process
Sue the insurer or take other steps to seek the money you deserve
Our team shares your legal goals. We want to recover everything you need to account for the hailstorm's effect on your property.
Reasons Why a Hail Damage Insurer May Deny Your Claim
At Dolman Law Group Accident Injury Lawyers, PA, our attorneys know why insurance companies deny claims. They can overlook key evidence, conduct poor investigations, and make mistakes. Sometimes, insurers resort to bad faith insurance practices, hoping to save money and protect their financial interests. When an insurance company denies your claim, it must provide a written notice explaining the denial's reason. We can read your denial's notice, explain this reason, and determine how to challenge the denial. An insurer may deny a claim because:
Policyholders failed to comply with necessary deadlines.
The insurer claimed the policyholder missed their monthly premiums.
The insurance adjusters denied the claim for insufficient evidence.
The damage occurred because of non-covered damages, such as a flood or an earthquake.
The storm damaged an undisclosed addition, such as an unapproved shed.
The insurance representative believes the policyholder misrepresented the damage's extent.
Our team not only knows why insurers deny claims but also how to challenge these denials. Depending on the denial's reason—and the truth behind it—it may be difficult to fight a denial. Yet, our team is committed to your claim's outcome. We can examine a course of action that pursues compensation for your covered losses.
How Our Hail Damage Team Fights Denied Claims
After addressing the reason for your claim's denial, the insurer may reconsider its decision. Sometimes, insurance companies reconsider when they learn there is a lawyer on the case. Other times, we need to file a formal appeal. Each company sets its own process for appeals, but our attorneys are familiar with many of them. If the insurer will not work with us after a denial, we may file a lawsuit. We would allege that because the insurer violated your contract agreement, you deserve damages. Many insurers don't want to go to court. So, even threatening to file a hail damage claim may prompt a settlement offer. Of course, if your case goes to trial, Dolman Law Group Accident Injury Lawyers, PA intends to represent your best interests. This involves complying with state-mandated deadlines, following courtroom procedure, and advocating for your right to damages.
Let One of Our Hail Damage Attorneys Navigate the Claims Process for You
No matter when you decide to call us, a property damage lawyer from Dolman Law Group Accident Injury Lawyers, PA can step in and take over your claim. We aim to help you when an insurance representative acts rudely or unjustly denies your claim. We can serve you by:
Reviewing your coverage based on your policy's terms
Documenting the hailstorm and its subsequent damage
Helping you price the necessary repairs
Taking an inventory and valuing your damaged personal property
Managing all communications with the insurance company
Negotiating for a fair settlement based on your losses and coverage
Appealing a claim denial
Suing the insurance carrier if needed
Pursuing a case against a third party if required
We Want to Recoup Damages Up to the Liable Policy's Limits
We understand how stressful it is to have significant damage to your property. If the hailstorm damaged your home, you could find yourself having to find alternative accommodations. If the hailstorm destroyed your business, you could have to find other ways to financially support yourself. Whether you've just filed your claim or grown tired of negotiating with the insurer, we can start advocating for you immediately. We seek fair and just compensation for our clients based on:
The cause of the damage to their dwelling
Their personal property losses
Temporary relocation expenses
The terms of their policy
The liable policy's limits
You do not have to navigate the claims process on your own, especially if your insurer does not​ cooperate.
Frequently Asked Questions (FAQs) Our Hail Damage Lawyers Get
Our team answers many questions from our clients, and we are always happy to do so. However, we also included some of the most frequently asked questions below so you can get general answers right now. Of course, if you have any questions specific to your situation, feel free to connect with our attorneys.
When Should I Partner With a Hail Damage Lawyer?
We encourage you to consider legal help if you run into any issues with your hail damage claim. We do not want you to go toe-to-toe with an insurance carrier on your own. We can build and file your claim, fight a denial, or represent your best interests while managing your case. Our attorneys also often handle these claims from beginning to end. We go to work for our clients from the first day they contact us, assessing their damage and determining the possible cost of repairs together. We handle these cases so our clients can focus on their families, jobs, and other tasks.
Is There a Deadline for Filing My Claim or Suing?
Insurance policies are contracts between the insurer and the policyholder. The insurance company promises to provide you with coverage when certain events occur. In exchange, you agree to follow its terms. One of these is likely a timeline it sets for reporting your property damage, filing your claim, and submitting documentation of your losses. You need to abide by these deadlines or risk denial. There are also deadlines for suing the insurance company. For example,
Florida law
offers up to five years to sue for breach of contract. This deadline is five years from the date your property damage occurred. Our lawyer can evaluate your circumstances and explain what deadlines apply.
What Are My Options if I Cannot Live in My Home?
If your home has too much damage for your family to stay there safely, you have options. Sometimes, you may evacuate if you live in a high-risk area. When this occurs, your insurance could cover a night or two in a hotel. The money available and other terms should be in your policy. With catastrophic damage, you may be out of your home for a year or more. Most homeowners insurance policies also cover this. You could get compensation to pay for renting an apartment or house, extra commute costs, laundry expenses, and more. Our attorneys can review your policy to help you understand what related expenses your insurance may cover.
Why Is It Important to Limit Further Damage After a Hailstorm?
Failing to mitigate any additional damage following a hailstorm could complicate your insurance claim. The insurance company will only cover damages directly caused by the hailstorm. It will not cover damages that happened afterward because of your alleged negligence. So, following a storm, you should board up broken windows, put a tarp on your roof, and take other preventative measures. We advise our clients to act quickly after an event to limit further damage, so long as it is not dangerous to you. If you evacuated for a
hurricane
, are physically unable, or lack the necessary supplies, we may need to document this, so the insurer understands why your home continued to incur damage in the hours and days after the storm.
What Does My Policy Cover After a Hailstorm?
The damages your policy covers depend on many aspects unique to your situation. However, most standard property damage policies cover expenses related to repairs for property owners. Both homeowners and renters can pursue money for their damaged personal property, such as furniture, electronics, and other items. You may also have coverage to cover some costs related to temporary relocation if you cannot stay in your home. You could use this money to rent an apartment, stay in a hotel, or stay in a trailer near your property. Most policies have some exclusions. This often includes floods and earthquakes, but you could have additional stipulations. Our attorneys can explain your coverage and exclusions when we review your policy.
What if I Have Damage From Other Types of Weather, as Well?
It is not unusual to have additional damage that occurs in conjunction with a hail damage claim. Wind and water are common examples. When hail falls and causes damage to a roof, window, or other parts of the dwelling, this may allow water into the structure.
Water damage
may affect the structure as well as personal property inside.
Wind damage
also commonly occurs at the same time as hail damage. Wind may further damage roofs, knock down trees, and turn unsecured items into projectiles. Both wind and water damage fall under the covered events of most standard homeowners insurance policies, just like hail damage. This means you could have coverage available for all these repairs and property replacement when you file your claim.
Can Hiring an Attorney Help Me Get More Money for My Repairs?
Our team fights for a fair payout based on your damage, necessary repairs, lost personal property, relocation needs, and other covered expenses. We seek money up to your policy limits or based on the liable policy's terms. We know how to deal with insurers. We develop strong arguments to show these insurance carriers that they owe our clients more money than they tried to offer. We negotiate with them until we reach an agreeable amount or decide to pursue other avenues to get our clients the payouts they deserve.
When Can I Expect My Insurance to Settle and My Repairs to Wrap Up?
Many people with significant property damage cannot begin repairs until the insurer has approved their claims. This can mean waiting for weeks until the insurer makes an offer. It could cost you much more time if your insurer refuses a fair payout or denies your claim. Some people may wait several months before beginning repairs because of insurance delays. Our team wants to resolve your hail damage claim as soon as possible. We work to hold insurers accountable for their contracts and keep our clients' cases on track. We can combat any complications that drag out your case's progression to otherwise delay the claims process.
Can an Attorney Help Me Fight a Claim Denial?
Our attorneys help clients fight property damage denials regularly. We know how to appeal a denial with most insurance companies and can challenge your insurer's denial, too. We review the denial notice, determine the issue, and implement a plan of action. Many clients connect with our team for the first time after a denial. They are not sure what to do, and we help them create a plan. In many cases, we handle this process for them. We represent their best interests, manage communications with the insurer, appeal the denial, or take other steps to seek compensation.
How Can I Learn More About Dolman Law Group Accident Injury Lawyers, PA's Property Damage Attorneys?
As noted, Dolman Law Group Accident Injury Lawyers, PA offers free consultations for anyone who wants help with a property damage claim. We have offices in Florida, New York, Massachusetts, and Texas. We can answer your questions and explain your options when you call. We know how frustrating it can be to fight an insurer that takes your premiums but does not follow through with its promises. We have experience dealing with insurers, navigating negotiations, and securing payouts for our clients. We want to advocate for what you need through each step of the claims process.
What Should I Do Following a Hailstorm on My Property?
After a hailstorm, we recommend that you:
Notify your insurance carrier immediately. Even if you're not sure whether you have coverage, you should tell your insurer about the damage as soon as possible. That way, you start a paper trail and avoid any deadlines from expiring.
Protect your home from further damage. The insurance company will not cover losses that happened after the hailstorm. So, you should do everything possible to mitigate further damage to your property, such as sealing holes and boarding up broken windows.
Prioritize your safety. Don't try to "tough out" staying in an uninhabitable home. Doing so could negatively affect your health. For instance, breathing in mold spores could hurt your respiratory system. You could also risk falling through floors damaged by flooding. Your insurance could cover the cost of finding alternative accommodations.
Keep all records of your damage. Having evidence to support your claim helps its progression. We encourage you to take photos of your damaged property, keep all estimates from contractors, and keep receipts from any out-of-pocket expenses.
Limit what you share with the insurer. Your hail damage attorney can give the liable insurer all the information it needs to approve your claim. If you give a recorded statement, you risk giving information that could hurt your case. For instance, saying: "Well, my roof was 20 years old…" could compel the insurer to undervalue its repairs.
Avoid do-it-yourself repairs. If you attempt repairs on your own, you risk causing further damage to your property. While the insurance company expects you to mitigate damage after the storm, you should leave repairs to the professionals.
Above all else, we encourage you to consider legal help. You don't have to navigate the post-hailstorm aftermath alone. Instead, you can entrust your legal obligations to our legal team. We want to guide your case to the best possible resolution.
Hail Causes Significant Damage to Roofs, Siding, Windows, and More
Dolman Law Group Accident Injury Lawyers, PA's property damage attorneys know how damaging hail can be to your home or another insured structures. Small and moderate hailstones may cause dings, dents, broken windows, or damaged roofs. Larger stones can cause holes in your home's roof or siding. In addition, hail often occurs alongside serious winds. This can lead to additional damage to the exterior of your home. Wind and hail damage is exceedingly common  —and you're not alone in a storm's aftermath. According to the
Insurance Information Institute
, wind and hail accounted for more property damage claims than any other cause between 2016 and 2020. This included almost 2.9 percent of all insured homes in the United States during this time. Annually, about one insured party of every 35 has to file a wind and/or hail claim compared to one in 385 for fires and lightning. The average payout for a wind and hail claim was $11,695 between over a recent five-year period. This was significantly less than the average for fire damage, which was more than $77,000 during the same period.
What Damage Occurs in a Hail and Windstorm?
Hail often occurs at the same time as high winds and other storm systems. This could include tornadoes, hurricanes, and severe thunderstorms. Not only can hail cause serious damage on its own, but it can lead to additional loss of personal property, damage to structures, and more. Hail, wind, and rain are a particularly dangerous combination. Hail and wind cause holes in roofs, siding, windows, and more. Then, rain comes pouring in. This causes water damage to the floor, walls, and other parts of the structure. Furniture, appliances, valuables, and other items may require repair or replacement because of water saturation. This type of event could also require you to stay elsewhere during the insurance claims process and while workers repair the structure. This is especially true following a hole in the roof, high winds,
hurricanes
, and other issues that caused severe property damage. No matter what damage your property suffered, we're eager to advocate for what you need.
Discuss Your Hail Damage With One of Our Team Members for Free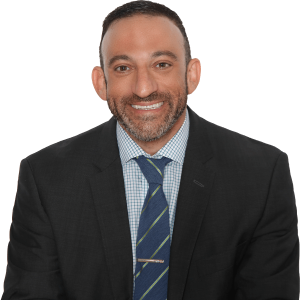 Dolman Law Group Accident Injury Lawyers, PA's property damage team provides free case consultations for those who want help with hail damage claims. If you have questions or concerns, we can address them and develop a plan based on your needs.
Contact us
today at 833-552-7274 to get started. There is no obligation to partner with us when you call—just a chance to explore your options.