You work hard to maintain your home and properties in Orlando. Whether you live in one of Orlando's neighborhoods, such as Altamonte Springs, Baldwin Park, or Winter Springs, or have a vacation home in Kissimmee, near International Drive or the Lake Buena Vista area, you are likely to have property insurance to protect your investments. When an unexpected event causes damage to the property you own, you rely on your insurance policies to cover these losses.
Unfortunately, dealing with property insurance companies is not easy and stress-free. Filing and preparing an accurate property claim for compensation for your losses is a critical step to getting the compensation you need.
Insurance companies can make it very difficult for you to get the money you need to repair or replace the property you have lost in a property damage incident. A property damage lawyer can help you through the process to give you the best chance at getting the maximum compensation for your losses possible so you can begin to rebuild and move toward the future after your property loss.
Why Choose Us for Your Property Damage Claim—Dolman Law Group Accident Injury Lawyers, PA
At Dolman Law Group Accident Injury Lawyers, PA, our team of attorneys and legal staff deal with insurers every day, and we know how difficult they can make it for a claimant to seek the money they need after a property loss or damage.
As a property owner, you hope that paying your costly property insurance premiums means that when an unforeseen event leads to damage to your home or other property, you can get the money quickly to make repairs and move on. However, that is not how property insurers handle their claims.
Instead, they will scrutinize every claim and loss to find a way not to pay out a claim or settle for less than what your property claim is worth. Our attorneys know the tactics these insurance companies employ, and we know how to fight back on your behalf.
We know the stress and financial burden the damage to property in Orlando can cause, and we want to help our clients get the most out of a claim as possible to help them pay for repairs and replacements of the property they work hard to maintain.
If you have sustained property loss in Orlando and need help with your claim, we offer you a free case consultation to go over the specifics of your property damage case and how we may be able to help.
Our Orlando office is centrally located, just minutes off the Florida Turnpike and I-4, off South Kirkman Road. The Orlando Dolman Law Group Accident Injury Lawyers, PA office is just outside the downtown congestion and conveniently located in the Metro West Orlando area. We are available to take your call 24/7.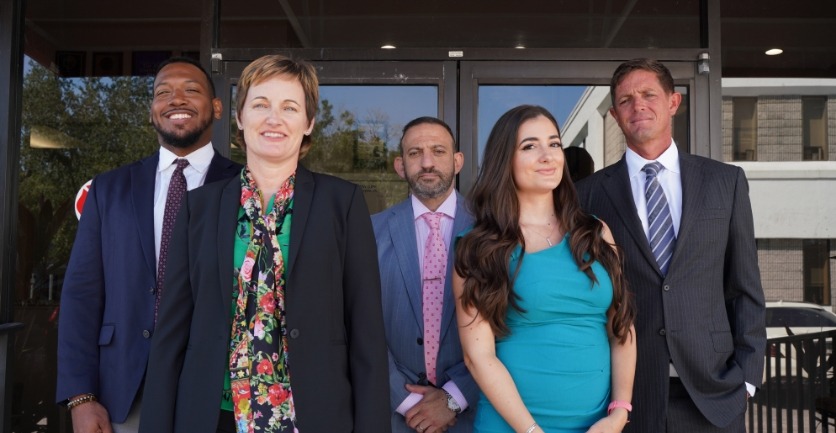 Monetary Compensation for Your Property Damage Losses
The amount of money you can seek compensation for after property damage can depend on several factors. The damage's extent, available insurance coverage, and steps to mitigate your losses are all examples of factors an insurance company will consider when evaluating a claim for damage to property in Orlando and deciding whether or not to make a settlement offer to you.
Property damage calculations are complex because they must consider not just what you paid for the property or how much the policy covers but also its market value and how much value decreased due to the damage. While owners might repair certain properties in some cases, a total loss can make the value of compensation even more difficult to calculate.
Additionally, property damage insurance can also cover certain expenses necessary when you lose the use of a property. Temporary housing, temporary repairs, and relocation expenses may be recoverable as part of a property damage claim.
Beyond the damage to the structure of a home or building, there is also the contents of that building and any loss to your personal property that you may incur because of the damage. Going through and making sure to include every item you have lost can be a tedious and tie consuming process. A property damage lawyer can help you make this process as stress-free as possible to ensure you do not miss any claim for damage available to you.
Property Damage in Orlando
Orlando is a popular location for people to live in and for seasonal residents to visit along with tourists due to its great weather year-round and central location in Florida near many theme parks and attractions. There are many residential homes, commercial buildings, apartments, and vacation properties sprawled within the Orlando metropolitan area and its outskirts.
While Orlando presents many appealing reasons to own property there, the risks can result in costly damages. Hurricanes and storms can frequently threaten the area, and while a direct hit to Orlando is not as common as other areas along the Florida coast, even minor storms and hurricanes can cause devastating damage to properties and cause interruption to the day-to-day life of those living and working in the area.
Common Types of Property Damage
Owning property in Orlando can have you facing a wide range of issues that can cause damage to your home or commercial property. Property damage can happen suddenly and without warning or can occur due to exposure or other deterioration over time that you may be unaware of. Damage to your property can feel frustrating and overwhelming as you try to pick up the pieces and determine how you can or will move forward.
At Dolman Law Group Accident Injury Lawyers, PA, we handle Orlando property damage cases that stem from a wide range of potential threats to property.
Hurricane & Storm Damage
Some of the most devastating property damage that occurs throughout Florida, including Orlando, is storm related damage. Hurricanes, Tropical storms, and even quickly developing afternoon thunderstorms can cause damage to properties in Orlando from wind and/or hail. The damage due to high winds and storms can be costly, and the influx of claimants seeking compensation through insurance companies can cause companies to delay the processing of claims, deny claims, or offer lower settlements in hopes of closing out claims quickly.
Fire Damage
When a fire engulfs your property, the extent of the damage can be catastrophic. Fire can spread rapidly, affecting a significant portion, if not all, of your property in a matter of moments. Fire related property claims can involve a significant amount of losses and often result in the total loss of a property.
Termite Damage
Florida's wet and humid weather creates a perfect environment for termite infestations of homes and properties. Termites can wreak havoc on the structures of a home and can require costly interventions to stop the infestation and repair the damage.
Floods and Other Water Damage
Flooding of properties from weather related incidents is a high risk when living in Orlando. Most homeowner's insurance policies in Florida specifically exclude flood damage. However, property owners may buy flood insurance through the National Flood Insurance Program. Additional water damage to property can also occur through damaged pipes and other failures of equipment or devices within a home.
Ground Collapse or Sinkholes
A surprising source of property damage in Orlando is damage from collapsing ground or sinkholes. This is a common occurrence on Florida terrain, but when it affects a home or building can require costly repairs when possible or the total loss of the property due to the hazards of continuous collapse.
Filing an Insurance Claim for Property Damage in Orlando
Our team of lawyers knows how hard it can be for everyday people to successfully file and process a claim for property damage in Orlando. Battling insurance companies to fairly payout a claim for damage to your property is tiresome and stressful, but you do not need to handle a claim on your own.
Property damage lawyers such as our team at Dolman Law Group fight to seek fair compensation for property losses for owners like you. We will fight for your interests when negotiating with the property insurance company to try and reach a settlement that favors you and provides the money you need to address your property damage. Insurance companies try to devalue claims in any way they can or find a basis to deny the claim if the opportunity arises.
At Dolman Law Group Accident Injury Lawyers, PA, we are not afraid to aggressively pursue the compensation you are eligible for under your policy and the law. If a claim must go to court, we can represent you through a trial if necessary and in the best interest of your claim for damages.
What Should You Do if Your Orlando Property Sustains Damage?
Once you identify damage to your property, acting quickly can help you prevent further damage and losses and set you on the right track to getting the compensation you need to address your property needs. Whether it is a fire, hurricane, or recently discovered mold or termite infestation, your property insurance coverage should cover these losses.
Provide Notice
As a property owner with an insurance policy to cover unexpected losses, you also have a duty to inform an insurer if and when a loss occurs. When you intend to file a claim, you must notify the insurer of your intention to do so. Usually, insurance policies specify the timeline for when and how you should notify the insurance company when property damages occur.
Review Your Property Insurance Coverage
Going over your insurance policy before filing a claim can help you understand the terms of your coverage and what you can expect from the insurance company's perspective. It is not uncommon for policies to include many pages and confusing terms that a property damage lawyer can help you to understand. Gather your property insurance policy so that you and your attorney can go over it in detail when preparing your claim for damages.
Assess the Extent of Damage and Document It
Take your time to document all of the damage to your property. Take photographs and start a journal to write down a timeline of when you discovered the damage and what you discovered.
Property damage can deteriorate quickly, especially when it involves water or exposure. While you must take steps to mitigate the damage and prevent further loss, you should document any changes you notice as time goes on. Photographs, videos, and temporary repair bills are evidence that you may need to support the claim once filed.
Call a Property Damage Lawyer
As soon as you find damage to your property for a covered loss, you should immediately contact a property damage lawyer for help with your claim. The sooner you can get the help of an attorney to file a claim, the sooner you can begin the process of seeking payment for your damages from an insurer.
By hiring our lawyers at the outset of a property damage claim, you can avoid errors or omissions that are commonly the basis for claim denials. Furthermore, our property damage lawyers can include all your property damage related losses to seek the maximum compensation available.
Orlando Property Damage FAQs
Damage to a home or other property in Orlando can cause the value of your property to decline sharply and result in the need for costly repairs or replacement. If you incur damage to your property, you may wonder what a property damage lawyer can do for you and what you can expect from the insurance claims process.
Can a Property Damage Lawyer Help You If an Insurer Denied Your Claim?
Yes. The best approach to filing a property damage claim is to consult our attorneys first. By hiring a property damage lawyer to help you prepare and file a property damage claim, you can avoid common mistakes that could result in a denial. While often, a property insurance company will deny an otherwise valid claim due to technicalities, they can sometimes be acting in bad faith.
Fortunately, a claim denial does not prevent you from contacting a property damage lawyer. If you receive a denial on a claim or an offer of settlement for your damages far below what you expected, contact an Orlando property damage attorney.
Who Can I Hold Liable for Property Damage in Orlando?
In most cases, it is an unexpected weather event or sudden incident that damages your property. In these cases, a property owner's options for recovery of the losses are typically through their homeowner's insurance or other property insurance.
However, an external force or actions of a third party can damage your property. A common example is if an out of control driver strikes your home or a part of your property. Another example could be if a defective equipment or a device malfunctions and damages your property.
A property insurance lawyer will carefully review the events leading up to your loss and whether an insurance claim is the right or only option for you to recover your property related losses.
What Does Property Insurance Cover?
When your property sustains damage, you may need money from an insurance claim settlement to pay for the repairs of the damage caused. Damage to a property can include damage to the structure, such as a roof, windows, doors, walls, or interior elements of the home.
Can You Seek Compensation for Personal Property Other than Real Property in Florida?
It is not uncommon when a property damage event occurs that the impacts reach the interior of your home and can affect your personal property. The value of the personal property or the contents of a home or building can be significant, especially in cases where a home is a total loss, such as a fire or after catastrophic hurricane or wind related damages. However, fighting for the value of your property's contents with an insurer is not easy.
Depending on the property involved and your insurance coverage limits, an insurer may not agree to pay the value of your losses. In some cases, insurers can require that specialty items such as jewelry, heirlooms, or artwork carry separate coverage to cover the market value of these often expensive items.
A property insurance attorney will go over your property insurance coverage carefully to make sure that you seek all available compensation under your policy, including addendums that may provide additional coverage for losses after damage to your home or other property.
What are Common Grounds for Denials in Property Damage Claims?
Property insurance in Florida is a risky business. One large-scale storm or catastrophe can leave insurers scrambling to try to reduce their losses and protect their bottom line. However, when you pay into the system and you pay an insurance company to protect your property, it is their responsibility to process your claim fairly and pay out any damages to your property that are valid under your policy.
Unfortunately, this is not always the case, and getting an insurer to pay up for damages in Orlando can feel like an endless battle for some property owners. If you receive a denial of your property, claim it is not always the final say, and you may still have grounds to seek reconsideration of your claim with the help of an Orlando property damage attorney.
Common reasons for claim denials in Orlando property damage claims can include:
Excluded loss. A property insurance company may claim that the loss you are seeking money for was not covered by your policy. While this is possible in some circumstances, it is always best to consult with a property damage lawyer to ensure that your insurer is not erroneously denying your claim or classifying your damage as the wrong type of property loss.
Elapsed time or delay in filing a claim. Insurance companies have their own arbitrary rules and timelines that insurers must follow to file a claim within their policy terms. However, sometimes there are extenuating circumstances when a property owner may fail to meet these requirements on a property damage policy. In some cases, it may be possible to appeal a denial on these grounds.
Insufficient information on losses. An insurance company will look carefully at each loss in a property damage claim. If they determine there is not enough proof of the loss, the value of the time, or the cost to repair or replace the property, they may outright deny the claim. Sometimes miscommunication between the insurer and a claimant or errors on the part of an adjuster can cause a valid claim to end in a denial.
A mistake during the claims process. Trying to file a property damage claim is stressful, and mistakes can happen. If you make a simple mistake or fail to mention a detail during the claims process, an insurer may take that opportunity to deny your claim.
Bad faith. Sometimes, an insured has done everything right. Filed the proper paperwork for a covered loss, provided sufficient evidence, and still, the insurer will deny the claim. Unfortunately, there are instances in which an insurance representative may act in bad faith by taking advantage of claimants who may not know their rights or the law.
When Should You Contact a Property Damage Lawyer for Claim Help?
If you have losses due to property damage, you should immediately contact an Orlando property damage attorney to discuss whether they can help you with your case and how you can seek compensation for your property losses.
Get the help of an attorney before filing a claim.
Sometimes people already filed a claim only to realize days or weeks into the process that they are in above their heads. You may hire a property damage lawyer at any point in the process. Insurance companies may try to persuade you to resolve the claim on your own, but you could be accepting a settlement for7 far less than the value of your loss or risk a denial by doing so.
If you are preparing to file a claim, if you feel uneasy about how your property damage claim is proceeding, or if you receive a claim denial you believe is not right, contact a property damage attorney for a free case consultation.
Our team at Dolman Law Group Accident Injury Lawyers, PA, is ready to take your call 24/7 and can guide you as to what options may be available to you for your property damage case.
How Can a Lawyer Help You with Your Property Damage Case?
Getting estimates for repairs and talking to insurance adjusters and insurance representatives is part of the process of filing and processing a property damage claim. It can involve much back and forth, which not everyone has the patience or extra time for.
By hiring a property damage lawyer, you can let them handle the property claims process. The everyday communications about your claim and case will go through your lawyer's office, and you need only worry about updates and developments in your case. Your lawyer and their staff will work on the day-to-day aspects of your claim and work towards pursuing the best resolution possible.
Is There a Statute of Limitations for Property Damage Claims in Orlando?
Under the law, Orlando property owners have four years to take legal action to claim property damage losses. However, waiting four years to file a claim is not something you should do or consider. Although time is on your side to try to work out an insurance claim before taking a case to court, you must still act quickly after a property loss to preserve evidence and to get the help you need sooner rather than later.
What to Expect During an Orlando Property Damage Claim?
Filing a claim for property damage in Orlando is a stressful process; it is important to know it can take time. Insurance claims do not resolve overnight; the higher the money and losses involved, the more likely it will take time to resolve a claim.
Understanding how insurers process a property damage claim can help you know what you can expect with your own property damage claim.
Reporting your damage. You must first notify your insurer a loss occurred. This is not when you file a claim. This is to inform the insurance company that damage to your property occurred and a claim is coming. Reporting your property damages must occur within the timeframe your insurer and policy set out. Most insurers have apps or online portals that allow you to complete this step quickly without speaking directly with a representative.
Preparing and filing the claim. The most tedious part of a property damage claim is ensuring that the claim is accurate and accounts for all of your losses and damages. This can take time and may require you to request estimates for repair, replacement, and appraisals for the value of the property involved. It is not enough to claim the loss. You must provide evidence of the loss, the costs to repair or replace, and proof of mitigation steps you take to prevent further damage.
Investigation of the claim. After an insurance company receives a claim filing, they will begin processing the claim. An insurer will not just take your loss at face value and will conduct an investigation into the events leading to the property damage, the type of property damage, and the value of your losses. They will likely send in their own investigation team to look at the damage and determine the costs to address the issues. This portion of the claims process can take time as an insurer may request more information from you, and it can become rounds of back-and-forth communications to resolve any questions they may have. When you have an attorney, they will handle this part of the process and serve as the intermediary between you and all parties involved.
Negotiation of damages settlement. Once the insurance company has the documentation to support the property damage claim, it can calculate your losses and make an offer of settlement. It is unlikely a first offer will account for a fair amount of your losses. Your attorney will present all offers to you for consideration but can advise that they can negotiate on your behalf to reach a higher settlement.
Resolution of your claim or filing an action in court, if necessary. It is the goal that a property damage lawyer can reach a successful resolution of your property damage claim during settlement negotiations and avoid the need for court. While in most cases, this is exactly what will transpire, there are instances when an insurer may not agree to settle or be unwilling to offer the fair value of your losses. When this occurs, a lawsuit against the insurance company may become necessary to continue fighting to recover your property damage losses.
For Orlando's Property Damage Lawyers, Call Dolman Law Group
Our team at Dolman Law Group Accident Injury Lawyers, PA, can assist you with your property damage claim. When damage occurs to your home or property, you just want to repair the issues or replace the losses and begin to move forward. Having a property in disrepair can cause stress on you and your family's life, especially when you must suddenly find temporary housing arrangements and think about the difficulties of filing an insurance claim.
Leave the fighting with the insurance company to us. Give us a call at (407) 759-4565 or contact us through our website for your free consultation about your property damage case.
Orlando Office
1701 Park Center Drive, Suite #240-G
Orlando, FL 32835
Phone: (407) 759-4565