The laid-back seaside atmosphere of Largo makes it a beautiful place to see, particularly from the back of the motorcycle. Unfortunately, for all the beauty the scenery of the area has to offer, the city's roadways present just as much danger for motorcyclists. If you have sustained injuries in a motorcycle accident in Largo, we don't need to tell you how serious—and seriously expensive—motorcycle accident injuries may prove. However, we can tell you about the legal process by which you can seek compensation for the expenses and psychological impacts of your injury, known as a personal injury lawsuit.
An experienced Largo motorcycle accident lawyer from Dolman Law Group Accident Injury Lawyers, PA, can help you understand this process and seek the maximum amount of compensation available in your case.
Some of our recent case results include:
A $1.4 million motorcycle accident settlement.
A $1 million settlement for a client who incurred a traumatic brain injury in a motorcycle accident.
A $415,000 settlement for a client who incurred damaged discs in the neck in a motorcycle accident.
The Hazards That Lead to Largo Motorcycle Accidents
U.S. Hwy 19 constitutes one of the most common areas for motorcycle accidents in Largo. One of the busiest and most dangerous roads in the state, U.S. Hwy 19 frequently has drivers that travel at a high rate of speed. This roadway also has a high number of crosswalk-marked intersections through the city stretch, which produces a high amount of pedestrian traffic in heavy motor vehicle traffic.
The intersection of 66th Street and Ulmerton Road constitutes another dangerous area for motorcyclists. This intersection frequently experiences traffic crashes, including those involving motorcycles. Busy areas pose a threat to motorcyclists, as they pose a greater chance of drivers facing distractions from traffic and of drivers failing to notice a motorcyclist.
Other hazards that motorcyclists in Largo face when they ride include:
Lack of visibility. Motorcycles have slimmer profiles than other vehicle types and don't have as many headlights. This makes them less visible to other drivers, particularly at night.
Lack of maneuverability, which means the motorcyclist often struggles to complete safe emergency driving maneuvers.
Lack of stability, which means that even debris on the roadway or a pothole can increase the risk of an accident and injury for the motorcyclist.
Lack of protective features that passenger cars commonly have, such as steel frames, seat belts, and airbags.
Left-turning drivers. The lack of visibility for motorcyclists puts them at risk of being struck by a driver attempting to make a left turn on a green light that does not feature a turn arrow.
Dooring, which occurs when the occupant of a motor vehicle parked on the side of the roadway opens the vehicle door into the path of an oncoming motorcyclist. This generally results in either the motorcyclist colliding with the door or swerving into other traffic lanes to avoid it.
The Types of Injuries That Motorcyclists Commonly Suffer in Accidents
More than 80,000 people sustain injuries in motorcycle accidents on U.S. roads each year. Each time they ride, motorcyclists face a much higher risk of sustaining injuries or dying in an accident than the occupants of a passenger car. One of the most widely discussed injuries that individuals can incur in a Largo motorcycle accident is a traumatic brain injury, which can result from failing to wear a helmet. Individuals aged 21 and over don't legally have to wear helmets in Florida, provided they possess an insurance policy that provides at least $10,000 in medical benefits for use if an accident occurs.
The brain handles all of the body's functions and involuntary responses. Despite its importance, the organ has only a limited ability to heal after injury. Because of this, brain injuries often produce permanent deficits, including loss of memory, the inability to control one's emotions or impulses, difficulty with balance and coordination, or difficulty speaking or understanding spoken language.
In addition to traumatic brain injuries, other injuries that Largo motorcycle accident victims may experience include:
Spinal cord injuries. Like the brain, which acts as a messenger to the rest of the body, the spinal cord has only a limited ability to heal. Victims of spinal cord injuries often experience a permanent loss in function and sensation below the site of the injury, known as paralysis. Injuries occurring in the cervical (neck) area of the spinal cord will often result in paralysis in all the body below the neck, known as tetraplegia or quadriplegia. Injuries occurring lower on the cord will often result in paraplegia, which involves paralysis in the lower extremities, including the hips, pelvis, legs, and feet.
Road rash. While road rash doesn't constitute the most deadly injury a motorcyclist can incur in Largo, it is one of the most common. The term "road rash" refers to an abrasion caused when the skin makes contact with a rough surface, such as the roadway. Some healthcare professionals refer to this type of injury as a friction burn, and categorize the wound severity into several different degrees, just as other types of burns. While most road rash heals within weeks with minimal medical attention, road rash does pose a risk of causing deadly infections as well as scarring and disfigurement.
Internal injuries. A motorcycle accident almost always ejects the rider and often results in the rider colliding with obstacles or tangling with the motorcycle. All of these possibilities pose a high risk of causing internal injuries. Pneumothorax commonly occurs in motorcycle accidents. Pneumothorax involves a collapsed lung that typically results from a broken rib puncturing the lung.
Leg injuries, including broken bones, damage to knees, injuries to the feet, or even traumatic leg amputations.
Back and neck injuries, such as injuries to the spinal discs and vertebrae, which often require surgery to treat and can result in chronic pain and loss of mobility.
Face and eye injuries, including cuts, lacerations, and burns. Common facial injuries resulting from a Largo motorcycle accident include a broken nose, broken cheekbones, damage to the teeth, a broken jaw, or eye injuries.
Biker's elbow, which refers to damage to the elbow joint resulting from a motorcyclist's instinct to catch himself or herself when falling by extending the arms.
Burns, which commonly result from fires started by the fuel of the motorcycle's gas tank.
How to Obtain Compensation After a Motorcycle Accident in Largo
A personal injury lawsuit consists of a legal claim filed in civil court that seeks to prove who caused an accident, as well as to show the expenses and impacts that the injured individual has incurred as a result. Your legal case usually begins when your attorney submits a demand package to the at-fault party's insurance adjuster. This package includes an accounting of how the accident occurred, as well as documentation of the expenses you have incurred.
The adjuster has 30 days in which to either:
Accept the claim, at which point the at-fault insurance company must issue payment within 20 days.
Deny the claim.
Offer a settlement.
Initial settlement offers from insurance adjusters generally fall far below the value of the case. This offer should serve as a jumping-off point at which your lawyer can begin settlement negotiations. If those negotiations appear to stall, at some point, you may decide, with the guidance of your attorney, to file your lawsuit. You generally must file a Largo motorcycle accident lawsuit in court within four years of the date of the accident.
Once you've filed your lawsuit, the discovery process of your motorcycle case begins. This serves as a time for your attorney to gather evidence from the defendant and depose witnesses. An insurance company may still make additional settlement offers during discovery and even after your trial begins, as long as a court hasn't made a final decision. During the trial, your attorney will provide litigation services, including the delivery of opening and closing statements, the presentation of evidence, and the examination of witnesses.
Once you and your attorney have reached an agreement with the at-fault insurance company, your attorney will assist you with the collection of your settlement or award. Except for punitive damages—which courts award as a financial consequence of the defendant's extreme disregard for someone else's safety—the settlements and awards obtained in personal injury cases don't constitute taxable income. However, if you have deducted medical expenses from your tax burden and have later obtained compensation that includes medical expenses, you will need to repay the amount of the deduction that you took.
The Compensation You Can Receive
In Florida, you can recover both economic and non-economic damages. What this means is that you can obtain compensation for both the expenses you have incurred as a result of your injury, as well as the impacts you have experienced on your quality of life.
Some expenses and impacts that commonly appear in Largo motorcycle accident claims include:
Medical expenses
Lost wages
Loss of future earning capacity
Property damage
Physical pain and suffering
Emotional distress
Loss of the enjoyment of life
Loss of consortium, which an injured person's spouse collects for the loss of physical intimacy and companionship that often accompanies serious injuries.
In some cases, injured individuals may request a court to order punitive damages. Courts award punitive damages not as compensation for the expenses or impacts of your injury, but rather as a financial consequence for the defendant's extremely reckless behavior.
What You Need to Prove
To prove that someone else bears liability for compensating your expenses and impacts, you must:
The at-fault party owed you a duty of care. Roadway users in Largo—including those in passenger cars, commercial trucks, buses, on other motorcycles, or even riding bicycles or walking—all owe each other a duty of care. This duty refers to the behavior of a reasonable person in a given set of circumstances necessary to protect the safety and property of others.
The at-fault party breached the duty of care. The at-fault party's actions contradicted the duty of care owed to others.
The breach resulted in the accident, which caused you to incur the expenses and impacts of an injury.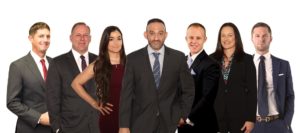 Motorcycle Crash in Largo? Dolman Law Group Accident Injury Lawyers, PA, Can Help
Largo looks beautiful from the back of a motorcycle. The experienced Largo motorcycle accident attorneys at Dolman Law Group Accident Injury Lawyers, PA, fully understand the appeal of riding a motorcycle in this beautiful part of the country. We also understand that if you have suffered serious injuries as a result of your motorcycle accident, you need an aggressive advocate on your side to ensure that you pursue maximum compensation based on the specific circumstances of your accident.
We also understand that many individuals may feel reluctant to seek the services of a personal injury attorney after suffering injuries for fear they cannot afford the fees. We feel pleased to offer two special services designed at ensuring that anyone who needs assistance has access to it, regardless of financial status.
Those services include:
A free case evaluation, which provides time for you to speak with an attorney about your case, obtain answers to your legal questions, and learn more about the process of seeking compensation for the expenses and impacts of your injuries.
A contingent-fee payment scheme. This arrangement allows you to avoid paying any attorney fees until you successfully recover compensation for your injuries.
Peace of mind knowing that you have someone on your side who understands the law, has your best interests at heart, and will pursue maximum compensation on your behalf.
With offices across both Florida coasts, you can easily reach Dolman Law Group Accident Injury Lawyers, PA, at (866) 826-1298, or you can write to us using our online contact page.
Largo Office Location
10225 Ulmerton Rd, Building 6A-2
Largo, FL 33771
(866) 826-1298
Client Testimonial
"AMAZING and understanding attorneys! Did great on my case and I highly recommend Dolman Law Group Accident Injury Lawyers, PA for anyone that has been injured in an accident!"
Rating: 5/5 ⭐⭐⭐⭐⭐
Koralis R.
Jan 2020
Read more reviews on Google!