New Smyrna Beach's scenery and lifestyle offer many good reasons why many people are drawn to living here. However, despite the city's positive attributes, there are many ways that people can become seriously injured or even killed as a result of the negligence of others.
If you lost your loved one because of a negligent driver, doctor, business or property owner, or even the manufacturer of a dangerous medication or product, Florida's wrongful death claims process provides you with the opportunity to seek compensation for the financial and psychological impacts you and your family have incurred as a result of the loss.
While this process was designed for third-party claimants to receive compensation through a relevant liability insurance policy held by the at-fault party, insurance companies almost always attempt to devalue the claim. This, along with the intricacies and formal expectations of the process, make having an experienced New Smyrna wrongful death lawyer a key ingredient for obtaining the compensation you need.
The New Smyrna Beach wrongful death lawyers at Dolman Law Group Accident Injury Lawyers, PA, is ready to help you understand this process, answer the questions you have about your case, and tell you about the services we can provide to assist you with your claim.
Why Trust Us in a Time of Loss
Dolman Law Group Accident Injury Lawyers, PA, has assisted families throughout Florida and other locations with wrongful death claims for many years. We have garnered a reputation for being fierce litigators. In a state where many wrongful death firms take a high volume of cases that they can settle as quickly as possible, our team is focused on fighting for your right to the most compensation possible for your claim—whether that fight takes place in settlement negotiations or the courtroom.
A Local Office to Serve You Better
After losing a loved one, everything can seem challenging, including traveling to meet with an attorney who can help you with your claim. Dolman Law Group Accident Injury Lawyers, PA, understands that having a local attorney provides several benefits for our wrongful death clients, including the ease of attending a free case evaluation in a familiar area with attorneys who live in your community. Our New Smyrna Beach office is conveniently located at 500 Canal Street, just off the Dixie Freeway. Visit us or call 833-552-7274 for a free case evaluation.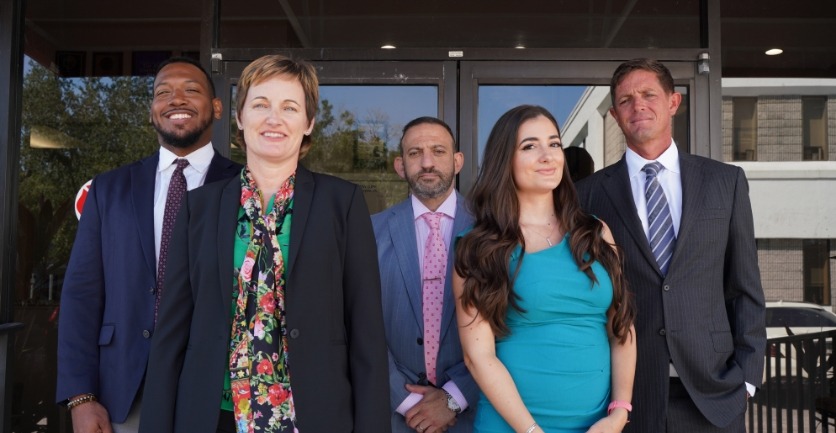 How Does Wrongful Death Occur in New Smyrna Beach?
As idyllic as New Smyrna Beach is, the roads leading into, out of, and throughout the city and the drivers who use these roadways are a major source of wrongful death. Deaths can also occur as a result of premises liability issues, which are hazardous features located on commercial, residential, or public property that can result in death.
Additionally, wrongful death can occur as a result of a New Smyrna Beach healthcare provider, or even the use of products that were dangerous due to defects in their design or manufacturing, or because the manufacturer forgot to disclose all of the required details on the product's packaging label. Here is a look at each accident type and how it impacts people in New Smyrna Beach.
Motor Vehicle Accidents
According to the Florida Department of Highway Safety and Motor Vehicles (FLHSMV), the New Smyrna Beach area sees as many as 10,000 traffic accidents a year involving all types of roadway users, including drivers of personal vehicles, commercial vehicles, and vulnerable roadway users such as motorcyclists, bicyclists, and pedestrians.
Over 100 people die each year due to these accidents, commonly caused by the negligent actions of one of the drivers involved.
Examples of negligent driving behaviors that can result in death include:
Texting and other distractions, such as eating, drinking, smoking, adjusting vehicle controls, and other cell phone use.
Alcohol impairment, which deprives a driver of the skills they need for the safe operation of their vehicle.
Speeding, which increases the severity of the accident due to the additional force of the collision caused by the excess speed.
Failure to yield the right-of-way, which is one of the leading causes of intersection accidents, including broadsides.
Following another vehicle too closely, which can lead to a rear-end collision if the lead vehicle suddenly slows or stops.
Wrong-way driving, which can result in a particularly deadly head-on collision.
Pedestrian accidents are of particular concern in the Deltona-Daytona Beach-Ormond Beach metropolitan statistical area, with Smart Growth America determining that this region is the most dangerous in the country for pedestrians. According to a report about the study published in the Daytona Beach News-Journal, the New Smyrna Beach and its surrounding cities account for 4.5 pedestrian deaths per 100,000 people.
Premises Liability Issues
The owners or managers of commercial, residential, or public properties have a legal duty to ensure that there are no hazards present on the property that can result in injuries to customers or guests. When such hazards are discovered, the property owner or manager must promptly mitigate them. For hazards that cannot be immediately repaired, the owner or manager must place prominent warning signs in the area so that visitors know to stay away from them.
The hazards that can result in wrongful death in New Smyrna Beach include:
Slip and fall accidents
Fires and explosions
Dangerous chemicals
Defective escalators or elevators
Injuries occurring in swimming pools or area amusement parks
Dog bite injuries
Medical Malpractice
There are dozens of facilities in and around New Smyrna Beach where people obtain treatment for illnesses and injuries and receive preventative care. The healthcare providers at these facilities have a legal duty to uphold the standard of care that the patients they're treating expect. When a medical error occurs and the death of a patient results, the provider or facility can be found liable through a medical malpractice claim.
The errors that become the subjects of these claims include:
Medication errors
Diagnosis errors
Surgical errors
Failure to take an accurate patient history or obtain informed consent for a procedure
Birth injuries
Failure to provide follow-up care
Premature discharge from the facility after treatment has been provided
Dangerous Products
Like the residents of most cities, those who live in or visit New Smyrna Beach rely on dozens, if not hundreds, of manufactured products throughout any given day, including the parts used on their automobiles, the medications they take, and even the beds they sleep in and the furniture they fill their homes with. The manufacturers of these products all have a responsibility to ensure that the products are not unreasonably dangerous when used as instructed.
This means manufacturers must:
Ensure the product's design allows it to perform for its intended purpose.
Ensure that the product is manufactured safely and without flaws.
Ensure that instructions for use, warnings, and potential hazards of using the product are clearly stated in the product's labeling.
Seeking Compensation for Your Loss
When an accident occurs that results in a person's death in New Smyrna Beach, the victim's loved ones are often left with profound expenses and emotional losses. Florida State Statute 768.19, the state's "Wrongful Death Act" allows compensation for the victim's family members to help offset these costs and impacts.
A personal representative (executor) of the deceased's estate must file a wrongful death claim in Florida. Affected family members who can benefit from this claim include the deceased's spouse or domestic partner, surviving children, parents, and other family members.
The Type of Compensation You Can Seek
A wrongful death claim can seek compensation for their economic damages.
Common expenses included in New Smyrna Beach wrongful death claims include:
The loss of support and services that the deceased provided for their family members.
Lost wages, benefits, and other earnings from the date of the injury until the death.
The value of the earnings the deceased would have likely made through the course of their career if they had not died.
Medical or funeral expenses paid directly by the deceased's family members or by the estate.
Claimants can also seek compensation for the psychological impact of the unexpected death on family members, such as mental grief; and loss of companionship, instruction, protection, and guidance. This type of compensation is known as non-economic damages.
Proving Liability in a Wrongful Death Claim
Liability is proven in a wrongful death claim by using evidence, documentation, and eyewitness or expert testimony to show the following elements:
The at-fault party had a legal duty of care in a given circumstance to take reasonable actions to avoid causing injury to others.
There was a breach in the duty that was owed that occurred as a result of the at-fault party's careless or reckless actions.
Because of this breach, an accident occurred in which the deceased was fatally injured.
The deceased's death resulted in financial and psychological impacts experienced by their family members and their estate.
How Long Do You Have to File a Wrongful Death Claim in New Smyrna Beach?
Most Florida wrongful death claims must be filed within two years of the date of the deceased's death, in accordance with Florida State Statute 95.11(4)(d). In some cases, when there is a delay in discovering the link between the wrongful action and the death, additional time can be granted for the claim.
However, it is imperative to file the claim as a lawsuit before the statute of limitations has expired, as failing to do so will almost always result not only in the loss of the claimant's right to use the court process when seeking compensation for the loss, but will also generally cause the at-fault party's insurance company to refuse to settle the claim.
The Services and Attorney Can Provide
An experienced New Smyrna Beach wrongful death lawyer plays a crucial role in the success of your claim, as they are experienced and well-trained to handle the legal process, they understand how to value your loss, and they are able to provide important guidance to you as you make important decisions about your case. They also have a legal team that can assist in gathering the evidence and documentation needed to prove your claim to show your economic and psychological losses.
How to Afford the Best Attorney to Assist You with a Wrongful Death Claim
Many families suffer silently after an unexpected loss because they simply do not see how they can afford the services of a competent attorney to help them navigate the wrongful death claims process.
However, the legal team at Dolman Law Group Accident Injury Lawyers, PA, uses a contingent fee billing method that allows their clients to obtain services upfront and pay for them when compensation has been received on the claim. If your wrongful death lawyer fails to obtain compensation for your claim, you do not have to pay for their services.
Get Compassionate and Quality Assistance with Your Claim
There are few things in life as devastating as losing a loved one as the result of another party's negligence. The experienced legal team of New Smyrna Beach personal injury lawyers at Dolman Law Group Accident Injury Lawyers, PA, understands how important it is to have competent and compassionate assistance as you seek compensation for the expenses and impacts of your loss.
With offices across both Florida coasts, you can easily reach Dolman Law Group Accident Injury Lawyers, PA, at our New Smyrna Beach location by contacting 833-552-7274, or you can write to us using our online contact page.