New Smyrna Beach has a calm, peaceful vibe that makes many want to visit or live here. However, as laid-back as the feel is when visiting area shops and entertainment venues, the same cannot be said of the traffic on New Smyrna roadways. Recently, however, our city and its neighbors obtained the distinction as having the most dangerous roads in the nation for pedestrians.
If you have been injured in a pedestrian accident resulting from another roadway user's negligence, you can seek compensation for your injuries through Florida's personal injury claims process. While this offers essentially two opportunities to obtain the compensation you need, dealing with insurance companies or court processes is overwhelming for most claimants.
However, a New Smyrna Beach pedestrian accident lawyer from Dolman Law Group Accident Injury Lawyers, PA, can provide services to assist you with your claim and make the process easier while you focus on recovering from your injuries.
Trust Dolman Law Group Accident Injury Lawyers, PA, With Your Pedestrian Accident Claim
For several years, Dolman Law Group Accident Injury Lawyers, PA, has helped Florida's injured to obtain compensation, including those injured due to all types of motor vehicle accidents and accidents caused by pedestrians.
Some of our recent case results include:
$3,850,000 for a client who suffered a traumatic brain injury due to a motor vehicle accident.
$1,875,000 for a client who incurred spinal injuries and a mild traumatic brain injury in a car accident.
$1,400,000 for a client who was a vulnerable roadway user and suffered multiple injuries in an accident.
Free Case Evaluations Just Got Easier with Our New Local Office
While the advent of the internet made it possible for those injured in pedestrian accidents to obtain legal assistance from firms anywhere in the state, the Dolman Law Group Accident Injury Lawyers, PA, legal team understands that nothing beats having a local attorney for your claim. We know the roads, the medical centers, and the communities where their clients live, and having a free, in-person case evaluation is easier. Because of this, we have opened offices throughout the state to provide the network and resources of a national firm, along with the personal touch more commonly associated with a smaller, local law office.
Come see us at our New Smyrna Beach personal injury law office located at 500 Canal Street, just off Dixie Freeway. If you are unable to travel due to hospitalization or being homebound because of your injury, rest assured our attorneys can come to you.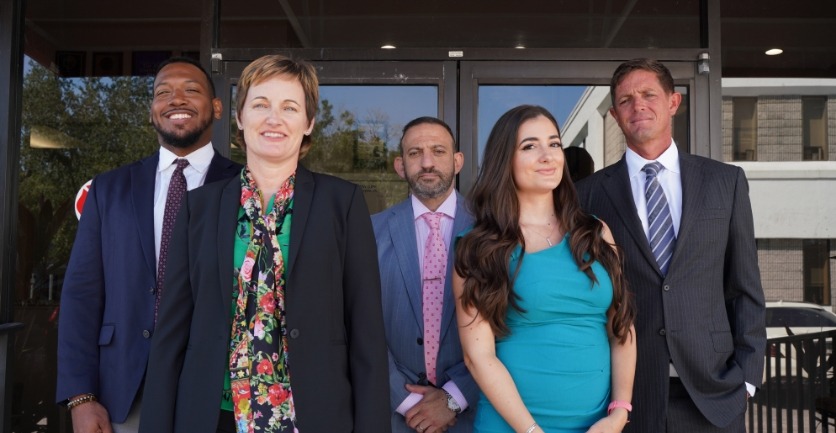 How Do Pedestrian Accidents Occur in New Smyrna Beach?
As noted in the Daytona Beach News-Journal, the national road safety organization Smart Growth America recently named the Deltona/Daytona Beach/Ormond Beach metropolitan area as the most dangerous place in the U.S. for pedestrians, with the cities in the area, causing particular concern due to their rate of 4.5 pedestrian deaths for every 100,000 people.
According to Colleen Nicoulin, the interim executive director for River to Sea Transportation Planning Organization, the region is consistently at the top of the list of dangerous places for pedestrians. A large part of the problem is that the roadway infrastructure in the area was not designed with the safety of pedestrians in mind but to move vehicles from point A to point B as quickly as possible.
Like many places, New Smyrna Beach experienced an increase in pedestrian accidents during the early months of the pandemic, when there were actually fewer vehicles on the road. This is believed to be due to the fact that while traffic congestion decreased, speed increased. Unfortunately, the increases in pedestrian accidents created by the pandemic shutdowns have not gone away. High speeds and a lot of potential points of conflict are some of the most common reasons for pedestrian accidents.
Other types of driving behaviors that pose a risk to area pedestrians include:
Distracted drivers who are not paying attention when approaching crosswalks.
Drivers who are impaired by alcohol or drugs lack the skills needed for safe driving, such as the ability to track moving targets, such as pedestrians approaching the roadway, or maintain a single lane of travel.
A driver's failure to give right-of-way on the road to a pedestrian when required by a stop sign or stop light.
Where Pedestrian Accidents are Most Likely to Occur
Some of the areas in which pedestrian accidents have recently occurred in New Smyrna Beach include:
Dixie Freeway (also known as U.S. 1), which is a wide road commonly featuring heavy traffic and higher speed limits.
Ronnoc Lane, near Chisholm Elementary School, where a high number of pedestrians and bicyclists share the roadway with motorists.
Washington Street, between Florida State Road A1A and Riverside Drive, as a result of heavy use of this roadway by motorists, poor visibility due to lack of sufficient lighting, and higher speed limits.
Injuries from a Pedestrian Accident Can Impact Every Part of Your Life
Pedestrians—like bicyclists and motorcyclists—are commonly referred to as vulnerable road users due to the lack of protective shields from collisions that motorists enjoy, including steel-framed vehicles, seat belts, and airbags. Without these protective features, there is nothing between the pedestrian's body and the vehicle that has struck them. Because of this, pedestrians struck by vehicles often experience severe or even fatal injuries.
Being injured in the U.S. is expensive. PeopleKeep's most recent estimate is that it costs an average of $14,900 a night for a hospital stay, and that is simply for the bed. Services provided by a physician, diagnostic imaging tests, surgery, and the cost of an ambulance ride can push these costs even higher, as can the need for ongoing treatment of the injury, such as physical therapy. One of the most common serious injuries after a pedestrian accident—a traumatic brain injury—typically comes with a lifetime price tag of between $85,000 and $3 million for medical treatment alone.
Serious injuries result in far more than medical costs, however. Many adult pedestrians who are injured are forced to miss work while recovering from their injury, and some injuries result in permanent disabilities that will impair the sufferer's ability to earn an income.
Being injured in a New Smyrna Beach pedestrian accident also commonly results in several psychological impacts, such as the physical pain and suffering the victim endures from the injury, emotional distress caused by the injury, and the profound impacts it has on the sufferer's life, such as the loss of the ability to enjoy hobbies and events that were important to the injured person.
The Personal Injury Claims Process
In Florida, when a negligent motorist injures a pedestrian, the victim can seek compensation from two sources:
A claim against the personal injury protection (PIP) policy held by the injured party or someone in their household. As explained by the Florida Department of Highway Safety and Motor Vehicles (FLHSMV), drivers who register their vehicles in the state are required to purchase a PIP policy with a minimum of $10,000 in damage in order to cover a portion of medical expenses or wage loss incurred in an accident, regardless of who was at fault. This coverage extends to injuries that the insured or their household members incur in pedestrian accidents as well.
A personal injury claim filed against the at-fault motorist's auto liability insurance policy, if the claimant does not have a PIP policy, exceeded the limits of that policy, or has an injury that satisfies the state's serious injury threshold. This threshold includes injuries that result in permanent loss of use of a body part or system, permanent scarring or disfigurement, permanent injury, or death.
If a claim is filed with the at-fault party's insurer, it can be accepted or denied, or a settlement can be offered that usually provides the claimant with less compensation than the full value of the claim in exchange for both parties avoiding the expense and time that a lawsuit requires.
However, if the insurance provider fails to compensate the claim, it can be filed as a personal injury lawsuit. This legal claim filed in civil court requests that a judge or jury hear the facts of the case and make decisions about liability and compensation.
What If You Have Lost a Loved One in a New Smyrna Beach Pedestrian Accident?
Pedestrian accidents in Florida account for 12 percent of all fatal pedestrian accidents in the nation. Losing a loved one unexpectedly to an accident often results in the deceased's loved ones incurring profound financial and psychological impacts.
In Florida, when an individual dies due to another's negligence, the personal representative (executor) of the deceased's estate can seek compensation on behalf of the deceased's family through a wrongful death claim. The process is similar to the personal injury claims process, with the notable exception that the statute of limitations for wrongful death claims in Florida is two years from the date the death occurred.
The compensation you can seek in wrongful death claim includes:
Loss of companionship, protection, parental guidance, support, and instruction that the deceased provided to their loved ones.
Mental grief experienced by the family members.
Medical or funeral expenses paid by the estate or by family members directly.
Loss of earnings from the time of the injury until the time of death.
Loss of services and support that the deceased provided to their family.
Loss of future income that the deceased would have likely earned if they had survived the accident.
Why You Need an Attorney to Help You with a Pedestrian Accident Claim
When you file a claim against the at-fault party, their insurance provider will assign a claims adjuster to evaluate the claim to determine:
Is the damage that the claimant sustained covered by the policy?
Was the insured responsible for causing the accident?
How much compensation (if any) is owed to the claimant?
While these seem like straightforward questions that could be easily answered, it is essential to understand that the claims adjuster is an employee or contractor of the insurance company. They work to protect the company's bottom line by keeping payouts as low as possible. They look for ways to save money, not ways that they can fairly compensate a claimant for injuries resulting from their insured's negligence. They often use tactics to devalue claims, such as convincing a claimant that the ridiculously low settlement offered is the only compensation they can receive or even accusing the claimant of being responsible for their own injuries.
However, these tactics do not work on pedestrian accident lawyers who have experience in dealing with insurance companies and a deep understanding of how the legal process works.
Beyond the important experience that a New Smyrna Beach pedestrian accident lawyer from Dolman Law Group Accident Injury Lawyers, PA, can offer you, we also provide a legal team that can conduct the extensive investigations and document collections that can bog a claim down and overwhelm the claimant.
We can present claims in court, file a lawsuit within the statute of limitations—which is generally four years after the injury—and can fight for your right to fair compensation in court if the at-fault party's insurer fails to pay the claim or offer a fair settlement.
If You Were Injured as a Pedestrian, We Can Help
New Smyrna Beach has many road projects to reduce the number of pedestrian accidents. However, these plans often take years to complete. Meanwhile, if someone injured you in a pedestrian accident or you lost a loved one after an accident, a New Smyrna Beach pedestrian accident lawyer can seek compensation for you.
With offices across both Florida coasts, including New Smyrna Beach, you can easily reach Dolman Law Group Accident Injury Lawyers, PA, at 833-552-7274, or you can write to us using our online contact page.