If you're injured on the job, you have a right to collect compensation or possibly sue a liable third party for damages. To do this, enlist the help of a Boca Raton worker's compensation lawyer immediately. An experienced workers' comp lawyer in Dolman Legal Group's Boca Raton office can help you seek fair compensation for your losses.
Workplace accidents and injuries are on the rise. According to the U.S. Bureau of Labor Statistics (BLS), there were about 4,767 fatal work-related incidents in one recent year. Additionally, 2.7 million more employees sustained various workplace injuries and illnesses. Many of these injuries resulted in temporary or permanent disabilities and financial challenges. If you are facing the complications of a workplace injury, we can help protect your rights.
A Boca Raton Workers' Compensation Lawyer is Your Advocate After a Workplace Accident or Injury
No one expects to need a workers' compensation attorney. However, in the event of a work-related accident or injury, you have a right to receive compensation for your accident-related damages and losses. To help you decide which workers' comp lawyer you should call, take a look at our satisfied client stories to understand all that Dolman Law Group offers.
To protect employees from financial losses, the U.S. government requires all employers to have workers' compensation insurance. Workers' compensation laws allow employees to request compensation for work-related injuries while protecting employers from lawsuits.
Workers' compensation insurance covers all work injuries and illnesses regardless of who's liable for the accident or illness. To claim these benefits, your employer must provide you with the relevant paperwork and the procedure for filing a worker's compensation claim. The insurance covers all injuries that an employee sustains while at their workplace or while in the line of duty, such as:
Current and future medical expenses

Lost wages

Temporary or permanent disability
There are a few exceptions where work injuries are not covered under workers' compensation laws. If your injury was self-inflicted, the result of intoxication, resulting from a fight, or if you defied any company policies, you may be unable to claim compensation from your employer.
Also, if your injuries were caused by the negligence of someone other than your employer or coworker, you may have the right to bring a personal injury lawsuit to recover compensation from the at-fault party. Don't try to navigate the complicated workers' compensation system alone. Reach out to one of our Boca Raton personal injury lawyers today.
How Can a Boca Raton Worker's Compensation Lawyer Help?
In general, worker's compensation laws provide benefits for employees, but the laws vary from state to state and have several guidelines that can make claiming compensation complicated. To ensure you file the claim according to the law, you should consider consulting a worker's compensation lawyer. Your lawyer will help you understand the law, including:
Your Eligibility:

You deserve to understand your rights and the compensation you can claim as a full-time, part-time, or seasonal worker.

Your Protection

: You need to know your rights if your employer fails to file the correct claim, your claim is seriously delayed, or your claim is denied. You also need to understand your rights if the injury or illness was due to a third party's actions.

Representation:

Knowing if you have a right to appeal the compensation or how to take legal action against the at-fault party is essential for the best outcome of your claim.
Employees have a right to file a claim or seek legal counsel without the fear of retaliation. If you get fired or are demoted because you filed a workers' compensation claim, you should consult a workers' compensation lawyer as soon as possible to protect your rights. Also, if the insurance company takes too long to pay your compensation, reach out to a dedicated work comp lawyer to help move things along.
A work comp lawyer can handle your case by reviewing the date and time of the incident and advising you on the best course of action under the law. We'll make sure you complete all documents correctly, file everything on time, and guide you through the entire process, step by step.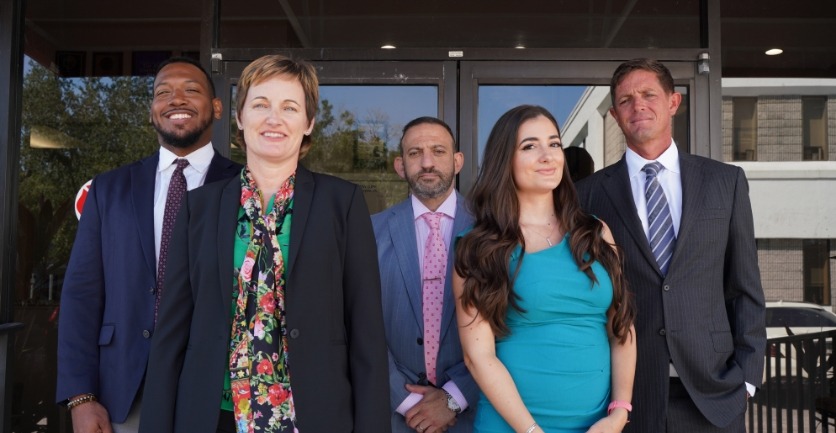 How are Work Comp Benefits Calculated?
The amount you can receive as compensation or settlement will depend on your injuries and your status as an employee. Some of the factors that will affect how much compensation you'll receive include:
Your employment status; whether you're a full-time or part-time employee

State workers' compensation law

How long you've been employed

Your pay rate and whether you're salaried or you receive an hourly pay

Your injuries; whether you're partially, totally, temporarily, or permanently disabled

How long you'll take to recover
To ensure you have a valid claim, you'll have to agree to a medical examination by an employer-chosen doctor. Also, you should file your claim as soon as possible after the accident. Though each state has its guidelines, Florida laws usually compensate workers for two-thirds of their average weekly pay after a certain amount of time off work.
However, this will also depend on your injuries and employment status. If your claim is successful, you can receive either a lump-sum settlement or a one-time payment from your employer or insurance company. In other cases, you can receive structured compensation, including several smaller payments over a specified period.
A Boca Raton Workers' Comp Attorney Can Help You Maximize Your Settlement
Many workers' compensation cases end in a settlement. Apart from the settlement payment agreement, the following may also be in effect:
An agreement that you cannot claim additional compensation for lost wages, medical bills, or any other loss

A waiver of liability preventing you from taking legal action against your employer or possibly any third party who contributed to your illness or injury

A nondisclosure clause banning you from revealing details about the settlement to anyone
These settlement arrangements are also applicable in wrongful death claims. To avoid delays and cancellations and obtain the best compensation settlement, you should:
Follow your state and employer guidelines for reporting an injury or illness

Seek proper medical attention immediately after the incident

Consent to an independent medical examination from a doctor chosen by your employer

Keep a record of all your medical expenses

Talk to a lawyer after the accident and avoid dealing with an insurance company directly

Keep a journal of your recovery journey

File a correct claim
If you're unsatisfied with a settlement offer, speak to a worker's compensation lawyer before you sign the settlement. Once you sign the settlement, you waive your rights to discuss details of the payment or seek additional damages.
Contact a Boca Raton Worker's Compensation Lawyer at Dolman Law Group Today
If you've been injured at work and need help claiming compensation or appealing a decision, you have the right to consult with a Boca Raton worker's compensation lawyer. Since we offer a free consultation and case review, you have nothing to lose and so much to gain.
At the Dolman Law Group, we will review your claim and work hard to ensure you receive the maximum compensation possible for your damages. We have extensive experience bringing and appealing workers' compensation claims and filing personal injury actions against third parties that cause our clients' losses.
Contact us online or call (561) 220-4963 for your free consultation and to regain peace of mind today.
Dolman Law Group Accident Injury Lawyers, PA
301 Yamato Road, Suite 1240
Boca Raton, Florida 33431
561-220-4963