The major truck route on U.S. Hwy 19 runs through Largo, and trucks frequent this busy roadway as they bring goods into and out of Pinellas County. According to the Florida Department of Transportation, 762 million tons of freight move across Florida's roads each year, with nonmetallic minerals constituting the county's top imports and exports, including clay, concrete, glass, or stone.
The largest amount of truck activity in Largo involves intrastate travel, with Hillsborough County and Miami-Dade County serving as the top trade partners for imports and exports, respectively.
The number of truck traffic on roadways like U.S. Hwy 19, which experiences a high volume of commuter and tourist traffic, serves as a leading cause of accidents, and accidents involving commercial trucks often prove among the most deadly types of motor vehicle crashes to occur on U.S. roadways. If you have sustained injuries in a truck accident in Largo or have lost a loved one due to a truck accident, you should understand the legal process by which you can seek compensation for your losses.
An experienced Largo truck accident lawyer from Dolman Law Group Accident Injury Lawyers, PA, can help you understand this process and seek maximum compensation for you.
We take pride in our past case results, which include:
$3.85 million for a client who suffered a spinal injury that required surgery to repair, as well as a traumatic brain injury that resulted in cognitive deficits when a commercial truck struck his vehicle.
$3.2 million for a client who sustained a traumatic brain injury in a truck accident.
$1.75 million for a client who suffered a traumatic brain injury and a partially torn rotator cuff after an accident caused by an improperly maintained tractor-trailer.
The Size Factor: Hazards Presented by Commercial Trucks
On average, commercial trucks in the U.S. reach heights of about 13.5 feet, widths of 8.5 feet, and lengths of 72 feet. Fully loaded, a tractor-trailer can weigh up to 80,000 pounds, more than 20 to 30 times larger than the weight of a passenger car.
This massive size leads to many hazards for other users of Largo's roadways, such as:
Significant blind spots on all four sides of the vehicle that make it hard for the driver to see smaller vehicles driving closely in front, behind, or alongside the truck. The truck's blind spot, also known as a "no zone," is particularly large along the passenger side of the vehicle.
A longer stopping distance. All vehicles require a certain distance from when the driver perceives danger and responds by braking until the car comes to a complete stop. The larger the vehicle, the more distance needed. Trucks require 20 to 40 percent more distance to stop than passenger cars.
A higher center of gravity, which makes the vehicle more likely to overturn when going around sharp corners or curves, or when attempting emergency driving maneuvers. The rollover risk increases if the cargo in the truck becomes imbalanced.
Wide turns. To swing a 72 foot-long truck around a corner, the driver must involve adjacent travel lanes. If the driver fails to take adequate care, they can cause an accident with the vehicles in that other lane or those attempting to turn in a lane adjacent to the truck's turn lane.
Higher ground clearance, which allows smaller vehicles to slip beneath the truck during an accident. Known as an underride, this type of accident often proves deadly.
Common Causes of Largo Truck Accidents
Truck drivers face the same hazards on the highway headed into or out of Largo as any other driver does, including aggressive driving behaviors, such as tailgating or speeding, as well as distracted drivers and work zones.
However, in the busy rush along Pinellas County's truck route, truck drivers often engage in risky driving behaviors themselves, which can include:
Distracted driving: Three primary types of distractions exist, including manual distractions, which cause the driver to take their hands from the wheel; visual distractions, which draw the driver's eyes from watching the roadway; and cognitive distractions, which cause the driver to take their attention from driving safely. Common driving distractions include texting and other cell phone use, eating or drinking, adjusting stereo or GPS controls, and even daydreaming. Texting while driving poses such a concern for state and federal lawmakers because it presents all three types of distractions. According to the federal agency that oversees the trucking industry, the Federal Motor Carrier Safety Administration (FMCSA), truck drivers must avoid any handheld use of cell phones while driving or face consequences that can include monetary fines, suspension of the driver's commercial driver's license (CDL), or even an impact on the driver's or company's Safety Measurement System results. Florida also prohibits drivers from using handheld devices.
Fatigue. Fatigue poses a major concern in an industry that requires its workers to travel long distances and spend many of their waking hours staring at scenery that may prove slow to change. Truck drivers must follow the FMCSA's hours of service requirements, which mandate break periods after so many hours of on-duty driving.
Impairment. The regulations that control the trucking industry in the U.S. also include regular screening for drug and alcohol use. Alcohol or drug impairment can impair the skills a driver needs to operate his or her vehicle safely, including difficulty tracking moving objects and difficulty maintaining speed or a single lane of travel—all extremely dangerous prospects when the driver operates a motor vehicle that weighs up to 80,000 pounds.
Speeding. Speeding constitutes a major factor in all types of motor vehicle accidents, accounting for more than a quarter of all fatal accidents. Speeding refers not just to traveling over the posted speed limit but also to driving too fast for the conditions of the road. Truck drivers may feel tempted to speed to meet delivery deadlines. However, speeding increases the distance needed for a vehicle to stop and makes the vehicle harder to control, two conditions already present for the drivers of commercial trucks.
Common Injuries in Largo Truck Accidents
Truck accidents can cause some of the most serious injuries a person can sustain, including those with a high likelihood of causing permanent deficits or even death, such as traumatic brain injuries and spinal cord injuries.
Other types of injuries that often occur in truck accidents include:
Damage to the spinal vertebrae and discs in the neck and back, which can lead to mobility loss and chronic pain.
Internal injuries to organs, such as the heart, lungs, liver, or spleen, which can cause internal bleeding and death as a result of blood loss.
Broken bones, which can involve both closed injuries as well as open fractures in which a bone has protruded through the skin.
Lacerations and cuts.
Limb amputation.
Burns from contact with hot surfaces or flames. This poses a particular concern if the truck involved in the accident had flammable materials in it that could leak onto the roadway and ignite.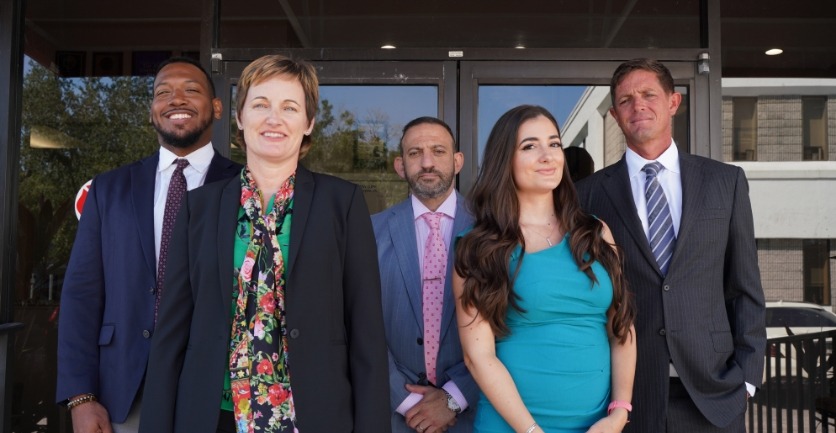 Seeking Compensation for Your Losses After a Largo Truck Accident
Florida allows individuals in Largo who sustained injuries due to the careless or reckless actions of another person or entity to recover both economic and non-economic damages through the state's civil court system. Accordingly, individuals who have sustained injuries can seek compensation (damages) for the expenses (economic) and impacts (non-economic) they incurred as a result of the injuries sustained in the truck accident.
Generally, injured individuals don't seek compensation from the at-fault party personally, but rather from the at-fault insurance company. Because trucks have so many hazards related to their size, and such a high risk of causing death or injury to the occupants of other vehicles, truck drivers and trucking companies must purchase higher levels of liability insurance.
To determine liability (legal responsibility) in your truck accident, your attorney will seek to prove the following elements of negligence in your case:
The at-fault party owed you a duty of care. The duty of care refers to how a reasonable person would act in similar circumstances to protect the safety and property of others. Truck drivers in Largo owe other users of the roadway a duty to drive safely by following state traffic laws and federal and state trucking regulations.
The at-fault party breached the duty of care. A breach occurs when the at-fault party's actions directly contradicted the duty of care owed at the time of the accident.
This breach resulted in an accident involving a commercial truck in which you sustained injuries and incurred related expenses and impacts.
Filing a Largo Personal Injury Lawsuit
Individuals who sustain injuries in a Largo truck accident can seek compensation through a Largo personal injury claim to recover the financial and psychological costs of the injury. Injured individuals must file their truck accident lawsuits in Florida within four years of the date on which the accident occurred.
The compensation you can seek through a personal injury claim includes:
Medical expenses, including emergency treatment, ambulance transport, hospitalization, diagnostic tests, your physician or surgeon's services, prescription medication, physical therapy, rehabilitation, prosthetic limbs, the provision of crutches or a wheelchair, and other expenses deemed medically necessary to treat or accommodate your injury.
Lost wages from being too injured to work or due to medical appointments related to the injuries you sustained in the truck accident.
Loss of future earning capacity if your injury prevents you from earning as much income as before the accident.
Property damage, such as the cost of repairing or replacing your vehicle if it sustained serious damage in the accident.
Physical pain and suffering.
Emotional distress.
Loss of the enjoyment of life.
Filing a Largo Wrongful Death Lawsuit
Family members who have lost a loved one in a Largo truck accident can seek compensation for their losses through a wrongful death lawsuit. Like a personal injury claim, plaintiffs file wrongful death claims in civil court; these claims seek to show who caused an accident that led to the deceased's death. Florida requires certain family members or a representative of the deceased's estate to file such a claim, generally within two years of the date on which the accident occurred.
Wrongful death claimants can seek damages that include:
Loss of support and services the deceased provided to their loved ones.
Loss of the deceased's companionship and protection.
Emotional pain and suffering experienced by the deceased's family members because of the loss.
Loss of parental companionship, support, guidance, and instruction.
Medical expenses from the treatment of the deceased's final injury.
Lost wages, benefits, and earnings from the deceased's final injury until their death.
The wages, benefits, and earnings the deceased would have likely earned throughout his or her career had they lived.
Funeral and burial or cremation expenses that either a family member or the estate paid.
Let Dolman Law Group Accident Injury Lawyers, PA, Help You Obtain Compensation
Truck accident cases often prove complex due to the amount of documentation needed regarding the driver's compliance with regulations, on top of the general complexities involved in legal processes and the high degree of medical understanding necessary to accurately communicate and portray the severity of the injuries caused by a Largo truck accident.
Let a Largo truck accident lawyer help you make sense of this process. With offices across both Florida coasts, you can easily reach Dolman Law Group Accident Injury Lawyers, PA, at (866) 826-1298, or you can write to us using our online contact page.
Largo Office Location
10225 Ulmerton Rd, Building 6A-2
Largo, FL 33771
(866) 826-1298
Client Testimonial
"AMAZING and understanding attorneys! Did great on my case and I highly recommend Dolman Law Group Accident Injury Lawyers, PA for anyone that has been injured in an accident!"
Rating: 5/5 ⭐⭐⭐⭐⭐
Koralis R.
Jan 2020
Read more reviews on Google!