The commercial trucking industry is critical to America's economy. It is estimated that, on a daily basis, there are in excess of 5 million semi-trucks traveling across the nation to deliver products. Florida's agricultural industry depends heavily on these 18-wheelers. The Boca Raton truck accident lawyers at Dolman Law Group Accident Injury Lawyers, PA, understand the impact that an 80,000-pound truck has when it collides with a 4,000-pound vehicle. Our Boca Raton truck accident attorneys have litigation skills that produce extraordinary results when this occurs.
A case in point. Following a collision with a semi-truck, a victim sustained a rotator cuff tear and a mild traumatic brain injury. Rather than accepting an award of $265,000.00 secured by his previous law office, he contacted us. Through an in-depth investigation, we discovered evidence that the truck had not been properly maintained. We filed suit, and our client was awarded $1,750,000.00. If you have been in a truck accident in Boca Raton, we can review your next steps for legal recovery during a free consultation.
We Must Act As Soon As Possible After a Truck Accident Occurs
Truck accident cases are often more complex than those involving passenger cars for several reasons. One reason is the number of parties that could be liable for the accident, which we discuss further below. Another reason is how much time-sensitive evidence these cases can involve.
In many cases, the trucking company can have the proof we need to establish fault and liability in your case. However, if we don't move quickly, this evidence could get lost or disappear. Our Boca Raton injury lawyers can send a spoliation letter to preserve this evidence that could prove who or what caused your accident. Examples of this evidence include:
The truck driver's licenses, training, and employment records

The truck driver's logbook, which we can show if any

hours-of-service

violations occurred

Truck's maintenance and repair records

Sobriety field test results

Dashcam footage from the truck driver's vehicle

Data from the truck's electronic data recorder (black box)
Additional Evidence in Truck Accident Cases
Other key evidence that we need to move quickly to collect include:
Physical evidence at the crash scene that can establish what happened

Witnesses' accounts of the crash before too much time passes and their memories fade

Truck accident documents that could be changed, thrown away, or hidden
Our team will take care to preserve the evidence available so we can build your case. We will focus on these tasks for you while you focus on your healing from your accident.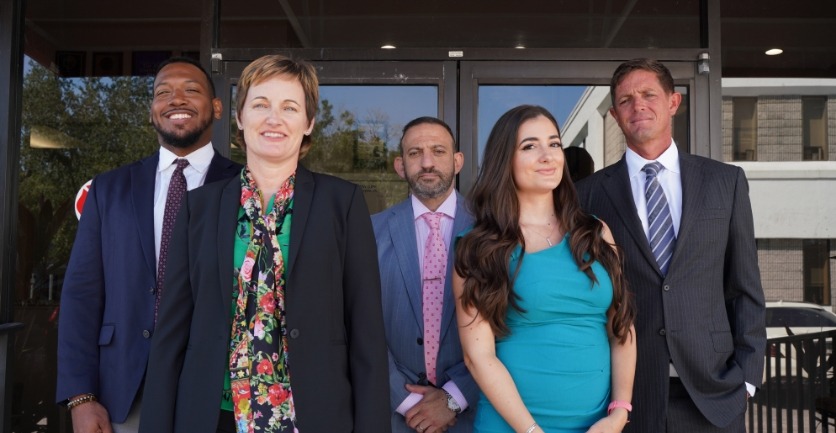 You have a Limited Time to Sue for a Boca Raton Truck Accident
Florida law has set strict filing deadlines for personal injury cases. Under Florida Statutes § 95.11 (3)(a), you have four years to sue the liable party for damages in your Boca truck accident case. If you wish to file a wrongful death action, you have two years, as Florida Statutes § 95.11 (4)(d) outlines. Missing either of these deadlines can jeopardize your chances of recovering compensation, so you want to keep your eye on the calendar.
We recommend that you start your case early so that our Boca Raton accident lawyers will have time to investigate your case, speak with witnesses and handle other case-related tasks. Additionally, we will file your case on time to protect your right to sue for damages. This is an option we can pursue if settlement negotiations with the liable party's insurer do not lead to an award for you. Our attorneys can give you a definite case timeline once we review the facts about your accident.
Recoverable Compensation for Truck Accident Injuries
Our Boca Raton truck accident lawyers can determine the value of all your damages, including ones that have no fixed dollar amount, such as pain and suffering. We will consider the accident's impact on your life and how it could affect you for the rest of your life.
Then, we will help you request compensation for your:
Medical expenses, including those for emergency care and ongoing rehabilitation

Lost wages, benefits, tips, and other income you missed due to being out for recovery

Reduced earning ability or future lost income if your injuries prevent you from returning to work

Property damage for repairs or replacements

Disfigurement, scarring, and temporary or permanent disability

Wrongful death damages if you lost a loved one in a truck accident (If awarded, this compensation can pay for end-of-life expenses, such as the decedent's final medical bills and funeral arrangements.)
We will Identify the Liable Parties in a Boca Raton Truck Accident
While it's not possible to guarantee a successful outcome in every case, our experience representing victims of truck accidents means representation that is passionate, dedicated, and capable of getting you justice.
Where does the Liability Fall in a Truck Accident?
The answer is not always obvious. When addressing the issue of liability, several factors come into play. A study by the Federal Motor Carrier Safety Association (FMCSA) stated that the drivers of trucks involved in an accident are 10 times more likely to cause an accident than the weather, vehicle performance, or road conditions. While this is often the case, the following parties can also be held liable:
Truck driver's employer or owner of the truck

The company leasing the truck

Manufacturer of the truck, trailer, or components

The company responsible for loading the truck's cargo

The crew that performs repairs or routine truck maintenance

The municipality responsible for the upkeep of the site where the accident occurred
We have learned from experience that trucking companies are businesses just like any other. Their main goal is profitability, often at the expense of safety. In our investigation process, we often find that background checks never happened, and drivers with a record of traffic violations and accidents are on the payroll. It is not uncommon to find that repairs and preventative maintenance take a back seat in the name of cost savings.
A Defect or Improper Maintenance?
What may initially seem to be an accident caused by defective equipment may actually be the end result of improper maintenance. An investigation is critical because there is a significant difference between taking on a manufacturer in a defective product case and taking on a trucking company that negligently failed to maintain its equipment. We will make certain that we are taking the right action to maximize compensation for you.
What Causes a Semi-Truck Accident?
The most common factors include:
Speed
Truck drivers operate under constant pressure to deliver their goods as quickly as possible. Excessive speeding places every vehicle on our roadways in danger and results in some of Florida's most serious accidents. Almost 25 percent of truck accidents are caused by drivers simply going too fast (according to the FMCSA). A truck cannot stop as quickly as a passenger vehicle and is more likely to lose control, resulting in the inability to stop at a traffic signal, jackknifing, veering into oncoming traffic, or hydroplaning.
Medications
Truck driving is a federally regulated profession. By law, there are drugs that preclude a person from obtaining a license to operate a commercial vehicle and non-negotiable restrictions for the use of medications in general.
Drivers have a responsibility to be properly trained, safe, and responsible. A driver found to be under the influence of any substance that impairs focus, dexterity, or cognition may be held liable in the event of an accident.
Overweight Loads
Drivers are responsible for following regulations concerning the weight and balance of the cargo they are carrying—a tight deadline is not an excuse for failure to maintain safety at all times.
A truck that is overloaded and out of balance may result in increased downhill speed, difficulty in steering, and an inability to stop in time to avoid impact.
Jackknife Accidents
Jackknife accidents are, undoubtedly, among the most deadly collisions on our roadways. When a driver loses control of the trailer, causing it to spin and twist, all vehicles in the vicinity are in danger of colliding with the truck. Especially common during periods of inclement weather, jackknifing can be the result of:
Sudden braking

Driver negligence

Poor truck maintenance
Driver Fatigue
The law is clear. There is a finite number of hours that a trucker may drive in a day and a minimum amount of time that must be spent off-road in between. Up-to-date logbooks are mandatory and can be entered into evidence in a civil suit. Certain pieces of evidence, like gas and food receipts, GPS data, and toll-road receipts, may also be used to document the length of time a driver spends on the road.
Distracted Driving
"Sending or reading a text takes your eyes off the road for 5 seconds. At 55 mph, that's like driving the length of an entire football field with your eyes closed." Without a doubt, this is a frightening statistic from the National Highway Traffic Safety Administration (NHTSA).
Although it is not against the law to be using a handheld device while driving, being distracted to the point of causing an accident or injury does, in fact, make you culpable. Other types of distraction include:
Drinking or eating

Personal grooming

Reading a map

Using a navigation system

Watching videos
Equipment Failures
When mechanical issues such as brake failure, tire tread separations, faulty steering, problems with trailer hitches, or broken hydraulic hoses are left unattended, all drivers on the road are in peril. Trucking companies are legally required to properly inspect their fleet.
Aggressive Driving
When aggressive driving is deemed "'road rage,' the final determination may be considered assault. This is criminal behavior. Intentional aggressive driving includes:
Speeding

Following too closely

Weaving

Failing to yield the right of way

Deliberately blocking attempts to pass

Ignoring traffic signs and signals
Call Our Boca Raton Trucking Accident Lawyers If a Truck Injured You
If you were in a Boca Raton trucking accident, call 561-220-4963 to speak with a member of our Boca Raton legal team or write to us online. Don't wait until it's too late. Trucking companies often carry high-limit insurance policies to take care of catastrophic injuries. 
They understand exactly how much an accident can cost them. As such, they will begin immediately collecting evidence to minimize your claim. In fact, the trucking company's insurance investigators will sometimes show up at the accident scene as quickly as emergency personnel. While you concentrate on your recovery, allow us to concentrate on fighting for the justice you deserve.
Dolman Law Group Accident Injury Lawyers, PA
301 Yamato Road, Suite 1240
Boca Raton, Florida 33431
Phone: 561-220-4963
Fax: 305-517-1306
Directions | Hours

What Our Clients Have to Say:
"Chad Robinson always responded immediately whenever I had questions or concerns. He worked hard to make sure I received what I deserved."
Rating: 5/5 ⭐⭐⭐⭐⭐
Michelle Dorn
December 19
Read more reviews on Google!