Winter storms can cause costly damage to your home. Snow and ice can damage or cause your roof to collapse, and freezing temperatures could cause water pipes to burst. When snow or ice damages your home, you'll likely turn to your homeowners' insurance policy to get the necessary repairs or replacement underway. But what happens if your insurer denies or delays your storm damage claim?
If you experience frustrating delays or insurance claim denials after snow or ice damage to your home, know that you're not alone, and legal help is available. At Dolman Law Group Accident Injury Lawyers, PA, our snow and ice damage attorneys have the experience necessary to assist you with your insurance claim. To learn more about your legal options in the aftermath of a snow or ice damage incident, contact us by phone or online for your free consultation.
Why Choose Dolman Law Group Accident Injury Lawyers, PA?
Buying a house is one of the most significant investments you'll ever make. And if you're renting your home, some of your most cherished belongings are likely stored there, including furnishings, clothing, valuables, and your vehicle. When your home or personal property gets damaged by ice or snow, you have a right to expect your homeowner's or renter's insurance policy to pay for necessary repairs or property replacement.
Many homeowners and occupants are shocked and frustrated when their insurance provider refuses to pay for snow and ice damage or offers a lowball settlement amount to make their claim go away. Insurance companies commonly use vague language or confusing nuances in their policies to justify these denials. A knowledgeable insurance bad faith lawyer could level the playing field and help recover the money you're owed for your claim.
At Dolman Law Group Accident Injury Lawyers, PA, we provide the aggressive representation you need and deserve after a winter storm.
When you hire us, you can count on:
Dedicated experience you can trust—Since 2004, our firm has provided experienced legal representation to those whose valid snow and ice insurance claims have been denied. We have secured millions of dollars in fair compensation from settlements and trial verdicts on behalf of deserving clients like you. We help those who have experienced catastrophic property damage, the loss of their life savings, and even lost their homes after severe winter storms.
Compassionate, personalized service—You are much more than a case number. You'll be treated like family when you decide to work with our team. From the moment you hire us, we'll get to know you personally, so we can understand the full scope of your situation, your biggest concerns, and your ideal outcome. We prioritize consistent and clear communication, so you will know exactly where your case is and remain in control at all times. No matter when or where you need us, we are here to help.
Full-scale support from start to finish—Property damage caused by snow, ice, or other extreme winter weather can bring everything to a standstill. If your home is uninhabitable, you may be forced to vacate the property, pay for accommodations elsewhere, or even miss time at work. With this much on your plate, it's easy to feel overwhelmed. Fortunately, you don't have to face these challenges alone. Our property damage lawyers can manage every aspect of your case from start to finish, from filing claims to negotiating settlements or even heading to trial, if necessary. That way, you can focus on what truly matters.
Convenient and affordable assistance—When you need answers or a sympathetic ear, you can count on us. Our team is happy to meet with you virtually for your free consultation, and with dozens of office locations nationwide, we can often speak with you in person, too. We also understand that you may be in a difficult financial position after unexpected winter weather damage, so we offer affordable fee arrangements for every budget. When you work with us on a contingency fee basis, we cover all upfront costs associated with your case, and you only pay us if and when we secure compensation for you. Any fees we charge come from reasonable, prearranged percentages deducted from your final claim settlement. That way, you never have to worry about surprise charges or out-of-pocket payments.
Discover for yourself what sets us apart at Dolman Law Group Accident Injury Lawyers, PA, by contacting us now. We can address your concerns and evaluate your case for free during an initial strategy session.
Types of Winter Weather Damage From Snow and Ice
In many parts of the United States, winter weather is accompanied by powerful wind gusts, heavy snowfall, and the accumulation of ice and slush. These extreme weather phenomena can easily cause severe damage to roofs, skylights, foundations, vehicles, glass structures, and other personal property.
When a freezing blast hits your area, it may cause damage to your property or serious bodily injury by way of:
Ice dams—Ice dams can cause significant property damage. Ridges of ice form when water freezes in gutters or along the outer edges of rooftops, often due to uneven heating or insulation. Ice dams can damage shingles, gutters, and even wooden roof decking. Icicles or large chunks of ice can also break off and fall to the ground, possibly damaging property or injuring those standing below them.
Roof strain—Most roofs can handle moderate amounts of snowfall without issue, but the more snow falls, the greater the risk of extensive damage. After just four feet of snow accumulation, or about two feet of compressed snow accumulation, the average roof will already be under severe strain. When this happens, it doesn't take much for leaks to form, which can easily damage walls, carpets, and personal belongings in the home. Excess snow can contribute to a partial or complete roof collapse in severe cases.
Leaks or floods—Melting snow and ice can cause the most severe damage from winter storms. Water can seep into cracks, leak into your home's interior, or flood your foundation. Many floods and leaks occur because freezing, thawing, and refreezing cause considerable wear on your home, widening existing cracks and exacerbating other issues.
Burst pipes—If your home's plumbing is not sufficiently winterized, colder temperatures can cause pipes to freeze solid or even burst. Even with a winterized system, preventable plumbing issues could arise if unexpected wintertime power outages catch you off guard. Pipes and faucets in unheated or external areas of your home, such as garages and crawl spaces, are most at risk for winter weather damage.
Other water damage—Snow and ice do not need to destroy the structure of your home to cause substantial property damage. Snow or ice can melt into puddles, damaging hardwood surfaces and carpets. Excess moisture in the house could also lead to mold growth as ambient temperatures increase.
Slick pavement—Snow and ice can cause more than property damage in the winter. When compacted snow or ice accumulates on driveways, sidewalks, or other paved surfaces, people can suffer severe injuries from slips, trips, and falls. Snow or ice on a driveway can also contribute to vehicle accidents, such as loss-of-control wrecks in which drivers skid into pedestrians while backing out.
Ruined trees—If you have trees near your home, you may have problems come wintertime. Heavy snowfalls can weigh down trees and their branches, causing them to droop, fall over, and damage your home. Sagging branches can scratch windows, destroy siding, or even slump onto and overload roofs. And when snow-laden branches break, they can fall from heights and cause considerable damage or bodily injury.
Garage door issues—When snow or ice accumulates in front of a garage door, it can cause the door to get stuck or even freeze shut entirely. Attempting to open the garage door by repeatedly cycling the opener or prying at it manually often causes additional damage to the door and mechanical opening systems.
Snow plow accidents—Local governments often employ snow plows to clear roadways in areas that frequently receive heavy snowfall. Snow plows can contribute to property damage when they fling large quantities of snow or ice toward vehicles and homes. They can also destroy mailboxes and curbside structures when snow plow blades physically strike these objects.
Snow and Ice Property Damage Cases in the United States
Winter storms can cause massive destruction. According to the Insurance Information Institute, winter storms caused a record $15 billion in property damage in a recent year.
A nationwide survey also found that nearly one in five homeowners experienced property damage caused by snow or ice during the previous winter, and more than 16 percent had flood damage when the snow and ice melted in spring. Among those who experienced property damage, 62 percent said they were still dealing with the consequences a year later.
Most homeowners (83 percent) could have repairs completed, but many (45 percent) were still trying to pay off the costs of those repairs. A considerable minority of respondents (17 percent) had not started home repairs at all.
If you have experienced snow or ice damage in your home, you may be wondering about your options for completing and paying for repairs. When accumulated ice or snow damages personal property, one of the most critical considerations involves who is responsible for diverting or removing the ice or snow. The answer to this question can vary considerably depending on the location and nature of the damage.
For instance, if your roof develops a leak or collapses from the strain of heavy snow that you knew about but neglected to address, your options may be relatively limited. Many homeowners' insurance policies cover this type of damage, but some have specific exclusions or exceptions. However, if the roof collapsed even though you paid a contractor to remove the snow or reinforce your roof, you may have grounds for a claim against that contractor.
Similarly, many local governments in colder states have codified ice and snow removal policies for public roadways. Municipalities typically have specific plans for addressing dangerous winter road conditions, such as applying sand or salt to roadways or utilizing snow plows. Municipalities may be liable for snow- or ice-related property damage or bodily injury under certain circumstances and even in areas without designated winter weather procedures.
Compensation may not be available for damage caused by the natural accumulation of ice and snow. Still, holding a local government agency liable for damage caused by an inadequate municipal response to public hazards might be possible. Claims against government agencies are tricky and subject to strict time constraints, so if you suspect you may have grounds for such a case, you should speak with an attorney immediately.
Keep in mind that property owners and occupants often have plenty of responsibilities of their own. Many states and local governments require owners to take reasonable steps to remove snow, ice, fallen tree limbs, and other debris from any parts of their premises accessible to tenants, visitors, or members of the public. Property owners may be liable for subsequent damage or injuries if they neglect or refuse to take these steps.
Compensation for Snow and Ice Damage
When snow or ice damages your property, you might not have to pay out of pocket for repairs. In many cases, your first step will be filing a claim with your insurance provider. Many homeowners' and renters' insurance policies cover snow and ice damage, even if their representatives give the opposite impression.
Suppose the damage was partially or entirely the result of another party's negligence, such as a roofing contractor or local municipality. In that case, you might also have grounds for a third-party liability claim. And in some cases, if you struggle to recover what they owe you through an insurance claim, you and your attorney might decide the best course of action is to file a property damage lawsuit.
With a successful insurance claim or civil lawsuit, you could recover money for the following expenses and losses commonly associated with snow and ice damage:
The costs of snow or ice removal projects, whether personal or professional
The costs of repairing damage to roofs, gutters, siding, windows, or foundations
The costs of repairing or replacing home furnishings, vehicles, and other personal property that was damaged directly or incidentally by the snow or ice
Medical costs you incur from snow- or ice-related accidents, such as slips and falls on government property or car crashes on icy, neglected roadways
The value of any wage losses you incur due to missed time at work while you deal with the consequences of snow- or ice-related property damage or injuries
The subjective value of personal losses, such as the stress and reduced quality of life you endure due to snow- or ice-related injuries or damage to your home
Remember that the value of your unique ice and snow damage claim can vary substantially based on the specific details of your situation. The fair market value of your property and the extent of any damage it sustained are often the most significant factors. Other important considerations include the estimated costs of repairs or replacements, whether you've vacated your home, and whether anyone was injured or missed time at work due to the incident.
If snow or ice accumulation injures you, you have the right to seek fair compensation for your losses. Most homeowners' and renters' insurance policies include liability coverage, which pays for other people's medical expenses if they get injured in their homes, though it will not cover injuries to anyone who lives in the home. These policies are a source of much-needed relief for those injured through no fault of their own, and an experienced attorney could help you seek the compensation you deserve.
This compensation could include:
Medical bills
Therapy or rehabilitation
Lost wages due to missed work
Loss of future earnings if disabled
The team at Dolman Law Group Accident Injury Lawyers, PA, has extensive experience handling of property damage and premises liability claims, including those involving damage caused by winter weather. We'll be ready to help you recover the money you need to pay for repairs, replace damaged or destroyed property, and move on from the storm.
Filing Insurance Claims for Snow and Ice Damage
When most people buy or rent a home, they purchase homeowners' or renters' insurance as financial protection against the unexpected. These policies usually cover many types of property damage, including acts of nature like floods and snowstorms. When the system works as intended, policyholders get the money they need to pay for repairs, replacements, and associated losses.
Unfortunately, many homeowners and tenants are shocked when their insurance companies refuse to pay for damages that seem like they should be covered. When a provider undervalues a claim, fails to respond to inquiries promptly, or denies a legitimate claim, the costs of repairing snow and ice damage will fall on the policyholder. And because providers often rely on confusing or vague language to justify their decisions, you might have trouble determining whether your insurance company acted in good faith.
This is where the help of a knowledgeable attorney comes in handy. At Dolman Law Group Accident Injury Lawyers, PA, our property damage lawyers have decades of experience dealing with insurance providers. These companies exist to make a profit and reward their shareholders, and they do this by denying, delaying, and minimizing claims. Fortunately, we know the tactics insurers use to avoid paying their fair share, and we also know how to fight back.
Our firm has a national reputation for success and a track record of outstanding case results that forces insurance providers to take our clients seriously. The insurance company will see that you mean business when you retain our services. They know that our attorneys are ready and willing to do whatever it takes to secure the compensation you are owed, up to and including taking your case to trial.
What to Do if Snow and Ice Damages Your Home
If your home has been affected by accumulated snow or ice, damaged water pipes, fallen tree limbs, or other winter storm damage, you should contact an experienced lawyer immediately for more information about your options.
However, there are many steps you can take on your own to protect your rights and establish a strong foundation for your property damage claim, including:
Taking stock of all property damage—Survey your home after the storm. List all damaged structures, furnishings, and personal belongings as you look things over. Write everything down, and take photos and videos of each item. Avoid discarding any items until the insurance adjuster has inspected them.
Observing inspectors in your home—If a property inspector comes to your home, accompany them as they conduct their walkthrough. Pay attention to anything they take note of, and do not hesitate to ask questions about what you see. Also, be sure their reported observations align with what you know to be true of the damage that occurred.
Gathering relevant documentation—You'll want to hang on to all documentation pertinent to your case. This includes repair estimates from contractors, previous home repair records, and documentation of any damaged property's original cost or current value. If you incur incidental expenses, such as the costs of staying in a hotel while it is repaired, save the receipts for those, too.
Keeping track of your communications—Create a list of every person you speak to at the insurance company. Each time you encounter a new representative, be sure to ask for their name and contact information. Record the date, time, and substance of each conversation related to your case.
Protecting your home from further damage—If you can, it's a good idea to take care of minor repairs on your own. This includes shutting off water sources, patching smaller holes, and completing essential snow or ice removal jobs. This will prevent further damage and demonstrate to the insurance company that you are taking the matter seriously. If you must make any purchases to complete DIY repairs, save the receipts since your insurance may cover the costs.
Snow and Ice Damage FAQs
Here are some straightforward answers to some of our most frequently asked questions about property damage caused by snow and ice:
Should I wait to arrange repairs for damaged property?
It depends. Suppose you need to make emergency repairs to address property hazards or prevent further damage temporarily, you can usually take care of such projects without worrying about whether your insurance will cover them. However, for property damage that requires more extensive, permanent repairs, it's usually better to wait until the insurance company investigates. Your policy should pay for the materials and labor needed for repairs, but your provider will likely want to assess the damage before they agree to cover it.
If I can't stay in my home, will my insurance pay for a hotel?
If you cannot stay in your home because winter weather contributed to a power outage, the costs of staying in a hotel will probably not be covered. This is because homeowners' insurance policies usually only cover costs associated with physical damage to the house. So, unless the power outage directly results from snow or ice damage to your home, you'll pay out of pocket.
Your insurance might cover a hotel stay if your home is uninhabitable because of roof collapse or other snow or ice-related damage. When you hire a snow and ice damage lawyer to represent you, your lawyer can review your policy to determine if hotel reimbursement is included.
What if I was injured by snow or ice on someone else's property?
Owners and managers are responsible for ensuring that their property is safe for visitors. During the winter months, snow and ice can pose serious threats to those visiting a property, whether as a guest or patron. Roads, parking lots, sidewalks, staircases, and other areas that experience heavy vehicle or foot traffic can become slippery and dangerous due to snow, ice, and melting water.
Some common injuries suffered in snow and ice accidents include:
Traumatic brain injuries (TBIs)
Neck and back injuries
Spine and spinal cord injuries
Internal organ damage
Broken and fractured bones
Cuts and lacerations
A property owner should never allow snow and ice to accumulate or build up without taking the necessary measures to mitigate the dangers they pose to others. If you slipped, tripped, or fell due to dangerous conditions on someone else's property, you could be eligible to seek compensation through a premises liability claim.
A premises injury claim is a specific type of personal injury claim that holds property owners and landlords accountable for negligence. Not all attorneys have experience handling these types of cases, so it's crucial to turn to a legal team with the right skills and resources to pursue this type of case.
Is there a time limit on snow and ice damage claims?
Yes. All states have a statute of limitations that establishes a time limit on filing lawsuits against other parties. This includes property damage lawsuits involving snow and ice damage. In most states, the time limit for filing property damage lawsuits is between one and five years.
The right to bring a lawsuit is the most substantial leverage you have when negotiating with the insurance company. If you wait until the time limit runs out to file your lawsuit, the court will be barred from hearing your case, and the insurance company will have little reason to continue negotiations or offer a fair settlement.
Fortunately, an experienced lawyer will know these important deadlines and ensure your case remains on track. They will aggressively negotiate with the insurance company and, if necessary, will make sure to file your lawsuit before time runs out.
Our injury attorneys know the time limits to these types of claims, and we're here to keep your case on track. Dealing with insurance companies is what we do, and we'll be ready to put our extensive experience and skills to work for you when you retain our services.
Contact a Snow and Ice Damage Lawyer Today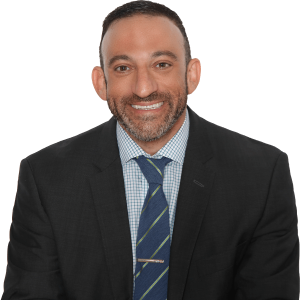 When snow or ice damages your home or property, turn to an experienced winter storm property damage lawyer for help. Our attorneys are here to help you with the recovery process. This means first evaluating the extent of the damage and determining liability. From there, we'll help by filing a claim or lawsuit, communicating with the insurance companies, and working to secure a fair settlement.
We believe that strong communication is key to a successful attorney-client relationship. While we work on your case, we'll provide regular updates on the status and progress. You'll also receive the personal cell number and email address for the attorney handling your case.
If you're concerned about how much it might cost to hire us, don't be. We represent clients on a contingency-fee-basis, which means we won't charge you anything until we win your case.
The team at Dolman Law Group Accident Injury Lawyers, PA, has extensive experience handling snow and ice damage claims, and our goal will be to help you get what your insurer promised you. If your claim was denied, delayed, or lowballed, don't despair. Call us at 833-552-7274 or reach out online for a 100 percent free case evaluation today.
Dolman Law Group Accident Injury Lawyers, PA - Clearwater Office
800 North Belcher Road
Clearwater, FL 33756
727-451-6900
Client Testimonial
"AMAZING and understanding attorneys! Did great on my case and I highly recommend Dolman Law Group Accident Injury Lawyers, PA for anyone that has been injured in an accident!"
Rating: 5/5 ⭐⭐⭐⭐⭐
Koralis R.
Jan 2020
Read more reviews on Google!