Children sustain bumps and bruises. It's part of growing up. But sometimes, a child's injury happens in a way that it shouldn't have—an accident that an adult could reasonably have prevented but didn't. When that kind of child injury occurs, the child and their parents may have a legal claim for damages.
At Dolman Law Group Accident Injury Lawyers, PA, we represent child injury victims in lawsuits and insurance claims. We fight to get kids and their parents the money they need to heal from preventable trauma and plan for the future. If your child sustained a preventable injury in an accident in the New Smyrna Beach area or beyond, our New Smyrna Beach child injury lawyers can help you explore your options.
A Skilled, Caring Child Injury Team
Dolman Law Group Accident Injury Lawyers, PA, is an award-winning team of trial lawyers. We devote our law practice exclusively to representing people who have suffered injuries because of someone else's dangerous, wrongful conduct. Over the years, our New Smyrna Beach personal injury attorneys have achieved favorable case results for injured clients totaling millions and millions of dollars.
Many of us at Dolman Law Group Accident, Injury Lawyers, PA, are parents ourselves. We understand the pain and trauma child injuries inflict on young victims and their families. Our goal is to ensure injured children and their parents have the financial support they need to heal and move forward after someone's careless or reckless conduct causes harm.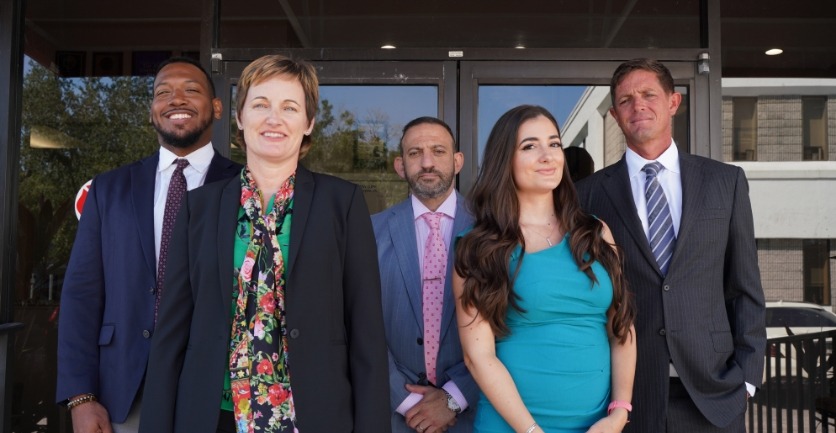 Child Injury Cases We Can Handle
Children sustain preventable injuries in a wide variety of ways. The team at Dolman Law Group Accident Injury Lawyers, PA, possesses the talent and resources to handle cases involving virtually any of them. No matter how your child got hurt in New Smyrna Beach or elsewhere, we can explain your rights and help you explore your options.
Given the nature of childhood injuries, many of the child injury cases that we're prepared to handle arise in one of the following circumstances.
Motor Vehicle Accidents
According to the public health experts at the Centers for Disease Control and Prevention (CDC), motor vehicle crashes constitute a leading cause of childhood injury in the United States.
Kids suffer preventable injuries in motor vehicle accidents as:
Passengers in cars driven by adults
School bus passengers
Teen drivers
Bicyclists
Pedestrians
A crash can inflict a wide range of injuries, from spinal cord damage to broken bones. Many of those injuries can severely disrupt a child's life. And some can derail a child's future by causing permanent disabilities, impairments, or death.
At Dolman Law Group Accident Injury Lawyers, PA, we have extensive experience in car, truck, bus, motorcycle, pedestrian, and bicycle accident cases. We're ready to fight to hold the parties at-fault for a crash accountable for a child victim's injuries.
Falls
Children fall down constantly. Most of the time, they get back up without much harm done. But preventable falls also account for hundreds of thousands of childhood injuries every year, according to the CDC, and some of those falls can lead to valid lawsuits.
Adults, businesses, and institutions may face liability for injuries a child suffered after falling from, for example:
Dangerous playground equipment
A backyard trampoline or treehouse
A rooftop or open second-story window
An amusement park ride
A hotel balcony
Dolman Law Group Accident Injury Lawyers, PA, works tirelessly to obtain compensation for kids who fall because a property owner, school, guardian, or other party failed to take reasonable steps to keep them safe from a dangerous fall. Not every fall injury is a child's fault, and we're prepared to prove it.
Drownings and Near Drownings
Children love swimming, but they can suffer devastating injuries—including permanent brain damage or fatal oxygen deprivation—when they drown or nearly drown in a backyard, public, or hotel pool.
Tragic child drownings and near drownings often happen because a property owner or other adult who should have known better failed to:
Lock a pool after hours
Supply adequate or working pool safety equipment
Perform appropriate lifeguarding duties
Maintain a safe pool deck or diving board
Limit the number of swimmers in a pool at once
The attorneys at Dolman Law Group Accident Injury Lawyers, PA, are ready to go the distance for children and families devastated by drownings and near drownings. Pools and other water features should never pose a danger to a child, but when they do, we're ready to pursue justice relentlessly.
Sports and Recreational Accidents
Kids who play sports or participate in other physically demanding activities risk getting hurt from time to time. It comes with the territory. But the risk of injury does not absolve adults in positions of authority—such as coaches, referees, and scout leaders—from the obligation to keep children as safe as possible. Legal liability arises for those adults and their employers when they make poor decisions that put children in harm's way.
Examples include:
Encouraging unreasonably rough play
Ignoring or minimizing a child's injuries
Failing to monitor players for signs of dehydration or heat stroke
Failing to implement adequate head injury/concussion protocols
Ignoring unsafe conditions
Dolman Law Group Accident Injury Lawyers, PA, has the experience and know-how to distinguish between normal sports/recreation injuries and those an adult should reasonably have prevented. Connect with us today to learn more.
Violence and Accidents Involving Firearms
It's an unfortunate reality that gun violence can affect children at any time. Adults must take reasonable care to protect kids from foreseeable dangers involving firearms, such as developing procedures to reduce the risk of school shootings or storing guns safely in their homes.
Children who sustain gun-related injuries may have the right to claim compensation from an adult or institution that failed to ensure their safety. The team at Dolman Law Group Accident Injury Lawyers, PA, can help them explore their rights.
Medical Errors During Childbirth
Medical professionals must provide an adequate standard of care to mothers and babies during childbirth. Mistakes by doctors, nurses, and others on a medical team can lead to an infant sustaining severe injuries or permanent impairments. For example, errors that deprive a fetus of oxygen or blood flow during childbirth can lead to the newborn suffering a stroke or developing cerebral palsy.
No matter how complex the case, at Dolman Law Group Accident Injury Lawyers, PA, we have the resources and depth of knowledge to represent victims of birth injuries in claims against medical professionals, health systems, and medical malpractice insurance companies.
Potential Compensation for a Child Injury
Children who sustain injuries in accidents that an adult, business, or institution caused (or should reasonably have prevented) generally have the legal right to hold those parties liable for monetary damages. But they cannot usually enforce those rights on their own. In most cases, a parent or guardian will have to pursue legal action on their behalf with the assistance of an experienced child injury lawyer.
At Dolman Law Group Accident Injury Lawyers, PA, we regularly represent injured children and their parents or guardians in lawsuits and insurance claims seeking monetary damages from at-fault parties.
Although we cannot guarantee results, and every case we handle differs, our team can often secure payment for:
The cost of medical treatments needed to treat a child's injury and future health complications
Other past or future expenses borne by the child or parents as a result of the injury
Parents' and (when applicable) children's past lost earnings due to an injury
Parents' and children's future lost earnings, such as when a child's injury results in a permanent disability
The child's physical pain and emotional suffering due to the injury
The child's diminished quality of life
Challenges resulting from scarring or disfigurement
In some cases, our team can also obtain a court order directing payment of additional punitive damages as punishment for misconduct that causes harm to a child. And our lawyers can fight for justice and damages when a tragic accident takes a child's life. We invite you to speak with our team today to learn about the potential types and amounts of monetary damages you may claim after your child suffers injuries in a wrongful accident.
Tips for Addressing a Child's Injury
Your child has potentially valuable rights to claim compensation from an at-fault party or insurance carrier. But your actions in dealing with your child's injury can have a material impact on those rights. To help safeguard your child's health and interests, consider following the tips below.
Prioritize Medical Care
Take your child to see a doctor for any injury requiring more than the most basic first aid. In particular, be sure to seek medical care immediately if your child may have suffered a concussion. Seemingly minor injuries—especially head trauma—can lead to severe health problems if not addressed as soon as possible by a qualified medical professional. Also, remember to follow up with your medical provider and follow their advice as best you can.
In addition to protecting your child's health and well-being, seeking appropriate medical care also safeguards your child's legal rights. The records your doctor keeps can serve as critical evidence in proving a claim for damages. And by visiting a doctor immediately, you prevent an at-fault party or insurance company from disputing the cause of your child's injury.
Do Not Settle Quickly or Informally
Parties whose misconduct harms children, and their insurers, tend to want to avoid liability. They know child injury cases can involve significant financial damages. For that reason, they often try to escape their obligations by offering quick or informal settlements.
Do not engage with these offers. Any quick or informal settlement offer you receive is bound to fall short of the amount you and your child have the legal right to claim. If you accept that money, you could end up sacrificing your ability to demand full payment for your losses.
Leave all settlement negotiations to an experienced child injury lawyer who can act on your behalf. At Dolman Law Group Accident Injury Lawyers, PA, for instance, we can often secure far more money for our clients than what the at-fault party or insurer initially offered. And by negotiating on our clients' behalf, we protect them from the sort of costly mistakes they'd likely make if they tried to handle a claim on their own.
Keep Social Media to a Minimum
Many tweens and teens spend a lot of time on social media, sharing details of their lives with their friends and family. But posting about an injury can have major ramifications for your child's legal rights. Defense lawyers and insurance companies often try to use social media posts as evidence to undermine a damages claim. They're experts at twisting even the most innocent social media content into proof that, for example, your child didn't get as badly hurt as you claim or that the impact of their injury isn't so severe after all.
At Dolman Law Group Accident Injury Lawyers, PA, we know how difficult it can be to keep kids off social media. Some of us are parents ourselves—so believe us, we get it. But we can't stress enough how critical it is to limit what a child says about an injury on a social media platform. If possible, keep your child away from social media entirely until their injury claim gets resolved. At a minimum, run their activity past an experienced lawyer to learn about how it could affect their rights.
Contact an Experienced Child Injury Lawyer Today
All children get injured, but not all child injuries are their fault. Sometimes, a kid gets hurt because of an adult's careless, reckless, or intentionally harmful actions (or inaction). In those cases, the injured child and their parents have potentially valuable rights to claim monetary damages to assist with medical expenses and planning.
Dolman Law Group Accident Injury Lawyers, PA, is a team of experienced, hard-working trial attorneys representing injured children and their families. We fight to get our clients fair compensation. Let us help you explore your rights and options after an accident leaves your child injured. Contact us today at 833-552-7274 for your free, confidential case consultation.