Any accidental injury holds the potential to disrupt your life. But some injuries take such a massive and permanent toll that the only way to describe them is catastrophic. Victims of accidental catastrophic injuries face a lifetime of impairments, disabilities, and expenses and frequently need the help of an experienced personal injury attorney to secure compensation sufficient to meet their future needs.
Dolman Law Group Accident Injury Lawyers, PA, fights to ensure that victims of catastrophic injuries receive justice and fair compensation for their losses. If you or someone you love sustained a catastrophic injury in an accident or incident in New Smyrna Beach caused by someone else's dangerous actions, our New Smyrna Beach catastrophic injury lawyers can explain your options for seeking monetary damages from the parties at fault.
About Our Team
For years, clients have turned to the respected trial attorneys at Dolman Law Group Accident Injury Lawyers, PA, for help confronting the challenges of an accidental injury. Our mission as a law firm is to make sure they receive the maximum payment available to help them pay for medical care, cover expenses, and plan for the future. We're known for obtaining favorable case results in even the most difficult and complex accident injury cases.
Advocating for victims of catastrophic injuries constitutes a core part of our law practice. We have seen firsthand the utter devastation that severe trauma can inflict on accident victims and their loved ones. Clients of Dolman Law Group Accident Injury Lawyers, PA, can rest easy knowing they have a team of seasoned, sophisticated legal professionals in their corner, ready to go the distance to see justice done and fair compensation paid.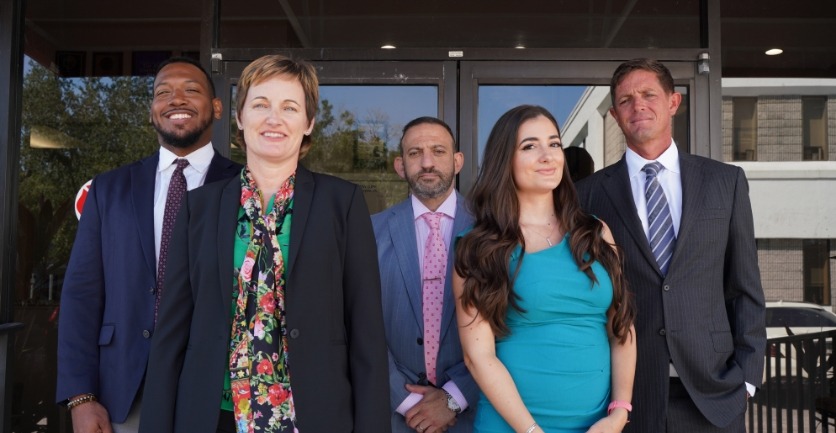 How the Dolman Law Group Team Can Help You After Your Catastrophic Injury
A catastrophic injury upends your life. The challenges and expenses it imposes can overwhelm you, making even simple decisions and planning feel complicated and uncertain. During the difficult aftermath of suffering a catastrophic injury, it helps to have a skilled attorney by your side to fight for your rights and advise you on plotting a path forward.
The New Smyrna Beach personal injury attorneys at Dolman Law Group Accident Injury Lawyers, PA, have spent years acting as advocates for and counselors to catastrophic injury victims. We understand the challenges and disruptions our clients confront daily. Our team fights to make sure they have the support and resources they need today and in the future.
In any given catastrophic injury case, we might:
Investigate the circumstances of a catastrophic injury to determine who was at fault.
Gather evidence to prove liability and the amount of our client's current and future damages.
Analyze insurance policies to identify all that cover our client's expenses and future needs.
Communicate regularly with our clients about their cases.
Advise our clients about medical, financial, and other decisions that could affect their rights.
Connect our clients with organizations and resources in and around New Smyrna Beach that can assist them in meeting their daily challenges.
Handle all interactions with insurance companies on our client's behalf.
Prepare, file, and litigate lawsuits and insurance claims seeking monetary damages for our client.
Negotiate favorable settlements of our client's claims when possible.
Go to trial to fight for our client's rights to compensation when necessary.
Oversee the collection and disbursement of the money owed to our client from insurance companies and at-fault parties.
At Dolman Law Group Accident Injury Lawyers, PA, we firmly believe you should not have to pay upfront for a lawyer when facing the health complications and financial hurdles that come with a catastrophic injury. That's why we typically provide legal services to victims of catastrophic injuries on a contingent fee basis. That's a fee arrangement in which we do not charge upfront fees or hourly rates. Instead, we only receive a fee if we secure money for our client's losses.
What Qualifies as a Catastrophic Injury?
Lawyers generally use the term catastrophic injury to refer any injury that causes profound and lasting changes in a person's life and health. A catastrophic injury saddles its victim with permanent disabilities or severe physical, cognitive, or emotional impairments. It will also usually take an extreme financial toll, often involving medical costs and other expenses that most people cannot afford to pay.
Catastrophic injuries can happen in innumerable ways, from car accidents to medical errors to ingesting dangerous drugs.
Common examples of catastrophic injuries include:
Brain trauma leading to a coma or significant disruption in brain function
A spinal cord injury resulting in permanent weakness, paralysis, or loss of sensation
Injuries resulting in amputation or loss of use of a limb or appendage
Injuries that cause loss of a bodily function like eyesight or a functioning internal organ
Injuries like burns or lacerations that leave a victim permanently scarred or disfigured
Chronic or terminal illnesses that shorten a victim's lifespan and diminish their quality of life
A wide range of traumas can meet the descriptions above. Depending on the circumstances, virtually any type of injury could have catastrophic effects. That's why, no matter what the nature of your catastrophic injury, we encourage you to contact Dolman Law Group Accident Injury Lawyers, PA, to learn about your potentially valuable rights to compensation.
Seeking Justice and Compensation for a Catastrophic Injury
People who suffer catastrophic injuries in accidents generally may recover compensation from the at-fault parties and their insurance providers.
At Dolman Law Group Accident Injury Lawyers, PA, we hold individuals, businesses, organizations, and entities accountable for dangerous decisions and actions that leave a victim catastrophically injured. We have the talent, resources, and know-how to tackle even the toughest catastrophic injury cases against the most powerful defendants.
Who is liable for a catastrophic injury?
In New Smyrna Beach and throughout the United States, the law holds parties liable for damages when their unreasonably dangerous conduct harms someone else. It's a fundamental principle of the American legal system that, generally speaking, if you do something careless, reckless, or intentionally harmful that hurts another person, you should pay compensation.
The team at Dolman Law Group Accident Injury Lawyers, PA, fights to uphold that principle day in and day out on behalf of our injured clients.
One of our most important jobs as lawyers for catastrophic injury victims involves identifying the party (or parties) who should pay monetary damages to our client. We take that task seriously because we understand the critical importance of targeting every individual or entity that put our client in harm's way.
Our lawyers dig into the evidence and carefully review insurance policies with the aim of holding all liable parties accountable, including:
Individuals who cause accidents through dangerous or thoughtless conduct
Employers of at-fault individuals who cause an accident in the course of their jobs
Medical professionals whose tragic errors leave patients permanently harmed
Manufacturers of dangerous drugs, vehicles, or other items whose products cause catastrophic injuries
Insurance companies that issued liability insurance to any of the types of parties above
This isn't a complete list of the parties who might face liability for a catastrophic injury in New Smyrna Beach. But it illustrates the range of individuals and organizations the team at Dolman Law Group Accident Injury Lawyers, PA is prepared to pursue in demanding compensation for our client's losses.
What compensation can a catastrophic injury victim recover?
People who suffer catastrophic injuries because of someone else's dangerous conduct can generally hold at-fault parties and insurance companies accountable for the full scope of the harm they suffered.
At Dolman Law Group Accident Injury Lawyers, PA, we fight to get every last penny our clients need to pay their expenses and meet the challenges of their catastrophic injuries.
Every case we handle differs, but through lawsuits and insurance claims, we can often obtain payment for a client's:
Past and future medical expenses to treat a catastrophic injury and its long-term health impacts
Other past and future expenses our client would not have had, if not for a catastrophic injury
Loss of past earnings and work benefits due to a catastrophic injury
Loss of future income and benefits due to loss of the ability to work
Physical pain and discomfort caused by a catastrophic injury and the treatments for it
Emotional distress and mental health challenges related to suffering or living with a catastrophic injury
Daily inconvenience and loss of independence
Diminished quality of life
If a catastrophic injury leads to a person's untimely death, the victim's surviving spouse or family members may have the right to pursue a wrongful death lawsuit seeking damages for their loss. The circumstances surrounding a catastrophic injury might also entitle the victim to claim punitive damages as a form of punishment for the at-fault party's misconduct.
The Dolman Law Group Accident Injury Lawyers, PA team closely evaluates the damages our clients suffer. Whenever possible, we pursue the maximum compensation available by law on our clients' behalf.
Tips for Catastrophic Injury Victims and Their Loved Ones
If you or someone you love recently suffered a catastrophic injury in New Smyrna Beach or elsewhere, chances are you could benefit from speaking with an experienced legal professional right away. Dolman Law Group Accident Injury Lawyers, PA, offers a free consultation to individuals in your situation. In a brief phone, video, or in-person meeting, we can learn about what happened to you and explain your potential options for seeking compensation from at-fault parties and insurance companies.
Until we have a chance to connect, however, following the tips below may help to manage your circumstances and protect your rights.
Do the Best You Can to Focus on Physical and Emotional Healing
Catastrophic injuries virtually always require immediate and sustained medical treatment. But doctors can only place you on the path to healing. The distance you go in your physical and emotional recovery process will largely depend on the attention and effort you put into it.
As attorneys for catastrophic injury victims, we can say from experience that our clients who prioritize healing—and leave legal and insurance concerns to skilled lawyers—tend to see the most favorable outcomes in their lives and their legal rights.
Believe it or not, the amount of compensation available in your case may turn on demonstrating that you did your best to heal and adapt. We know your circumstances aren't easy, but the more you do to follow your doctor's orders and promote your well-being, the more ammunition it gives lawyers like us to use in making sure you receive the financial compensation and support you deserve.
Avoid Insurance Traps and Entanglements
Catastrophic injuries cost a lot of money, as you probably already know. If you suffered yours in an accident that was someone else's fault, chances are at least one insurance company owes you money to help you pay for your care and needs. And unfortunately, it's also a good bet that an insurance company facing liability to you will look for any excuse to pay you less than they should.
For that reason, we strongly urge you not to try to handle negotiations or interactions with insurance adjusters on your own after suffering a catastrophic injury. Instead, leave all insurance matters to an experienced legal professional who knows the tricks and strategies insurers use to try to wriggle out of financial liability. An experienced lawyer can speak with adjusters on your behalf and make sure they fulfill their obligation to cover your losses.
Contact an Experienced New Smyrna Beach Catastrophic Injury Lawyer Today
Don't wait to get the legal help you need after suffering a catastrophic injury in New Smyrna Beach (or anywhere else). Florida law gives you only a limited window of time in which to take legal action against at-fault parties and insurance companies. If you delay too long, you could lose your rights and end up without the money you need to pay for your care and rebuild your life.
Dolman Law Group Accident Injury Lawyers, PA, wants to help you face your challenges and enforce your rights. We have years of experience and a sterling reputation for representing catastrophic injury victims like you. Contact us today at 833-552-7274 for a free consultation about your legal rights and options.