More often than not, motorcycle accidents occur due to negligence on the part of another driver. Unfortunately, motorcycle riders are more likely to suffer catastrophic injuries due to limited body protection. The recovery process is lengthy and usually requires time off from work and lost wages. If you don't know where to turn, contact a Boca Raton motorcycle accident lawyer at Dolman Law Group Accident Injury Lawyers, PA, to learn more about your legal options.
Enjoying the open road is the main reason many people love riding motorcycles. Riders describe the experience as one of freedom. Motorcycles are easy to maneuver due to their lightweight design, agility, and small size—the same factors that make motorcycle drivers and passengers vulnerable to accidents.
According to data from the American Automobile Association (AAA), and the National Highway Traffic Safety Administration (NHTSA), Florida leads the nation in motorcycle fatalities. the Florida Department of Highway Safety and Motor Vehicles (FLHSMV) reported more than 8,600 motorcycle collisions in Florida in 2021, resulting in 593 deaths and thousands of personal injuries. The Palm Beach County area reported 376 motorcycle crashes and 29 fatalities in 2020 alone.
Florida ranks among the highest states with registered motorcycles. Add in 20.98 million residents and 116.6 million visitors per year, and the danger of motorcycle accidents only increases. Traveling anywhere on busy roadways requires due diligence and an awareness of others, no matter what type of vehicle you operate.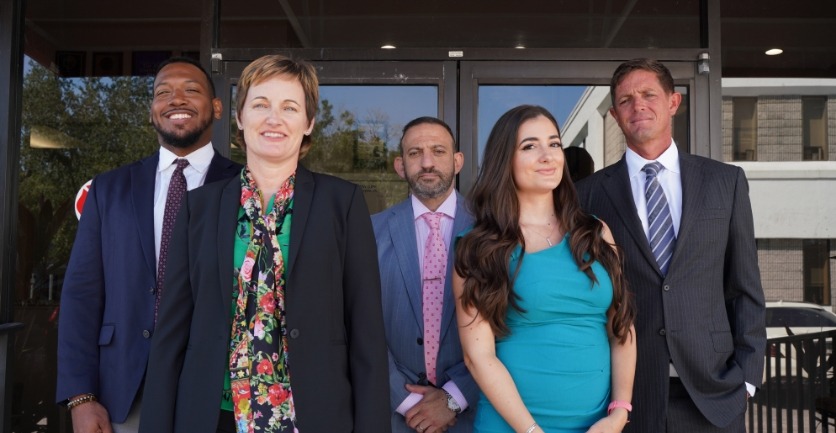 Dolman Law Group serves Boca Raton, the surrounding area, and cities throughout Florida. We work hard for justice on behalf of our clients so that you can focus on recovery. With offices across both Florida coasts, you can easily reach Dolman Law Group Accident Injury Lawyers, PA, at (561) 220-4963, or you can write to us using our online contact page.
Look For a Motorcycle Accident Lawyer - Boca Raton, Florida, with Proven Results
The Boca Raton injury attorneys at Dolman Law Group believe in holding motorists who cause motorcycle accidents accountable. We fight for justice for our clients. Since each case is different, the results listed below do not constitute a guarantee, warranty, or prediction regarding your own legal case. However, we believe that these cases are good examples of our commitment to our clients.
Motorcycle Accident with Cervical Fusion $415,000
Our client underwent cervical fusion surgery to repair a disc in his neck after other treatments failed to alleviate his pain. The insurance company initially offered $130,000 to settle. After 11 months of litigation, our firm, along with a co-counsel, resolved the claim the day before trial.
Cervical Spine Fusion Surgery After Motorcycle Accident $320,000
Our client required cervical spine fusion surgery after a motorcycle accident. The insurance company's offer never exceeded $215,000. After eight months, our attorneys resolved the claim for $320,000.
If you were involved in a motorcycle crash, reach out to the Boca Raton motorcycle accident attorneys at Dolman Law Group as soon as possible. One of our experienced motorcycle accident lawyers can explain how to pursue compensation from negligent drivers by bringing an insurance claim or filing a motorcycle accident lawsuit.
What Causes Motorcycle Accidents?
A variety of factors contribute to motorcycle accidents—including weather conditions—however, a major factor is simply other drivers' negligence. Here are just a few reasons other motorists contribute to a majority of motorcycle accidents:
They don't leave enough room. Following too closely or braking suddenly is especially dangerous when sharing the road with motorcycles due to the short reaction time and the space needed for quick maneuvering.

Failure to yield the right-of-way. This failure is the top reason for crashes between a motorcycle and another vehicle. Also, if motorists fail to yield the right-of-way while making a left turn in an intersection, pulling in front of a bike can lead to motorcycle injuries and fatalities.

Drivers remain distracted and unaware of motorcycles. Despite public service campaigns over the course of many years stating the dangers of distracted driving and pleading for better motorcycle awareness, drivers continue to ignore both warnings.

Not sharing the road. Florida roadways are open to all licensed drivers, yet when it comes to motorcycles, many drivers do not share the road. Whether they harbor a preconceived notion about motorcycles or stereotype riders in a negative way, drivers endanger motorcyclists with their lack of regard. Cutting off riders when changing lanes, road rage, and crowding riders are just several examples of this type of behavior.

Drunk driving. Driving under the influence of drugs or alcohol is a contributing factor to many motorcycle crashes.
In addition to other motorists' negligence, motorcyclists can be injured from defective bike parts that cause them to lose control. Road hazards such as potholes and uneven roadways also cause motorcycle accidents. A lack of signs warning about road construction or an improperly repaired road can also be the basis for litigation.
Common Types of Injuries from Motorcycle Accidents
Motorcycles offer little protection during an accident. Therefore, the types of injuries that occur are quite severe and can lead to extensive medical bills. Common types of injuries include:
Fractured ribs

Eye injuries

Skull, leg, and arm fractures

Fractured collarbones

Internal injuries

Facial injuries

Head injuries, including traumatic brain injuries

Loss of limbs

Paralysis

Post-traumatic stress disorder (PTSD)
Florida law does not require motorcyclists to wear helmets. Some riders choose to wear a helmet anyway. Even helmeted riders experience serious injuries during an accident, such as broken arms and legs.
Motorcycle injuries often require surgery, a lengthy hospital stay for monitoring, and physical therapy upon release. More permanent injuries may require a plan for long-term care, including additional surgeries, expensive medicine, or around-the-clock care.
Severe injuries sustained in a motorcycle crash can also lead to death. When motorcycle riders die as a result of a motorcycle accident, their estate might be able to bring a wrongful death claim against the responsible party. Check with our motorcycle accident lawyers to learn more.
Fault for Motorcycle Accidents in Boca Raton
Your Boca Raton motorcycle accident attorney can explain how to establish liability. To recover compensation in your case, we will need to show that another party's negligence or misconduct is responsible for the injuries you sustained. Then we can bring a claim against their insurance company for the compensation you deserve.
For motorcycle accident claims, there are many parties who could share fault for your injuries. You may be quick to assume that the driver who hit you is at fault. This may be the case if they were engaging in any of the following types of unsafe driving practices:
Speeding

Distracted driving

Failure to yield

Failure to stop

Drunk driving

Drugged driving

Failure to use a turn signal

Following too closely

Drowsy driving
But there are other parties who could share liability for your motorcycle accident injuries as well. If parts on your motorcycle were defective, the vehicle that hit you malfunctioned, or the roadways were unsafe, then auto parts manufacturers, distributors, and government agencies could all share liability for your damages.
Your Boca Raton motorcycle accident attorneys will carefully examine the evidence in your case to determine who is responsible for your losses and who should be named as the liable party in your insurance and civil claims.
What Damages Can You Recover in Your Boca Raton Motorcycle Accident Claim?
If you are still deciding whether to pursue your Boca Raton motorcycle accident claim, you may be wondering how much you could be awarded. After all, when you have been through so much, it makes sense to want confirmation that your efforts are going to pay off. Although your attorney can give you a better idea of what your motorcycle accident claim is worth, there are certain types of damages you may be able to recover more frequently than others.
Fortunately, when someone else is at fault for your injuries, you have the right to be made whole. This means you can recover both economic and non-economic damages as part of your Boca Raton motorcycle accident insurance and civil claims. Some of the damages you could recover include:
Physical pain and suffering

Emotional distress

Diminished quality of life

Loss of income and earning capacity

Loss of consortium

Inconvenience

Hospital bills and medical expenses

Cost of repairing or replacing your motorcycle

Loss of enjoyment of life

Reputational damage

Scarring and disfigurement
These are just a few of the more common types of damages that are awarded in Boca Raton motorcycle accident claims. If you have suffered other types of damages, your attorney will be sure to include them when calculating the value of your claim.
Motorcycle Accident Laws in Boca Raton, FL
Recovering from a motorcycle accident takes time. Depending upon your injury, this often means time away from work. Florida law regarding motorcycle claims is complex. For example, Florida law does not require operators of two-wheeled vehicles to carry Personal Injury Protection (PIP) insurance. Even if a motorcyclist has PIP because they own a car, the policy will not cover injuries sustained in motorcycle accidents.
Our experienced lawyers can assist you with holding negligent parties responsible in other ways. We also know how to negotiate aggressively with insurance companies, as shown in our success stories listed above. Many times, we can avoid trial by skillfully negotiating a positive outcome for our client.
Contact a Boca Raton Motorcycle Accident Lawyer Today
The attorneys of Dolman Law Group believe every Floridian and visitor has a right to safely travel Florida roadways. Motorcycle injuries are often devastating and sometimes lead to permanent disability or death. If you have been injured in a motorcycle accident or lost a loved one due to someone's negligence, call (561) 220-4963 today to schedule a free consultation. You may be entitled to compensation for medical bills, pain and suffering, and lost wages. The sooner you contact us, the faster we can get to work evaluating your case.
Dolman Law Group Accident Injury Lawyers, PA
301 Yamato Road, Suite 1240
Boca Raton, Florida 33431
Phone: 561-220-4963
Fax: 305-517-1306
What Our Clients Have to Say:
"Chad Robinson always responded immediately whenever I had questions or concerns. He worked hard to make sure I received what I deserved."
Rating: 5/5 ⭐⭐⭐⭐⭐
Michelle Dorn
December 19
Read more reviews on Google!