Our Attorneys Help Victims Harmed by Those They Trusted Most
When you experience a health problem, you have no choice but to trust medical professionals. You believe in their ability to order the right tests and to make the right diagnosis. Unfortunately, from family physicians to emergency department doctors and other care providers, medical mistakes happen.
If you suffered serious harm due to medical care that turned tragic, a medical malpractice lawyer from our team can help you.
What Is a Medical Malpractice Attorney?
Did you know that medical malpractice and negligence are the third leading causes of death (pre-Covid) of Americans? Only cancer and heart disease claim more lives. Unfortunately, many physicians, hospitals, and other medical facilities do not want to admit they made a mistake. As such, they attempt to hide their errors, alter records and downplay medical errors that resulted in significant injury.
When this happens injured patients and their families need someone on their side to help them pursue the money they need to recover. A medical malpractice attorney seeks to hold medical providers and physicians accountable for the harms and losses that occur when they deviate from the expected standard of care within the medical profession. Sibley Dolman Gipe Accident Injury Lawyers, PA is an elite medical malpractice law firm that helps patients injured by doctors across the nation.
If you suffered an injury and you believe medical malpractice is to blame, we can help. Medical malpractice injuries can cause serious and long-term pain and suffering, as well as permanent disability. Unfortunately, holding negligent doctors and medical institutions accountable isn't easy without the right legal representation.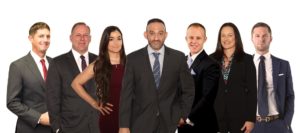 Lawyers that Deal with Medical Malpractice
Why Choose Us?
Sibley Dolman Gipe Accident Injury Lawyers, PA has an impressive track record of success with medical malpractice cases and we plan to continue to add to our list of impressive achievements. While past success does not guarantee future results, you can rest easier knowing you have an experienced team of medical malpractice lawyers in your corner.
Our experienced medical injury attorneys handle a wide variety of malpractice injury cases and lawsuits. We represent victims of medical negligence against hospitals, surgery centers, Obstetricians, Radiologists, Orthopedic Surgeons, Neurosurgeons, Anesthesiologists, Pharmacists, and other medical professionals.
We're proud to represent and defend anyone who is a victim of medical negligence. Even if you are not sure if you've been wronged; or simply don't know what to do next, call us. Our proud and respected team will stand with you in your fight to ensure a fair and victorious result.
Here at Sibley Dolman Gipe Accident Injury Lawyers, PA, we fight to make things right. It's unacceptable for a patient to be a victim of real, clear-cut medical malpractice. The last thing people expect is to be injured or made sick while in a hospital to get healthy. If you believe you may have a medical malpractice case, we can help. There may only be a short window of opportunity for you to pursue your case, so don't wait any longer. Our experienced medical malpractice attorneys are ready to fight to get you the compensation you deserve.
We have represented medical malpractice victims who have suffered the following injuries as a result of negligence by a physician or medical provider:
If you are wondering whether you need a personal injury attorney to help you with your case, check out our article, "When Do You Need to Hire a Personal Injury Lawyer?" where we get the opinion of attorneys from around the country.
To better assist you, we offer FREE initial consultations and reviews. That means that we will:
Personally sit down with you
Hear your case
Inform you of your rights
Let you know of any possible courses of legal action
Offer you our most suited attorney to handle your situation
We do all of this completely free of charge. We also offer a confident "No Recovery, No Fee" promise to our clients, enabling you peace of mind knowing that you aren't obligated to pay us anything until we achieve a payout for you.
Choose the Best Medical Malpractice Lawyers Near You
Keep in mind that not all medical injury lawyers and law firms are of the same quality. Before selecting an attorney or a firm to represent your interests as a victim of medical malpractice, you must research the reputation of your firm in the community and its overall quality of practice.
Law firms across the country, often refer their biggest and most complicated cases to us because they know we have what it takes to win. We believe this speaks volumes about the quality of work provided at Sibley Dolman Gipe Accident Injury Lawyers, PA. Our goal is to provide the financial resources, experience, and tenacity of a large medical malpractice law firm, yet offer the hands-on and personal touch found at a small firm.
Our medical malpractice lawyers believe there is no substitute for direct attorney-client communications and make every effort to remain accessible to our clients. All clients receive the personal cell phone number of their handling attorney. Additionally, we have the financial resources to take on the largest insurance carriers and healthcare institutions; while being able to retain the best experts to illustrate the damages our client has sustained.
At Sibley Dolman Gipe Accident Injury Lawyers, PA, we have garnered a reputation for aggressive medical malpractice litigation. We have consistently taken cases to trial. Insurance carriers know that there is a bite behind the bark at our law firm.