Construction sites are known for being dangerous for workers and visitors alike. The abundance of heavy equipment, drivers of a wide variety of vehicles, and unsafe areas that people could fall from make accidents on construction sites quite prevalent. If you have been in a construction accident of any kind, whether because you fell, because someone hit you with a vehicle, because you were crushed by heavy equipment, or for any other reason, you are not alone.
It's crucial that after you go through a construction accident, you take the time to seek out medical support to jumpstart the healing process and legal help to get the compensation you deserve. If you need legal aid, don't hesitate to contact our New Smyrna Beach construction accident lawyers at Dolman Law Group Accident Injury Lawyers, PA. We have helped clients around the country seek and receive the compensation they deserve after a construction accident, and we can help you too!
Construction Accidents in New Smyrna Beach, Florida
Construction sites are hazardous because of the many ways people could sustain injuries at these sites. Florida is no stranger to construction sites, but in the last few years, hundreds of thousands of new residents have moved into the Sunshine state, leading to an even greater increase in the building of new houses and cultural venues. Multiple construction projects are going on in cities like Jacksonville, Orlando, Miami, and New Smyrna Beach right now!
Some common accidents that occur on construction sites include:
Falls from platforms or buildings.
Motor vehicle accidents, including vehicle-to-vehicle, vehicle-to-worker/pedestrian, and vehicle-to-pedestrian.
Heavy equipment accidents. For example, equipment may fall on someone or crush them against a wall.
Electrocution or burn incidents.
Machinery malfunction accidents.
In Florida specifically, unintentional injuries can have many causes.
According to the Florida Department of Health, some of the most common injury causes such as you may find on construction sites include:
Falls. Over 21,000 people sustained injuries from falls in the last several years.
Machinery. Over 200 people suffered from injuries from machinery in the last several years.
Fire. Nearly 200 people sustained injuries from fires in the previous several years.
As you can see, there are many ways that you could suffer a construction accident injury, and if you have, you're not the only one. Many people have suffered from injuries on construction sites in the past, and you can rest assured that, with help from a construction accident lawyer, most have regained the compensation they deserve from the people who caused those accidents and subsequent injuries.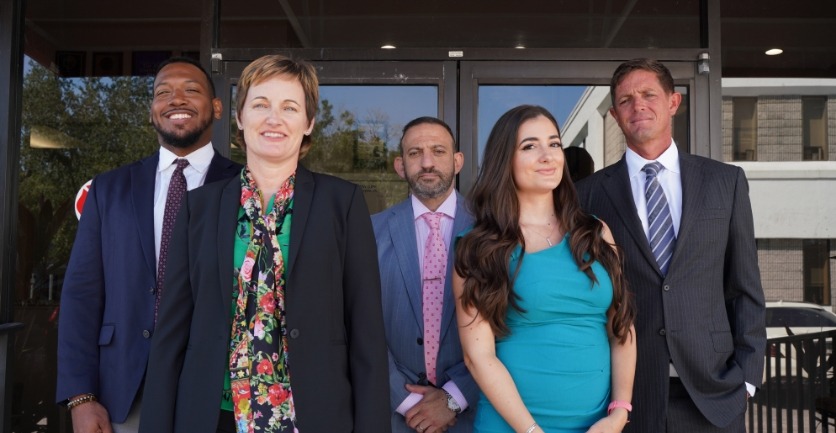 Common Construction Accidents and Injuries
We have already mentioned some of the most common accidents on construction sites. However, we're going to look in a little more detail at what causes these accidents and what injuries often result from construction accidents. That way, you can know how your case fits in with most cases that our lawyers have seen.
The most common accidents that occur on construction sites are:
Falls. This broad category can cover falling from scaffolding, ladders, a building, or a machine. In addition, construction sites may have hazardously-placed cords and equipment or even bad spills that can lead someone to slip or trip and fall.
Vehicle accidents. Sometimes, vehicles drive through construction sites. In addition, many construction projects take place on roads or highways, which can lead to incidents with passing traffic if drivers are going too fast or driving recklessly because of the construction delay.
Machinery incidents. Construction sites are home to many large machinery items such as cranes, drills, excavators, etc. Machinery can lead to various incidents, such as crashes, crushing people against things, etc. Often, these incidents result because the machine users did not receive proper training or because the machinery malfunctioned.
Electrocutions or burns. When buildings and sites are under construction, you're likely to find a lot of exposed wiring and electrical equipment. Sometimes, people come into unsafe contact with such wiring, and sometimes improperly placed wiring causes fires which can lead to burns.
Repetitive motion injuries. This type of injury can happen anywhere. However, on construction sites, people are often in uncomfortable positions and might injure their back, wrist, or other joints from repetitive movements.
These accidents are the most commonly seen on construction sites, but others also occur. No matter how you were injured, don't hesitate to seek legal help. If you've sustained injuries in one of the above ways, you'll probably suffer from one or more common injuries seen after construction site accidents.
These common injuries include:
Brain and head injuries include concussions or traumatic brain injury.
Cuts and lacerations that may induce severe scarring or disfigurement.
Back and spinal cord injuries.
Burns.
Electrocution.
Vision damage.
Illness due to hazardous chemical exposure.
No matter what type of accident and injury you're dealing with, it's crucial that you find someone to support you after a construction accident. Don't try to fight through all that stress alone—your focus should be on healing as quickly as possible while others take care of the rest.
If you sustained injuries in the New Smyrna Beach area, don't hesitate to call Dolman Law Group Accident Injury Lawyers, PA for help from a construction accident lawyer.
How Much Compensation Can I Get After a Construction Accident?
One of the first things you may wonder as you come out on the other side of a construction accident is how much you can recover in compensation from the person (or persons) who caused your accident and injury in the first place. This is a great question, but the answer is not as clear-cut as one could hope. However, there is good reason to expect a significant settlement for a construction injury.
While every situation is different, it's fair to say that construction accidents make up a significant portion of workplace accidents, and workplace accidents cost billions of dollars every single year in the United States. Each individual that suffers an accident and related injuries can expect to pay tens of thousands of dollars on recovery expenses. Plus, if you have to take time off work or leave your job, you're losing even more money!
Let's say, for example, that you suffered a nasty fall at a construction site and are now dealing with a brain injury. Simple brain surgery will cost between $50,000 and $150,000 for someone without insurance, while copayments will likely be between 10 percent and 50 percent of that total cost if you have health insurance.
Then, the physical therapy you'll probably need after the surgery will cost you between $50 and $350 per session (and you'll need more than one session) if you don't have insurance and between $10 and $75 per session if you have insurance.
If you work with an experienced construction accident lawyer, you're likely to recover most or all of the expenses you incurred in compensation. For a claim, lawyers use both economic and non-economic damages to help you calculate how much compensation you deserve. These damages include:
Medical expenses from emergency room visits, surgeries, procedures, physical therapy, medication prescriptions, the purchase of medical equipment, etc.
Property damage expenses if the accident damaged any of your property (such as a cell phone) and you had to repair or replace it.
Scarring, disfigurement, and humiliation.
Lost income from time taken off work to recover.
Loss of earning capacity if you cannot return to the same position or job capacity you held before the accident.
Pain and suffering in general.
Emotional trauma or distress.
Loss of life enjoyment (e.g., inability to perform activities you used to love).
Loss of consortium (relationships) with loved ones.
Your lawyer will gather evidence for all the damages you are eligible for and help you calculate the amount of compensation to ask for. In the past, Dolman Law Group Accident Injury Lawyers, PA has helped victims like you recover hundreds of thousands or millions of dollars in damages for severe injuries. Don't hesitate to ask for help to recover as much compensation as possible!
Fighting the Insurance Company
If you've ever dealt with an insurance claim, you know it can be a huge pain. Insurance companies make money by taking in more from their customers' premium payments than they pay to settle claims. Therefore, most insurance companies will start by making the lowest offer they think you might accept to compensate you for your losses.
While the insurance company may tempt you to take the first offer so you can start rebuilding your life, you must speak with a lawyer about your other options before you accept a low offer. It's your right to negotiate with the insurance company and ask for a higher settlement that fully covers the losses you have suffered. You can and should fight for the compensation you deserve.
Getting the compensation you deserve is challenging because you need a lot of evidence to prove what you deserve. You also need to understand how the law works and ensure you aren't missing any critical deadlines. If you're unfamiliar with the process, you must speak with an accident injury lawyer who can help you navigate deadlines and gather all the evidence you need to avoid missing something important.
If you hire a good accident injury lawyer, they can help you by acting as a go-between for you and the insurance company. You can authorize your lawyer to receive settlement offers for you and bring them to you to discuss whether or not to accept them. Your lawyer will advise you as to how much money you may be able to get if you keep negotiating and whether or not you should take this lower offer.
Once you decide to accept or reject an offer, your lawyer can handle correspondence with the insurance company. Your lawyer can help reduce stress by managing all communication with the insurance company, so you don't feel bullied into accepting an offer that is less than what you deserve.
What to Do After a Construction Accident in New Smyrna Beach
After a construction accident, it can be hard to know what to do or where to go for advice.
Immediately after an accident:
Seek medical attention to ensure you're on the road to recovery.
Call a construction accident lawyer who can help you recover the compensation you deserve.
Hold on to any evidence you get (medical bills and records, photos of injuries or damage, documentation of lost work, etc.)
Work with your lawyer to negotiate a settlement.
Contact Our New Smyrna Beach Construction Accident Attorneys
When you need legal help, you must know that your lawyers have experience and know what they're doing. You want lawyers who have expertise in construction accidents and have helped other victims of construction accidents win their claims for compensation.
Matt Dolman, who has experienced unfair treatment by bad lawyers and greedy insurance companies firsthand, started the Dolman Law Group. His goal was to create a law firm that would change how attorneys practice law so that accident victims truly could get the compensation they needed to recover fully.
Today, the team at Dolman provides personalized care to every client. Our New Smyrna Beach injury lawyers have worked nationwide to provide quality care to accident victims and help them win back fair settlements. Insurance companies know not to mess with us because we will hold them to treating our clients fairly.
If you're looking for a lawyer to help you, we're here for you. We will ensure you can take the time you need to recover with your family while we handle the legal work. If you've been in a construction accident and need help getting compensation, reach out to our team for a free consultation.
With offices across both Florida coasts, including New Smyrna Beach, you can easily reach Dolman Law Group Accident Injury Lawyers, PA, at 833-552-7274, or you can write to us using our online contact page.