Uber is among the most popular ridesharing services. New Port Richey residents and visitors use it to get to and from Downtown bars and restaurants, nearby airports, medical facilities, and countless other locations. But with increased popularity comes an increased risk of accidents that can cause severe or fatal injuries. In many cases, Uber accidents result from the negligence of an Uber driver or another party, warranting compensation for victims and their loved ones.
If you or someone you loved suffered injuries in an Uber accident in New Port Richey—as an Uber passenger, occupant of another vehicle, cyclist, or pedestrian—you may have the right to recover compensation for your losses. The New Port Richey Uber accident attorneys at Dolman Law Group Accident Injury Lawyers, PA can help.
How an Uber Accident Attorney Could Help You After a New Port Richey Crash
After an Uber accident, you might assume insurance will cover all damages. You may be left with serious injuries resulting in lost wages and large medical bills. It can be difficult to recoup the money you lost without an attorney if insurance doesn't cover everything.
Uber accidents are complicated because they involve several insurance companies, confusing the rules. Our law firm in New Port Richey will give your case the attention it requires and do the following:
Offer legal advice and guidance throughout your case

Handle communications with insurance companies and other parties involved

Identify all avenues to recover compensation

Negotiate with the insurance companies

Represent you during a trial if we cannot settle the claim fairly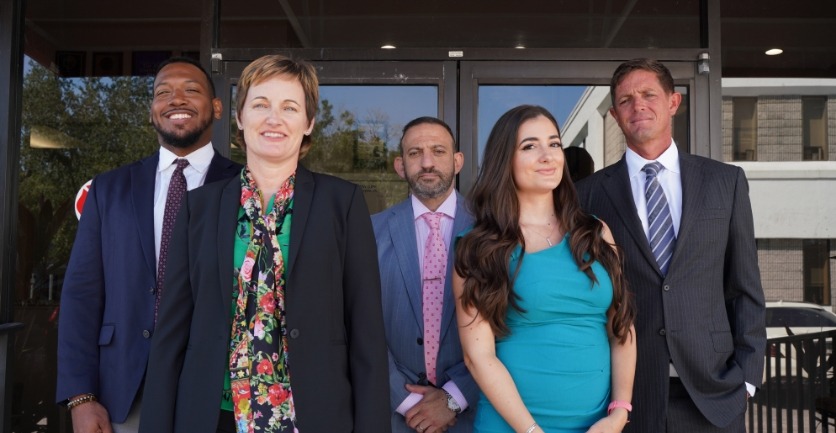 Why Connect With Dolman Law Group Accident Injury Lawyers, PA?
When an Uber accident occurs, victims need reliable representation to seek compensation from the liable parties responsible. An experienced Uber accident lawyer in New Port Richey knows how to build the strongest possible case for damages on your behalf.
The team at Dolman Law Group Accident Injury Lawyers, PA, has years of experience handling car accident cases of all types, including those involving rideshare services like Uber. We take care of all aspects of pursuing compensation for Uber accident injuries our clients have suffered.
Our attorneys have the knowhow and resources to negotiate top-dollar settlements and win cases in Pasco County courts. Our aim is to take the stress and burden of pursuing monetary damages off of our clients' shoulders, so that they can focus on their physical and emotional recovery.
Over the years, we have recovered millions of dollars in all types of accident injury cases, including those involving rideshare vehicles.
Our recent case results include:
$1,000,000 for the wrongful death of a father involved in a rideshare accident
$939,000 for a client who suffered injuries in a rideshare accident
You'll find our conveniently located New Port Richey office off US-19 N on Main St, right across the street from the New Port Richey Public Library. And we offer virtual consultations if you're unable to meet with us in person.
To find out more about your rights and options after getting hurt in a New Port Richey Uber accident, connect with us for a free consultation with our New Port Richey Uber accident team today. You can reach Dolman Law Group Accident Injury Lawyers, PA, by giving us a call or contacting us online to discuss your case.
New Port Richey Uber Accident Cases We Can Handle
Dolman Law Group Accident Injury Lawyers, PA is a full-service personal injury law firm. We have the staff, talent, and financial resources to take on virtually any motor vehicle accident case, no matter how large or complex.
Our team is well-suited to pursue maximum compensation for victims of New Port Richey Uber accidents, including for:
Uber passengers injured in an accident
Uber drivers injured in an accident that wasn't their fault
Occupants of other vehicles involved in an accident with an Uber car
Cyclists or pedestrians struck by Uber vehicles
If you or someone close to you suffered injuries in a crash that in any way involved an Uber car in New Port Richey, we encourage you to contact us.
Our team can handle claims involving many injuries and losses, including:
Wrongful death
Traumatic brain injuries
Spinal cord damage
Crushed or amputated limbs
Facial injuries
Organ or nerve damage
Broken bones
Lacerations
Burns
Scarring and disfigurement
Property damage
No matter what the type or extent of harm you suffered, our team can review your situation and explain your options. We offer a free case consultation and you can reach out to us 27/7 by phone or online.
Types of Compensation You Can Recover for Uber Accidents in New Port Richey
Like any motor vehicle accident, an Uber accident can inflict significant harm for which victims deserve compensation. In the typical case, a victim may pursue payment for a combination of economic, non-economic, and (when applicable) punitive damages. Here's an overview of the types of damages the Dolman Law Group Accident Injury Lawyers, PA team can often obtain for clients in rideshare accident cases.
Economic Damages
Economic damages consist of direct financial losses resulting from an Uber accident.
They they may include:
Medical bills for immediate and ongoing care
Lost income while out of work during recovery
Lost earning capacity resulting from a disability
Damage to vehicles or other property
Physical therapy and rehabilitation
Adjustments made to homes or vehicles to accommodate disabilities
Dolman Law Group Accident Injury Lawyers, PA works diligently to collect evidence to support a claim for maximum economic damages in every case we handle. You should not have to shoulder the financial burden of an accident in which you were the victim.
Non-economic Damages
Uber accidents frequently also cause harm that doesn't come with a defined economic loss.
These non-economic damages often include:
Physical pain endured because of injuries
Psychological anguish, including depression and anxiety
Post-traumatic stress disorder (PTSD) resulting from the incident
Loss of consortium or companionship
An overall decrease in enjoyment of life
At Dolman Law Group Accident Injury Lawyers, PA, we take the time to understand the impact Uber accident injuries have had on our clients' lives. We fight hard to make sure that our clients receive fair compensation for all harm they've suffered.
Punitive Damages
Under Florida law, the court may award punitive damages if the evidence shows that a defendant engaged in gross negligence or intentional misconduct. The purpose of punitive damages is to punish those actions and to to deter the defendant and others from engaging in them in the future. The most reliable way to find out if your case might qualify for punitive damages is to speak with an experienced New Port Richey Uber accident injury attorney.
Contact Dolman Law Group Accident Injury Lawyers, PA today for your free case consultation.
Potential Causes of New Port Richey Uber Accidents
Uber accidents have many potential causes, but there's no doubt about their impact on the lives of victims. According to one study from the University of Chicago, the U.S. has seen a 2 to 3 percent increase in fatal traffic accidents since 2011 following the introduction of rideshare services.
Uber accidents may happen in New Port Richey because of risk factors that are prevalent among rideshare drivers.
They include:
Driver distraction, which can occur when an Uber driver is scanning the roadside for an address or rider pickup, interacting with a rideshare app or GPS, or conversing with a passenger.
Driver fatigue, which is common among people who drive late at night or early in the morning, or after working a full shift at another job, as many rideshare drivers do.
Navigating unfamiliar roads and neighborhoods, which is an inevitable feature of being a rideshare driver.
Speeding, which rideshare drivers often have an incentive to do in order to complete as many rides as possible during a shift.
Mechanical breakdown, which can occur when someone puts extra wear and tear on a personal vehicle by using it to drive for a rideshare service.
Of course, Uber accidents can also happen in New Port Richey because of factors that have nothing to do with the Uber driver's conduct. Other motorists also engage in dangerous behavior behind the wheel that can lead to accidents. For example, Uber drivers who shuttle passengers to and from New Port Richey nightspots may face an elevated risk of encountering and getting into an accident with a drunk driver.
If you get into an Uber accident in or around New Port Richey, it's important to remember that you may only have a limited amount of time to file a claim or lawsuit. For accident cases in Florida, the statute of limitations is four years from the accident in most cases, meaning you have four years to begin a case and seek compensation.
You can lose your right to recover compensation from negligent parties if you allow this deadline to expire without taking action. That's why we encourage you to contact the team at Dolman Law Group Accident Injury Lawyers, PA right away to discuss your New Port Richey Uber accident case.
The Role of Insurance in Uber Accident Cases
As the victim of an accident involving an Uber car, you may have the ability to claim compensation under a particular kind of supplemental accident liability insurance that Florida law requires all New Port Richey Uber drivers to carry. This insurance—which Uber typically purchases for its drivers—offers extra financial protection for certain victims of accidents caused by Uber drivers. Being able to tap into it can make the difference between partial and full financial recovery for the losses inflicted in a crash.
The coverage provided by supplemental accident liability insurance applies in situations where an Uber driver causes an accident while logged in to the Uber app.
The amount of coverage depends on the driver's status on the app at the time of the crash:
If the crash happens when the driver is logged in and available to match with a ride, it covers at least $50,000 for death and bodily injury per person, $100,000 for death and bodily injury per incident, and $25,000 for property damage.
If the crash happens at any point while the driver is engaged with a ride, from the moment of match to completion of the fare, it covers at least $1 million for death, bodily injury, and property damage.
At Dolman Law Group Accident Injury Lawyers, PA, our team knows how to locate and preserve the critical evidence in Uber accidents that could determine whether our client can claim compensation under Uber's supplemental accident liability insurance policy. Contact us today to begin exploring your options.
Steps to Take After an Uber Accident in New Port Richey
Your actions after getting hurt in a New Port Richey Uber accident can affect your rights to compensation. Consider taking the following steps to safeguard your legal interests.
Stick to Your Medical Treatment Plan
Always stick with your doctor's prescribed plan for treatment of your injuries. You may need to take specific medications, avoid activities, or attend physical therapy and regular follow-up appointments, for example.
Sticking to your treatment plan helps to ensure that you make the fullest recovery possible. It also creates medical documentation that a lawyer can use to support your case. And it protects you from accusations your injuries aren't serious as you claim or that failure to take care of yourself made them worse.
Retain Copies of Receipts and Other Evidence
It takes evidence to build a successful case against Uber and other parties involved in rideshare accidents. So be sure to hang on to any documentation of your losses or injuries, including receipts for medication, medical bills, and correspondence from insurance companies. Set them aside in a safe place until your lawyer can review them.
Don't Agree To or Sign Any Settlement Offer
A representative of someone else's insurance company may offer you a quick settlement of your potential injury claim. Do not agree to it and do not sign anything. Settlement offers made directly to crash victims like you invariably fall short of the amount you have the right to claim as compensation. Say "no, thanks" and refer the insurance representative to your lawyer instead.
Contact an Experienced New Port Richey Uber Accident Lawyer Today
As the victim of an Uber accident in New Port Richey, you likely have legal rights to claim significant financial compensation. But obtaining the money you need isn't automatic or straightforward. You'll need the help of a skilled Uber accident lawyer to maximize the size of your recovery.
Dolman Law Group Accident Injury Lawyers, PA, represents Uber accident victims like you throughout Florida, including in New Port Richey. We have the skill and track record to get top-dollar results. Contact us online or call our New Port Richey office at (727) 477-9660 for your free case consultation.
New Port Richey Office
5924 Main St
New Port Richey, FL 34652
(727) 477-9660