New Smyrna Beach is renowned for its beautiful scenery and laid-back beach vibe. However, even in beautiful cities, there are risks not only at home or in public areas of suffering a burn injury but also on the roadways that residents and visitors use to get around New Smyrna Beach. Burn injuries commonly result in complications and impacts that extend far beyond the typical recovery period of the damage.
There are many causes of burn injuries in New Smyrna Beach, including motor vehicle accidents, premises liability matters, medical errors, and the use of dangerous or defective products. If you've suffered a burn injury in New Smyrna Beach due to someone else's negligence, we don't need to tell you how significant and impactful this injury can be.
However, what an experienced New Smyrna Beach burn injury lawyer from Dolman Law Group Accident Injury Lawyers, PA, can tell you about is the legal process you can use to seek compensation for your injury. They can also explain the services our legal team can provide to assist you as you navigate the personal injury claims process.
Why Choose Us to Assist You with Your Burn Injury Claim?
Dolman Law Group Accident Injury Lawyers, PA, has spent years helping the injured throughout Florida and the nation obtain the compensation they need after someone else's carelessness or recklessness injured them.
Many personal injury law firms in New Smyrna Beach are settlement mills focused on taking a high volume of cases that they can quickly settle. Dolman Law Group Accident Injury Lawyers, PA, emphasizes fighting aggressively for our clients to receive the highest amount of compensation available, even if it means going to court.
At the same time, we also focus on providing personalized attention for our clients that help them feel supported as they recover from their injuries and seek the compensation they deserve.
Our Local Office Makes Reaching Out Even Easier
The legal team at Dolman Law Group Accident Injury Lawyers, PA, understands the importance of having an attorney who lives and works in your community. Getting a free case evaluation is more manageable. Our local attorneys can even meet you at the hospital, home, or other locations if you are too injured to travel. Our New Smyrna Beach office is at 500 Canal Street, just off the Dixie Freeway. Our team is here and ready to help you with your claim. Give us a call to get started.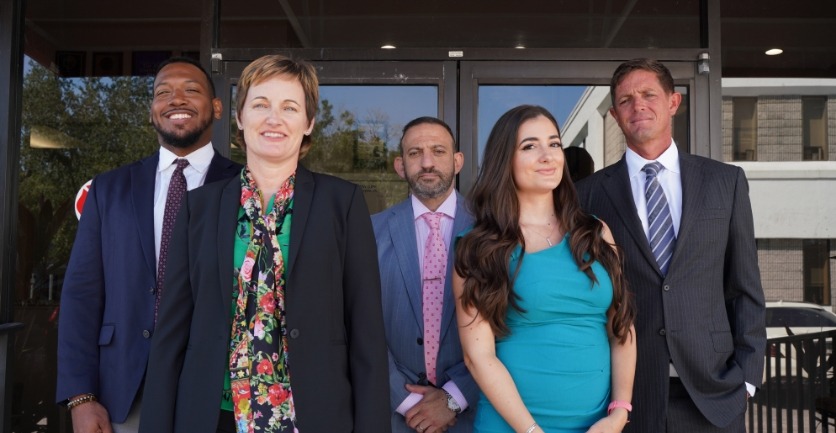 How Do Burn Injuries Occur in New Smyrna Beach?
Residents may burn yard trash outside, provided they are not burning garbage or household trash, and there is no burn ban. Burning is only allowed if it takes place at least 25 feet from the resident's home, 150 feet from homes and other buildings, and 50 feet from public roadways. If the fire escapes the burn pile, the resident can be responsible for the costs of suppression, injuries or death, and property damage.
While residents failing to adhere to burn restrictions can cause burn injuries to someone else, several other common forms of negligence can cause burn injuries. Here is a look at some of the other causes.
Motor Vehicle Accidents
According to the Florida Department of Highway Safety and Motor Vehicles, New Smyrna Beach-area traffic crashes injure 6,000 people each year. Motor vehicles contain many combustable liquids used to make the vehicle run and perform as expected. It is not unusual for a fire to start after a collision. Motorcyclists involved in accidents are at particular risk of suffering burn injuries caused by contact between their skin or a fire starting with the rupturing of the motorcycle's gas tank.
Premises Liability Matters
Premises liability refers to the legal responsibility that property owners have to ensure that their property is free of hazards that can cause injuries to guests. According to the National Fire Protection Association, more than a quarter of reported fires occur in homes. Fire departments across the U.S. respond to more than 346,000 home fires a year. These fires cause injuries to more than 11,000 civilians.
Common causes of house fires include a landlord's failure to keep the home's electrical system and appliances up-to-date or failure to provide smoke detectors and fire extinguishers that help tenants both to detect and put out a fire before it destroys the home and causes injury or death.
Medical Errors
As discovered through analyzing injuries incurred during the provision of medical care, there are several ways that a medical facility can burn a person while treating them for another condition. Some of the causes of burn injuries in medical facilities include the use of lasers and other equipment during surgery or the use of therapeutic applications of heat.
Dangerous Products
Manufacturers of products used by consumers in New Smyrna Beach are legally required to ensure that their products are reasonably safe when used as directed or intended.
Unfortunately, thousands of products are recalled due to fire hazards, including electronics, electrical appliances, and vehicle parts. Some recalled products that pose a fire hazard include:
Anecdote Candles, sold by Anthropologie, have higher than normal flames that can cause the glass container to break apart.
Gree dehumidifiers, sold under brand names like Frigidaire, Kenmore, and others, can overheat, causing smoke or fire. At the time of the recall, these dehumidifiers were linked to 450 fires and $19 million in property damage.
Polaris RZR recreational off-highway vehicles caused fires, injuries, and at least one reported death.
Seeking Compensation for Your Injury
According to a healthcare solutions provider, burn injuries are highly complex and can result in far higher costs than many other types of injuries, as complications can arise even with injuries that received prompt medical treatment. The average cost of low-intensity treatment of a burn injury with complications can reach $207,000, while treatment for serious burns can exceed $1.5 million.
In addition to the cost of treating the injury, burn injury patients also experience profound psychological impacts.
These impacts include:
Pain and suffering resulting from the injury or treatments
Emotional distress over the claimant's changed appearance
Impacts that the injury has on their ability to earn an income
Loss of the ability to participate in an activity that the claimant previously enjoyed.
The Personal Injury Claims Process
When someone suffers a burn injury due to another's negligence, they can seek compensation by filing a third-party claim against the at-fault party's relevant insurance policy.
The type of insurance policies often involved in burn injury claims includes:
An at-fault driver's auto liability insurance policy.
A homeowner's or property insurance policy.
Even a business policy held by the manufacturer of a defective product.
When the insurance provider receives the claim, they will assign a claims adjuster to evaluate the claim and determine:
If the damages claimed are included in the policy's coverage.
If the damages were caused by the liability of their insured.
How much the insurance company is responsible for paying to the claimant as a result of the expenses and impacts of their injury.
While the at-fault party's insurance provider can accept or deny a claim, often they will offer an out-of-court settlement, which would provide the claimant with less compensation than the full value of the claim in exchange for both parties avoiding the expense and time involved in litigation.
If the insurance provider fails to fairly compensate the claim through an outright payment or by engaging the claimant in a settlement agreement, the claimant can file their claim in civil court as a personal injury lawsuit. A lawsuit is a legal complaint that requests that a judge or jury examine the facts of the case and decide the at-fault party's liability and the amount of compensation owed to the claimant.
The Importance of Having an Attorney to Assist You With Your Claim
Contrary to popular belief, insurance companies aren't in the business of compensating claims. They're in the business to collect premiums.
Because their mission is directly opposed to compensating claims, they will often engage in underhanded tactics when dealing directly with claimants, including attempting to convince a claimant:
To accept a ridiculously low settlement.
That they need to see all of their medical records to evaluate the claim (when they're looking for pre-existing conditions that will reduce the claim's value).
An experienced burn injury lawyer from Dolman Law Group Accident Injury Lawyers, PA, understands that claims take time, and your time rightfully should be focused on recovering from your injury, not recovering damages through a legal process.
Our team can efficiently gather the documentation and evidence needed to prove your claim, and our attorneys are less concerned about how much time it takes for the case to settle than we are about making sure you get the compensation you need for the harm that was done to you.
How Long Do You Have to File a New Smyrna Beach Burn Injury Claim?
Claimants in New Smyrna Beach typically have four years from the date on which their injury occurred to file a personal injury lawsuit. Failure to file the claim within that time will generally result in the loss of the claimant's ability to have their case heard in court. Unfortunately, it will also result in the at-fault party's insurance provider refusing to settle the claim because they are no longer legally required to do so.
How Liability is Proven in a Burn Accident Claim
To prove liability, the legal team from Dolman Law Group Accident Injury Lawyers, PA, will gather evidence, documentation, and eyewitness or expert witness testimony to show:
The at-fault party legally needed to exercise a duty of care, which involves taking reasonable actions to avoid causing harm to others.
The at-fault party breached this duty by taking careless or reckless actions, such as exhibiting dangerous and illegal driving behavior or failing as a landlord to ensure that a rented dwelling is up-to-date with state codes.
Because of this breach, an accident burned you, and you incurred expenses.
The Type of Compensation You Can Receive
Those who have suffered a burn injury in New Smyrna Beach due to someone else's negligence can seek compensation for the expenses they incurred as a result of the accident that caused their injury.
These economic damages typically include:
Medical expenses associated with treating the burn and any complications resulting from the injury.
Lost income for the period when the injury prevented you from working.
Loss of future earning capacity if permanent disabilities arising from your burn injury impair your ability to make a living.
Property damage incurred by you in the accident that caused your injury, such as the cost of repairing or replacing the vehicle you were driving when a motor vehicle accident occurred or the replacement of items damaged in a fire resulting from an at-fault landlord's negligent maintenance of the property.
Claimants can also seek non-economic damages, which involve compensation for the psychological impacts of the injury, such as physical pain and suffering, emotional distress, and loss of enjoyment of life.
Burn Injury? Dolman Law Group Accident Injury Lawyers, PA, Can Help
Serious burns are often complex, featuring complications and impacts that last long after the injury has healed. If another person's carelessness or recklessness caused your injury, Florida's personal injury claims process allows you to seek compensation. Having an experienced burn injury lawyer from Dolman Law Group Accident Injury Lawyers, PA, increases the likelihood that you will be able to receive the compensation you need through this process.
With offices across both Florida coasts, including our convenient New Smyrna Beach location, you can easily reach Dolman Law Group Accident Injury Lawyers, PA, at 833-552-7274, or you can write to us using our online contact page.